Crispy and Delicious Potato Latkes
These crispy potato pancakes are traditionally served at Hanukkah but they're delicious any time!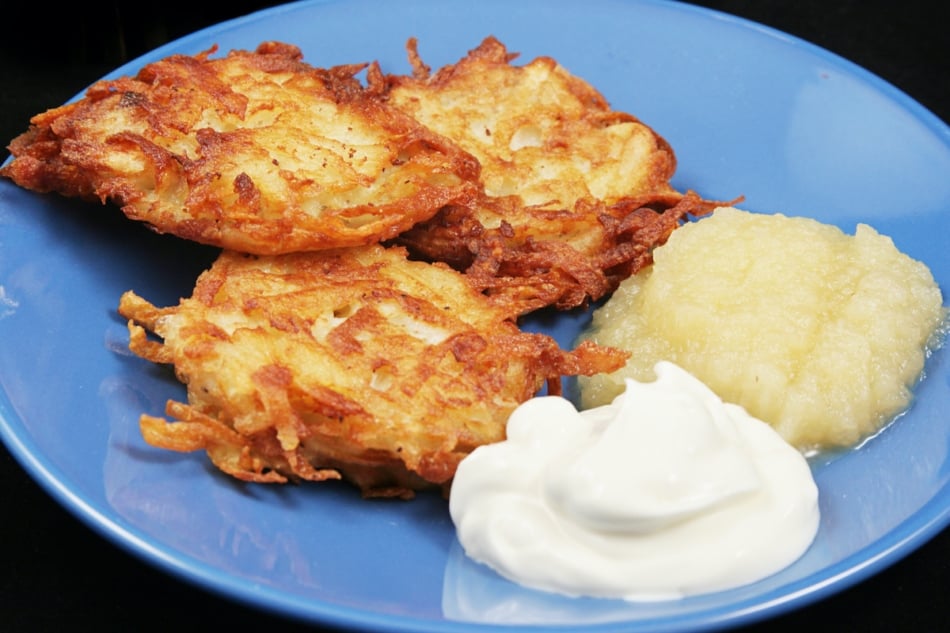 Crispy And Delicious Potato Latkes
Ingredients
3

pounds

potatoes

2

eggs

3

tablespoons

all-purpose flour or matzo meal

1

onion

minced

1

teaspoon

salt

black pepper, to taste

paprika, to taste

vegetable oil (for frying)
Instructions
Wash and peel the potatoes, then grate with a grater or food processor. Drain off all liquid, and squeeze the excess liquid out by hand. Then pat dry with paper towels.

Beat the eggs and mix with the grated potatoes and other ingredients, except the oil.

Heat about 1/2 inch of oil in a skillet over medium-high heat until very hot. Drop potato mixture by heaping tablespoons into oil (about 4 at a time).

Use a pancake turner or the back of a spoon to flatten them out. Fry to golden brown on both sides (about 3 minutes per side).

Drain on paper towels. Serve topped with applesauce or sour cream.

Denise Dill is a co-op livin', garden diggin', homegrown cookin' fool who creates soups of song out of local ingredients. She's currently working as a baker and soup maker while she completes culinary school. In the past, she worked as an urban gardener and community cooking educator. She has also toured the country as a folk musician, opening for such acts as Pamela Means and Hamell on Trial.