Cooking Thanksgiving for Vegetarian and Vegan Guests
If you're cooking for a non-meat-eating loved one this holiday season, try these helpful tips and recipes.
One year, many years ago, I threw my family a curveball by announcing that I'd become a vegetarian. My grandma was worried that I would starve, so while I filled up on mashed potatoes and rolls, she lovingly picked the ham out of her green beans, and the sausage out of her stuffing and presented me with two hefty piles of supposedly "meat-free" foods. Being young and idealistic, I just rolled my eyes and pushed the tainted foods around with my fork, feeling superior. Several holidays went by like this. My family was mystified by what it meant to be a vegetarian, and I was too busy decrying their meat-filled holiday traditions to spell it out for them in any kind of helpful way.
Hopefully, if you have a vegetarian guest at your holiday table this year, they won't be as difficult and angsty as I was. If you do plan to cook for a vegetarian loved one this holiday season, here are some helpful tips and recipes so you don't have to cook in the dark.
The What and Why
Vegetarianism is a conscious way of eating that involves following a diet of fruits, vegetables, beans, grains, nuts, and seeds, with or without dairy products and eggs. A vegetarian does not eat meat, including game, poultry, fish, crustaceans, and shellfish, and may also abstain from by-products of animal slaughter, such as animal-derived rennet (which is used to make most commercial cheeses) and gelatin (which is in Jell-O, marshmallows, and many other packaged foods). In addition, vegans also avoid eggs, dairy, or any other food derived from animal sources.
The motivating factor for choosing this lifestyle differs from person to person, so don't be afraid to ask questions. Curiosity is a good thing! For many people, factory farming practices are the main motivating factors. Others just feel healthier not having meat at the center of their diet.
Many seemingly vegetarian dishes, like green beans, meatless stuffing, desserts, or salad, contain small traces of animal products—usually, from fatty greases or meat-based bouillons and stocks—so many vegetarians won't eat them. Most meat-eaters just don't notice these things. It's second nature to flavor things with meat, by adding ham or bacon to green beans, for example, or making meatless stuffing with chicken or beef broth.
Desserts
And the dangers go beyond the main course. Desserts can be a minefield for vegetarians if they contain Jell-O, gelatin-based pudding, or pie crust made from lard. Sweet potatoes covered with marshmallows are a sweet treat, but also include gelatin (marshmallows are made with gelatin from beef). Even salad sometimes isn't safe if it's tossed with a dressing that contains anchovies, or includes parmesan cheese.
It can be difficult for someone who isn't generally aware of these things to catch all of these details. The best advice is if you expect a vegetarian dinner guest, be sure to read food labels carefully to ensure your ingredients are vegetarian-friendly. Just because something doesn't contain chunks of meat doesn't mean it's vegetarian. Some people are stricter about this than others, but it's better to be safe than sorry. Your guest will appreciate your thoughtfulness and planning.
Substitutions
Here's a list of easy substitutions you can make to ensure that your meal, or at least a portion of it, is meatless:
Meat: Beans, cheese, seitan (wheat meat), tempeh (cultured soybeans), textured vegetable protein (TVP), tofu.
Meat-based stocks: Vegetable stock, water in which beans, pasta, or vegetables have been cooked, vegetable bouillon cubes, miso (fermented soybean paste) diluted with water.
Seasoned or smoked meats: Flavored soy meat substitutes, crumbled tofu seasoned with fennel, parsley, and garlic; canned chipotle chiles, roasted vegetables, toasted nuts, smoked tofu, smoked cheeses.
Gelatin: Agar-agar (powder or flakes), arrowroot (powder), guar gum (made from seeds), xanthan gum (made from corn), kudzu powder
Recipes
So you've made your stuffing with vegetable stock and left the pork out of your beans, but why not turn your traditions upside down and try a few new recipes? Vegetarian meals are often healthier, and your other guests may enjoy a change of pace. Remember to include some protein for your vegetarian guest. Beans are an excellent main dish. To make your holiday meal healthier for everyone, go easy on the starches. Add some steamed broccoli or glazed carrots to the table for some variety in texture and color. Many traditional holiday favorites are just different shades of beige. While those brown dishes are a staple, it's always good to add a splash of color to brighten things up.
Give these recipes a try:
Vegetarian Stuffing (Not Vegan)
Serves 6
Ingredients:
1 (1 pound) loaf of day-old bread, torn into small pieces
1 (10.75 ounce) can condensed cream of mushroom soup
1 (10.5 ounce) can vegetable broth
2 tablespoons water
1 teaspoon poultry seasoning
salt to taste
ground black pepper to taste
1/2 cup wild rice, cooked (optional)
1/4 cup dried cranberries (optional)
1/2 cup fresh mushrooms (optional)
1/2 cup chopped pecans (optional)
1/4 cup cubed apples (optional)
Directions:
Mix together the bread, cream of mushroom soup, vegetable broth, water, poultry seasoning, salt, and pepper to taste. Add any or all of the optional ingredients. It will be sticky. Spread evenly in a lightly greased casserole dish and place aluminum foil on top. Bake for about an hour at 350° F.
Guilt-Free Gravy
Serves 10
Ingredients:
1/2 cup vegetable oil
1/3 cup chopped onion
5 cloves garlic, minced
1/2 cup all-purpose flour
4 teaspoons nutritional yeast
4 tablespoons light soy sauce
2 cups vegetable broth
1/2 teaspoon dried sage
1/2 teaspoon salt
1/4 teaspoon ground black pepper
Directions:
Heat oil in a medium saucepan over medium heat. Sauté onion and garlic until soft and translucent, about 5 minutes. Stir in flour, nutritional yeast, and soy sauce to form a smooth paste. Gradually whisk in the broth. Season with sage, salt, and pepper. Bring to a boil. Reduce heat, and simmer, stirring constantly, for 8 to 10 minutes, or until thickened.
And now, to add some color to this meal:
Pumpkin Bean Stew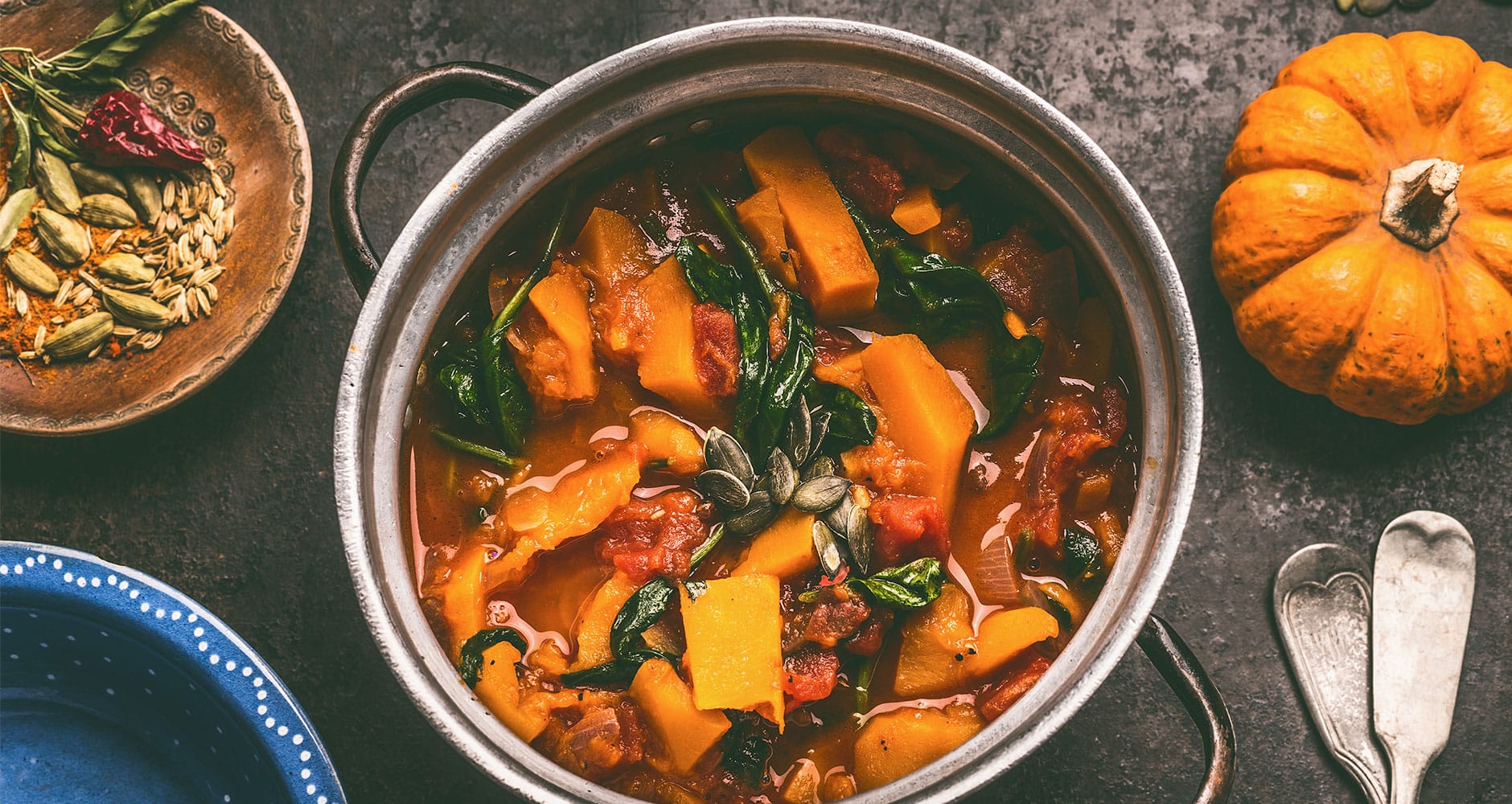 Ingredients:
4 cups pumpkin diced, peeled and seeded
3 (15oz) cans navy beans
2 medium yellow onions, diced
2 large cloves garlic, minced
2 tablespoons olive oil
3 cups fresh corn cut off the cob or 3 cups frozen corn
6 large tomatoes – peeled and diced or one 28 oz. can tomatoes, diced
6 tablespoons tomato paste
1 1/2 tablespoons dried or 3 tablespoons fresh Basil
1 1/2 tablespoons dried or 3 tablespoons fresh Oregano
2 bay leaves
3/4 teaspoon black pepper or to taste
1 teaspoon dried or 2 teaspoons fresh Marjoram
1 tablespoon salt, or to taste
Directions:
Sauté onions and garlic until tender in olive oil in a 5-quart heavy pot. Add diced pumpkin and seasonings (except salt) in pot with enough water to cover about 2 inches above ingredients. Bring to a boil, then turn heat to low. Cover and simmer, stirring occasionally, for 15 minutes or until pumpkin is soft. Add drained/rinsed navy beans, tomatoes, tomato paste, corn and salt. Bring to a boil, then turn down to a simmer for 20 minutes more. Serve in a bowl, top with toasted pumpkin seeds and a dollop of yogurt or serve over brown rice.

Denise Dill is a co-op livin', garden diggin', homegrown cookin' fool who creates soups of song out of local ingredients. She's currently working as a baker and soup maker while she completes culinary school. In the past, she worked as an urban gardener and community cooking educator. She has also toured the country as a folk musician, opening for such acts as Pamela Means and Hamell on Trial.
Keep Exploring