Lucky Foods For The New Year
What you eat on January 1st could determine the success of your new year. We have the list plus recipes!
"Eat poor on New Year's and eat fat the rest of the year." So goes the popular saying in the southern United States.
On January 1, millions will be serving up the traditional New Year's menu of black-eyed peas, ham, greens, and cornbread. It is believed eating these foods on New Year's Day will bring good luck and prosperity for the remainder of the year.
Greens – (collards, mustard or turnip greens, cabbage, etc.) symbolize the green of "dollar bills," and will ensure you have a financially prosperous New Year.
Black-eyed peas symbolize "coins," and point to monetary gain.
Cornbread, with its yellow hue, represents "gold."
Pork/Ham – Whether you use ham to flavor the Hoppin' John, or the greens, pork is meant to bring "forward motion" or "advancement" in the year ahead.
Hoppin' John Recipe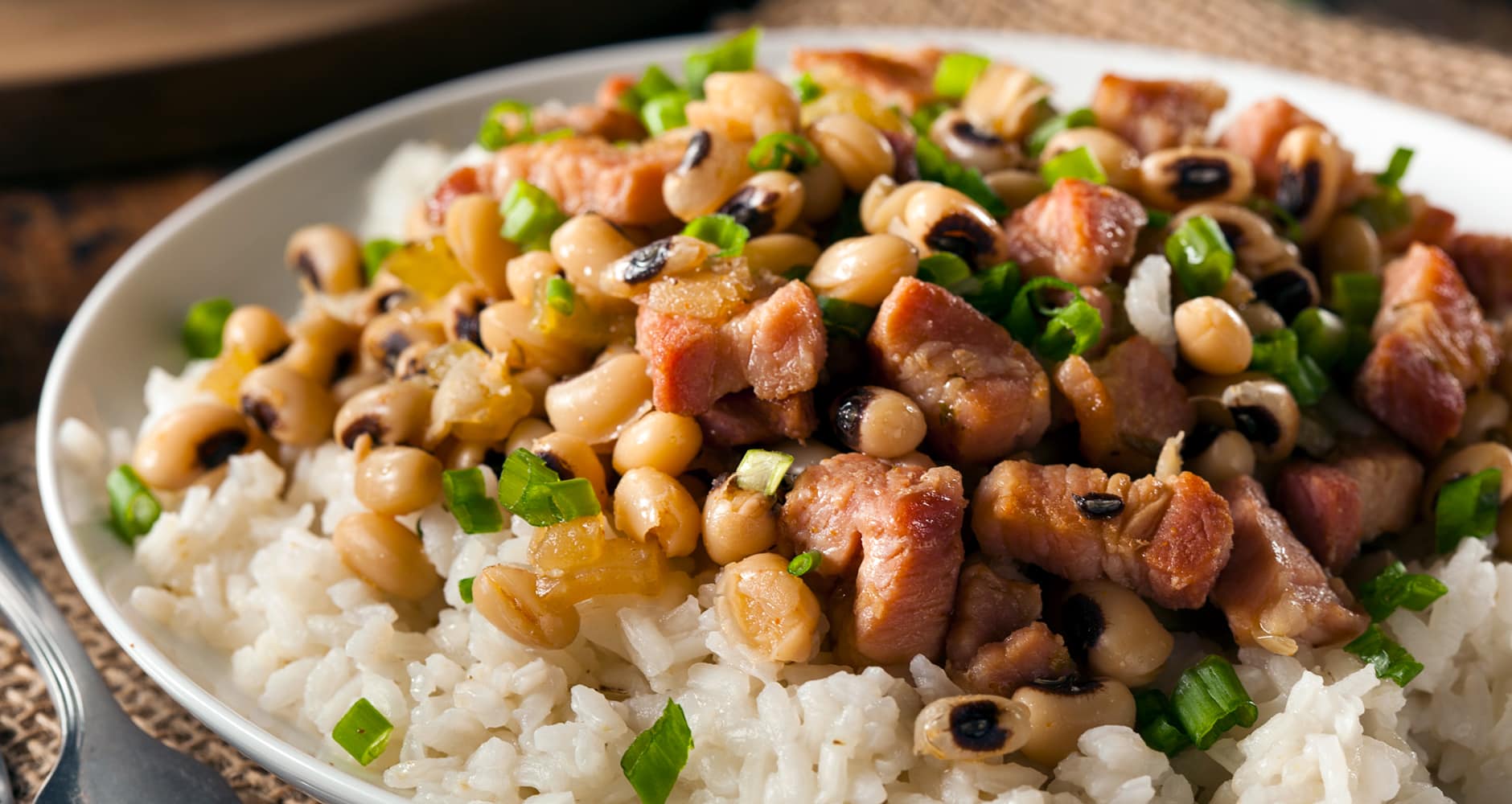 1 cup dry black-eyed peas
4 thick slices bacon, cut into small pieces
1 cup chopped onion
1/2 cup chopped green pepper
1 teaspoon salt
1 bay leaf
1 dash each of cayenne & black pepper
3 cups cooked rice
Wash peas, then cover with 5 cups water. Boil 2 minutes. Remove from heat and soak overnight. Rinse and drain thoroughly. Cook bacon in heavy pan until browned. Add onion and green pepper. Sauté until onion is tender. Add beans, 2 cups water, and seasonings. Cover and simmer 40 to 50 minutes or until peas are tender. Remove bay leaf; stir in rice. Continue simmering about 10 minutes until all liquid has been absorbed. Serves 4 to 6.
Ever wonder why it's called "Hoppin' John"?
Collard Greens with Ham Hocks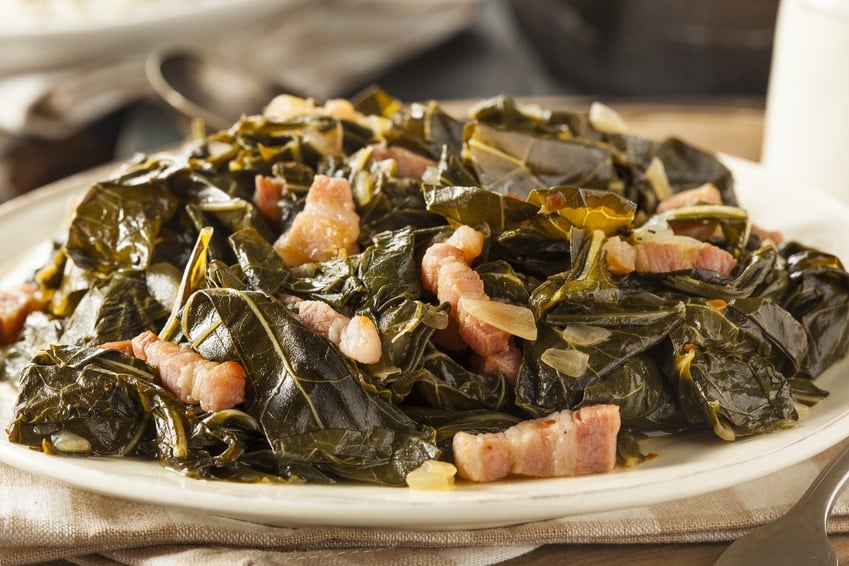 1 pound fresh collard greens
4 smoked ham hocks
Crushed red pepper
Hot sauce
Salt and pepper
Cut and wash collard greens. Place in large pot with ham hocks and crushed red pepper. Add enough water to cover. Simmer over medium heat approximately two hours until greens are tender. Remove from heat and add salt, pepper, and hot sauce to taste. Serves 4.
Cornbread
1 cup all-purpose flour
1 cup cornmeal
2 to 4 teaspoons sugar
1 tablespoon baking powder
1/2 teaspoon salt
2 eggs
1 cup milk
1/4 cup cooking oil
Stir flour, cornmeal, sugar, baking powder, and salt in bowl. In separate bowl, beat eggs, milk, and oil. Add to flour mixture and stir until smooth. (Do not overbeat.) Pour into greased 9 x 9 baking pan or a cast iron pan. Bake at 425 degrees for 20-25 minutes until golden brown. Serves 8.
Keep Exploring