Make Your Own Wet and Dry Mops Using Common Household Items
You don't have to spend a fortune for the convenience of disposable floor mops and cleaners. Find out how to save money and do it yourself!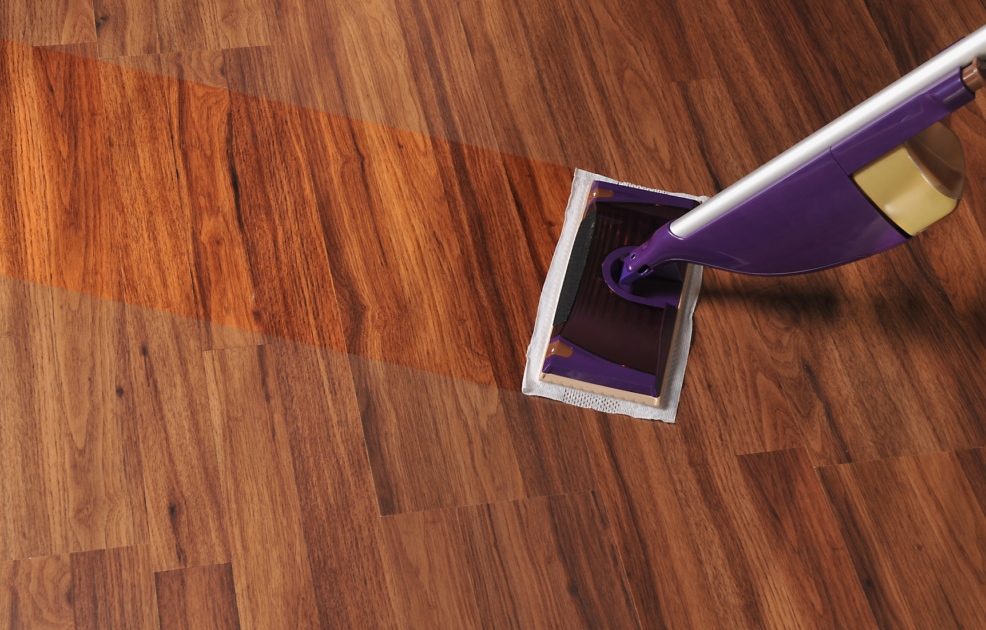 Light-weight mops with the changeable pads and solution bottles make mopping a breeze. But there's a price to pay for convenience, namely, the ongoing expense of disposable pads and bottles of cleaning product. Save money by making your own solution and washable or disposable mop pads. In addition, you'll gain an effective, yet gentle, natural cleaning product for hard surface floors.
If you have a discontinued Clorox® Ready Mop on hand like me, you know that the pads and cleaning solutions are no longer available. Making your own pads and floor cleaner allows you to continue using your current flat mop as long as you want to, regardless of marketing trends. The following options also work with the currently popular Swiffer® Wet-Jet.
Make your own cleaning solution
Homemade cleaning concoctions can be used to refill an empty solution bottle. If it is difficult to remove the lid from the empty bottle, use a vice grip to twist the cap off, being carefully not to damage the cap. Once the cap has been removed, snip off the prongs inside the cap using finger nail clippers to make the cap reusable.
If you no longer have a bottle on hand, the cleaning solution can be stored in a spray bottle and sprayed directly on the floor or pad when mopping.
Try either of these liquid, floor cleaning recipes:
Add 2 tablespoons of oil soap to two quarts of water and stir to combine. Using a funnel, fill an empty solution bottle with the mixture and recap. Store extra solution in a jug and refill as needed to clean no-wax, vinyl and wood floors. Rinse no-wax and wood floors after mopping to avoid slipperiness.
Mix 1-1/2 teaspoons of Dr. Bonner's Sal Suds or liquid Castile soap into a gallon jug of water. Refill the mop bottle with solution as needed. This cleaner is effective whether you have hard or soft water, and can be rinsed as needed using hot or cold water. Use to clean any washable floors, including wood.
Make your own reusable pads
When deciding what to repurpose into swift, floor cleaning pads, select towels, cloths or socks that are durable and absorbent.
Chenille socks are thick, absorbent and fit over the rectangular mop head like a glove. Slip one sock over the flat mop head and use to dry or wet mop: tile, stone or hardwood floors. Just toss the dirty mop sock into the washing machine.
There's no need to run out and buy new socks for your mop. If you have a stray, athletic, cotton sock in your laundry basket, give it a try. Launder after each use.
Bar mop towels or kitchen dish cloths can be cut to fit around your flat mop head and tucked into the grooves on the back. Wash after each use.
Flannel fabric can be affordably purchased locally by the yard and cut to fit around your mop head and tucked into the grooves on the back. If you have an old flannel, baby blanket on hand, cut it to size to provide a supply of reusable pads.
Inexpensive, disposable mop pads
If you prefer the convenience of disposable mop pads, here is an inexpensive version. Look to the box of blue towels sitting on your work bench in the garage. Shop towels may be the hand towel used primarily by auto mechanics, plumbers and builders, but it can also be used to clean floors. It works like a cloth and is the right size to fit flat mop heads without trimming. They are affordably priced at home improvement centers, and come packaged 200 to a box. They can be used dry to dust the floor, or as a wet mop using the solutions noted above. Change and discard shop towel pads as needed.
Do you make your own cleaning products that save you money? We'd love to hear your ideas!

Deborah Tukua is a natural living, healthy lifestyle writer and author of 7 non-fiction books, including Pearls of Garden Wisdom: Time-Saving Tips and Techniques from a Country Home, Pearls of Country Wisdom: Hints from a Small Town on Keeping Garden and Home, and Naturally Sweet Blender Treats. Tukua has been a writer for the Farmers' Almanac since 2004.