Avocados. These savory pear-shaped fruits are creamy, delicious, and one of the healthiest foods you can eat.
Native to central Mexico, avocados were a staple food of the ancient Aztecs, eventually spreading throughout central and South America. First discovered by Europeans during the 17th Century, they are now grown throughout the tropics and Mediterranean, including the southern United States. There's even a National Avocado Day, celebrated on July 31st every year.
Fun Fact: The avocado is sometimes called an alligator pear!
Avocado Varieties
In the U.S., there are two primary cultivars. The most popular is the Hass avocado, grown mostly in California. It features a bumpy dark brown to black skin and is proportionally higher in fat.
The other variety, which is grown in Florida, are aptly named Florida avocados. They are generally larger in size a feature a smooth, bright green skin.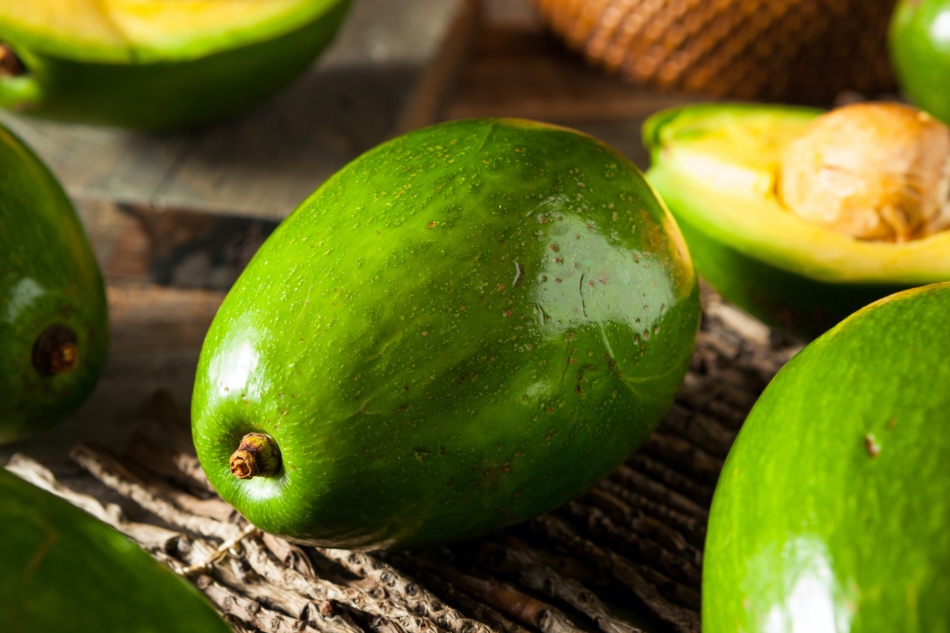 Avocados – So Good For You!
Not only do they taste good, but avocados are also one of the most nutrient-rich foods around. They are a great source of folate, vitamin E, lutein, and magnesium. And they've got bananas beat when it comes to potassium: one half an avocado contains 487 mg. while one medium banana offers 422 mg.
Avocados are also high in fiber and healthy monounsaturated fats, which can help to lower bad cholesterol and raise good cholesterol. In addition, they contain antioxidants, which fight damaging free radicals in your body. This combination of factors means eating avocados regularly can help to protect your body from heart disease, cancer, degenerative eye and brain diseases, and more.
Most-often associated with guacamole, avocados taste great on their own and make a fresh, healthy addition to almost any meal, from salads to sandwiches and more. Spread one on a cracker, spoon one out and eat it plain, or toss a few slices on top of your favorite soup or chili. Here are a few other ways to enjoy this versatile superfood!
Holy Guacamole!
Ingredients:
3 ripe avocados, halved and pitted
2 Roma tomatoes, seeded and diced
1 lime, juiced
1/2 teaspoon kosher salt
1/2 medium onion, diced
1/2 jalapeno pepper, seeded and minced (adjust to taste)
1 tablespoon chopped cilantro
2 cloves fresh garlic, minced
Directions:
Scoop the avocado pulp into a large bowl, add the lime juice, and salt and mash with a potato masher. Fold in the onions, jalapeno, tomatoes, cilantro, and garlic. Chill before serving with your favorite tortilla chips.
4-Minute Avocado Toast
Simple, nutritious, delicious. A great breakfast packed with nutrients to help you start your day on the right foot!
Ingredients:
2 slices whole-grain bread, toasted
1 ripe avocado
Salt & Pepper to taste
Toppings of your choice: chopped hard-boiled egg, sliced tomatoes, red onion, sunflower seeds, greens, crumbled feta — whatever you'd like!
Directions:
Toast bread. Remove seed and scoop flesh from avocado into a small bowl. Mash with a fork. Divide onto toast slices and add toppings, and season with salt and pepper. Enjoy!
Avocado Reuben
Ingredients:
2 slices rye bread
Mustard
Thousand Island dressing
1 slice Swiss cheese
1/2 avocado, pitted, peeled, and sliced
1/4 cup sauerkraut
Directions:
Spread one slice of bread with some mustard and the other slice with Thousand Island dressing. Place the bread slices, dry side down, in a lightly oiled skillet. Top one slice with cheese and the other with sauerkraut. Over medium heat, grill the sandwich until lightly browned and hot, about 5 minutes. Lay the avocado slices over the sauerkraut, place the cheese half of the sandwich on top of it and enjoy!
Shrimp Avocado Tacos
Ingredients:
3/4 pound medium shrimp, peeled, deveined, and cooked
1 (15-ounce) can black beans, rinsed and drained
1/4 cup sliced scallions
1 avocado, diced and peeled
1/4 teaspoon freshly ground black pepper
1/2 cup bottled salsa verde
1/4 cup chopped fresh cilantro
2 tablespoons fresh lime juice
8 6" flour tortillas
1 1/4 cups red bell pepper, cut into 1/4-inch strips (about 1 pepper)
Lime wedges
Directions:
Combine shrimp, beans, scallions, and avocado. Season with pepper. In a separate bowl, stir together the salsa, cilantro, and lime juice. Toss shrimp mixture with 1/4-cup salsa mixture. Place two tortilla each on four plates. Lay 3-4 pepper strips in the center of each tortilla. Top with 1/2 cup of the shrimp and bean mixture. Drizzle one tablespoon of the salsa mixture over each taco. Fold tortillas in half and serve with lime wedges.
Avocado Tips