Are Pomegranates Healthy? Here's Everything You Need To Know
Pomegranates may be a lot of work but they're loaded with so many health benefits, they're worth the effort. Check out the video on how to cut them!
Possibly among the most underrated and misunderstood fruits, the pomegranate, Punica granatum, has actually been cultivated for thousands of years. Its earlier name, pomum (Latin for apple) granatum (meaning seeded), eventually became Punica granatum, which refers to the Phoenicians who expanded its cultivation. Pomegranates have been called "divine fruit" and are said to have been found in the Garden of Eden.
In fact, the pomegranate is mentioned in Babylonian texts, the Homeric hymns, and the Book of Exodus. Ancient Egyptians saw pomegranates as a sign of prosperity and ambition, depicting it in tomb paintings and in other places.
Turkish and Greek cultures also see pomegranate seeds, called anils, as symbolizing prosperity and good fortune, and on New Year's Eve, a pomegranate is traditionally smashed on the floor, just inside the front door, to reveal its lucky seeds—which can number anywhere from 200 to 1,400!
Though the flower, leaves, bark, and peel are all edible, typically the "sarcotest," or sweet, water-laden pulp that surrounds the seeds, is what we eat—often swallowing the seeds along with it if desired. In fact, dried seeds—available in many specialty food markets and health food stores—make a great addition to trail mix, blended into yogurt, or as an ice cream and salad topper.
Are Pomegranates Healthy?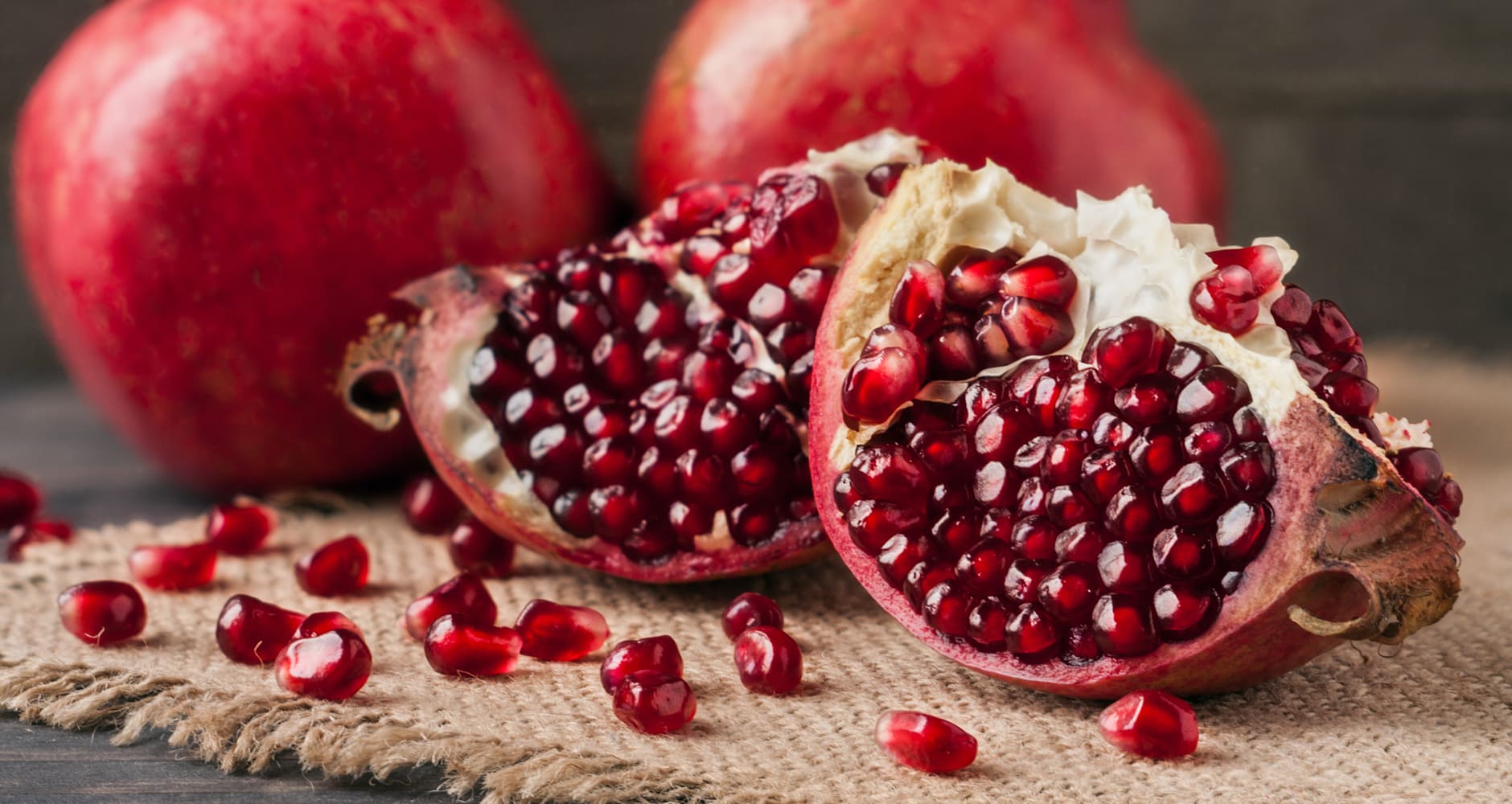 Pomegranates explode with fiber, vitamins, nutrients, flavonoids (which, in some studies, are known to be anti-inflammatory), and phytochemicals.
In recent years, pomegranate juice (which can be tart and was popularly used in Armenian, Persian, and Indian cuisine long before we discovered it) has been promoted as a health, skin, and hair elixir. The peel contains a huge number of antioxidants released in abundance when the fruit is squeezed.
Fun Fact: The January birthstone "garnet" got its name from the Latin word Garanatus, meaning "seedlike," because the stones look similar to pomegranate seeds in size and color.
What Are The Health Benefits of Pomegranates?
Pomegranate consumption is said to lower blood pressure and the incidence of heart disease, as well as decrease the risk of breast cancer, slow down the progression of Alzheimer's disease, and limit osteoarthritis. Ayurvedic applications use the bark of the pomegranate tree and the fruit's rind to combat diarrhea, dysentery, and intestinal parasites. The seeds and juice are said to stop gum and nosebleeds, tone skin, and can even treat hemorrhoids. Overall the fruit in its various forms is said to increase memory and slow down the aging process.
Golden Beet and Pomegranate Salad
Ingredients
3

golden beets

1

cup

diced red onion

1/4

cup

red wine vinegar

1/4

cup

chicken broth (or vegetable broth for vegetarian option)

3

tablespoons

Triple Sec or other orange-flavored liqueur

1

tablespoon

sugar

1/2

teaspoon

grated orange peel

1

cup

pomegranate seeds

Salt

2

cups

arugula and butter lettuce leaves

1/4

cup

crumbled feta cheese
Instructions
Cook the beets – either boil them for 45 minutes or roast at 375° F for an hour. Let cool. Peel and dice into 1/2 inch cubes.

In a medium skillet over high heat, bring diced beets, onion, vinegar, broth, liqueur, sugar, and orange peel to a boil, stirring often, until liquid is reduced to 2 tablespoons, about 5 minutes. Let cool to room temperature.

Stir pomegranate seeds into the beet mixture and salt to taste.

Serve on top of salad greens on individual plates. Sprinkle with feta cheese.
Beth Herman is a freelance writer with interests in healthy living and food, family, animal welfare, architecture and design, religion, and yoga. She writes for a variety of national and regional publications, institutions, and websites.