Dry Your String Beans Into "Leather Britches"
This Appalachian method is a unique way to preserve your late summer garden green bean harvest.
While freezing, canning, and even pickling are all effective methods for preserving your abundant green bean yield, did you know you can also air-dry them into "leather britches"? While this time-tested and cost-effective method is relatively unheard of, it's gaining a new wave of popularity with new gardeners and homesteaders alike. It requires no electricity or fancy kitchen appliances and saves you some much-coveted freezer space. With peak green bean season upon us, why not give this easy technique a try?
What Are "Leather Britches"?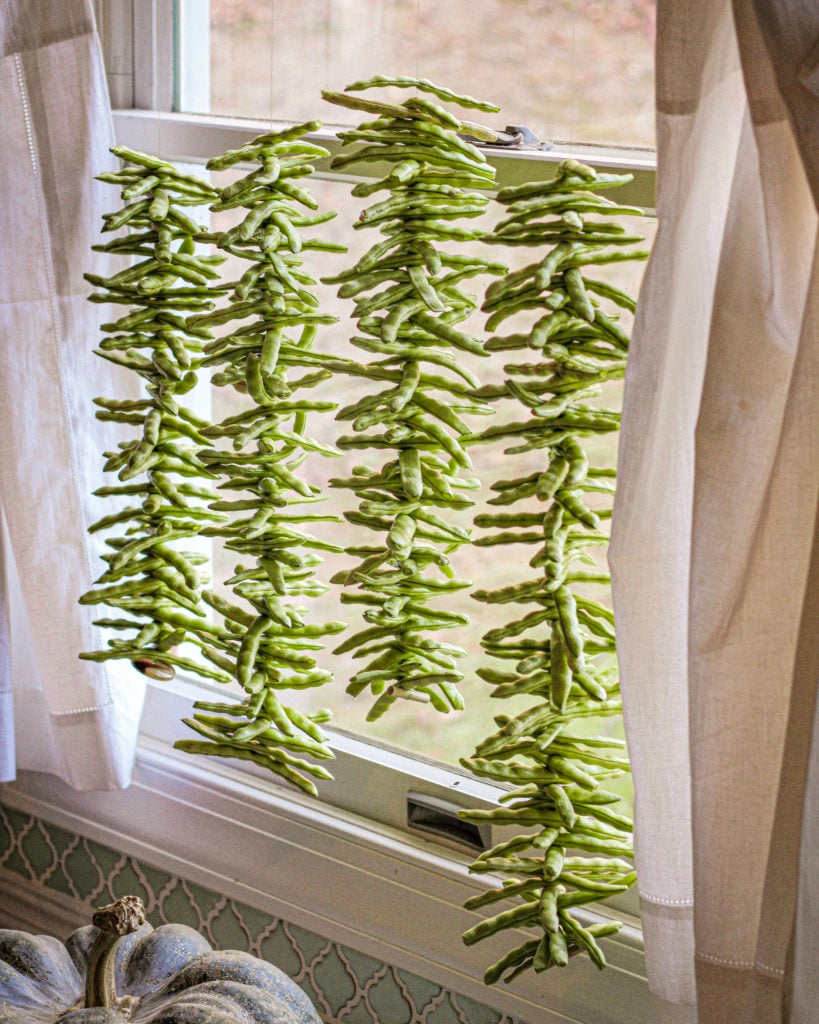 Also known as "fodder beans" or "shuck beans," (because they were dried "in the shuck,") drying string beans to "leather britches" was commonly used down South in old Appalachia. Back before canning and modern refrigeration was readily available, drying was the most popular method for preserving produce, helping to stretch harvests through the long winter months. The beans were then cooked up into dishes that became a traditional part of Thanksgiving, Christmas, and New Year's meals (we include the recipe, below!).
And that funny name? The beans were called "leather britches" because they look leathery and shriveled when they are done drying.
Drying Green Beans For Later Use
Making leather britches the old Appalachian way generally involves stringing them with a needle and thread—similar to stringing popcorn or cranberries for garland—and hanging them to dry. Alternatively, you can simply place your green beans on a screen and set them out in the sunshine, taking them in at night, until they are adequately dried. Resist the temptation to reach for the dehydrator, if you have one—it's the slow air-drying process that cures the flavor associated with leather britches.
How To Make Leather Britches: Method
Equipment Needed:
Sturdy string (kite string or clean, unwaxed dental floss) in 2-3 foot pieces
Darning/large sewing needle
2 lbs. of garden string beans
Step 1—Choose Your Beans
Use green beans that are tender and 'snappy' as they tend to rehydrate better later. Leather britches were originally made from "greasy beans, a family of heirloom green beans with smooth, shiny pods. However, any sturdy, non-fuzzy green bean (termed "greasy beans") will dry well. A good heirloom variety works best, as they have larger beans and thicker skin.
Step 2—Prepare Your Beans
Rinse and thoroughly dry your string beans. Snap off the stem ends. Leave the other sharp pointed tip intact. You can cut them in half or keep them whole.
Step 4—Stitch Your Britches
Thread the needle with the string and create 2- to 3-foot long ropes; tie a bean to the end as an anchor (the technique is explained in the video, below). Then thread through the middle of each green bean, and slide it down the string. Beans should be spaced slightly apart.
Step 5 —Hang Them To Dry
Hang your string of beans somewhere dry such as an unused room, back porch, a pantry, or even your kitchen. Hanging them in a smokehouse or above a wood stove adds a smoky taste your leather britches. Some people find that hanging strings in a dry, dark, cool place dehydrates them best, while others prefer to hang them in the sun. The most important thing with placement is proper air circulation and low humidity, which can cause spoilage.
How To Tell When They're Ready. . .
Allow beans to dry until they are completely void of moisture—this may take 2 months, or longer, depending on your air circulation and climate. Dried beans will shrink become leathery and brittle. If they rattle when shook, they are probably done!
Don't let their resemblance to old shoelaces turn you off. The method of slowly dehydrating green beans coaxes out some unexpected flavors. Once you cook them and eat them, you'll see that the drying process creates a deep flavor and meaty texture.
Storing Your Leather Britches
Once dried, you can unstring your beans and store them in a clean jar or airtight container. Alternatively, you can just toss them with some salt and store them, string and all, in a flour sack, pillowcase, or paper bag. Adding a dried pepper to the sack may help to keep out insects. Store your leather britches in a cool, dry place until ready to eat.
Leather britches should last through the winter, and even longer, making them a healthy addition to your fall and winter pantry.
Cooking Your Leather Britches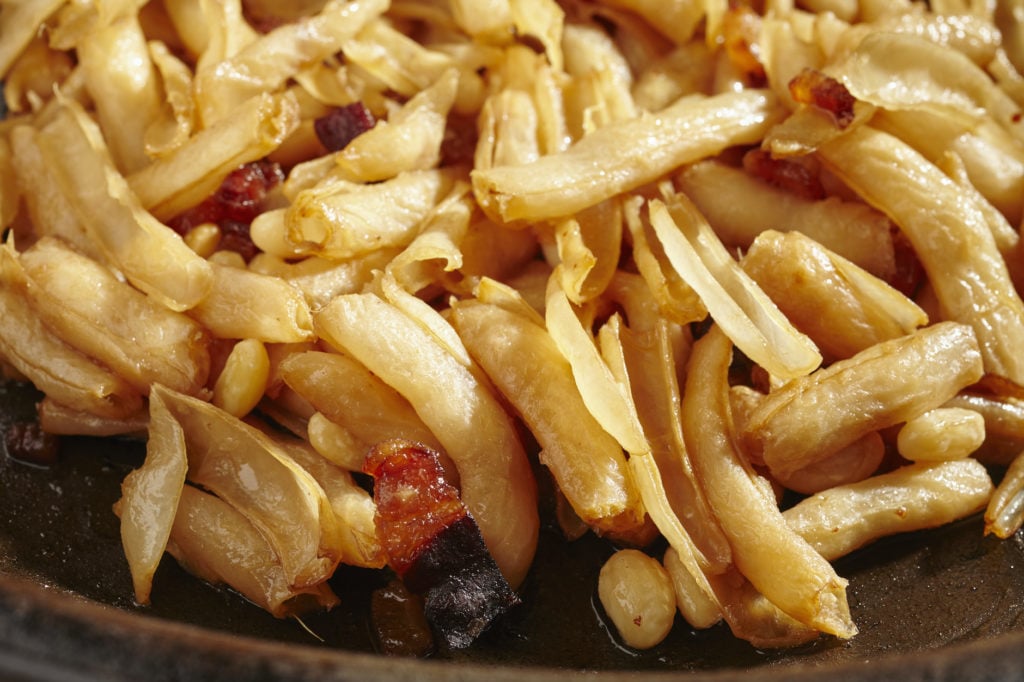 When you are ready to cook and your leather britches, be sure to give yourself ample time. The beans not only need time to rehydrate and get tender, but the cooking process is slow to achieve the best flavor, to develop a savory potlikker (the broth left behind). But they are well worth the wait! Two pounds of green beans, dried, will serve 4 cooked as a side dish.
Appalachian Style Leather Britches
Ingredients:
Dried green beans (as dried, above)
Water
1 teaspoon salt, or more to taste
2 inches square salt bacon, bacon grease, ham hock, or oil for a vegetarian option.
Directions:
Wash the dried green beans in a colander. Place in a pan with enough water to cover the beans and let stand overnight.
The next day, pour off the water and rinse beans. Place them in a large pot with a tight-fitting lid. Add the salt, 3 cups of water, and seasoning meat or oil. Cook over medium heat for roughly three hours. Check for doneness after a couple of hours, adding more water if needed.
After fully cooked, add some salt, pepper, or even a tad of sugar to taste. Leather britches tend to swell up as they cook, so be careful how much you cook up. A little goes a long way! The cooking liquid improves the longer it's allowed to simmer.
Serve It With Cornbread!
This traditional Appalachian dish is wonderful served alongside some hot cornbread and sliced raw onion.

Tell Us
Have you ever preserved your string beans with this method, and have you tried leather britches? Tell us in the comments below!

Natalie LaVolpe is a freelance writer and former special education teacher. She is dedicated to healthy living through body and mind. She currently resides on Long Island, New York, with her husband, children, and dog.
Keep Exploring