The Best Cooking Oils — 15 Kinds And Uses
There are many different cooking oils out there, but which is truly the best? The answer depends on your needs, tastes, and the type of cooking you plan to do. Many cooking oils may be used interchangeably, but each one offers a unique taste.
Learn about the different kinds and which to use as a perfect compliment to your next meal! The list below is in alphabetical order:
Avocado Oil
Avocado oil is great for grilling, roasting, sautéing, pan-frying, stir-frying, and baking. Use it as a light finishing oil, for dressings, or homemade mayonnaise. Healthy for the heart and eyes, avocado oil has anti-inflammatory properties. Learn more about its health benefits here.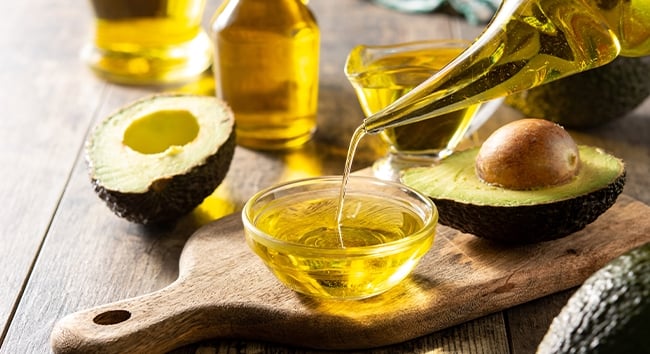 Canola Oil
Well known as a heart-healthy option, canola oil is known to ease arthritis. Its neutral flavor is suited for all sorts of cooking, including searing, sautéing, pan-frying, baking, grilling, deep-frying, and roasting.
Coconut Oil
This creamy oil can be used as a substitute for butter and is best at low or moderate cooking temperatures. It contains healthy saturated fats and has a sweet, nutty taste, ideal for sautéing, pan-frying, baking, and roasting. Learn more about the health benefits of coconut oil here.
Corn Oil
The mildly sweet flavor of corn oil makes a great addition to baked goods, and is suitable for grilling, deep-frying, searing, and sautéing. This oil can accentuate inflammation, however, and so should be used sparingly.
Extra Virgin Olive Oil
The highest quality olive oil, extra virgin olive oil is best used without heat and works well in dips and marinades, as well as a pasta dressing. This cold-pressed oil has heart-healthy vitamins and minerals, and offers a rich, fruity flavor.
Olive Oil
Still a heart-healthy option, "regular" olive oil has fewer antioxidants than extra virgin pressings and is a moderately-flavored option for low-heat sautéing, dips, dressings, and marinades. Use olive oil as a finish for salads and pastas as well. Learn more about the different kinds of olive oils here.
Flaxseed Oil
A healthy oil to help reduce cholesterol, flaxseed oil is rich in omega-3 fatty acids and has a nutty or slightly bitter taste. It is best in dressings, dips, or smoothies, but goes a long way and should be used sparingly.
Grapeseed Oil
With a light, neutral flavor, grapeseed oil can be used for many types of cooking, from dressings and marinades to sautéing, roasting, and baking. With plenty of vitamin E and antioxidants, this oil is a healthy option.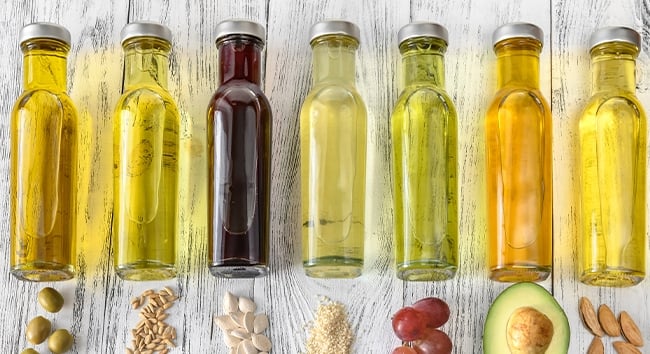 Palm Oil
Though palm oil's neutral flavor is ideal for different types of cooking, including frying, it is high in unhealthy saturated fats. The deforestation necessary to produce palm oil also makes it less desirable for conscientious cooking.
Peanut Oil
While not safe for anyone with peanut allergies, this oil has a naturally nutty taste and is another Asian cooking favorite. Peanut oil is great for searing, sautéing, pan-frying, deep-frying, roasting, grilling, stir-frying, or even as a finishing drizzle.
Pumpkin Seed Oil
With a rich, nutty flavor, pumpkin seed oil is rich in vitamins A, K, and E, as well as both omega-3 and omega-6 fatty acids. This oil is great for light sautéing, baking, and as a dip, dressing, or marinade.
Sesame Oil
A strong nutty flavor infuses sesame oil and it is a favorite in Asian cuisine. This oil contains antioxidants and helps lower blood pressure, but should be used sparingly as the taste can be overwhelming. Sesame oil is ideal for sautéing, stir-frying, or as a finishing oil.
Sunflower Oil
High in vitamin E, sunflower oil has a relatively neutral taste and can improve heart health. This versatile oil works well for searing, baking, roasting, grilling, deep-frying, or in dressings and dips.
Vegetable Oil
A common oil, vegetable oil is a highly processed blend of soybean, corn, canola, and other oils. It is versatile, however, and can be used for searing, sautéing, baking, deep-frying, stir-frying, roasting, grilling, and even popping popcorn.
Walnut Oil
Walnut oil has a full, nutty flavor and is rich in omega-3 fatty acids, as well as iron, zinc, and calcium. This oil can also help lower blood pressure, and it is a great choice for homemade dressings or a finishing oil on pasta.
Related Articles
10 Health Benefits Of Avocado Oil
Coconut Oil – The Fountain Of Youth?
Join The Discussion!
What is your favorite oil to use and what do you make with it?
Let us know about your taste and experience in the comments below!