Too Many Tomatoes? Preserve Them 3 Ways!
Learning how to preserve tomatoes when they are in season is a big money saver and prevents food waste. Try one method or all 3!
If you have a vegetable garden, a family member or neighbor with a vegetable garden, or receive a share of vegetables from a community-supported farm, you probably have more tomatoes than you know what to do with right now. And, while there's nothing quite as delicious as a farm or garden-fresh tomato, there is such a thing as too much of a good thing. Or is there?
Just because you can't possibly use all of those tomatoes now is no reason to let them go to waste. Learning how to preserve tomatoes when they are in season will save you tons of money throughout the winter. Here are some ideas to help you take advantage of this period of abundance before fall is fully upon us. Don't miss your chance!
1. Convenience Preservation: Freezing
If you don't have the time to can and have plenty of room in your freezer, freezing is the fastest and easiest way to preserve your tomatoes. And frozen tomatoes are not only faster and more convenient, they also taste fresher and have more nutrients than canned tomatoes do. If you have the space in your home, a used chest freezer is a great investment. As you receive fresh produce from you garden or local farmer throughout the summer, you can slowly begin to build up your winter stock. Unlike canning, you don't have to preserve large amounts at one time.
Another great aspect about freezing is that you can freeze tomatoes in any form: pureed, sauce, diced, crushed, or whole. You can even pick the tomato right off the vine, remove the stem and put it in your freezer completely intact, without even placing it into a bag. Once it's frozen, you can place the whole tomato into a large freezer bag and keep adding to it throughout the season. In other words, with freezing, you decide how much time you can put in.
Here are a few tips to remember for safe freezing:
Remember to buy freezer grade bags, not storage bags.
Be sure to remove as much of the air from the bag before sealing completely. This is easiest to do by taking a straw, closing the seal around the straw, sucking the air out, and finally removing the straw and closing the seal completely. This will prevent freezer burn and will keep your tomatoes from deteriorating more than necessary.
Turning your freezer down to 0° F the night before you freeze will ensure a fresher, tastier product. Once your produce is frozen, you can turn it back up to the original setting.
Possibly the best tomatoes to freeze whole, right off the vine, are cherry tomatoes. They are just as sweet when you thaw them in the winter and are great in soups, stir-fries, and casseroles.
2. Old Fashioned Water-Bath Canning
If you don't have room in your freezer, and you like the instant gratification of opening a can to add to your meals in the winter, this is the method for you. First, make sure you have a recipe to go by that is specific to water-bath canning. Good resources can be found by contacting your local Cooperative Extension, or you can ask your local library to request a copy of So Easy to Preserve, by the Georgia Cooperative Extension, to be sent to a branch near you.
Method: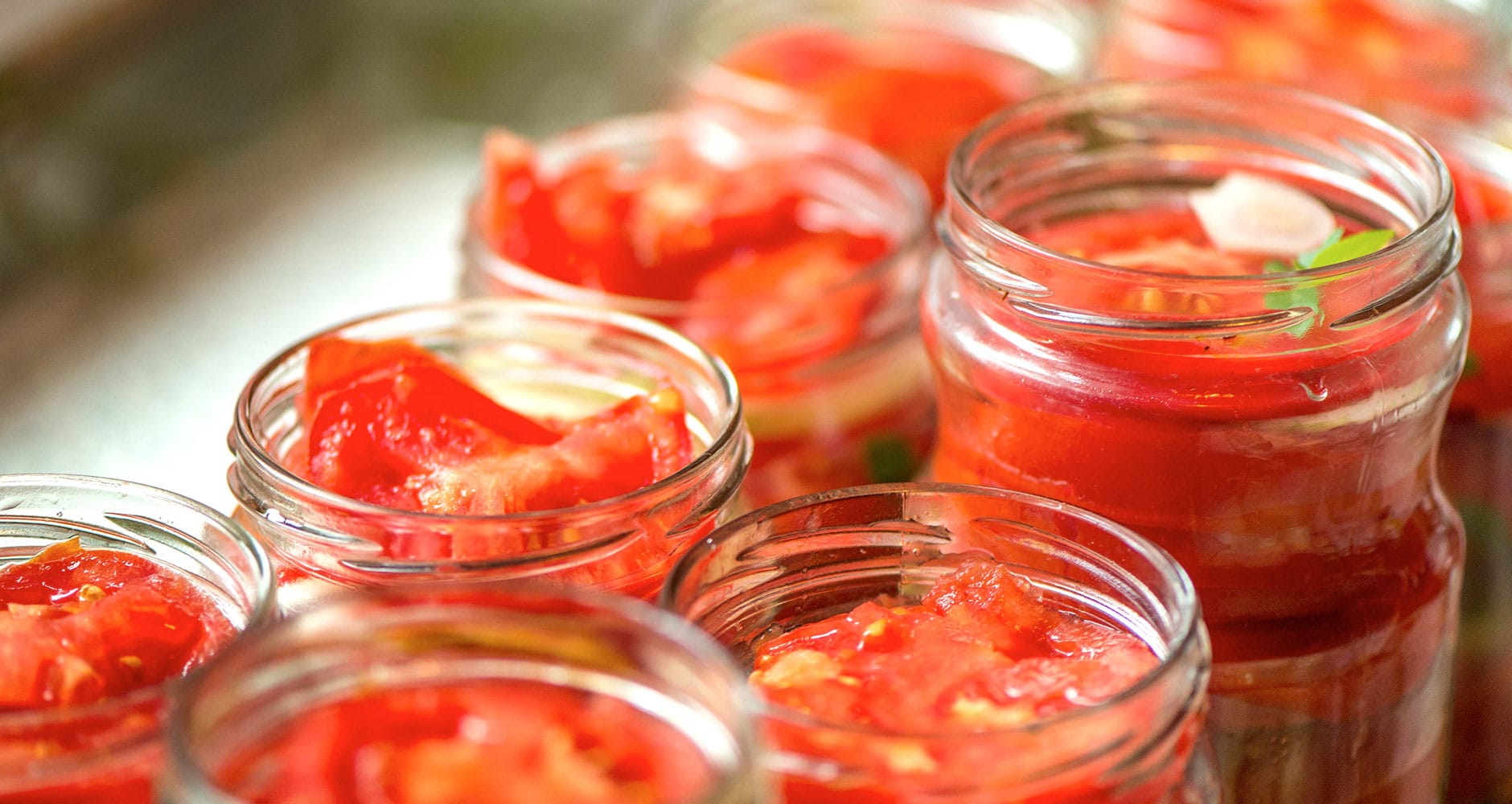 Water bath canning is a boiling water method and is the simplest and easiest way to preserve high acid foods, like tomatoes and citrus. Not all tomatoes are acidic enough to be safe, so many recipes adapted for tomato preservation add lemon juice and a little bit of salt in order to raise the acidity level high enough to make it safe for water bath canning.
Here is the basic method for water-bath canning tomatoes:
Find a water bath canning recipe for the type of tomato you want to can
Sterilize your jars by placing them in boiling water in a canning rack in your canning pot. Leave them in the boiling water until you are ready to use them. It is important to keep the jars warm.
Pick the ripest and best quality tomatoes in your collection and remove the stem, core, and cut out any blemishes.
To remove the skins, dip the tomatoes into boiling water for one minute and immediately place them in ice-cold water. If you prefer not to remove the skins, you don't have to. After all, that is where all the nutrients are. This works best for pureed tomato sauce.
Shake the seeds and excess water out each tomato while they are still whole and place them in a separate bowl, or just place them in a bowl and prepare the seeds, juice, and all. The latter will make for a more watery tomato product.
Puree the tomatoes (with or without seeds, juice, and skin) and cook them down until you get a thick sauce. You can also dice, crush, or even leave them whole. Just be sure to heat them up to a boil in whatever form you choose so that the mixture you place in the jars is warm.
Remove the sterilized jars and place them on a hot mat.
Follow your recipe, adding the correct measurement of lemon juice and salt to each jar.
Fill your jars with the tomato mixture you have created, leaving a 1/2 inch of "headspace" to allow room for the jar to create a vacuum seal.
Taking a butter knife, slide the knife up and down around the jar to help the air bubbles escape.
Wipe the rim of the jar with a paper towel and then place the new lid and band on the jar to a finger tightness.
Place in a canning pot with a wire rack, to prevent the jars from hitting the bottom, and boil for the amount of time the recipe calls for. Make sure you start timing it from when the water is actually at a rolling boil.
When your time is up, remove the jars and place them on a hot mat for 24 hours. You will begin to hear (usually immediately) that lovely popping noise that means your jars are safely sealed. If it does not seal, either eat it immediately or store it in the fridge.
Store your sealed jars in a dark cool place with the bands removed to prevent moisture collection, which can lead to rust and can run the risk of breaking your seal.
This method is not to be confused with pressure canning, which is required to preserve low acid foods like, green beans, carrots, and even some tomato-based recipes.
3. Drying
This method takes up the least amount of space, and who doesn't love dried tomatoes? If you do, you'll need a dehydrator. You can order them online, but many times you will find these at yard sales and thrift stores.
To dry tomatoes:
Simply de-core, remove the skins (optional), and cut into wedges and shake out the seeds and excess moisture. You can also cut the seeds out.
Place your tomatoes on the racks of your dehydrator and dry for 10-12 hours until desired consistency.
If you like your tomatoes a little soft and chewy, after drying them, store them in freezer bags in the freezer. They won't take up as much space, because all of the liquid is gone. Otherwise, if you completely dehydrate them you can store them on the shelf in plastic bags.
Dried tomatoes are reconstituted in water and are great additions to pasta and add a nice sweet flavor if added or pureed in soups.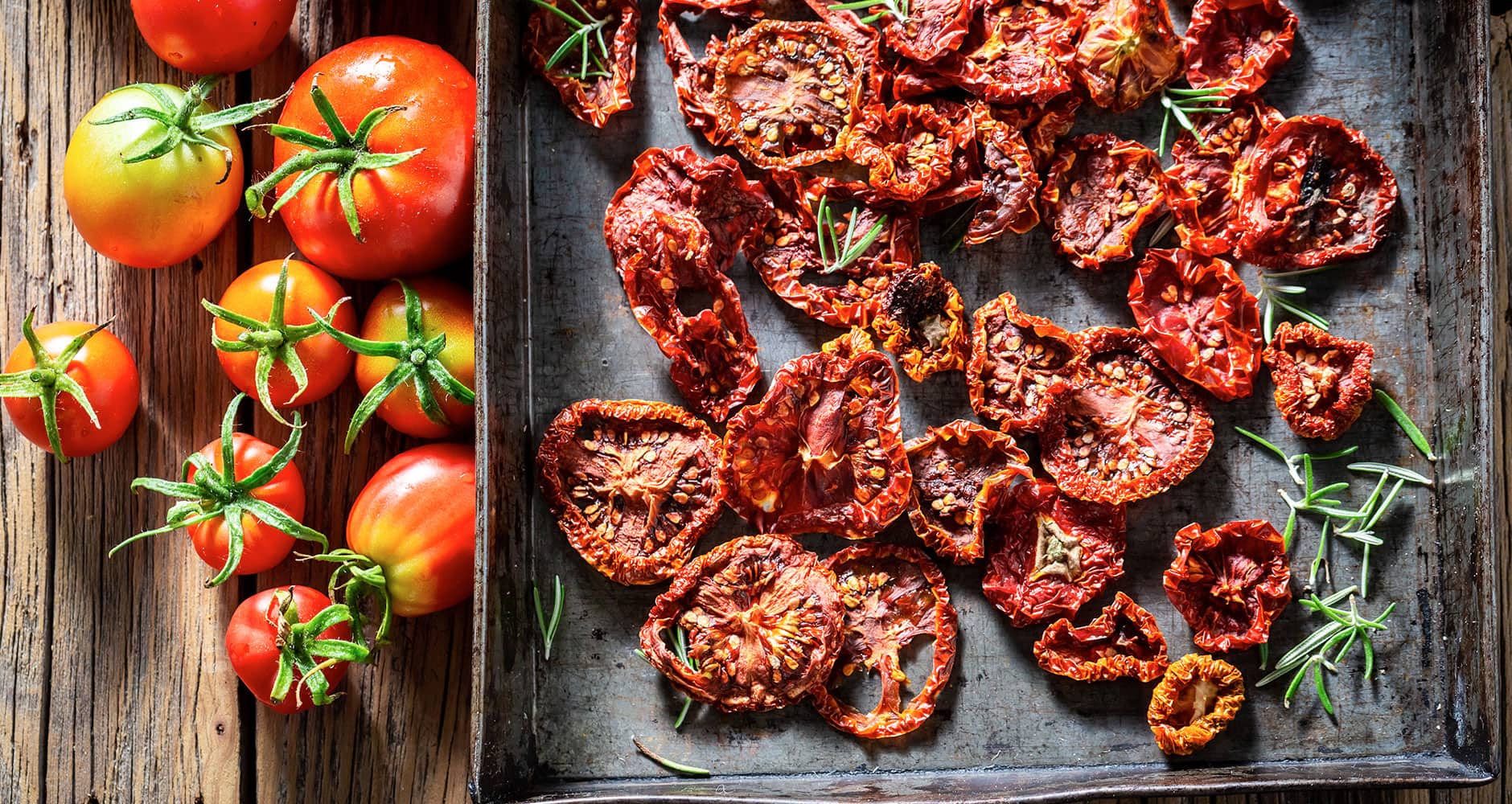 Extra Time-Saving Tips:
Like tomato sauce, but don't have the time? Try this: de-core your tomatoes put them in a crockpot and let it go until it is as thick as sauce or paste. You can also steam tomatoes using a steamer basket to cook all of the water out, then purée the tomatoes for an instant thick sauce.
So to all you tomato lovers out there, preserve your harvest, save money, and enjoy the fruits of your labor all winter long!

Denise Dill is a co-op livin', garden diggin', homegrown cookin' fool who creates soups of song out of local ingredients. She's currently working as a baker and soup maker while she completes culinary school. In the past, she worked as an urban gardener and community cooking educator. She has also toured the country as a folk musician, opening for such acts as Pamela Means and Hamell on Trial.
Keep Exploring