21 Apple Varieties To Sink Your Teeth Into This Fall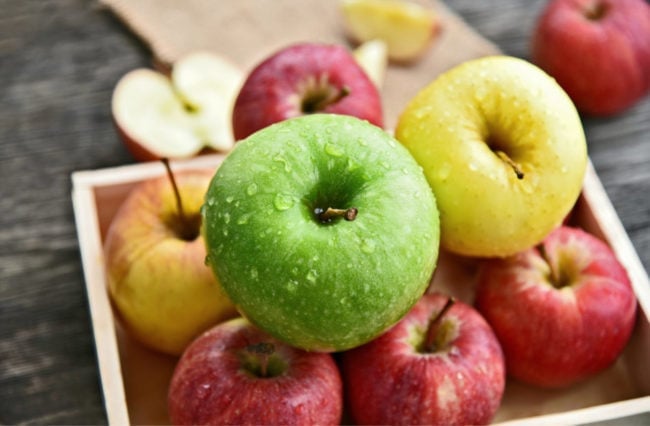 Apples taste best during the autumn months, but you can appreciate a good apple almost any time of year! We hope these different apple varieties inspire you to go out and discover a new favorite, whether you pick your own or buy from your local orchard or farm stand! There are hundreds to choose from. Did your favorites make our list? Let us know int he comments section below!
Related: All About Apples With "Apple Girl" Kaitlyn Jill Thornton
Apple Varieties To Try
1. Arkansas Black
A native apple grown in the Ozarks of Arkansas and Mississippi, Arkansas Blacks have been around since the late 19th century. They get their name from their deep plum-red color that darkens over time, eventually bordering on black. When fresh, Arkansas Black's are known to have a rather tart, crisp flavor that tends to mellow and soften in storage. They ripen in the fall and have a long shelf life when refrigerated.
2. Braeburn
A medium to large, red striped fruit with an orange-red blush on a yellow background. Pale, cream-colored flesh is crisp and juicy with a pleasant tart flavor. Harvested in November.
3. Baldwin
The 1885 New England Farmer wrote, "What the Concord is among grapes, what the Bartlett has been among pears, the Baldwin is among apples." Discovered in the mid-eighteenth century, the Baldwin apple is one of New England's oldest and most popular apple varieties. It's a great pie apple and has been a popular variety with cider makers for over 200 years. It is also an excellent storage apple, due to its thick skin and late harvest in October through November.
4. Cortland
McIntosh-style apple with a red blush over a yellow background. Very white crisp flesh. Best eaten shortly after picking. Good in salads. Harvested during September.
5. Empire
The Empire apple derives its namesake from none other than the Empire State itself, New York, where it was first developed and premiered. A medium-sized apple, they are a cross between the popular McIntosh and Red Delicious varieties and are known to be exceptionally crisp, with a juicy, sweet-tart flavor. They are bright red with faint white striations; the top is capped with a light green blush. A great all-around apple, Empire's excel in providing a refreshing, crunchy addition to any snack, salad, or pie. They also come in smaller sizes which make them healthy and convenient snacks to take on the road or pack into a lunchbox.
6. Fuji
A tall, rectangular, medium-sized fruit with yellowish-green skin with an orange-red blush and darker stripes. The crisp, juicy white flesh has a firm texture. Stores well. Harvested during late October.
7. Gala
A medium-sized fruit with yellow skin patterned with bright orange-red. Yellow-white flesh is firm and juicy with a nice texture and a sweet, slightly tart, flavor. Best eaten fresh. Harvested during October.
8. Golden Delicious
A large golden-yellow fruit. Firm, crisp, juicy flesh has a mild, sweet flavor. A popular all-purpose apple. Doesn't store well. Harvested during mid-September to late October.
9. Granny Smith
A large, bold green apple with crisp, very tart flesh. Keeps very well. Harvested during late October.
10. Honey Crisp
Red patched mottled over a yellow-green background. The flesh is crisp with a tart, yet sweet, flavor. Keeps well. Harvested from mid-September to October.
Related: All About Apples – Cosmic Crisp And More
11. Jazz
Originating in New Zealand in the 1980s, Jazz apples are a hybrid between the Braeburn and Gala apples. These apples are known for their remarkably crunchy-crisp flesh, with a sweet-tangy flavor, that's not too acidic. The Jazz apple is a great all-around apple due to its balanced taste and structure. They are, however, a club apple, meaning that this varietal is trademarked and can only be grown by specially selected growers, so don't expect to find them too often outside of grocery chains.
12. Jonagold
The Jonagold apple from New York is known for its sweet taste and alluring fragrance when baked. A cross between the very sweet Golden Delicious and the more tart Jonathan, Jonagolds are a well-balanced, all-purpose apple. They can be recognized by their yellow coloring from the Golden Delicious, blotched with swathes of red, as well as their generally larger size. Jonagolds are available for about half the year, from October through May.
13. Macoun
Similar in size and shape to a McIntosh, but with a darker purplish-red blush and "dots" over a green background. The flesh is firm and aromatic for a good all-purpose apple. Harvested during early to mid-October.
14. McIntosh
One of the most popular apple varieties, with a deep red color over a green background. The flesh is white, firm, tender, and very juicy, with a mildly tart flavor. Harvested during September.
15. Mutsu
The Mutsu apple, also known as the Crispin apple, was introduced in the 1930s in the Mutsu Province of Japan. These apples are known for their brilliant, golden peel and rich, honeyed sweetness. The Mutsu is a large apple that works well for sharing. Its sweet flavor makes this fruit a favorite for dessert. The Mutsu is a hybrid between the Golden Delicious and the Indo (another Japanese seedling) but is known to be sweeter than both of its parent varietals. Harvested in the fall, Mutsu apples can safely be stored well into early spring.
16. Northern Spy
Another New England classic and Maine favorite, the Northern Spy was first grown in New York in the early nineteenth century. They can be recognized by their large size and delicate, deep red peel—when grown in the shade. They're pinker when grown in the sun. The Northern Spy has a honeyed, slightly spiced flavor, making it an excellent choice for baking and cider. These apples ripen early—around mid-to-late September, and store well.
17. Paula Red
The Paula Red apple is a relatively young varietal. Introduced in the sixties by grower Lewis Arends, Paula Reds were named after Arends' wife, Pauline. These apples have a sharp, tart flavor, making them a great choice for fresh homemade applesauce. Paula Reds are harvested early in the season, available from late August into October.
18. Pink Lady
An oblong yellow variety overlaid with pink or light red. The flesh is white with a sweet-tart flavor. Stores well. Harvested during September and October.
19. Red Spy
The Red Spy is what is called a "sport" variety, or a mutation of the parent varietal with many of the same characteristics, aside from some key distinctions. In the case of the Red Spy, it shares most things in common with its parent varietal, the Northern Spy, including its large size and spicy-sweet flavor. The primary difference between the two is that the Red Spy has a richer, more ruby tone, in contrast to the Northern Spy's lighter, brighter red color. Known for its juicy crunch, the Red Spy is a succulent snack, as well as a refreshing addition to salads or desserts. Available late in the season, it's best to look for these apples in mid-October.
20. Rome
Originating in Rome, Ohio, the Rome apple is likely the sort of apple you'd imagine seeing on a postcard or illustration. They are usually bright, deep red, and very classically apple-shaped — round and slightly conical. They have a tart, tangy, flavor and are very dense, making them a favorite cooking apple. Rome apples are available in the fall through early winter and last long in storage.
21. Winesap
The Winesap has been a beloved apple since the early 1800s, due to its long shelf life and delicious flavor. They have a rich, wine-like taste that goes great in ciders, pies, and sauces. Winesaps can be recognized by their deep red peel speckled with green-yellow hues. They are harvested in the mid-fall and early winter months, making them durable and long-lasting.
Join The Discussion
Which apple variety is your favorite?
Share with your community here in the comments below!
No matter what kind you choose, apples are one of the healthiest and most delicious snacks around … and so versatile!
Eat them on their own, dip them in peanut butter or chocolate, bake them in a dessert, pair them with a sharp cheese, or slice them up into a salad.
Try These Recipes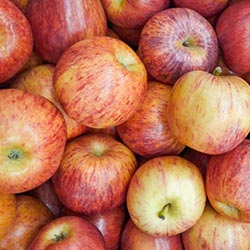 Apple Frittata
Ingredients
4 1/2

cups cored, peeled and diced tart apples

3

cups

seedless cucumber, diced

2

cups

red onions, diced

2/3

cup

jalapeno peppers, seeded and minced

1/4

cup

parsley, chopped

10

large eggs, beaten

5

cups

shredded cheddar cheese

2/3

cup

fresh lime juice

1/2

cup

olive oil

2

cups

thick and chunky salsa, sieved

1

tsp.

salt

1/2

tsp.

pepper
Instructions
Directions:

Preheat oven to 350°F. Spray-coat a 12 x 20 baking pan.

In a large bowl, combine apples, cucumbers, red onions, peppers, and parsley.

In a separate bowl, combine eggs, 2 cups of cheddar cheese, lime juice, oil, salsa, salt, and pepper.

Stir the egg mixture into the apple mixture.

Pour mixture into prepared pan and top with remaining cheddar cheese.

Bake 30-35 minutes until the eggs set and the cheese is golden brown. Cool before serving.
Apple Grilled Cheese
Ingredients
4

slices

whole-grain bread

1/8

cup

low-fat honey mustard

1

crisp apple, thinly sliced

4

low-fat cheddar cheese, thinly sliced

Butter
Instructions
Preheat a skillet over medium heat.

Lightly spread honey mustard evenly over each slice of bread.

Layer apple slices and cheese over two slices of bread, using about half an apple and an ounce of cheese for each sandwich.

Top both with remaining bread slices. Lightly coat the outward-facing sides of the bread with butter.

Grill each sandwich for 3 to 5 minutes, flipping halfway through, until cheese has melted and bread has toasted.

Remove from pan and allow to cool slightly before serving.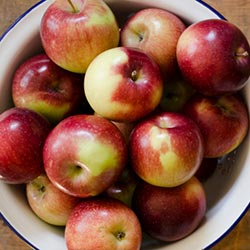 Fennel Apple Soup
Apple season is upon us. There are literally hundreds of varieties of apples grown throughout North America, but here's a rundown of some of the most popular varieties. Which is your favorite?
Ingredients
2

cups

chicken broth

2

cups

water

1/2

cup

white wine

2

apples, peeled, cored, and chopped

1

cup

thinly sliced carrots

1

small onion, thinly sliced

1/2

cup

chopped fresh fennel

1

bay leaf

1/4

teaspoon

dried thyme leaves

6

black peppercorns

Plain low-fat yogurt
Instructions
In a large pot, combine broth, water, wine, apples, carrots, onion, fennel, bay leaf, thyme, and peppercorns; heat to boiling.

Reduce heat to simmer, cover, and cook 20 minutes.

Strain soup, setting aside the liquid.

Remove the bay leaf from the apple-vegetable mixture. In a blender or food processor, puree mixture; pour in the liquid and blend well.

Reheat if necessary. Top with a dollop of yogurt.
Keep Learning
Read About The "Apple Girl" Kaitlyn Thornton
More About Apples: Cosmic Crisp & More
Join The Discussion!
What is your favorite kind of apple?
What does it taste like?
Do you use apples in your cooking? How so?
Let us know in the comments below!

Jaime McLeod is a longtime journalist who has written for a wide variety of newspapers, magazines, and websites, including MTV.com. She enjoys the outdoors, growing and eating organic food, and is interested in all aspects of natural wellness.