What is Moon Illusion?
Ever notice how big the Moon appears at times or in pictures? It's called Moon Illusion. Learn more.
One time or another you have probably encountered what astronomers refer to as the "Moon illusion." Moon illusion is an optical illusion which causes the Moon to appear larger near the horizon than it does higher up in the sky. It has been known since ancient times and recorded by various cultures. It also glows more orange when it's low to the sky.
But why?
But despite the fact that people have been observing this illusion for thousands of years, we still don't have a concrete explanation for it. One belief is that the Moon's light travels a longer distance through the atmosphere. As it travels along this long path, the shorter, bluer wavelengths of light are scattered away, leaving the longer, redder wavelengths. And our Earth's atmosphere, dust, or pollution can also deepen this red color.
Using the famous Big Dipper you can observe another type of Moon illusion. This week at dusk you'll easily be able to find the Dipper almost directly overhead. Now, look at Dubhe and Merak, the so-called "Pointer Stars" at the end of the Dipper's bowl and try to imagine eleven full Moons lined up in the space between them. Maybe you could squeeze four or five in, but eleven? And yet, in our sky, the Moon measures a half degree across, while the Pointers are separated by 5½-degrees.
So yes, (as Goldilocks might say), eleven would fit "just right!"
Bright things in the sky seem to look bigger than they really are. Artists seem to know this, whether consciously or not, and always seem to drastically exaggerate the Moon's size in their paintings. And yet, if the Moon were accurately depicted true to scale, it would be mistaken for a very bright star.
Interestingly, when the very first Zeiss planetarium projectors were built in the 1920s, both the Sun and Moon were designed to subtend exactly ½-degree when projected on their hemispherical screen, commonly called a dome. But to the eye they appeared much too small compared to the actual Sun and Moon. So the Zeiss technicians ended up doubling their size to make them appear more realistic; a practice which continues to this day in all planetariums.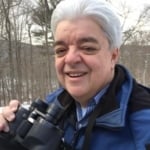 Joe Rao is an esteemed astronomer who writes for Space.com, Sky & Telescope, and Natural History Magazine. Mr. Rao is a regular contributor to the Farmers' Almanac and serves as an associate lecturer for the Hayden Planetarium in New York City.