Lilacs: Growing Tips and Lore
If there is one thing we all look forward to, it's lilacs blooming in the spring. It's hard to imagine, but there was once a negative stigma associated with these fragrant flowers. Read on!
If there is one thing many gardeners and flower pickers alike look forward to, it's the lilacs blooming in the spring. Between the strong fragrance and the pretty plumes of white, pink, mauve, and purple blossoms, this shrub is irresistible. Gardeners throughout history felt the same way. Common lilacs appeared in Britain as early as the 15th Century, and they came to the Americas along with some of the first settlers.
Where Did We Get Lilacs?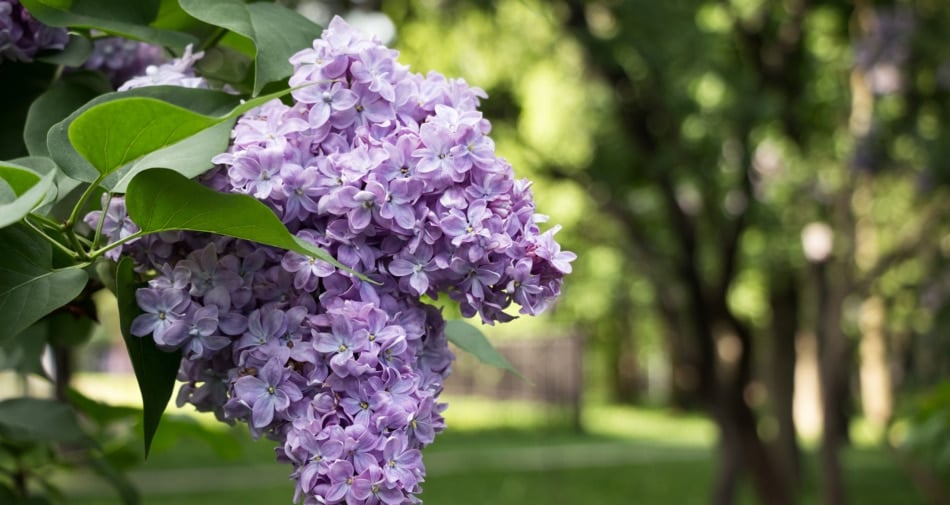 Before gardeners brought them to Britain and the Americas, common lilacs were found in Eastern Europe, while other types originated in Iran.
A Greek Legend
The history of this shrub dates back so far that the ancient Greeks had a tale about it. In their legend, the god Pan fell hopelessly in love with a nymph named Syringa, but Syringa was terrified of the god and his newfound affection. Pan chased Syringa through a forest, where she turned herself into a lilac bush to hide from him.
Lilacs: Unlucky?
That isn't the only lore surrounding this shrub. Throughout Europe, especially within the British Isles, the lilac was considered an unlucky flower. It was perfectly fine to grow them outdoors, but bringing the flowers inside was asking for disaster. Purple lilacs were supposed to be far unluckier than the white ones, to the point that some said bringing a bouquet of purple lilacs inside would "bring death to a healthy home." So bad was the reputation of lilacs that old British lore claimed that any girl wearing a sprig of lilacs on her dress was destined to be single forever.
At one time, you could even give a bouquet of lilacs to your partner as a sign that you wanted to break up with him or her.
The Victorian era brought an end to the negative stigma surrounding lilacs, finally putting them in their rightful place as a favorite flower. Victorians developed what is known as the "Language of Flowers," a system that gave flowers meanings that could be used symbolically or as a form of communication. Consequently, purple lilacs became known as the flowers of the first feelings of love, while white lilacs represented the innocence of youth.
Lilac's Long History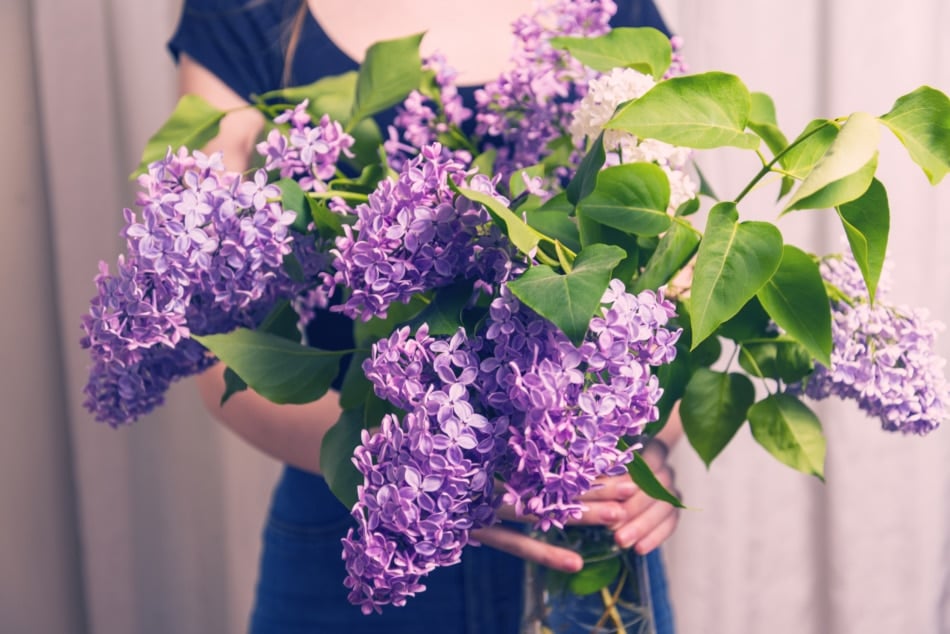 Even in the United States, lilacs have a long history. Both Thomas Jefferson and George Washington grew these shrubs, and there are lilacs growing at New Hampshire's Governor Wentworth Estate that are believed to have been planted in 1750. Early Americans often used lilacs as a substitute for aloe, a treatment for malaria and as a de-wormer.
Planting and Growing Lilacs
They are exceptionally sturdy, long lived and carefree. Because they spread by root suckers, you can nearly always dig up new starts from old lilac bushes.
Growing Tips
Choose a spot with full sun and good drainage. They don't like wet feet.
Make sure your planting area has lots of room because these shrubs will grow over 15 feet tall, with a footprint just as large in circumference.
Lilacs need cold winters, which means that they normally only grow in USDA hardiness zones 3 through 9. In zones 8 and 9, you'll have the best luck with specialty varieties that can tolerate warm winters. In warm climates, look for varieties including "Lavender Lady," "Blue Skies," "Angel White," or "Miss Kim."
When it comes to maintaining lilacs, there are a few things to know. Some people never prune their lilacs and that is fine, but the individual trunks can become very large — easily the size of a small to medium tree. The only issue that arises from not pruning your bushes, aside from the large size, is that if two large branches grow too close together, they may strangle each other, causing a bit of die back. The bush will recover from this, but in the meantime, you'll want to remove the dead trunks. If you want to keep the branches smaller, then you'll need to periodically trim out the old growth. The problem is that lilacs only bloom on branches that are a year old or older, so if you want to prune and still have blooms, follow the 1/3 rule. That is, only cut out approximately 1/3 of the older branches each year so that the lilac stays healthy and keeps blooming.
Lilacs have been a popular ornamental shrub for centuries, and with good reason. Few other large shrubs will bloom as much, smell as nice, or be as easy to care for.
Before you plant, check out our Gardening by the Moon calendar!

Amber Kanuckel is a freelance writer from rural Ohio who loves all things outdoors. She specializes in home, garden, environmental, and green living topics.