What the Heck Are Tomatillos?
They may look like little tomatoes, but tomatillos have a personality all their own! Learn more!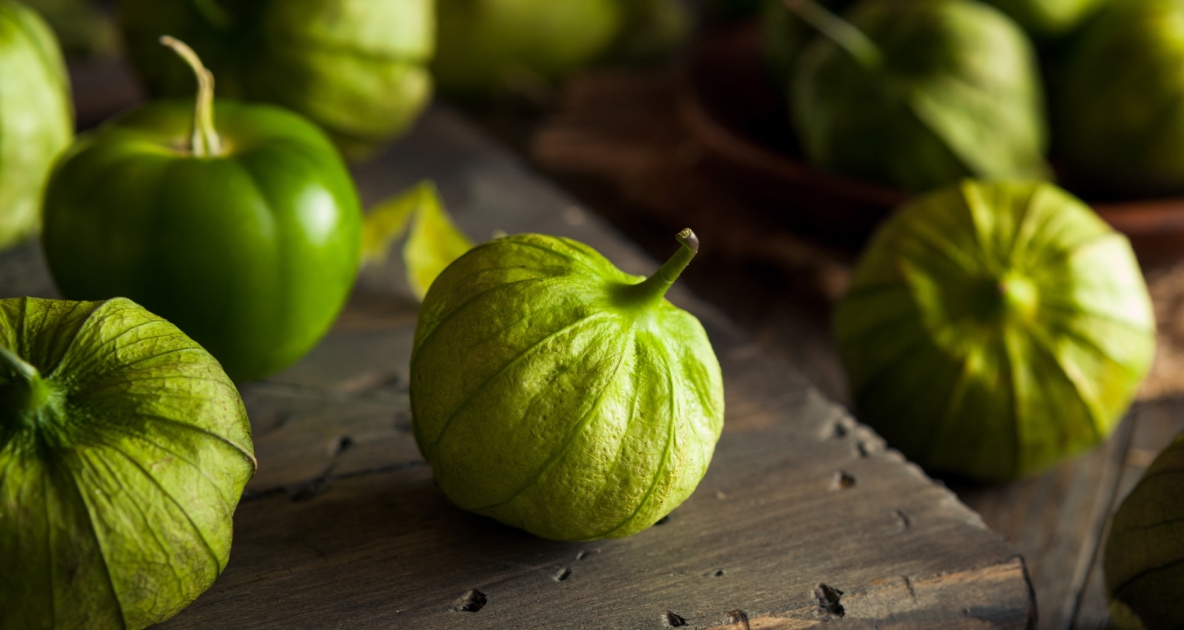 Tomatillos are small, round fruits resembling little tomatoes bearing a papery outer covering. They are members of the nightshade family, along with tomatoes, potatoes, and peppers. Though they are usually green, they can ripen to be any number of other colors, including yellow, purple, and red.
Tomatillos grow throughout the Western Hemisphere and are a popular staple food in Mexico, where they are often called "tomato verde" or "green tomatoes" (not to be confused with American "green tomatoes," which are simply unripe tomatoes). Other names include husk tomato, husk cherry, Mexican tomato, jamberry, and ground cherry.
Nutritionally, tomatillos are low in calories and rich in vitamin C, vitamin K, niacin, potassium, manganese, and healthy omega 6 fatty acids.
Selecting Tomatillos
First, select fruit that is firm and bright green. Peel back the husks and take a peek to see if the flesh has any blemishes.
Using Tomatillos in Recipes
You may have tried to eat these tomatoes raw with little success. The trick is they need to be submerged in boiling water, briefly, before using them in recipes. This makes them more palatable. Boil for about 2 minutes without the husks.
Here are a few tomatillo recipes to help you get to know these "little tomatoes":
Salsa Verde Recipe
This simple recipe for delicious fresh salsa is a great way to put them to use. You'll be adding these green gems to your grocery list often!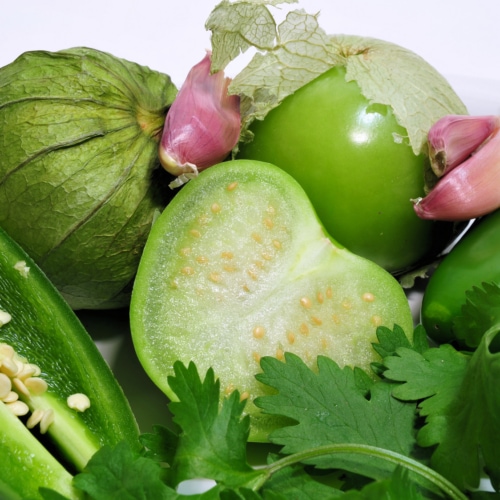 Salsa Verde Recipe
Ingredients
1

pound

tomatillos, husked

1/2

cup

onion, finely chopped

1

teaspoon

garlic, minced

1

chili

pepper, minced

2

tablespoons

cilantro, chopped

1

tablespoon

fresh oregano, chopped

1/2

teaspoon

ground cumin

1 1/2

teaspoons

salt, or to taste

2

cups

water
Instructions
Directions:

Place tomatillos, onion, garlic, and chili pepper into a medium saucepan. Season with cilantro, oregano, cumin, and salt; pour in water. Bring this mixture to a boil over high heat, reduce heat to medium-low, and simmer until the tomatillos are soft, about 15 minutes. Using a blender, purée the tomatillos and water in batches until smooth.
Tomatillo Chicken Soup
Tomatillo Chicken Soup
Ingredients
2

whole

chicken breasts, skinless

1

onion, chopped

3

cloves garlic, minced

1

pound

pound tomatillos, husked and quartered

1

Russet potato, peeled and quartered

1

teaspoon

dried oregano

2

chili peppers, stemmed and seeded

4

cups

chicken stock

3

cups

water Kosher salt and ground peppercorns to taste

1/4

cup

sour cream

2 to 3

tablespoons

chopped fresh cilantro leaves
Instructions
Directions:

In a large pot over medium heat, add chicken, onion, garlic, tomatillos, potato, oregano, chili pepper, chicken stock, and water; cover and bring to a boil. Reduce heat to low and simmer until chicken is tender and the meat falls from the bone, about 30 minutes. Remove chicken from the pot set aside to cool. Once the chicken has cooled, remove the bones and shred. Remove the soup pot from the heat and let the vegetables and broth cool slightly. Purée the vegetable and broth in batches in a blender. To serve, spoon a small amount of shredded chicken into soup bowls and pour over it. Top with sour cream and cilantro.

Jaime McLeod is a longtime journalist who has written for a wide variety of newspapers, magazines, and websites, including MTV.com. She enjoys the outdoors, growing and eating organic food, and is interested in all aspects of natural wellness.