What The Heck Is Kuchen?
Kuchen means "cake" and this one is delicious! Learn the origins of this traditional German dessert and how to make it!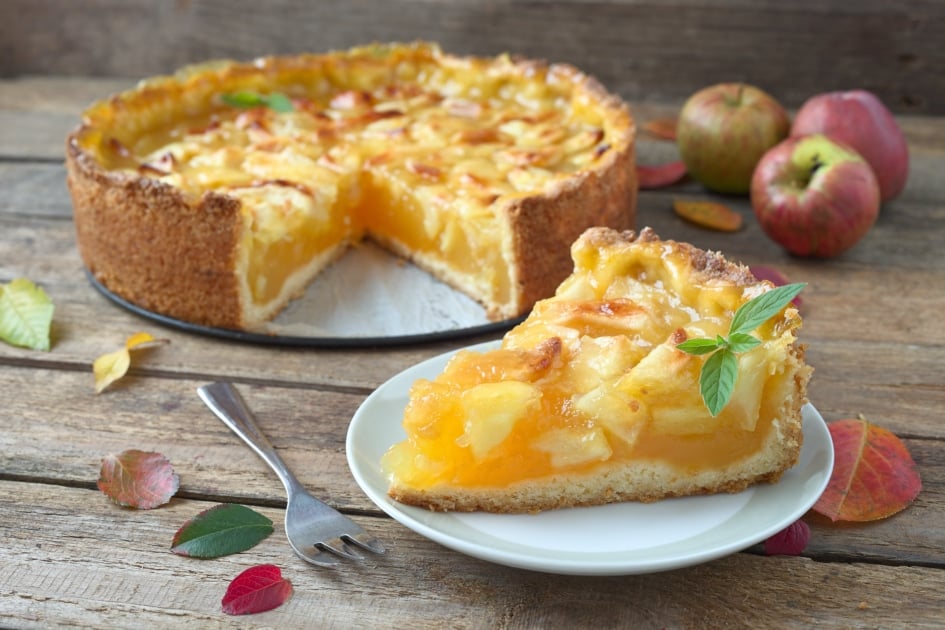 Kuchen (pronounced "koo-ken") is the German word for "cake," but a real kuchen is so much more than that! Traditional kuchen is like a delicious mash-up of cake and pie, topped with creamy custard. This dessert is very popular in Germany, and you'll find that many communities in the United States carry on the tradition of cooking kuchens. In fact, kuchen is the official state dessert of South Dakota. So where did it come from? And how do you make it? Read on!
The Origins of Kuchen
It's unclear exactly how long custard-topped kuchens have been around. However, we do know that kuchen is part of a 400-year-old "Kaffee and Kuchen" (or Coffee and Cake) tradition. This tradition is much like teatime in Great Britain – on Sundays, between 3:00 and 5:00 p.m., many Germans gather with friends and family to enjoy cakes, kuchens, and other confections, over a hot cup of coffee or tea.
How Kuchen Differs From Cake
You might think that cake is cake, no matter where in the world you happen to be eating it, but that just isn't so! German cakes are quite a bit different from those we're familiar with in the United States. In fact, German Chocolate Cake is actually an American invention, first made by a Texas woman in 1957, and named for a chocolatier by the name of Samuel German.
In general, true German cakes tend to have much less sugar and a bit more butter or shortening than the cakes we're most familiar with. That's why you'll quite often see German deserts topped with fruit, streusel or whipped topping. When you eat a traditional kuchen, you'll notice that the dough itself isn't particularly sweet. Rather, it's more like plain pastry dough – sometimes with extras like oats for more flavor and texture, or yeast to make it a bit puffier.
When it comes to kuchen toppings, anything goes. Peaches are among the most popular topping, but historically, kuchens were made with whatever fruit was abundant at the time. You'll find recipes that include apples, plums, apricots, berries, figs and more. Custard is an optional topping – most recipes include it, but not all. Like the dough, you'll find that the custard is simple and unsweetened, made with only egg yolks and cream or milk.
The recipe below is for a traditional peach kuchen with a rustic oatmeal crust.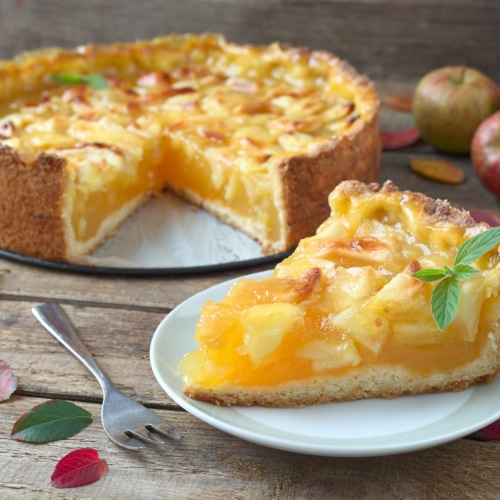 Peach Custard Kuchen
Ingredients
Crust:
1

cup

all-purpose flour

3/4

cup

old fashioned oats

3/4

teaspoon

baking powder

1/2

teaspoon

salt

1/2

cup

shortening

1

egg

2

tablespoons

milk
Filling:
16

ounces

sliced canned peaches, drained (or you can use fresh)

1/4

cup

brown sugar

1/4

teaspoon

pumpkin pie spice
Custard Topping:
1

cup 

whipping cream

2

egg yolks
Instructions
Directions:

Preheat your oven to 400º F. Sift flour, oats, baking powder and salt together and then cut in the shortening, egg and milk with a pastry blender. Once the dough is well mixed, use cooking spray to oil an 8-inch square baking dish or a pie plate and then press the dough evenly across the bottom of the dish.

Mix the pumpkin pie spice and brown sugar, and then add it to the peaches, mixing until the peaches are coated well. Then pour the peach mixture over the dough and bake it for 10-15 minutes.

While the kuchen is baking, beat the cream and egg yolks together to make the custard. Once the kuchen has been in the oven for 10 minutes, pour the custard mixture over the top of the kuchen, and then put it back in the oven and let it bake for another 25-30 minutes, or until the custard is firm. Serve your kuchen with coffee or tea while it's still warm!

Check out this recipe for Apple Kuchen!
Check out this recipe for Apple Kuchen!

Amber Kanuckel is a freelance writer from rural Ohio who loves all things outdoors. She specializes in home, garden, environmental, and green living topics.
Keep Exploring