Winter Forecast 2024: The Brrr is Back!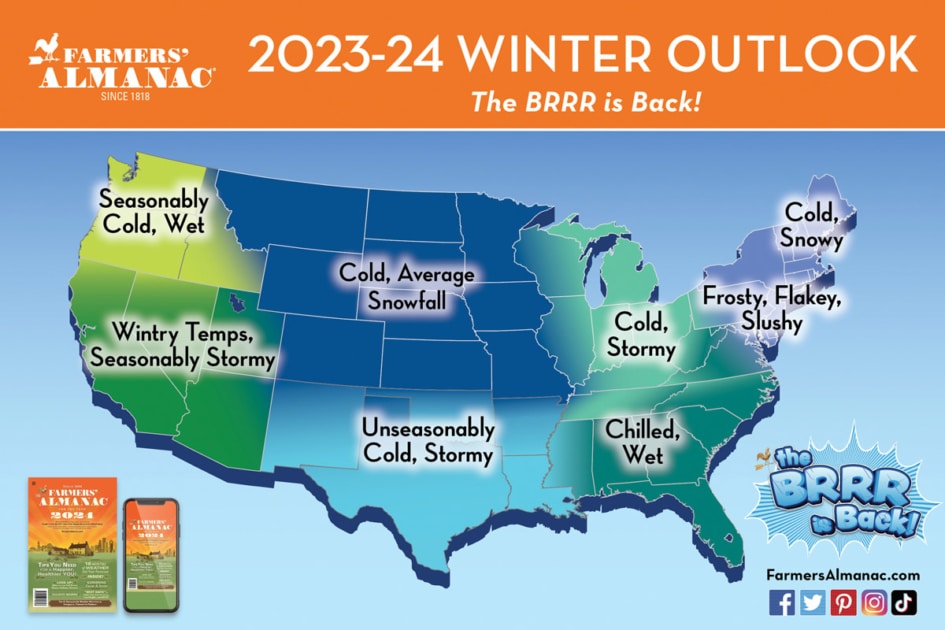 For Release August 2, 2023
Lewiston, ME: As summer's extreme temperatures continue to break world records, many people may be dreaming of cooler temperatures. Right on cue, the Farmers' Almanac releases its famous extended weather forecast and heralds a return of traditional weather for winter 2023-2024.
The Brrr is Back!
"After a weird and warm winter season last year, this winter should make cold weather fans rejoice—especially those in the Great Lakes, Midwest, and northern New England areas," shares editor Pete Geiger, adding "the 'brrr' is coming back! We expect more snow and low temperatures nationwide."
East Coast Snow?
Folks living along the I-95 corridor from Washington to Boston, who saw a lack of wintry precipitation last winter, should experience quite the opposite, with lots of rain/sleet and snowstorms to contend with.
Texans Beware!
According to Farmers' Almanac 2024, Texans should prepare for an unseasonably cold and stormy winter season ahead
Frosts in Florida?
Winter will be wet in the Southeast region however a few frosts are forecast to bring the "brrrs" to Floridians and its snowbirds.
White & Wet West
An unusually snowy and wet winter is predicted for the Pacific Northwest. If El Niño continues to intensify, the Farmers' Almanac believes another wet and white winter will keep California and the Southwest drought-free.
How Farmers' Almanac Forecasts are Made
"The Farmers' Almanac uses a proprietary formula that considers a variety of factors including sunspot activity and tidal action of the Moon. However atmospheric phenomena such as El Niño also affect our predictions," shares managing editor Sandi Duncan, adding "the fade out of La Niña is one of the reasons we believe winter last year turned out warmer than normal." The outlook for winter 2023-2024 includes a nod to El Niño strengthening, which should result in more moisture and storms in the southern areas of the country.
Your #1 Guide
The Farmers' Almanac extended weather forecast is a highly anticipated feature of this favorite annual publication. Published for over two hundred years, each edition is chock full of thought-provoking articles and calendars with the "best days" for everything from seed starting to stargazing. Farmers' Almanac 2024 hits stores in August 2023. Discover more about Farmers' Almanac at FarmersAlmanac.com
Media contacts: Peter Geiger, Philom., Editor
[email protected]
Sandi Duncan, Philom., Mg. Editor
[email protected]