10 Places Known For A Beautiful White Christmas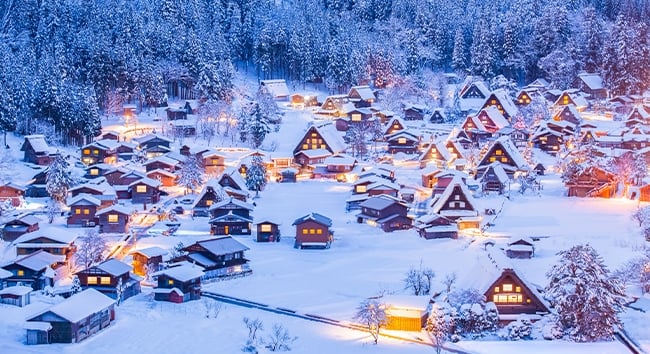 Mistletoe. Eggnog. Fruitcake. The smell of fresh pine … These are quintessential Christmas traditions that the holidays simply wouldn't feel as festive without! And when it comes to Christmas Day weather, a snowy "White Christmas" tops the list!
Whether or not you'll awaken to an official White Christmas (one inch or more of snow on the ground on Christmas morning) ultimately depends upon Old Man Winter and the unique weather patterns he'll whistle up for December 25. It's why most of us watch weather maps around the clock in late December, hoping to see a winter storm hit nearby. But, according to the National Oceanic and Atmospheric Administration (NOAA), there are some places where White Christmases are almost guaranteed—no blizzard or nor'easter needed!
To find these winter wonderlands, meteorologists looked back at Christmas snow events over the past 30 years. They reasoned that the more frequently a city or town has experienced snow on Christmas, the more likely it is to do so again.
In 2021, NOAA updated the 30-year period used to create their Christmas snow climatology map. (It previously included 1981-2010, but now looks back at Christmases from 1991-2020.)
Because of the changing weather trends in recent decades, the White Christmas map has changed too by shrinking slightly northward. But there are still many locations that historically tend to see White Christmases, including these 10 in North America, where the odds of seeing snow this or any other Christmas are brighter than Rudolph's nose!
Dreaming of a White Christmas? These cities and towns don't have to!
Fairbanks, Alaska
Fairbanks receives a meager 11.4 inches of snowfall, on average, in December. However, the city's average December temperature of -6.8 degrees Fahrenheit (-21.5 Celsius) means whatever snow falls to the ground stays there. Case in point: Fairbanks has only seen one snowless Christmas (1934) since its weather records began in the early 1900s.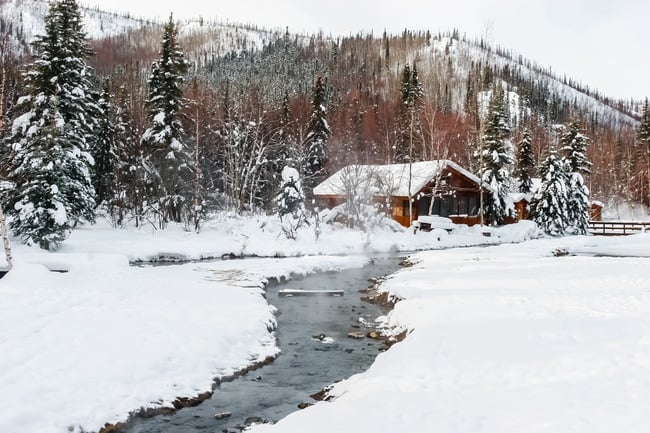 Mammoth Lakes, California
Located at an elevation of nearly 8,000 feet within the Sierra Nevada Mountains, Mammoth Lakes is a marshmallow world in the winter. Snow in the Mammoth area can arrive as early as October, so, by the time Christmas arrives, the snow season is well underway. And with over 45 inches of snowfall typical in December, there will likely be snow on the ground more often than not within the month.
Telluride, Colorado
To sit so far south in the contiguous US, the town of Telluride, Colorado, has surprisingly high odds for experiencing a snowy Christmas—a 94% chance, to be exact. This is largely thanks to its being nestled against the Southern Rockies' San Juan Mountains.
Duluth, Minnesota
Duluth isn't nicknamed the "Christmas City of the North" for nothing. Not only is there a 92% chance the northern Minnesota city will enjoy an inch of Christmas snow in any given year, but the likelihood it will be blanketed with as much as 5 inches stands at nearly 60 percent.
Marquette, Michigan
Marquette's geographic location downwind of Lake Superior in a region known as the Upper Penninsula snowbelt makes it one of the snowiest places in the US. On average, it receives nearly 200 inches of snowfall each year, of which 40 inches falls in December. This lake-effect-snow city has recorded snow on the ground every Christmas since its record-keeping began, with the exception of three—Christmas 1994, 2006, and 2015. With these odds, Marquette expects a white Christmas 96% of the time!
Lake Placid, New York
Thanks to the Great Lakes and Adirondack Mountains, Upstate New York has some of the best historical odds of a white Christmas in the nation. Lake Placid, for example, has seen at least an inch of snow on the ground for nearly nine of every ten Christmas mornings.
Caribou, Maine
With a name synonymous with reindeer, and a reputation as one of America's northernmost cities, it's only natural that Caribou makes our white Christmas list. Since weather records began there in 1939, a white Christmas has been observed 92% of the time. The city experienced its deepest white Christmas accumulation in 1989, when 2.5 feet of snow lay on the ground on the morning of December 25!
Winnipeg, MB, Canada
Although the definition of a white Christmas varies slightly for our Canadian readers (at least 2 centimeters, or 0.8 inches, of snow must be present), the desire for it is as popular with Canucks as it is with Americans. And according to Environment Canada, Manitoba's capital city of Winnipeg has only seen one snowless or "green" Christmas since 1955!
Goose Bay, NL, Canada
Nearly 30 inches of snow descends on Goose Bay every December, so, it's highly likely the eastern Canadian city will see snow blanketing the ground on Christmas Day itself. In fact, Environment Canada reports that 98% of Christmases between 1955 and 2019 were white. Goose Bay's 53% historical probability of a "perfect Christmas" (meaning snow on the ground and snowflakes in the air) is also nothing to sneeze at.
Prince George, BC, Canada
From 1955 to 2019, 91% of Christmases in Prince George have been snow-covered…and not just by the minimum amount. In recent years, the average Christmas morning snow depth has been 5.5 inches (14 cm)!
Related Articles
Budget-Friendly Holiday Family Fun
How To Save Money On Gas This Winter
7 Ways To Lower Your Heating Bill
Join The Discussion!
When was the last time you remember having a White Christmas?
What are some special things you do to get in the Christmas spirit?
Share a fond Christmas family memory in the comments below!
By the way, have you seen our Christmas ornaments? Shop now.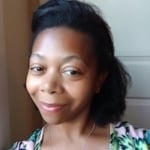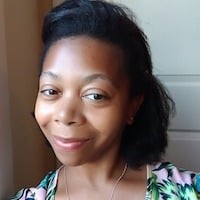 Tiffany Means is a freelance writer and a degreed meteorologist. She specializes in weather forecasting and enjoys making the subject of weather (and the science behind it) more relatable. She currently resides in the Blue Ridge Mountains of North Carolina.