2022 Honey Recipe Contest Winners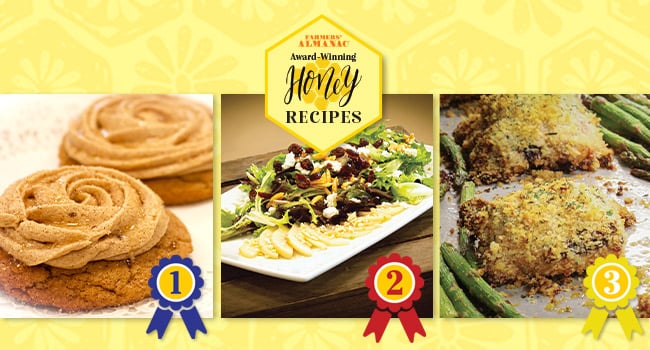 Every year, the Farmers' Almanac selects an ingredient and asks readers to submit original recipes for a cash prize cooking contest! In 2022, the theme was honey. (We asked that each recipe included at least 2 tablespoons.)
A Sweet Surprise
We knew honey was an amazing ingredient for a variety of dishes, but we were pleasantly surprised by the wide range of creative submissions. Our readers outperformed any expectations! We were also wowed by the number of entries, including many from overseas.
Congratulations To The Winners
Thank you to everyone who sent in recipes. Congratulations to our winners: Cameron Livesay of Sykesville, Maryland, Margee Berry of White Salmon, Washington, and Mary Shivers of Ada, Oklahoma. (Each of their prize winning recipes are listed below.)
Special Thanks
Special thanks to The Green Ladle Culinary Arts School of Lewiston, Maine, for lending their aspiring student-chefs to prepare each of the final recipes for judging. Special thanks also to the Lewiston Regional Technical Center students who photographed the winning recipe dishes!
The following three recipes were the Farmers' Almanac judges' top picks. We highly recommend that you give them a try!
The Farmers' Almanac 2022 Prize-Winning Recipes
Enter Farmers' Almanac 2023 Recipe Contest!
Do you like to cook? Is there an original recipe passed down by a family member that deserves to be put in print?
Blueberries are the ingredient for the 2023 contest. Submit your recipe today for a chance at a cash prize and the fame of being printed in the next edition of Farmers' Almanac.
Submit your recipe today. Deadline: Valentine's Day, February 14, 2023.