5 Appalachian Winter Traditions You Will Love!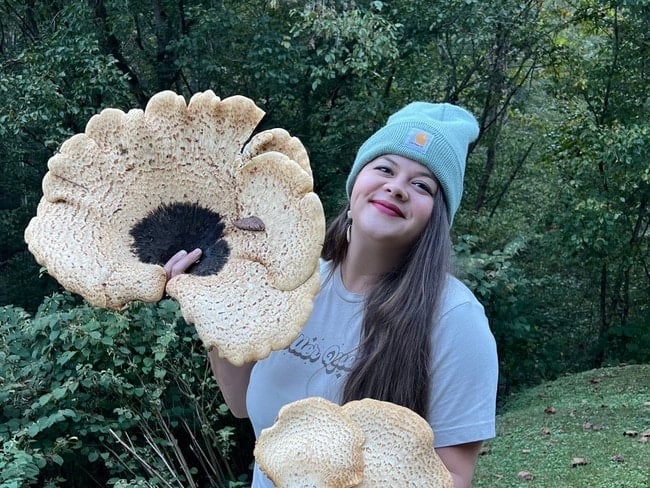 Hey FA Readers! We love discovering and featuring young, talented folks who are keeping their family's heritage alive and well! Appalachia and Appalachian traditions have always intrigued our readers, so we asked Whitney Johnson AKA "Appalachian Forager" to share some of her favorite winter activities. Whitney is a smart business woman who mixes humor and tradition to be a social media powerhouse. Learn more about Whitney and get inspired for winter fun with her article below!
(In case you are wondering, "Appalachia" refers to the southern region of the Appalachian Mountains. View this color-coded map. Whitney's family is located in eastern Kentucky—highlighted in yellow.)
5 Appalachian Winter Traditions
Sometimes we can fall prey to the wintertime blues. I know I sure did until I found a cure. For me, the remedy was the hills and the woods of my region. I learned to go outside, to forage, to be with my tribe, and to use all of the treats Appalachia provides!
Being Appalachian affords me the opportunity to have a bounty of activities and goodies right at the tip of my boots year-round. Here are a few of my winter holiday traditions that I hope inspire you, especially if you find yourself feeling a little down this time of year.
1) Go Mushroom Hunting!
My favorite tradition is winter mushroom hunting. Yes, I said it … mushroom hunting in the winter. There are so many top choice edible fungi to be had this time of year! I find hedgehog, yellowfoot, and oyster mushrooms in abundance in eastern Kentucky. I've even dusted the snow off the tops of their frozen caps to harvest and sling into my foraging sack.
There's nothing quite like loading up on wild mushrooms and turning them into a rich, earthy dish to snap you out of a winter "funk." It also doesn't hurt that hedgehog, yellowfoot (winter chanterelles), and oyster mushrooms happen to be—in my opinion—three of the best-tasting mushrooms out there. Oh yeah, and they are free!
Oyster mushrooms are the easiest ones to find. You'll often find them growing in overlapping clusters on dead or dying hardwood trees—especially after bouts of rain. A key identifying feature of an oyster mushroom is decurrent gills (gills that run down their stem).
Hedgehog mushrooms are another tasty mushroom that can be found in winter. They are orange-cream in color and have a bunch of little teeth or spines that resemble quills on the underside of their caps, hence the name "hedgehog."
Note: Farmers' Almanac recommends that you forage with caution. Do not eat anything from nature without proper identification.
2) Trout Fishing Is Great In Appalachia
In the colder months, you'll find me at the lakes and spillways using live nightcrawlers (earthworms) to land some trout. The fish can't resist them! I've also used trout dough and crappie nibbles to fish for trout and it's decent, but nightcrawlers are the best.
There's nothing like seeing your bobber dance and watching your line stretch out while it's snowing. Trout are a mild, tasty fish and you don't even have to scale them, which is a bonus. It's hard to beat a nice, fresh pan fried trout that you just caught hours before. I stock my freezer with them and share with friends and family throughout the year.
3) Try Competitive Sledding!
What would winter be without playing in the snow and sledding? No matter your age, this is an Appalachian must! (I've watched my 60+ year old dad fly down snowy hills!) Since I was a kid, my family has made sledding a competitive sporting event. I've been throwing on layers of old sweatpants, putting bread bags on my feet, and using socks for gloves to get out there and hit the hills. (Fun fact: bread bags really can help keep your feet dry and warm. Put them on over your socks before putting on your boots.)
When I was little, they'd stack us three kids high and send us down on an inner tube of an old coal truck tire. In Appalachia, anything works as a sled, including garbage can lids, satellite dishes, trash bags—you name it.
While you're out there, don't forget that you can also make a tasty treat using snow, condensed milk, and sugar. We call this snow cream and it literally tastes like my childhood. Add some chocolate chips if you're feeling frisky.
4) Eat Your Harvested Goodies
What's better than fresh garden vegetables? Honestly, probably nothing. A close second? Garden vegetables you preserved and canned from previous seasons. Every winter, I look forward to turning my garden-grown vegetables into wholesome, rustic meals. One of my favorites consists of a big hot bowl of chili cooked with fresh deer meat and canned garden tomatoes. Another favorite is a fat ham hock with beans, pickled corn, macaroni, and tomatoes … Shew-wee!
My late mamaw passed down her knack for cooking good country foods to me. I can or freeze wild fruits that I forage in the summer and fall. My freezer and pantry are loaded with spiced pears, pawpaws, elderberries, persimmons, wineberries, and blackberries. Try being sad when you are eating a summertime fruit cobbler in December. You just can't!
5) Drink Spiced Beverages Around A Bonfire
Lastly, I find a good way to warm your bones and your soul is by spending quality time with your friends and loved ones around a bonfire with warm drinks. I break out the ol' crockpot and infuse ciders and wines.
Lately, I have enjoyed using foraged spicebush berries. To me, spicebush berries are like an Appalachian version of allspice. I also use spruce tips and mulling spices to kick up the flavor of my hot beverages. Let your ingredients warm through, pour a mug, and sip until you feel warm and cozy.
There's something about being around a fire that seems to slow down time. The stories sound better, the laugher gets louder, and the quality time feels sweeter.
Appalachia is a special place. It has shaped so many traditions for me. The comradery and family ties are strong here and the rolling landscape never disappoints. I am so proud of where I'm from and truly it is one of the most beautiful places anywhere that is so deeply steeped in tradition. And I'd fight a grizzly bear if they thought otherwise.
Related Articles
Budget-Friendly Ways To Celebrate The Holidays
How To Dry Green Beans Appalachian Style
Twelfth Night Wassail Holiday Punch
Join The Discussion!
Are you from Appalachia or have you ever been?
Do you share in any of these Appalachian traditions?
Let us know in the comments below!
Whitney Johnson is a full-time forager, outdoor enthusiast, and licensed psychotherapist based in eastern Kentucky. Her forte is mushroom hunting, but she doesn't discriminate any wild edibles. You can find her quirky, educational videos on TikTok and Instagram: @appalachian_forager. Learn more about her at appalachianforager.com