How To Make A Charcuterie Board Wreath
Charcuterie boards are always popular at parties—no matter what the occasion. This holiday, get a little more creative and dazzle your guests with a festive charcuterie board wreath! Make a "charcute-wreath!" It may leave you saying "it's too pretty to eat!" Read on for our easy how-to guide, including a video tutorial for making salami roses!
How To Make A Charcuterie Board Wreath
Just like any charcuterie board, a charcuterie wreath is made of cheeses, meats, crackers, and bread—as well as any additional items you choose. (Learn how to make a traditional charcuterie board here.) The only real difference with a charcuterie wreath is its arrangement in a circle, "meat roses," and herbs or leafy greens that resemble a wreath.
Getting Started
Grab a wooden charcuterie board or stone slab. Any size or shape will work, but a round one will make the process easier and more appealing. Start building your board by placing small bowls of honey, fruit preserves, olives, or mini pickles around the outer edge of your board, leaving a large area in the center open.
1) Place Your Cheeses
You can't go wrong. Simply pick cheeses based on your own preference. Brie, blue cheese, cheddar, goat cheese, manchego, provolone, pepper jack, and mini mozzarella balls are all popular cheese choices. (We highly recommend manchego!)
Slice your cheeses into bite-sized pieces and fan them out. You may also use Christmas cookie cutters to make your charcuterie board even more creative! Mini stars or trees are adorable choices. If you're really feeling artistic, cut a small star shape into a wheel of brie and fill it the cut out space with pomegranate seeds!
2) Make "Meat Roses"
Dry salami, pepperoni, prosciutto, chorizo, and capocollo are all fantastic cured meat choices for your charcuterie board wreath.
Folding or styling each piece (depending on its texture and size) will add a "wow-factor" to your presentation. Rather than rolling the meats, try folding them in quarters or in halves. We suggest taking it to another level: Make meat roses!
To make meat roses, layer thinly sliced meat in a row, overlapping halfway across. Fold the whole row in half lengthwise. Then roll the folded group together like a roll of tape until it forms a flower shape.
Alternatively, you can use a wine or shot glass (depending on the size) to create roses.
Hang a slice of meat so it falls over the rim of the glass. Then add another slice that overlaps the first, and continue adding slices to cover any seams until you get the size rose you are happy with. Flip the glass over and lift to reveal your meat rose.
Watch the tutorial below:
3) Place Your Fruits
Having something sweet and juicy on your board complements the savory flavors of the meat and cheeses. Adding fresh fruits, such as berries, grapes, cherry tomatoes, pomegranate seeds, and sugared cranberries, also adds beautiful color. Dried fruits work well too. Play on the red and green colors of Christmas to make a more festive presentation. (Learn why red and green are Christmas colors.)
4) Fill-in Your Charcuterie Board with Nuts, Crackers, and Chocolate
The final grazing ingredients to take your board to the next level is adding the nuts, crackers, and chocolates. Fanning a variety of types and textures of crackers and crips evenly around your board will bring in more flavor. Pistachios, candied pecans, almonds, chocolate bark squares, and chocolate covered nuts give a sweet and salty spectrum of flavors to your charcuterie board.
5) Garnish with Herbs Or Leafy Greens
To complete the wreath appearance of your charcuterie board, you'll need to add some edible foliage. Herbs such as rosemary and sage are fantastic choices. Otherwise use crunchy kale or green leaf lettuce. Tuck rosemary sprigs around the inside and outside of the arranged circle to emulate a wreath. (You will want to also snip off some leaves so that you guests may easily add them to their bites!) Add cheese knives and your wreath is ready to be enjoyed!
Easy Grab-And-Go Alternative Options
Pre-assemble Bites On Toothpicks
For a grab and go charcuterie option that will avoid your guests from pawing at the plates, create your wreath out of skewers. Skewer your favorite antipasto foods (meats, mozzarella balls, tomatoes olives, artichoke hearts etc) onto large toothpicks and arrange the skewers in a wreath shape around your board or round plate and adorn with rosemary sprigs.
Just Use Olives, Cherry Tomatoes, And Mozzarella Balls
You can also customize your wreath or make a simpler version with an arrangement of different colored olives. Tuck in some cherry tomatoes and mozzarella balls to make the coloring more festive.
Dinner For Two? Make A Simpler Charcuterie Christmas Tree!
If you're entertaining a smaller group or just want to do something fun with your partner, assemble a small amount of the charcuterie ingredients into a Christmas tree shape. You can still be fancy and include the meat roses!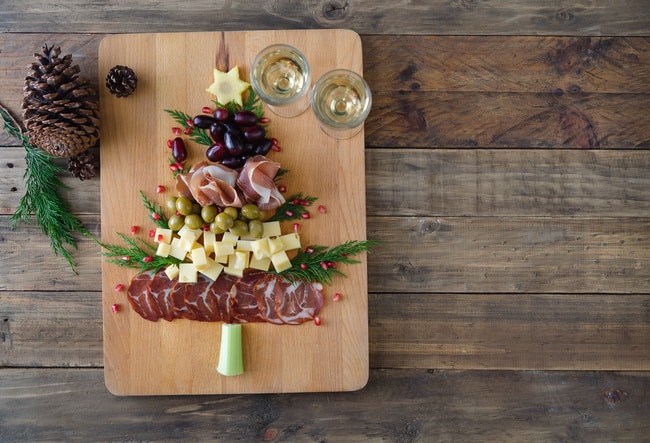 Related Articles
Budget-Friendly Ways To Have Holiday Family Fun!
Join The Discussion!
Did you use this idea to make a charcuterie board?
What are some of your favorite foods to use in charcuterie?
Let us know in the comments below?

Natalie LaVolpe is a freelance writer and former special education teacher. She is dedicated to healthy living through body and mind. She currently resides on Long Island, New York, with her husband, children, and dog.