5 Best Places To Watch A Thunderstorm – Guess Which State is #1?
If you're looking for great thunderstorm-watching, these hotspots are considered some of the best in the world!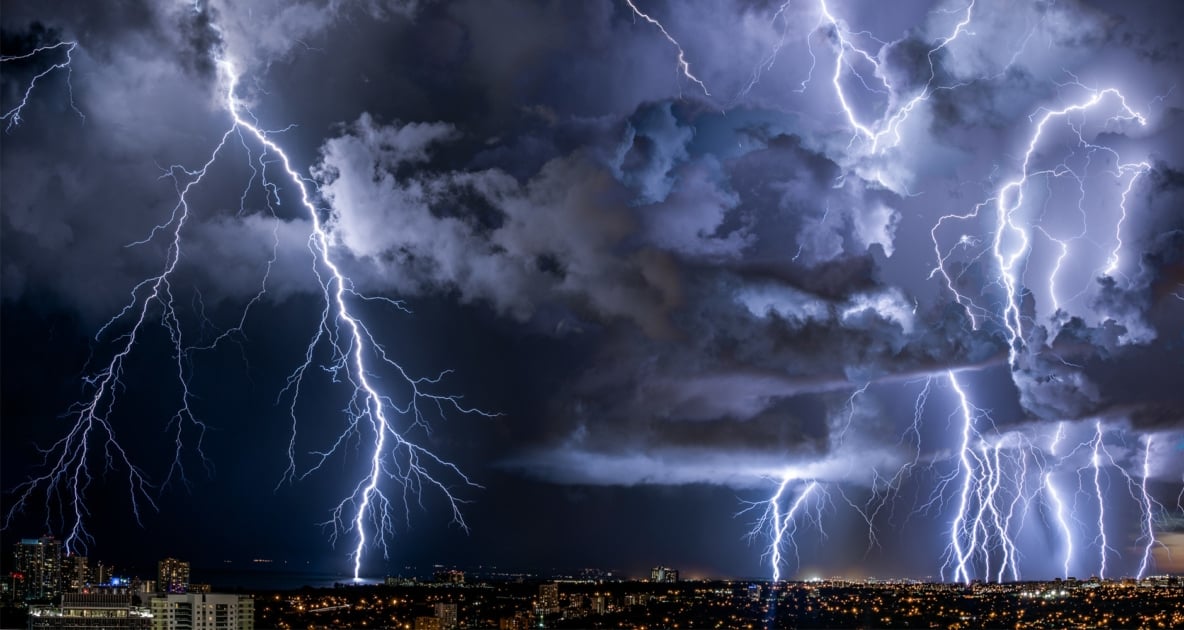 While they can be scary and dangerous, there are many of us out there who can't help the fact that we love to watch a good thunderstorm. When we know one is coming, we look forward to the show. We often hear from our readers that some of their fondest memories include watching a thunderstorm on the porch at grandma's on a hot July afternoon. There's something to be said for Mother Nature, who can elicit nostalgia even from her most ferocious events.
5 Spots For Great Thunderstorm Watching
Throughout the United States, there are many great places to watch the black clouds, pouring rain and lightning roll in. If you're looking for great storm-watching, these 5 hotspots are considered some of the best in the world! Just remember to play it safe. If you're caught in the open, head for shelter or a vehicle as soon as possible. Check out these lightning safety tips here. Better yet, find lodging with a great view so that you can watch nature's fury without putting yourself in danger.
5. Kansas
Because it's situated in the heart of Tornado Alley, Kansas offers some of the best storm watching opportunities in the United States. According to the National Oceanic and Atmospheric Administration, Kansas experiences approximately 50 thunderstorms per year, many of which happen in June and July. The great thing about Kansas is that the wide-open spaces let you watch as storms develop miles away from your storm-watching spot.
4. Arizona
People that aren't from Arizona often assume that the weather is dry and relatively calm, and in some regions of this state, that's true. However, Arizona also has a few thunderstorm hotspots. Chief among them are the Huachuca Mountains in southeast Arizona. Throughout the month of July, these mountains experience a thunderstorm every day – sometimes twice per day!
Fifty miles to the north, the city of Tucson averages 20 thunderstorms in July. Book a room in a high-rise motel with plenty of windows so you can catch a glimpse. You can also visit nearby Mt. Lemmon, which offers a wonderful – if unsheltered – view of Tucson's storms.
3. Texas Panhandle and Western Oklahoma
Everything is larger in Texas, and that includes the thunderstorms, particularly in the Panhandle region and western Oklahoma. As a Texan might say, "when it rains, it ain't kiddin' around!" The sky turns pitch black as rain pounds the ground. The thunderstorms in this region are often accompanied by extreme high winds, large hail and tornadoes.
In the eastern half of the Panhandle, your best chances of catching a storm are in June. If you're visiting the northwestern corner of the Panhandle or western Oklahoma, you're more likely to see a good storm in July.
2. Colorado
Colorado has extremely volatile weather patterns, which makes for some of the best storm watching in the world. On a clear day, a furious storm can develop in minutes. Book a lodge in the Rockies during August for an excellent view of lighting striking the mountains.
For even better storm watching opportunities, visit eastern Colorado. Although this region is relatively flat, the mountains to the west have a strong influence over the weather in the eastern half of the state. Cold air masses from the north sometimes clash with tropical air from the south, which results in some spectacular storms. Because of the area's turbulence, you're likely to see sudden high wind events and flash flooding in addition to ferocious thunderstorms. Eastern Colorado's storm season peaks in July, so if you plan a trip for the end of July and the first part of August, you can watch storms in both the eastern portion of the state and in the Rockies.
1. Florida
You'd think that the number one best spot to watch storms in the United States would be somewhere in Tornado Alley, but it's actually Florida, the state known for its balmy weather and sun-kissed beaches. Some areas in Florida, however, see as many as 100 thunderstorms per year, which means that on any given day, you have a one in four chance of catching a good storm. And, depending where you choose to stay, there's a great chance that you'll be able to watch storms moving in from the ocean, which means ample opportunities to catch a glimpse of lightning striking the water.
The absolute best spot in Florida is Lakeland, which has 100 stormy days each year, on average. Tallahassee, Tampa, Orlando and Fort Meyers follow Lakeland, with between 80 and 90 stormy days each year. For most of Florida, the best time to visit is July. If you're visiting the southern tip of the Florida Panhandle, go in August.
What about your favorite spots for watching a storm? Share with us in the comments below.

Amber Kanuckel is a freelance writer from rural Ohio who loves all things outdoors. She specializes in home, garden, environmental, and green living topics.