7 Amazing Health Benefits of Turmeric
You may know that turmeric is the "golden spice" in Indian cuisines, but it's been used for centuries for its healing properties. See what it can do to improve your health and try this comforting, healing "golden milk" recipe.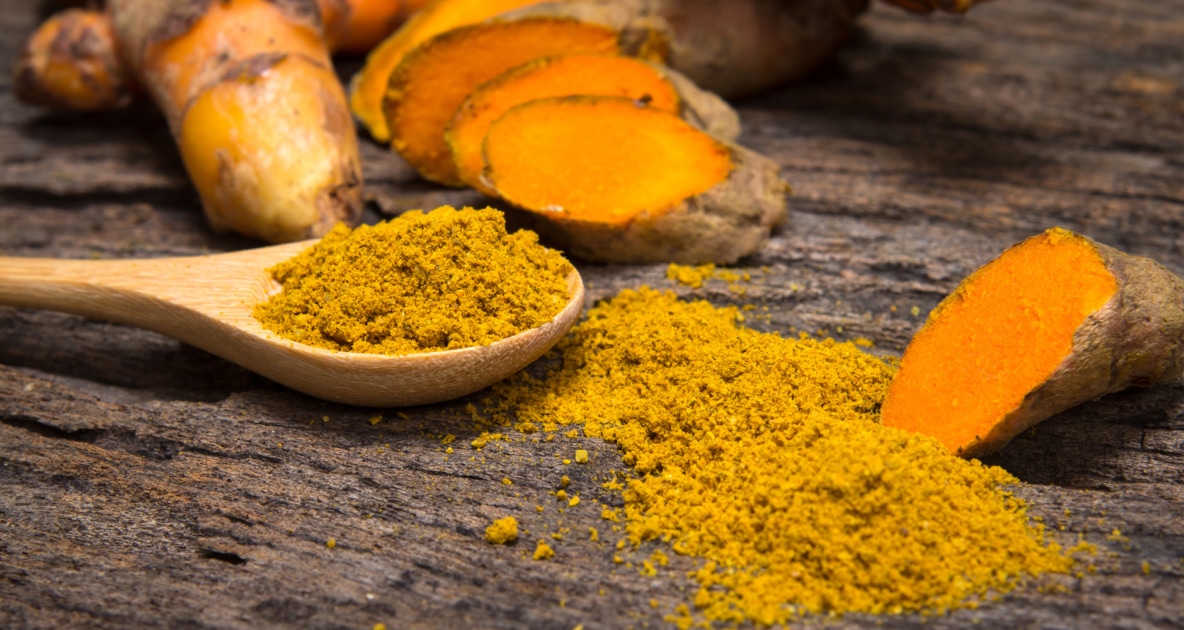 You may know turmeric as a common spice in many ethnic cuisines (it's what gives Indian curries their bright yellow color), but you may not know that this versatile south Asian botanical, Curcuma longa, has been revered for thousands of years for its medicinal properties.
Turmeric: The Golden Yellow Root
Turmeric comes from the roots of a perennial herbaceous plant related to the ginger family. Its beautiful gold-yellow color was first used to dye fabrics and today, while a widely known spice, it is used as a safe coloring for many food and beverages including cheese, popcorn, orange and lemon drinks, cakes, cereals, relishes, pickles, mustard, canned broths, gelatins, and more. It's even added to various cooking oils to increase their shelf life because of turmeric's antioxidant properties.
The Healing Powers of Turmeric
Turmeric has been an integral part of oriental and Ayurvedic ("whole body") medicine for centuries. More than 6,000 studies conducted on turmeric and its active component, curcumin, reveal that it has vast healing properties. Check out this list of 7 amazing health benefits of this spice:
Anti-inflammatory – Studies have shown that turmeric effectively reduces inflammation better than ibuprofen and aspirin, without adverse health risks. Understanding that inflammation is a precursor for most diseases in the body such as cancer, arthritis, and high cholesterol, makes turmeric the natural choice for reducing inflammation. Research supports turmeric's effectiveness at relieving joint pain and inflammation associated with all types of arthritis. In fact, those who suffer from Lyme disease (which has symptoms that mimic arthritis) are often prescribed turmeric and golden milk (recipe below) for relief.
Anti-Cancer – Curcumin and turmeric have been shown to fight colon cancer, breast cancer, and leukemia. There's no risk of adverse side effects that drugs often pose.
Gut Healer – Taken in supplement form, turmeric supports the healing of stomach issues, bowel disease, and various digestive problems.
Improved Brain Function – Inflammation impacts the brain as much as it does the rest of the body. Turmeric improves brain function, reduces "brain fog," and symptoms associated with Alzheimer's and other neurological diseases.
Anti-Depressant – Studies show that turmeric relieves stress, anxiety, and depression, helping us relax, improve mood, and achieve inner balance. Diffusing turmeric essential oil can help you unwind and reduce stress.
Liver Support – Turmeric cleanses and supports the health of our liver. It protects this vital, detoxifying organ against toxicity.
Cold Remedy – Turmeric boosts immune function, which is key when fighting a cold or other viral illness.
Ways to Use Turmeric
Quality turmeric products are available where natural or health foods are sold in various forms: fresh root, ground, liquid extract, essential oil, and capsules.
The extract should be certified and organically grown. It can be taken with water or in a spoon of coconut oil or honey between meals.
To reap the vast health benefits of turmeric, you'll want to incorporate it frequently into your meals. Toss a dash of organic, ground turmeric into scrambled or deviled eggs, salad dressings, cream sauces, noodles, gravy, soup, rice, pickles, and chicken and fish entrees. Ground or freshly grated turmeric root can be added to herbal teas or blender beverages.
Absorption of Turmeric
Turmeric is best absorbed by the body when fat is added (like coconut oil). Additionally, black pepper (as seen in the recipe, below) also increases turmeric's bioavailability thanks to piperine, a compound that gives black pepper its pungency. (Why does black pepper work? Because one of the ways our liver gets rid of foreign substances is by making them water soluble so they can be more easily excreted. But piperine inhibits that process, allowing for more absorption. Even just a pinch of black pepper does the job!).
Try warming up with this healing drink which incorporates all the goodness of turmeric into one lightly-spiced delicious beverage.
Golden Milk Latte
In addition having a comforting ritual of drinking something warm before bed, this warm and cozy golden milk latte can help you relax so you can get to sleep.
Ingredients:
2 cups unsweetened almond or coconut milk
1 (3-inch) cinnamon stick
1 (1-inch) piece turmeric, unpeeled, and sliced into thin slices, or use 1 tablespoon dried organic turmeric
1 (1/2-inch) piece fresh ginger, unpeeled, thinly sliced
1 tablespoon raw honey or sweetener of your choice
1 tablespoon virgin coconut oil (don't omit—the fat is important to get turmeric's benefits)
1/4 teaspoon whole black peppercorns
Directions:
Whisk milk, cinnamon stick, turmeric, ginger, honey, coconut oil, peppercorns in a small saucepan; bring to a low boil. Reduce heat and simmer until flavors have melded, about 10 minutes. Strain through a fine-mesh sieve into mugs and sprinkle with ground cinnamon. Serves 2.
Learn more about turmeric and four other spices that heal…

Deborah Tukua is a natural living, healthy lifestyle writer and author of 7 non-fiction books, including Pearls of Garden Wisdom: Time-Saving Tips and Techniques from a Country Home, Pearls of Country Wisdom: Hints from a Small Town on Keeping Garden and Home, and Naturally Sweet Blender Treats. Tukua has been a writer for the Farmers' Almanac since 2004.