New Twist On Some Old Recipes – Ayurveda Meets Italian Style!
Do you love decadent Italian meals but wish you didn't feel sluggish after eating them? Did you know that you can substitute Ayurvedic ingredients to improve your body's digestion, which leaves you feeling lighter and more energetic? Certified Ayurveda Counselor, Sara Garofalo, explains how! Read on.
Here at the Farmers' Almanac, we love featuring folks from a new generation who keep their family's heritage alive in unique ways. Sara Garofalo grew up making traditional Italian dishes in Italy. As she learned more about nutrition, she discovered Ayurveda, an ancient Indian medicinal system. Her recipes blend the best of both worlds together to make healthier versions of classic delights. Learn more about Sara's contemporary style and why it's better for you in our question and answer with her below. She also shares three recipes from her forthcoming cookbook, Mangia!
4 Questions For Sara Garofalo
1) What Are Some Specific Ayurvedic Ingredients You Use And Why?
Sara Garofalo: My lasagna recipe calls for ghee instead of butter. Traditionally, ghee has been used to aid memory and enhance digestion. Modern science tells us that ghee also harbors phenolic antioxidants, which bolster the immune system. Learn more about ghee. Nutmeg (an ingredient for the sauce) is an aromatic astringent that helps digestion by cutting through the fat of milk cream custards. Learn more about nutmeg.
2) How Are Your Versions Healthier Than Classic Italian Recipes?
SG: A normal lasagna recipe is made with 2-3 different cheeses (ricotta, mozzarella, parmesan) and butter. It is heavy for the digestive system. Dairy and gluten cause inflammation. My tiramisú is made without these ingredients. Regarding my ribs: Ribs are usually served with a high amount of BBQ sauce, which is high in cane sugar or high fructose corn syrup. My recipe contains less sugar.
3) What Does Italian Food And Ayurveda Have In Common?
SG: Both Italians and Indians take the time to sit and enjoy a meal in peace. Carving time to enjoy your meal brings mindfulness to the act of eating and helps digest the food well. Another similarity between the two is the use of seasonal, fresh foods. Minimally processed, locally grown and organic foods nourish the body on a fundamental level.
4) Can You Share A Bit Of Folklore About One Of These Dishes?
SG: In ancient times, Italians believed that tiramisú was an aphrodisiac. "Tiramisú" translates to "cheer me up" which alludes to the dessert's ability to reinvigorate those who taste it.
3 Of Sara's Recipes To Try!
Ayurvedic-Italian Lasagna
Ingredients
Bolognese Sauce
2

160z organic beef packages (500g or just over a pound)

3

14oz cans polpa crushed tomatoes (by Mutti)

1

stalk

celery, finely chopped

1

med

carrot, finely chopped

1

garlic clove, minced

1/2

c

red wine (optional)

4

tbsp

olive oil

1 1/2-2

tsp

salt

2

rosemary twigs
Besciamella (Italian Béchamel Sauce)
4

c

unsweetened plain almond milk (1 liter)

1/2

c

cornstarch (plus 1 1/2 TB)

1/2

c

ghee

1/2

tsp

salt

1/4

tsp

nutmeg
Assembly
bolognese sauce

besciamella

2

pkg

gluten-free lasagna sheets

1

c

vegan parmesan
Instructions
Bolognese Sauce
Heat olive oil in a large heavy pot over medium-high heat. Add onion, garlic, celery, and carrots. Sauté until soft. 

Add beef and start breaking it up with a spatula or wooden spoon until browned about  10 minutes. Add wine and rosemary. Bring it to a boil and simmer for 1 minute, stirring often until the wine is fully evaporated.  

Add 3 cans of polpa (plain)  and stir to blend. Reduce heat to very low and gently simmer, occasionally stirring, until flavors meld, and cook for about 1  1/2 hours. Season with salt and pepper. If it starts to be too dry, then add some water. 
Besciamella
In a medium pan, melt ghee at low heat, add salt, and nutmeg and when melted, add the cornstarch and stir quickly.   

Now add a little bit of (alternative) milk and make sure you stir so there are no flour clumps and then add the rest of the milk.  

Keep stirring the milk at low-medium heat until it thickens at the desired consistency. Set aside. 
Assembly
Preheat the oven to 375 F. 

To assemble, spread 1/2 cup (enough so lasagna sheets don't stick) of meat sauce in the bottom of a 9×13-inch baking dish. Arrange 6 noodles lengthwise over bolognese sauce.   

Spread with bolognese sauce. Top with besciamella sauce. Sprinkle 1/4 cup vegan Parmesan cheese. Repeat layers one more time.  

Bake in a preheated oven for 25-30 minutes. Check it with a  fork to make sure the noodles are cooked. Cool for 10 minutes before serving.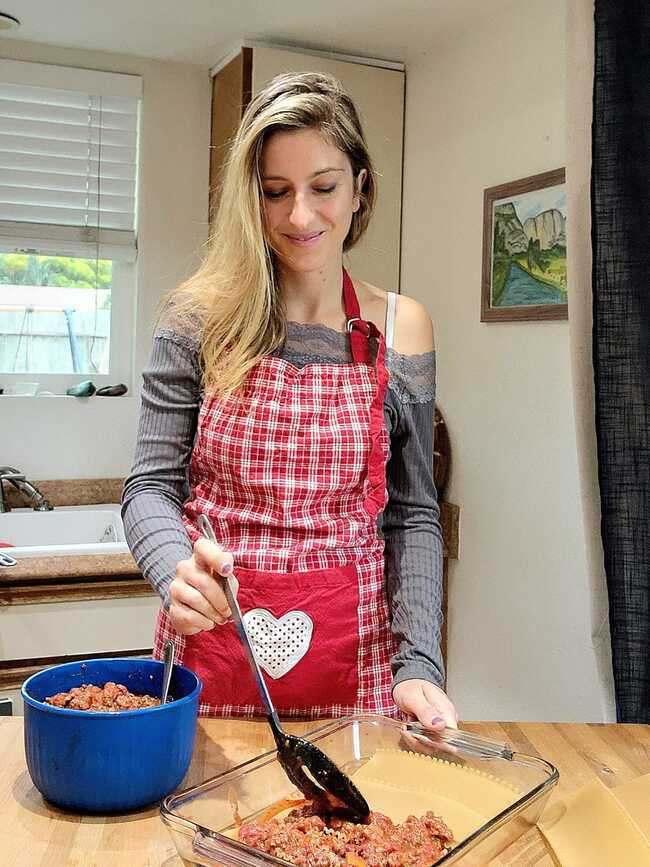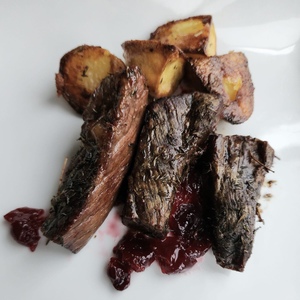 Ayurvedic-Italian Pork Ribs With Cherry BBQ Sauce
Ingredients
2-2/12

lbs

baby back pork ribs

salt

black pepper

rosemary
Cherry BBQ Sauce
1/2

c

pitted frozen cherries

1/2

onion, finely chopped

4

carrots, chopped

1/4

c

(bone) broth

2

tbsp

molasses

1

tbsp

lemon juice

1

tbsp

apple cider vinegar

1/3

tsp

black pepper

1/2

tsp

salt
Instructions
If the ribs still have the thin membrane covering the back of the rack, remove it.  

Season both sides of the ribs with a generous amount of salt, pepper and rosemary. Place the ribs, meat-side up, into a large roasting pan or rimmed baking sheet. (It may be necessary to cut the ribs in half for them to fit into the pan). 

Cover the pan or baking sheet tightly with aluminum foil, and bake for 2 hours.  

Heat oven to 400 F. Take off the aluminum foil and bake for 10 minutes. Add more time if necessary. You will know ribs are done when the meat is cooked through and tender. This depends on the size of the ribs. Serve with cherry BBQ sauce. 
Cherry BBQ Sauce
In a saucepan, add the carrots to 1 cup of water. Bring to a boil, lower the heat to a simmer and cook for about 6 min, or until carrots are fork tender. Drain carrots

In the saucepan over medium-high heat, add cherries, onion, and broth. Bring to a boil, then lower the heat to a simmer.

Add the remaining ingredients and cook on medium-low heat for 20-25 minutes, stirring occasionally.

Transfer the mixture to a food processor or high-speed blender. Blend until combined, and store in the refrigerator while making ribs. Serve them with ribs when the ribs are cooked. 
Ayurvedic-Italian Tiramisú
Equipment
piping bag

plain, round piping tip
Ingredients
Gluten-free Lady Fingers
1/3

c

gluten-free flour mix

1

tsp

gluten-free, aluminum-free baking powder

4

large egg whites, at room temperature

3

large egg yolks

1/3

c

white sugar

1

tsp

pure vanilla extract

1/2

tsp

salt

powdered sugar for topping
Dairy-Free Mascarpone cream
2

eggs

1/4

c

white sugar

unsweetened cacao powder (for surface)

1

250gram plant-based cream cheese containers

1

tsp

vanilla extract
Assembly
ladyfingers

mascarpone cream

8-12

oz

black coffee
Instructions
Gluten-free Lady Fingers
Preheat the oven to 350 F. 

Beat egg whites with a hand mixture with one tbsp of sugar (of the ⅓ cup of white sugar) until stiff peaks form. 

Gently scrape the beaten egg whites out of the mixing bowl into another medium-sized bowl. Set the whites aside. 

In the original mixing bowl, place the egg yolks and the remaining sugar. Turn the mixer on medium-high speed and beat until the sugar is absorbed into the yolks (about 1 minute). 

Add vanilla extract, baking powder, and salt. Turn the mixer speed up to high and continue to beat for 8 to 10 minutes on medium speed, or until the mixture is pale yellow, thick, and nearly tripled in volume. Don't skimp on this step! 

Remove the bowl from your stand mixer and add around ¼ of the whipped egg whites. Folding in this small amount first will loosen up the batter. Add the remaining egg whites and carefully fold them in. 

Using a sifter, sift ⅓ of the flour at a time over the egg white mixture, and with a flexible rubber spatula or whisk, start folding the flour into the wet ingredients. Make sure to combine everything and there are no pockets of flour.  
Piping and Baking Ladyfingers
Transfer the ladyfinger cookie batter to a piping bag fitted with a plain, round piping tip. Pipe 3-4 inch "fingers" onto the prepared baking sheet making sure there are at last 2″ between the cookies to provide room for them to rise and spread. 

Using a small sifter, evenly dust the unbaked ladyfingers with powdered sugar. 

Bake the ladyfingers, both sheet trays at the same time, at 350F for 10-15 minutes. The ladyfingers should be golden brown and crunchy-looking. 

Turn off the oven and allow the cookies to cool down. Set aside. 
Dairy-free Mascarpone Cream
Carefully separate the egg whites from the yolks, remembering that to whip the egg whites well they must not contain any trace of yolk. 

Then whip the egg yolks with a hand mixer, pouring in only half of the sugar. As soon as the mixture has become clear and frothy, and with the mixer still running, add plant-based cream cheese and vanilla, little by little, until you obtain a thick and compact cream; set it aside.  

Clean the mixer attachments very well and beat the egg whites, pouring in the remaining sugar a little at a time. Whisk them into stiff peaks; you will know they're ready if the mixture does not move when you overturn the bowl. 

Take a spoonful of egg whites and pour it into the bowl with egg yolks and sugar and stir vigorously with a spatula, to thin the mixture. Then proceed to add the remaining egg whites, little by little, stirring very gently from bottom to top 
Assembly
Then soak the ladyfingers for a few moments in the cooled coffee first on one side and then the other. Arrange the soaked ladyfingers, side by side in 8×11" pan, to create the first layer, over which you will spread part of the plant-based cheese cream (dairy-free mascarpone cheese). 

Make sure to level it carefully so that you have a smooth surface. Using a sifter, sprinkle it with unsweetened cocoa powder. 

Continue to arrange the coffee-soaked ladyfingers, then add another layer of cream. 

Level the surface, sprinkle it with unsweetened cocoa powder and allow it to sit in the fridge for a couple of hours before serving it.  
Related Articles
Budget-Friendly Ways To Celebrate The Holidays
Join The Discussion!
Which of these three Ayurvedic-Italian style recipes will you make?
What is one ingredient mentioned here that is new to you?
What are some questions that you have for Sara?
Let us know in the comments below!
Sara Garofalo is a certified Ayurveda counselor, chef, and Intuitive Health instructor. Her holistic approach helps women break unhealthy (and subconscious) patterns to become more intuitive about their bodies. Garofalo's first cookbook, Mangia!, was published in January 2023. Learn more at loveholisticliving.com/