Canadian Winter 2019-20 Recap
Before we dive into winter 2021 forecast, we like to take a look back. How'd we do? We highlight some hits and misses.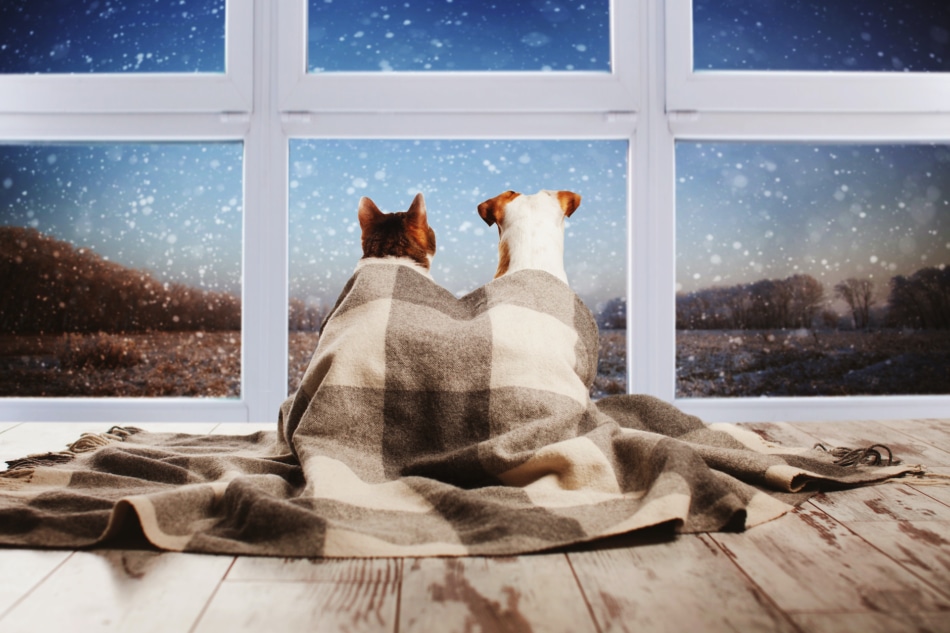 When the Canadian Farmers' Almanac released the 2019-20 winter overview, we suggested that it would be a "Polar Coaster Winter," filled with so many ups and downs on the thermometer that you might feel as if you were on a roller (ahem, polar) coaster. Our outlook also called for frigid and frosty conditions for two-thirds of the country, with only the far west experiencing near-normal temperatures.
While winter 2019-20 was quite a ride, and often one on the proverbial Polar Coaster, overall it was more mild than wild.
Blame It On "Arctic Oscillation"
Some might be tempted to place the blame on "global warming," thinking perhaps that "typical" wintry conditions may have been in short supply overall. However, there was plenty of frigidity to go around, but it was stuck up north, and only on rare occasions did that refrigerated air make it south. The chief reason for this holding pattern was the "AO," or as it's better known to meteorologists, the "Arctic Oscillation."
Arctic Oscillation refers to an atmospheric circulation pattern over the polar latitudes of the Northern Hemisphere. It serves to orient the storm-steering upper level jet stream, as well as the positioning of the polar vortex. When the configuration of the AO is said to be negative, it means that upper level jet stream winds can cause frigid air to flow freely southward and push cold air into Canada and the United States. Sometimes, the polar vortex becomes displaced from its normal position over northern Canada and is pushed much farther to the south, into the Midwestern, Central, Southern, and Northeastern United States.
This, in turn, ushers in bitterly cold temperatures all the way down to normally warm locations. When the AO is in its positive phase, a ring of strong winds circulating around the North Pole acts to confine colder air across polar regions, keeping the cold buttoned-up in the north.
The Arctic Oscillation was strongly positive for most of last winter, particularly in January and February. This strengthened the jet stream and kept the polar vortex centered over the North Pole, trapping the colder temperatures in the Arctic, and leaving warmer conditions to the south.
As a result of this positive AO, winter temperatures were above average across most of North America. More than one-third of Canada saw much above-average temperatures, especially in areas from Ontario to points to the east. Overall, for meteorological winter (December–February), the Northern Hemisphere had its warmest January–February period since global records began in 1880, surpassing the previous record set in 2016.
Conversely, for anywhere north of the Arctic Circle (latitude +66.5°), it was frigidly cold throughout the winter season. The most notable colder-than-average temperatures of 2.0°C (3.6°F) below average or cooler were present across much of the Yukon, Northwest Territories, and western Nunavut.
See what other atmospheric phenomena affect the weather here!
Some 2019-20 Season Highlights
And yet, in spite of the unseasonable warmth that covered much of the country, there were not a few locations that saw more than their fair share of snow and cold.
November Snows
Southern Ontario and southern Quebec had their first major winter storm of the season on November 11 and 12, 2019, respectively, which was followed by record January-like cold. Ten to twenty centimeters of snow fell across much of the region crippling large cities such as Montreal and Toronto. In Montreal, local officials announced the city's earliest ever snow removal operation in the aftermath of the storm.
Nailed It: Our forecast for Zones 2 and 3 in the November 8-11 timeframe called for "Rapid temperature changes accompany an intensifying storm: expect a heavy dose of rain or wet snow," and "frigid/ much colder air follows."
January Storms
A low pressure system brought moderate snow to the Great Lakes region as it crossed the Northeast, before emerging over the North Atlantic. While south of Nova Scotia, the storm became a weather bomb and the following day, January 17, it moved just to the south of Newfoundland Avalon Peninsula, bringing with it 30 to 60 centimeters of snow and hurricane-force winds that produced a large swath of blizzard conditions in the southeast corner of the island.
Nailed It. Our forecast for Zone 1 Newfoundland & Labrador" for Jan. 16-19 called for "Major winter storm. Moderate to heavy snow or mixed precipitation, with strong winds." And while we were off by a few days for Zone 2 Nova Scotia/PEI (we said January 12-15), we called for "a major Atlantic coastal storm. Quebec snowy, windy, windswept wintry mix for Maritimes."
A major arctic outbreak affected western Canada and the Pacific Northwest from January 12–19, 2020. Extreme cold warnings were issued across all of Alberta, the Yukon, the Northwest Territories, most of British Columba, most of Saskatchewan, and part of Manitoba during this period, as a cross-polar flow caused arctic air to chill this area. Much of Central Alberta dipped below -40°C, colder than it was in Siberia at the time.
Snow covered much of southern British Columbia, including the lower mainland and Vancouver Island, on January 15, 2020, when they received an unusually heavy snowstorm with high wind. This combination caused some localities to issue a blizzard warning, which is rare in British Columbia. Fifteen centimeters of snow fell in Vancouver, and twenty centimeters fell in Victoria, closing schools, disrupting transportation, and cutting power to 23,000.
In southern Ontario, up to twenty centimeters of snow fell breaking a few daily snowfall records for January 18, including at Ottawa International Airport where 19 centimeters of snow fell (14.3 cm of which fell on the 18th), and Pearson International Airport, which received 17.2 centimeters of snow.
Nailed It (sort of…): For the January 12-15 timeframe, we warned that Zones 4 and 5 would be "fair and cold," but our forecast for "a major storm" due in the Prairie Provinces was slated for January 20-23, and "storms" for British Columbia were earmarked for January 8-11.
Weird Winter 2019
This past winter was weird and hard to predict. Our long-range forecasts are created to help people plan ahead. They are based on formulae and cycles that have been time-tested. Unfortunately, unusual phenomenon, such as the Arctic Oscillation, can and do pop up late in the season, and cannot be accounted for when we are formulating our predictions. The AO can be forecast, but only in the very short term, a few weeks out at most.
This and other factors are important reminders for not only us, but your local meteorologists; predicting the weather is an imperfect science. But we will continue to do our best to advise you on what's to come this winter, spring, summer, and fall ahead.
Winter 2020-21
Be sure to check out what we are predicting for winter 2020-21!

Caleb Weatherbee is the official forecaster for the Farmers' Almanac. His name is actually a pseudonym that has been passed down through generations of Almanac prognosticators and has been used to conceal the true identity of the men and women behind our predictions.