New England Clam Chowder – Perfect Comfort Food Goodness
For winter warmth and nourishment, what's better than than a steaming bowl of creamy chowder? Try these great recipes for New England Clam Chowder Day!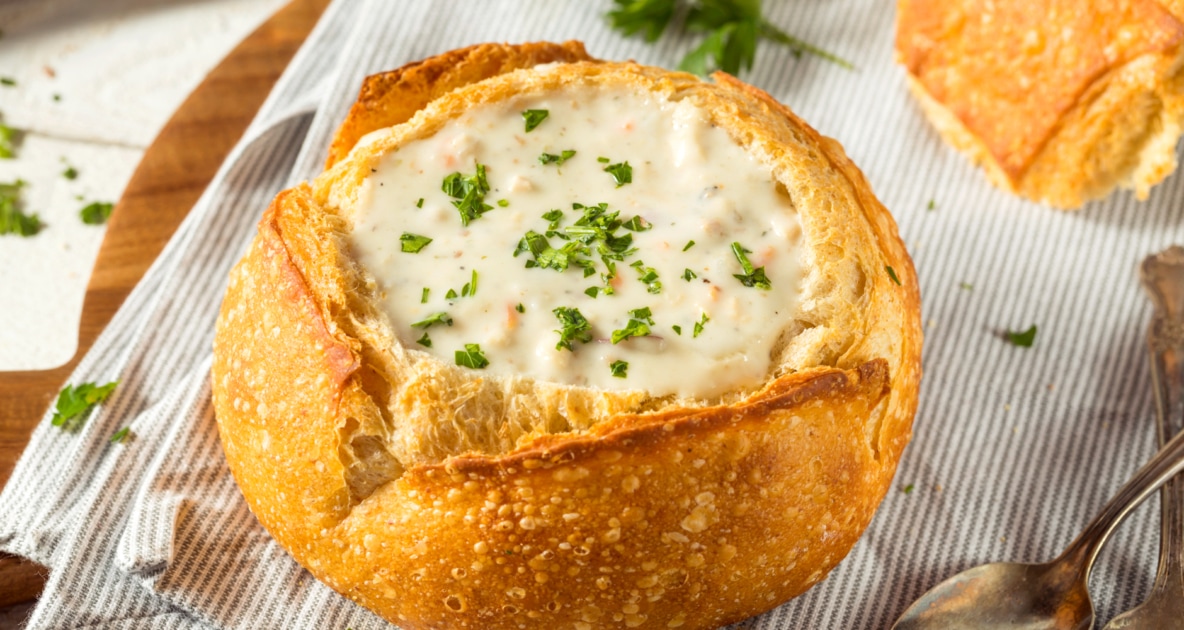 For a little winter warmth and nourishment, what goes down more smoothly than a steaming bowl of creamy chowder? Famous for its New England roots, with reportedly an even earlier provenance at the resourceful hands of Newfoundland fisherman, local chowder connoisseurs know that what sticks to the pot sticks to their ribs as well. In fact many have the blue ribbons to prove it. At points north, chowder competitions are just as common as pie contests and chili cook-offs, with recipes handed down many generations from fisherman's wife to fisherman's daughter and granddaughter.
A Delicious Tradition
Traditionally made with chopped clams, diced potatoes, onions, and a base of mixed cream, milk, and butter (sometimes flour is used to thicken), or with other fish or corn in place of clams, the Manhattan variety uses tomatoes in place of cream and milk and leaves out potatoes. Rhode Island, though certainly part of the six New England states, infuses its South County Style chowder (a clear broth) with bacon, onions, potatoes, and quahogs.
What I call black sheep chowders (they stray far from the fold!) can include veal, ham, beans, squid, conch, eggs, turkey, and even cranberries. Chowder is typically topped with crushed Oyster or Saltine crackers, though other accompaniments can include baking powder biscuits, corn bread, garlic bread, and more. Growing up on Cape Cod, Massachusetts, my family added lots of fresh cracked black pepper to our weekly chowder fix and didn't confine consumption to the cold winter months. In summer, sunset often found us perched on the beach wall with a cup of chowder and basket of fried clams (pass the tartar sauce!).
Whenever you make this hearty, flavorful dish, a bowl of chowder is like a warm bath for your insides. Whether you proceed conventionally or choose to escape the usual chowder bounds, and winter or summer, your insides (not to mention your family's insides) will surely thank you!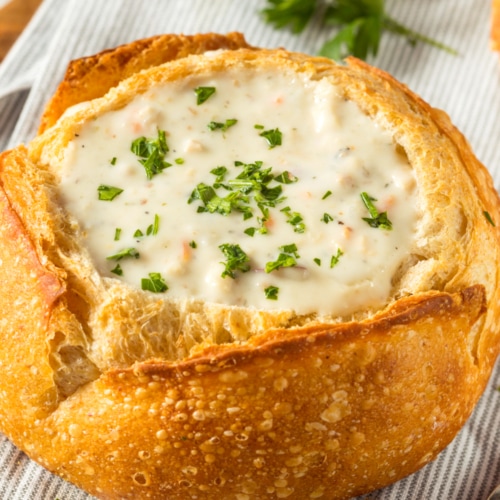 New England Clam Chowder
Ingredients
1

quart

shucked clams (add water if too dry)

1/3

pound

salt pork

1

large

onion, minced

2

ribs celery, minced

2

large

potatoes, diced

1

bay leaf

1/2

teaspoon

thyme

1

quart

of milk, scalded (may use half cream for thicker soup)

1/2

cup

of butter

1/4

cup

of flour

salt and pepper
Instructions
Drain and chop clams, reserving liquid (may substitute 5-pound can chopped clams).

Fry salt pork in a heavy pan until all fat is rendered; add onions and celery and brown lightly.

Blend in flour and stir constantly for 5 minutes.

Add clams, potatoes, milk, clam liquid, bay leaf, and thyme.

Cook until the potatoes are tender.

If desired, add fish and/or shellfish to make seafood chowder.

Serve in a bread bowl for an extra-hearty meal.
Manhattan Clam Chowder
Ingredients
2

bacon slices, cut into 1/2-inch squares

1/3

cup

chopped onion

3

tablespoons

diced (1/3 inch) green bell pepper

3

tablespoons

diced (1/3 inch) celery

2/3

cup

diced (1/3 inch) peeled boiling potato (1 small)

1

oz

bottle clam juice

1

cup

canned diced tomatoes including juice

1 1/2

dozen small

hard-shelled clams (1 1/2 to 2 inches in diameter; 2 pounds total), scrubbed well

2

tablespoons

chopped fresh flat-leaf parsley

salt and pepper
Instructions
Cook bacon in a 2- to 3-quart heavy saucepan over moderate heat, stirring, until golden, about 5 minutes.

Reduce heat to moderately low, then add onion, bell pepper, and celery. Cook, stirring until softened, about 5 minutes.

Stir in potato, bottled clam juice, and tomatoes (with juice) and simmer, covered, 10 minutes.

Stir in clams and simmer, covered, stirring occasionally, until clams open wide, 8 to 10 minutes. (Discard any clams that after 10 minutes have not opened as they are raancid.)

Remove most of clamshells with tongs, then detach clams and return them to chowder. (Keep a few in their shells for garnish.)

Stir in parsley and add salt and pepper to taste.
Farmhouse Clam Chowder
Ingredients
1/2

cup

finely chopped onion

1/2

cup

finely chopped celery

1/2

cup

chopped sweet red pepper

2

tablespoons

butter

1/4

cup

all-purpose flour

1

envelope ranch salad dressing mix

4 1/4

cups

milk

2

cups

frozen cubed hash brown potatoes, thawed

2

cups

frozen corn, thawed

2

cups

cubed fully cooked ham

1

teaspoon

minced fresh thyme or 1/4 teaspoon dried thyme

1/2

cup

shredded smoked Gouda cheese
Instructions
In a large saucepan, sauté onion, celery, and red pepper in butter until crisp-tender.

Stir in flour and dressing mix until blended; gradually stir in milk.

Bring to a boil; cook and stir for 2 minutes or until thickened.

Add potatoes, corn, ham, and thyme.

Reduce heat; simmer, uncovered, for 8-10 minutes to allow flavors to blend.

Stir in cheese until blended.

Yield: 8 servings (2 quarts).
Beth Herman is a freelance writer with interests in healthy living and food, family, animal welfare, architecture and design, religion, and yoga. She writes for a variety of national and regional publications, institutions, and websites.
Keep Exploring