Grand Prize Winner Shares New Recipe – Holiday Starbread
Hey FA Readers! Are you looking for a gift that is unique, affordable, and … delicious? Give the gift of Holiday Starbread!
We asked Cameron Livesay, the Grand Prize Winner of our 2022 Honey Recipe Contest, to share a holiday recipe that is special to him and his family. Read his heart-warming article and recipe below.
(Fun fact: The Farmers' Almanac judges had no idea that Cameron was a sixth-grader who bakes to give back to his local community when they selected his honey churro cookies in a blind taste test!)
The Gift of Giving
My favorite gift of the holidays is the gift of giving. My great grandmother taught my mom that time and thoughtfulness are the greatest gifts of all. During the year I pay attention to what people like. My dentist loves chocolate chip cookies without "too many" chocolate chips. My teammate likes red velvet, his mom likes strawberry shortcake, and I have a coach that craves cannolis. Remembering what people like and then putting my own twist on a recipe is so fun and rewarding. Seeing a smile on someone's face and making them feel appreciated is the greatest gift to me. On our refrigerator is the quote by Mary Ann Radmacher that says "As we work to create light for others, we naturally light our own way." Last Christmas when giving to others, I finally understood what that means and have tried to create light for others whenever possible.
For the Holidays, I love to give Starbread. A lot of time and heart goes into my gift. The giving spirit begins at the end of March when we plant our ginger nubs. In the fall, we harvest them and start making candied ginger to use in holiday recipes.
We also candy lemon and orange peel and make extracts to prepare for all of our holiday baking. This is when our family really gets excited about the holidays! The smells in the kitchen, spending time together making the candied fruits and spices, and listening to mom tell stories about baking with her grandmother are all special moments and traditions that I hope to pass down to my family some day.
Starbread is simple and comforting and festive! It looks like a work of art and can be the centerpiece of a breakfast or dessert table. It smells like Christmas with brown sugar and cinnamon melting into the butter and it tastes amazing. When giving as a gift, I wrap mine in cellophane with a big bow to make it look even more festive.
Starbread is easy to make and would be a great addition to your holiday traditions. I add ginger and orange but you could add your own favorite flavors. The recipe my look intimidating, but it's easy to make and younger family members can help roll the dough and twist the ends. They'll remember the time spent together learning how to make something special to share with friends, family or those in need. After all, it is the season to give.
Holiday Starbread Recipe
Ingredients
Dough:
2 ¼ teaspoons active dry yeast
1 cup milk, preferably whole
⅓ cup water
6 tablespoons unsalted butter, very soft
1 egg + 1 egg yolk, room temperature
2 teaspoons salt
⅓ cup sugar
5 cups flour, plus flour for kneading
¼ cup candied orange peel, finely chopped*
½ cup candied ginger, finely chopped*
*Note: This recipe calls for candied ginger and orange. You may purchase these premade or make your own (with additional sugar, water, and vanilla extract). Details are listed in the directions below.
Filling:
½ cup brown sugar
1 tablespoon cinnamon
⅛ teaspoon salt
6 tablespoons butter, very soft
Directions
Candy The Ginger
Peel and slice the ginger. Simmer for about 30 mins and drain. Add a quarter cup of the ginger water (my mom saves the rest for tea) to 2 cups of sugar and bring to a boil to make a thick syrup. Make sure to keep stirring to dissolve sugar. Toss the ginger and the syrup. Dry on lightly oiled racks overnight and then store in an airtight container.
Candy The Orange
Peel 4 oranges and slice the peels into thin strips. Simmer in 2 cups water and 1 cup of sugar for 20 mins. Turn off heat and add 1 teaspoon vanilla extract. Let rest for 5 minutes. Drain and dry on lightly oiled racks. Sprinkle with additional sugar while drying.
Make The Starbread
Please see Cameron's instructional video below.
1. Warm milk and water (90-105 degrees).
2. Add milk and water to the mixer bowl and sprinkle yeast and a teaspoon of the sugar on top. Wait 10 minutes for yeast to activate.
3. Mix in remaining sugar, butter, eggs, salt, and 2 cups of the flour.
4. Slowly add remaining flour and mix until the dough takes shape. (If you have a dough hook, use it for this step.) You may not use all of the flour.
5. Move dough to a greased glass bowl and cover for 2 hours.
6. Divide dough into 4 equal sections and roll into balls. Cover and rest for 30 minutes.
7. While the dough is resting, mix together brown sugar, cinnamon and salt.
8. On a lightly floured surface, roll each ball into an 11-13 inch flat circle. Try to keep all the circles the same size.
9. Place first circle on a stone or parchment lined baking sheet and spread 2 tablespoons of the cinnamon mixture on the surface, not quite to the edge.
10. Lay the next circle upon the first and another 2 tablespoons of the cinnamon mixture (as above). Repeat with the third layer.
11. Add the last layer. Then use a glass or ramekin to mark a small circle in the middle of dough. Cut 16 slices towards the center but leaving a 2-3″ circle in the middle.
12. Twist 2 slices away from each other and pinch the edges together to seal. Repeat to make 8 points to the star.
13. Let dough rest for 30 minutes and preheat the oven to 350.
14. Brush with an egg wash of 1 egg beaten with a tablespoon of water. Bake for 20-25 mins.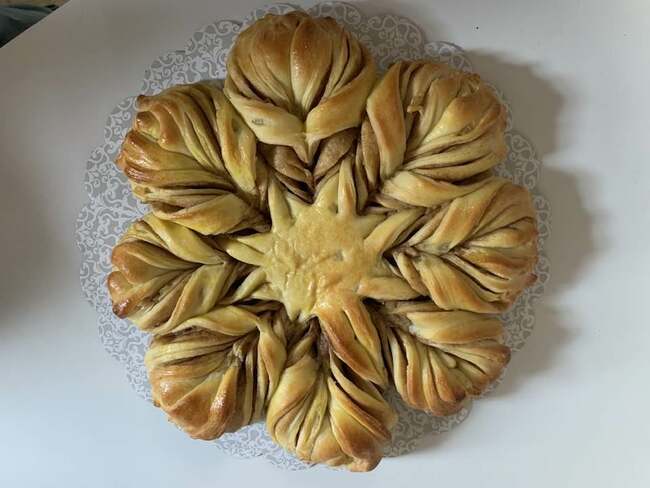 Instructional Video
Cameron demonstrates how to make and twist the Starbread in the following video:
Related Articles
2022 Honey Recipe Contest Winners
Enter Our Blueberry Recipe Contest – Deadline: February 14, 2023
Join The Conversation!
Did you see Cameron's winning honey churro recipe in FA 2023?
Will you make this special "Starbread" recipe as a gift this year?
Who are you list is lucky enough to receive it?
What is your favorite part about this article?
Show some support for Cameron in the comments below!
Cameron Livesay is the Grand Prize Winner of the 2022 Farmers' Almanac Recipe Contest. He is a talented baker and young entrepreneur who started his own business at ten years old. Cameron frequently gives back to his local community of Sykesville, Maryland, and inspires bakers everywhere. Learn more and support his creativity at SoulmanSweets.com.