2022 Honey Recipe Contest Winners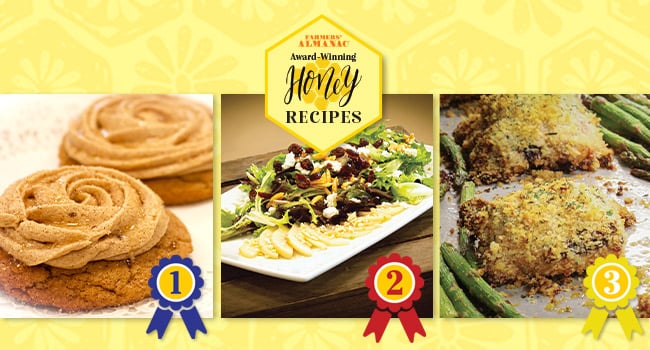 Every year, the Farmers' Almanac selects an ingredient and asks readers to submit original recipes for a cash prize cooking contest! In 2022, the theme was honey. (We asked that each recipe included at least 2 tablespoons.)
A Sweet Surprise
We knew honey was an amazing ingredient for a variety of dishes, but we were pleasantly surprised by the wide range of creative submissions. Our readers outperformed any expectations! We were also wowed by the number of entries, including many from overseas.
Congratulations To The Winners
Thank you to everyone who sent in recipes. Congratulations to our winners: Cameron Livesay of Sykesville, Maryland, Margee Berry of White Salmon, Washington, and Mary Shivers of Ada, Oklahoma. (Each of their prize winning recipes are listed below.)
Special Thanks
Special thanks to The Green Ladle Culinary Arts School of Lewiston, Maine, for lending their aspiring student-chefs to prepare each of the final recipes for judging. Special thanks also to the Lewiston Regional Technical Center students who photographed the winning recipe dishes!
The following three recipes were the Farmers' Almanac judges' top picks. We highly recommend that you give them a try!
The Farmers' Almanac 2022 Prize-Winning Recipes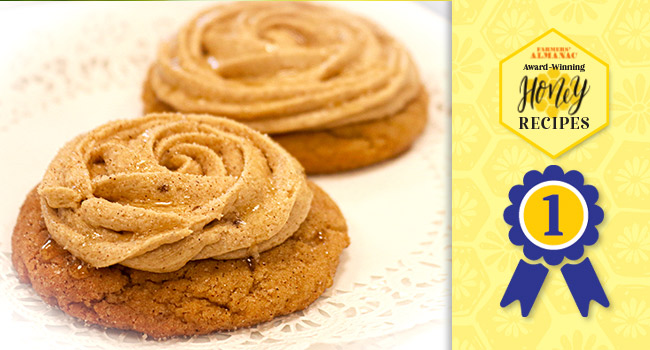 1st Place: Honey Churro Cookies
Ingredients
1

cup

butter, softened

¾

cup

light brown sugar

½

cup

sugar

1

egg

1

tbsp.

honey

2

tsp.

vanilla

2¾

cup

flour

1

tbsp.

cornstarch

1

tsp.

baking powder

½

tsp.

baking soda

1

tsp.

cinnamon

1

pinch

salt

Mix of

1/2 cup sugar and 1 tsp. cinnamon, divided
Cookie Frosting
¼

cup

butter, softened

1½

cup

powdered sugar, sifted

¼

cup

brown sugar

1

tsp.

cinnamon

1

tsp.

vanilla

1

tbsp.

honey

3

tbsp.

heavy cream

drizzle

honey
Instructions
For the Cookies
Cream butter and both sugars.

Add egg, honey, and vanilla until combined.

Whisk together flour, cornstarch, baking powder, baking soda, salt, and cinnamon in a separate bowl.

Slowly add dry ingredients to wet ingredients.

Gently mix all ingredients until smooth; do not over mix.

With a medium-sized dough scoop, scoop dough and roll into balls.

Using half of the cinnamon sugar mix, coat each ball by rolling in the cinnamon sugar, and place 2 inches apart on a parchment-lined baking sheet.

Flatten each ball to a 1/2-inch-tall disc and bake for 10-12 minutes.
For the frosting
Mix butter, sifted powdered sugar, brown sugar, cinnamon, vanilla, honey, and cream until desired consistency. You can add a little more cream if needed.

Use a piping bag to frost cookies.

Sprinkle with more cinnamon sugar and drizzle with honey.

Store at room temperature for 2 days or refrigerate for up to 1 week.
2nd Place: Poached Pear Salad with Browned Honey Vinaigrette
Ingredients
Pear Salad
1

cup

water

2

teabags,

chai-flavored

1

tbsp.

honey

1

ripe, firm pear, peeled, quartered, and cored

1

5-oz. bag

mixed-baby greens

2-oz.

crumbled goat cheese

¼

cup

honey-roasted almonds, roughly chopped

3

tbsp.

dried sweetened cranberries

Fresh cracked black pepper
Browned Honey Vinaigrette
1½

tbsp.

honey

1

tbsp.

shallots, minced

3

tbsp.

extra virgin olive oil

1

tbsp.

rice vinegar

1

tsp.

honey dijon mustard
Instructions
Pear Salad
Bring water to a slight boil in a medium saucepan over medium heat.

Add the tea bags, honey, and pear pieces.

Continue to boil for 3 minutes.

Remove pan from heat, cover with lid, and set aside for 8 minutes.

Remove pear from pan and place on paper towels to drain.

When pear has cooled, pat dry, then thinly slice lengthwise.

Evenly distribute baby greens onto 4 salad plates.

Next, arrange pear slices on each plate.

Sprinkle goat cheese, almonds, and cranberries on top.

Drizzle with desired amount of vinaigrette and top off with fresh cracked pepper.
Browned Honey Vinaigrette
In a small skillet, heat honey and shallots over medium heat, swirling skillet often until honey starts to brown and smell nutty.

Remove from heat, whisk in olive oil, vinegar, and mustard.

Let vinaigrette cool slightly before drizzling over salad.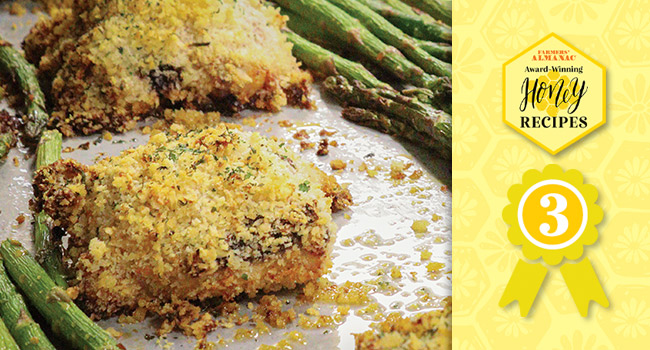 3rd Place: Honey-Wrapped Golden Chicken with Honey Asparagus Balsamic
Ingredients
Honey-Wrapped Golden Chicken
3

(5-6 oz.)

bone-in, skin-on chicken thighs

1½

cups

panko breadcrumbs

¾

cup

honey

divided

¼

cup

unsalted butter

melted 

1

tbsp.

minced garlic

1

tsp.

salt

½

tsp.

black pepper

3

tsp.

parsley flakes

Non-stick cooking spray
Honey Asparagus Balsamic
1

lb.

fresh asparagus, well-trimmed

1½

tbsp.

olive oil

2

tbsp.

balsamic vinegar

¼

tsp.

crushed red pepper
Instructions
Honey-Wrapped Golden Chicken
Line a 10×15-inch jelly roll pan with parchment paper.

Place thighs in a pie plate.

Place panko in a separate pie plate.

Use an immersion blender to puree ¼ cup honey, butter, garlic, salt, and pepper.

Pour over thighs, turning to evenly coat.

Place 1-inch apart, skin side up, in the center of the parchment-lined pan.

Sprinkle with remaining panko.

Then sprinkle evenly with parsley flakes.

Holding can about 6 inches away, spray tops with cooking spray until panko is lightly coated.
Honey Asparagus Balsamic
Place asparagus in a pie plate.

Mix 2 tbsp honey, olive oil, balsamic vinegar, and red pepper together.

Drizzle evenly over asparagus, turning to coat.

Spread asparagus evenly around partially baked chicken. 

Return to the oven and bake for 25 minutes more.

Divide amongst four serving plates.

Divide remaining honey into four small ramekins and add one to each plate for drizzling over chicken.
Enter Farmers' Almanac 2023 Recipe Contest!
Do you like to cook? Is there an original recipe passed down by a family member that deserves to be put in print?
Blueberries are the ingredient for the 2023 contest. Submit your recipe today for a chance at a cash prize and the fame of being printed in the next edition of Farmers' Almanac.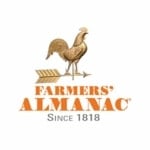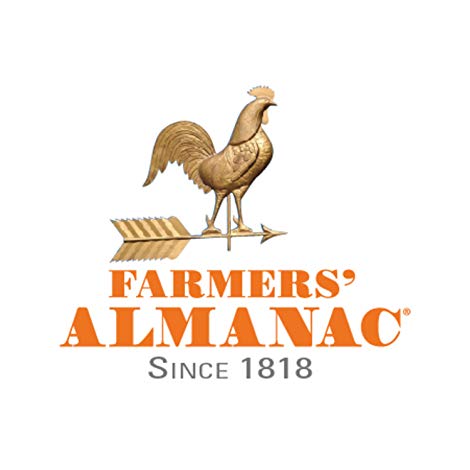 This article was published by the staff at Farmers' Almanac. Do you have a question or an idea for an article? Contact us!