How To Make Lefse: A Norwegian Potato Flatbread
This traditional Norwegian staple is easy to make and delicious to eat, served a variety of ways. Get the recipe here—no special equipment needed!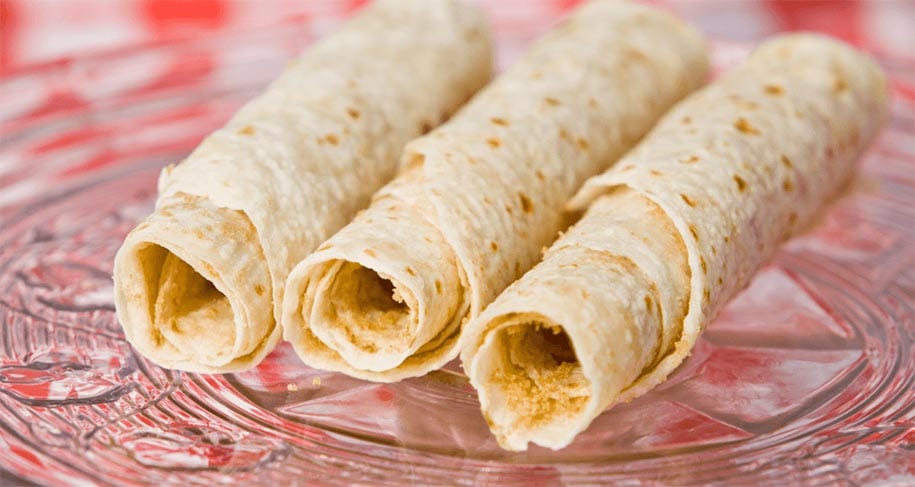 What do you get when you combine potatoes and a few common baking ingredients? A delicious morsel of Norwegian history called lefse! Lefse (pronounced "LEFF-sa") are a lot like tortillas or flatbread, but much larger and thinner. While in years past, lefse was something of a staple food, these days it's often served at the holidays and as an accompaniment to lutefisk (a soaked dried cod dish). But more and more people are discovering this tasty flatbread to be enjoyed any time of year.
The History of Lefse
Many stories say that lefse originated during the Viking era. However, the lefse that we know today didn't come to be until much later. The Vikings had their own version of lefse (called Hardanger lefse) that was made with flour, not potatoes. Hardanger lefse was cooked in enormous batches then left out to dry so that it resembled a large cracker. This way, it kept for up to a year, but to eat it, you had to soak your lefse in damp cloth first.
Modern lefse came about long after the Viking age ended. Most historians agree that potatoes first arrived in Norway sometime in the 1750s, likely brought back home by traveling priests and soldiers. Shortly thereafter, potato lefse – and many other Norwegian potato dishes – started appearing.
Making Lefse At Home
Today, many people make lefse with a few common household tools – a potato ricer, a large frying pan or griddle, and a rolling pin. However, there are a few specialty tools that make the process much easier.
The first thing you'll notice about traditional lefse is that it has a corrugated or striped texture. This is because traditional Norwegian cooks use ribbed, cloth-covered rolling pins so that they don't have to use as much flour to keep the dough from sticking to the rolling pin. Instead of using a floured board to roll out the dough, many traditional cooks also use a canvas pastry cloth.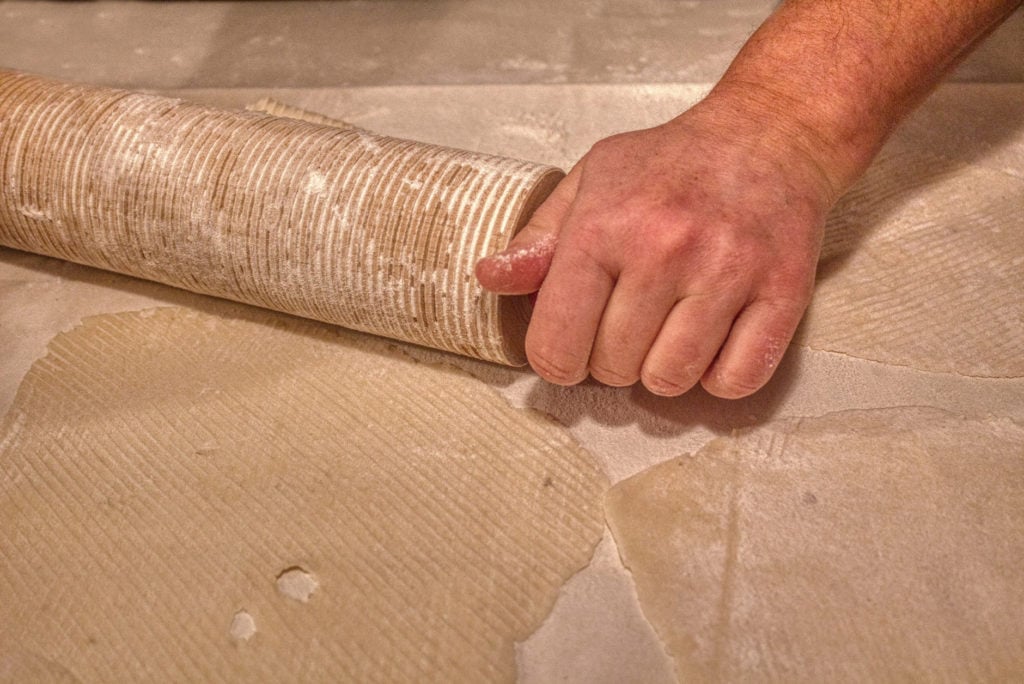 To cook the lefse, most traditional cooks use a lefse grill, which is a large, thin and flat grill that gets hotter than a frying pan. Finally, you'll need a lefse stick. This long, thin wooden tool looks like a cross between a large spatula and a tiny boat oar. Its shape and size make it much easier to turn the lefse as you cook it.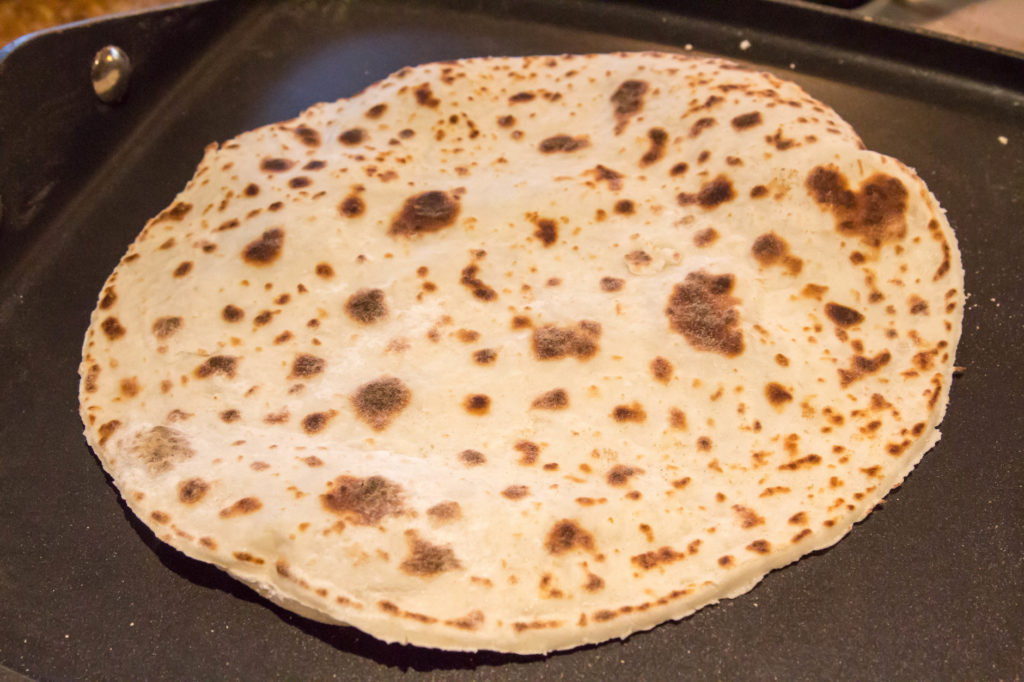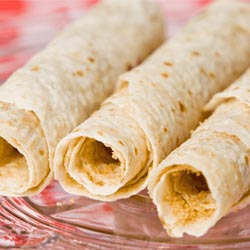 Traditional Norwegian Lefse Recipe
Ingredients
5

pounds 

Russet or other starchy potatoes (should make approximately 4 cups of potato rice)

1/4 

cup 

unsalted butter, room temperature

1/4

cup 

heavy cream

2

teaspoons 

salt

1

tablespoon 

sugar

1

cup 

flour (you may need a little more or less depending on the consistency of your dough)
Instructions
Start by cutting the potatoes into chunks and then cooking them in a small saucepan until they're fork-tender. Then, use a potato ricer to rice the potatoes into a large bowl.

After you've riced the potatoes once, give the potatoes a second pass through the ricer. Then add the butter while the potatoes are still warm.

Add the cream, sugar, and salt, and mix well. The mixture can keep in the refrigerator for a few days if you don't want to make lefse right away.

When you're ready to make lefse, add the flour to the potato mixture and mix it until dough starts to form. This might take a while – lefse dough usually starts out crumbly. Once the mixture starts coming together, you're ready to roll the dough into balls.

Clear a large workspace for your lefse cloth and have some flour handy. Take about 2 tablespoons of dough and roll it into a ball between your palms. Then flatten the ball onto a well-floured board, using a well-floured rolling pin.

To cook the lefse, use a non-stick lefse grill or a large cast iron skillet over medium-high heat. Heat the pan until it's warm enough that water droplets will sizzle. Then place a lefse on the pan and let it cook until both sides have nicely browned spots (like a tortilla). You shouldn't need to use oil.
Watch lefse preparation and cooking techniques in this video:
Keep the lefse warm in a cloth until ready to serve. Makes 36 pieces of lefse.
How To Eat Lefse
Use lefse as you would flatbread or tortillas to make your favorite foods taste that much better! Get creative, but here are some ideas, courtesy of the Lefse Ladies!
Spread with butter and sprinkle with brown sugar. This is a traditional way to eat lefse.
Spread with mustard and wrap around Polish sausage, brats, or hot dogs.
Spread with butter or cream cheese and wrap around leftover chicken, turkey, pot roast, or your favorite deli meat. Eat hot or cold.
Use as a wrap for salads such as egg, tuna, chicken and salmon.
Fill with your favorite canned fruit, warm in a microwave and serve with whipped cream.
Spread with your favorite jelly, jam or preserves.
Make "Uff Da" chips by cutting into 1" x 4" strips and deep fry until golden. Drain on a paper towel and immediately sprinkle with cinnamon and sugar. Or spread whole round with butter, sprinkle with cinnamon and sugar, cut into 1"x4" strips, put on a cookie sheet and bake at 300 degrees until crisp.
Use with fish tacos instead of corn tortillas.
Spread with cranberry sauce.
Spread with Nutella.
Wrap around warm meatballs.
Spread with applesauce.
Wrap around scrambled eggs, with or without crumbled sausage or bacon.

Amber Kanuckel is a freelance writer from rural Ohio who loves all things outdoors. She specializes in home, garden, environmental, and green living topics.