Merry

Christmas!
Christmas Day, which falls on the 25th of December each year, is a time when Christians worldwide celebrate the birth of Jesus. It's a time for peace on Earth and goodwill toward all.
When Is Christmas Day?
Here are upcoming dates for Christmas Day:
| Year | Date |
| --- | --- |
| 2023 | Monday, December 25 |
| 2024 | Wednesday, December 25 |
| 2025 | Thursday, December 25 |
What kind of weather is the Farmers' Almanac forecasting for your Christmas holiday?
Christmas Day History, Celebrations, and Traditions
Why Do We Give Gifts At Christmas?
Opening gifts might be one of your favorite parts about Christmas, but have you ever wondered why we receive presents on Christmas, or why we have Christmas trees?
The tradition of giving gifts to our loved ones at Christmas is meant to be a reminder of the presents that the Wise Men gave Jesus (Frankincense, Myrrh, and Gold). In the United States, buying Christmas gifts became popular in the early 1800s. During that time the lower class celebrated in the streets and demanded that the wealthy give them food and drink. In response to this, the wealthier residents of the city strove to reinvent Christmas as a holiday centered around home and family.
The Toy Connection
In the 1820s, the American toy industry started to grow, and after the Civil War, these novelty consumer products increased in popularity. While parents initially tried to focus on the spiritual side of Christmas, it became increasingly difficult to limit what toys and books children could access. To maintain control, parents started buying products to teach and entertain their children. In response to this trend, retailers started actively marketing Christmas gifts at the beginning of the twentieth century. Over time, gift-giving traditions grew into what we are familiar with today.
Why Christmas Trees?
Germany is heralded as the birthplace of this tradition, which started in the early 16th century when devout Christians would build pyramids of wood decorated with evergreen boughs to celebrate the holiday.
Check out our picks for the Top 5 Fragrant Christmas Trees!
Why Do We Decorate Trees?
Some historians contend that decorating the Christmas tree extends back to the 7th century to a monk who went to Germany. He brought a tree for the people to decorate with simple, white candles. It wasn't until 1610 that tinsel (made with pure silver) was added to the tree.
Eventually, the Christmas tree made its way to England where decorations became more ornate, with glass beads and hand-sewn snowflakes. In the 1800s, the tradition of decorating the tree crossed the Atlantic and settled into American homes ever since.
What is Twelfth Night?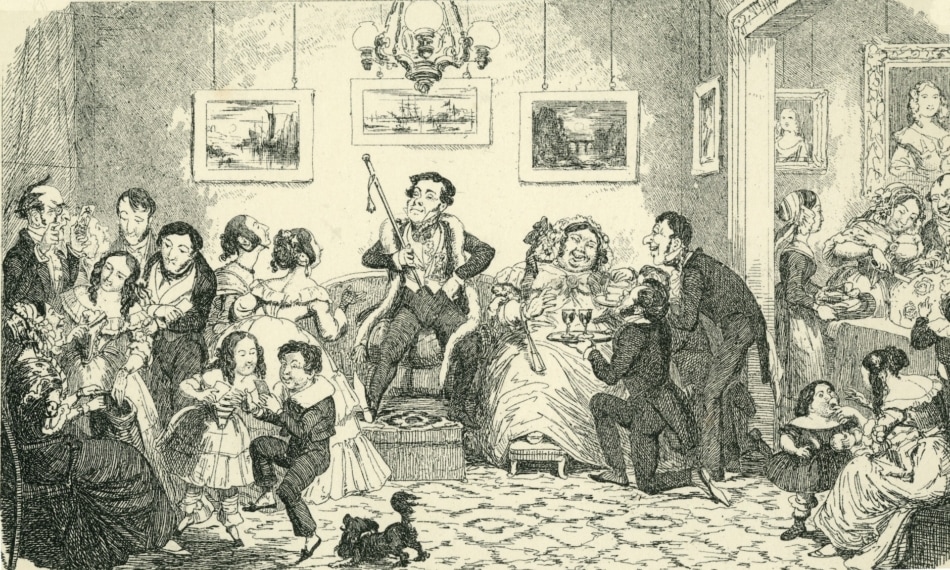 In the song, "The Twelve Days of Christmas, it refers to Twelfth Night, a festival that usually spans from December 25 to January 5 (inclusive)*. Each day celebrates a different saint or milestone event in Christianity.
Day 1 the birth of Jesus is celebrated.
Day 2 celebrates St. Stephen, the first martyr.
Day 4 the Feast of the Holy Innocents was held on Day 4 in remembrance of the baby boys killed in King Herod's search for Jesus.
Day 5 celebrates St. Thomas Becket, an Archbishop of Canterbury who was killed for questioning the king's authority over the church.
Day 6 celebrates St Egwin of Worcester.
Day 7 is New Year's Eve. It celebrates Pope Sylvester I and was historically a day for sports and archery competitions.
Day 8 is January 1st; celebrates the mother of Jesus, Mary.
Day 9 celebrates St. Basil the Great and St. Gregory Nazianzen, two 4th century Christians.
Day 10 is the day of the Feast of the Holy Name of Jesus. It celebrates the official naming of Jesus in the Jewish Temple.
Day 11 celebrates St. Elizabeth Ann Seton, the first American saint, who lived in the 18th and 19th centuries.
Day 12 Twelfth Night and marks the coming of the Epiphany.
On Twelfth Night (Epiphany Eve), people often held parties in which the roles of the rich and poor were reversed. In this tradition dating from medieval times, the wealthy would wait on the servants. People played egg toss games and enjoyed music. In some countries, children receive gifts inside their shoes to celebrate the Magi's gifts to Jesus.
Another tradition on Twelfth Night was the eating of Twelfth Night Cake. This was a rich cake made with eggs and butter, fruit, nuts, and spices. There was also a single bean or pea cooked into the cake and the person who found it got to dress like a royal and lead the celebrations. This is why at Christmas many people give Italian Panettone, which very much resembles Twelfth Night Cake.
While many of the original Twelfth Night traditions are not embraced in the United States, some of the above traditions have been adapted and changed for modern times. Many people follow the custom of taking down their Christmas decorations on January 6th (Epiphany).
What Is A Yule Log?
The tradition of burning the Yule Log dates back to medieval times. Yule, or "Juul" is the name that was given to Winter Solstice festivals that were held in old Scandinavia and Northern Europe. During these festivals fires were lit to symbolize the heat, light, and life-giving properties of the returning Sun. A Yule—or Juul—log was brought in and burned on the hearth in honor of the Scandinavian god, Thor. It was Thor's job to bring the Sun's warmth back to the people. The log, which was never allowed to burn entirely, was kept as both a token of good luck against misfortune, and used as kindling for the following year's log.
In England, Germany, France, and other European countries, the Yule log was burned until nothing but ash remained. The ashes were then collected and spread into the fields as fertilizer every night until Twelfth Night, or worn around the neck as a charm. French peasants would place the cooled ashes from the log under their beds, believing they would protect the house against thunder and lightning.
The present-day custom of lighting a Yule log at Christmas is believed to have originated with these fires associated with the Feast of Juul.It used to be an entire tree that was brought into the house, and the largest end of the tree would be placed in the hearth. People would have carefully stored the previous year's log to use it to light this year's log. The log was burnt each night until the Twelfth Night.
The popular Yule Log dessert— buche de Noel, from France and Belgium is inspired by this tradition. The dessert is covered with chocolate to resemble a log, and it often included decorations made of marzipan or meringue. The dessert likely originated from the 1600s, but it became popularized by 19th century bakers in Paris.
Other Christmas Traditions
Christmas Recipes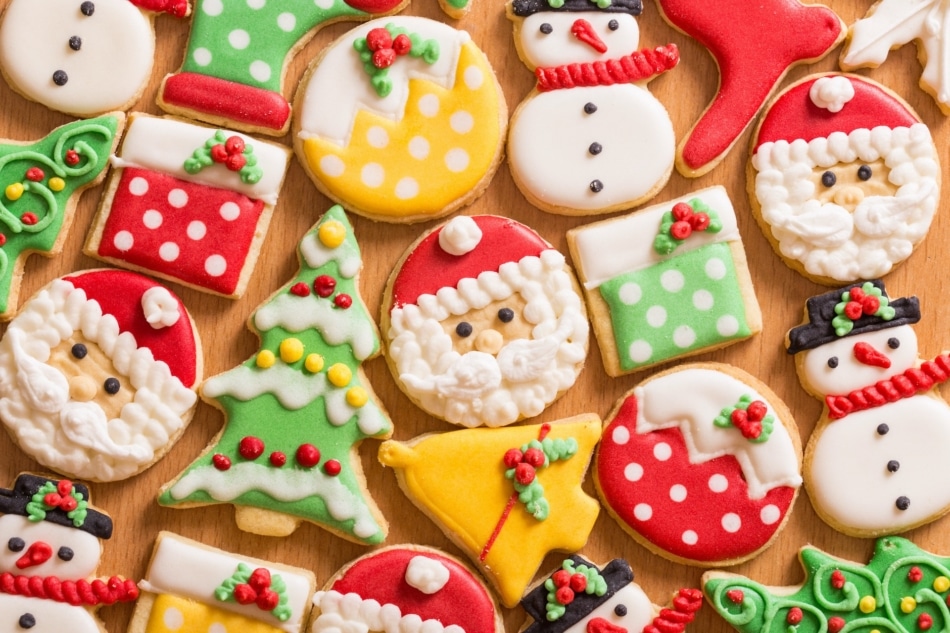 Christmas isn't complete without the sweets! Try these delicious recipes.
Easy Food Gift Ideas
Food gifts are a warm and personal way to say you care during the holiday season. Whether you don't know what to buy for the person who has everything, or you just want to add a personal touch to accompany the perfect gift, these holiday favorites are sure to hit the spot!
1. Peanut Butter Fudge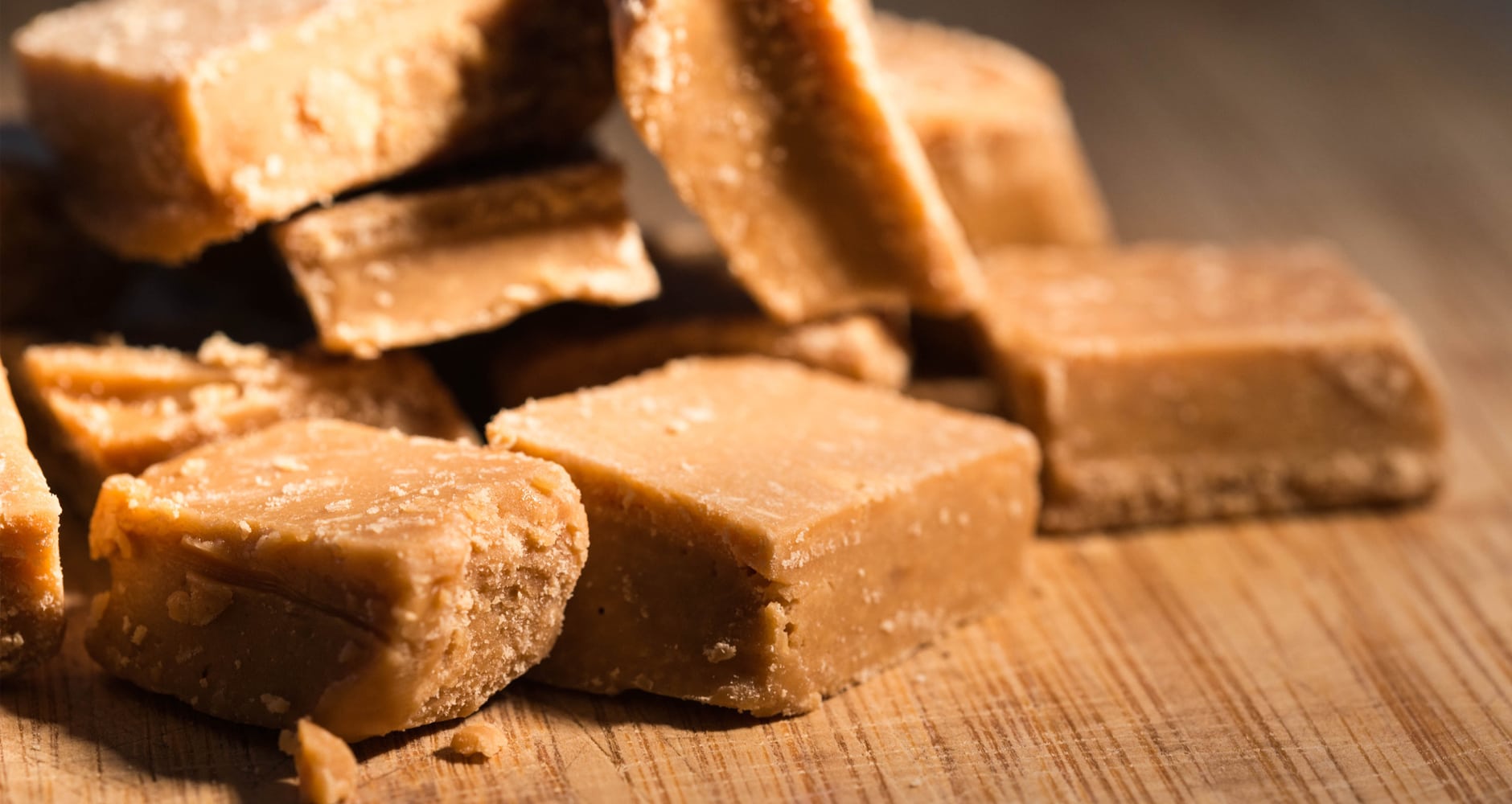 Ingredients:
1/2 cup butter
2 1/4 cups brown sugar
1/2 cup milk
3/4 cup peanut butter
1 teaspoon vanilla extract
3 1/2 cups confectioners' sugar
Directions:
Melt butter in a medium saucepan over medium heat. Stir in brown sugar and milk. Bring to a boil and boil for 2 minutes, stirring frequently. Remove from heat. Stir in peanut butter and vanilla. Pour over confectioners' sugar in a large mixing bowl. Beat until smooth and pour into an 8" x 8" pan. Chill until firm and cut into squares.
2. Raspberry Starburst Cookies
Ingredients:
2 cups all-purpose flour
1/2 teaspoon salt
1 cup unsalted butter, room temperature
3/4 powdered sugar, plus extra for dusting
1 1/2 teaspoons vanilla extract
1/2 teaspoon almond extract
1/2 cup raspberry jam
Directions:
In a medium mixing bowl, sift together flour and salt. In a large electric mixer bowl, beat together butter and powdered sugar until smooth. Add vanilla and almond extracts and stir until blended. Add flour mixture and stir until combined. Form dough into a 6 inch flattened disk, wrap it in plastic wrap, and refrigerate for at least 2 hours. Preheat oven to 350° F. On a lightly floured pastry mat or pastry board, and using a lightly floured rolling pin, roll the dough to a 1/4 inch thickness. Cut dough into stars using a 2 1/2" cookie cutter.
Using a 1" star-shaped cookie cutter, cut out the center of half of the cookies. Be sure to dip your your cookie cutters in flour to prevent dough from sticking. Re-roll the scraps until all the dough has been used. Place cutouts 2" apart on parchment-lined baking sheets. Bake about 10 minutes, until cookies are set and the edges are lightly browned. Remove cookies from baking sheets with a metal spatula and place them on a wire rack to cool. Drop about a teaspoon of raspberry jam onto the center of each cookie without a cutout in the middle,. Using a fine-mesh sieve, dust the tops of the cookies that have the middle cut out with powdered sugar. Place the cutout cookies on top of the jam-covered cookies. Makes about two-dozen cookies.
3. Cinnamon Pretzels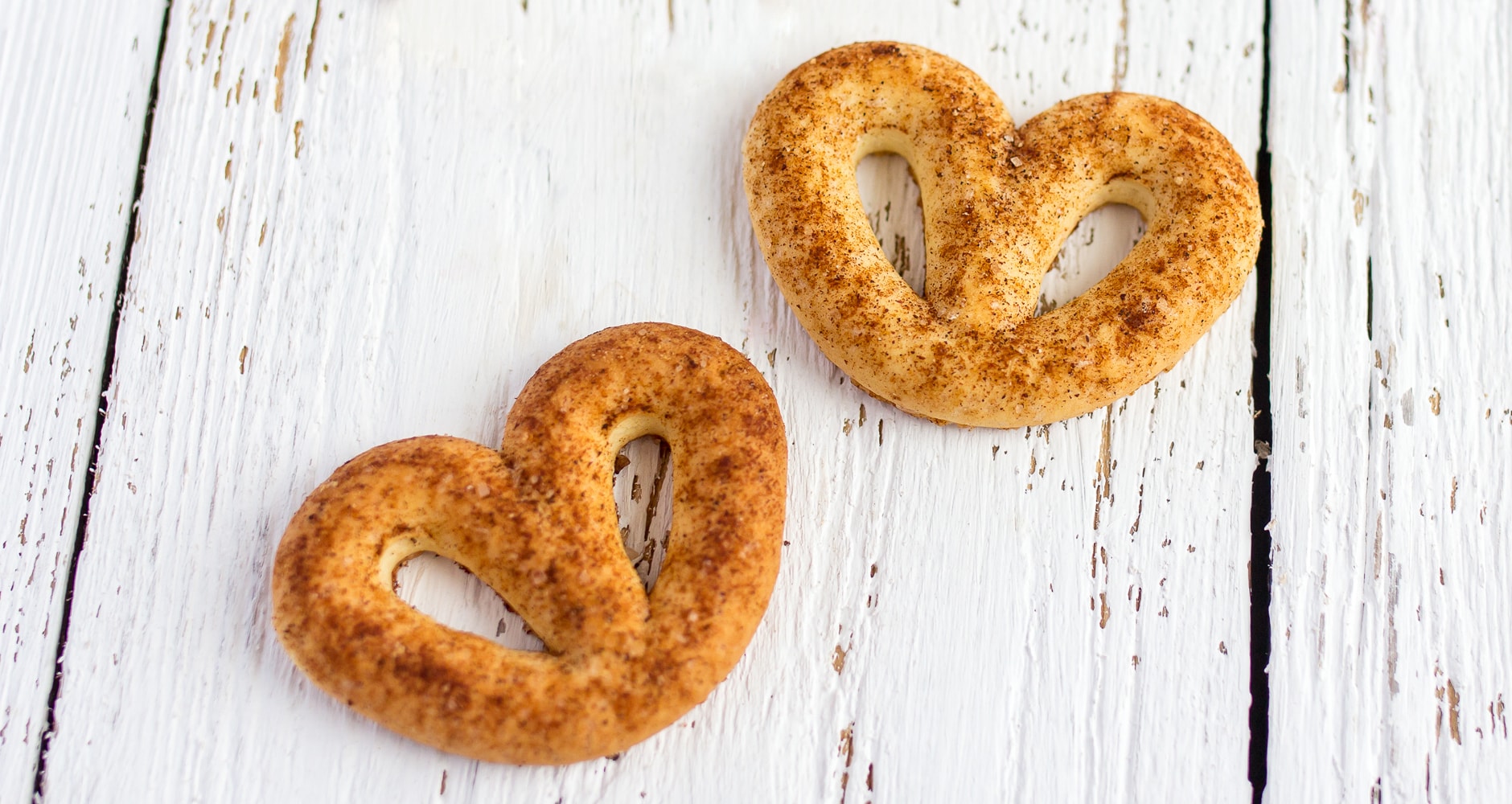 Ingredients:
2/3 cup vegetable oil
1/2 cup sugar
2 teaspoons ground cinnamon
1 1-lb. package small pretzel twists
Directions:
In a large roasting pan stir together oil, cinnamon, and sugar. Add pretzels and toss until the pretzels are fully coated. Bake, uncovered, at 300° F oven for 30 minutes, stirring occasionally. Spread on waxed paper to cool. Makes 12 cups.
4. Oreo Truffles
Ingredients:
40 Oreo cookies
1 8-oz. package cream cheese, softened
10 oz. dark chocolate baking melts
2 tablespoons unsalted butter
2 oz. white chocolate baking melts
Directions:
Place 10 cookies in a food processor, cover, and pulse until finely crushed. Pour crushed cookies into a large mixing bowl. Repeat, 10 cookies at a time, until all of the cookies are crushed. Add cream cheese to the crushed cookies and beat with an electric mixer on low speed until well combined. Using a small ice cream scoop, shape the mixture into 1-inch balls. Place balls on a waxed paper-lined baking sheet and freeze for 15 minutes or until firm. In a medium-sized saucepan, melt chocolate and butter over low heat, stirring until smooth. Remove from heat and cool slightly. Use a fork to dip the cookie balls into the melted chocolate, allowing excess chocolate to drip back into a saucepan. Place truffles back on the waxed paper-lined baking sheet; freeze for a few minutes until firm. In a small saucepan, melt the white chocolate over low heat, stirring until smooth. Place melted chocolate in a resealable plastic bag. Snip a small corner of the bag and drizzle white decorations over the truffles. Chill for a few minutes until set.
5. Spiced Pecans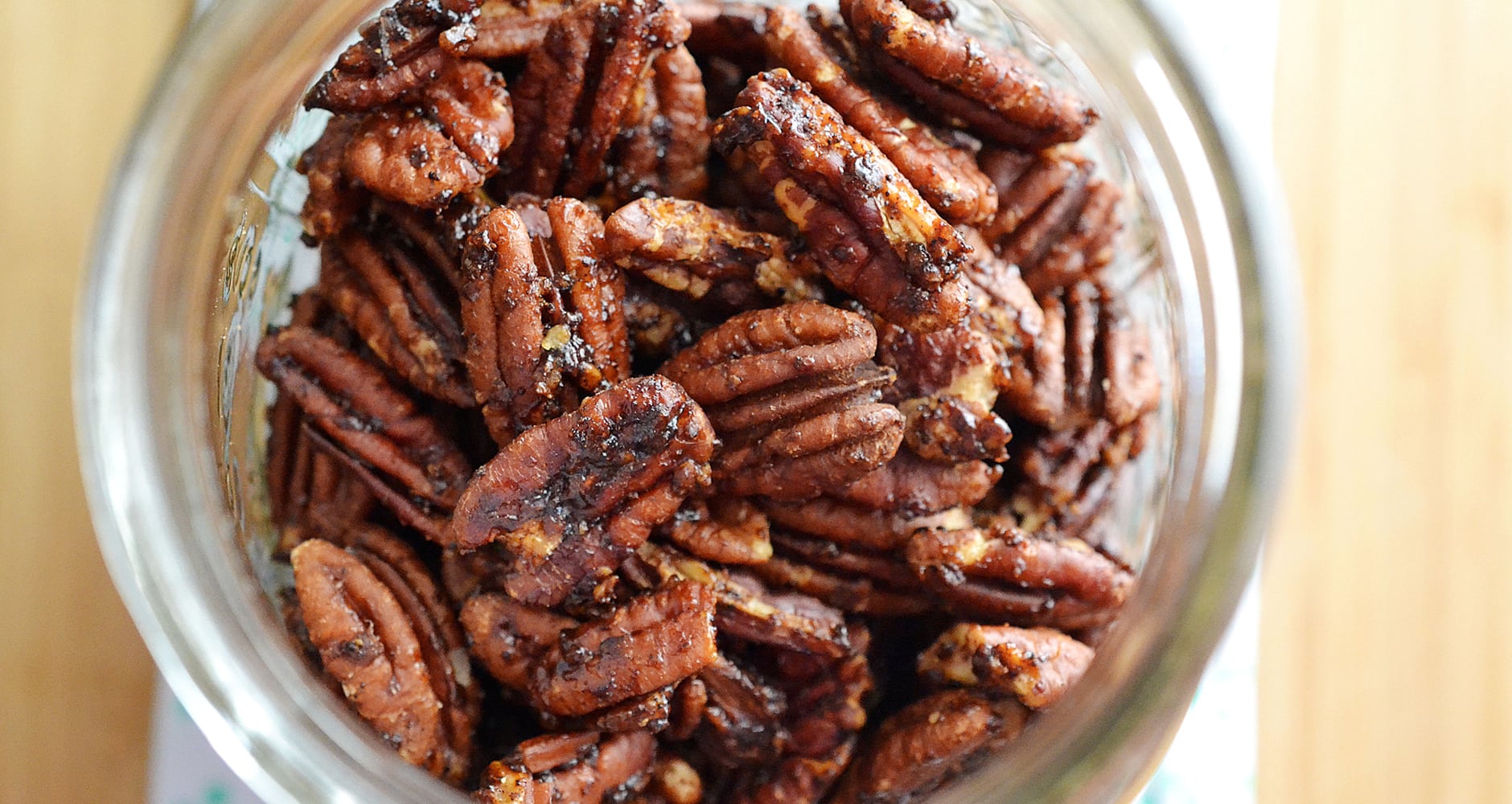 Ingredients:
3 cups shelled pecan halves
1 egg white
1/2 teaspoon ground cloves
1/4 teaspoon nutmeg
1 tablespoon water
1/2 cup white sugar
1 teaspoon cinnamon
1/2 teaspoon kosher salt
Directions:
Beat egg white and water together with a fork. Add sugar and seasonings to the egg mixture. Add nuts and coat on all sides. Place nuts on a foil-lined sheet to prevent sticking. Bake 1 hour at 250 degrees, turning once or twice. Be careful not to overcook! Cool and add to jars or boxes and wrap.
6. Traditional Italian Panettone
7. Homemade Caramel Corn

Ingredients:
1 cup butter
2 cups brown sugar
1/2 cup corn syrup
1 teaspoon salt
1/2 teaspoon baking soda
1 teaspoon vanilla extract
5 quarts popped popcorn
Directions:
Preheat oven to 250 degrees. Place popcorn in a very large bowl. In a medium saucepan over medium heat, melt butter. Stir in brown sugar, corn syrup, and salt. Bring to a boil, stirring constantly. Boil without stirring 4 minutes. Remove from heat and stir in baking soda and vanilla. Pour in a thin stream over popcorn, stirring to coat.
Place in two large shallow baking dishes and bake in a preheated oven, stirring every 15 minutes, for one hour. Remove from oven and let cool completely before breaking into pieces. Pack in Mason jars and tie with a ribbon!
More Christmas Gift Ideas
Christmas Weather Lore
Do you know these weather lore sayings associated with Christmas?
When Christmas Eve is clear, our Lord will give us an abundance of wine and corn.
White Christmas, green Easter. Green Christmas, white Easter.
If there's thunder during Christmas week, the winter will be anything but meek.
The nearer the New Moon to Christmas Day, the harder the winter.
If Christmas Day be bright and clear, there'll be two winters in the year.
A green Christmas brings a heavy harvest.
A green Christmas makes a fat churchyard.
So many hours of Sun on Christmas Day, so many frosts in the month of May.
If the Sun shines through an apple tree on Christmas, there will be an abundant crop of apples in the coming year.
If it rains on Christmas, there will be four weeks with no sun.
The wind at the end of Midnight Mass will be the dominant wind in the coming year.
A windy Christmas is a sign of a good year to come.
If there is much wind on Christmas Day, trees will bear much fruit.
If the wind grows stormy before sunset on Christmas, expect sickness in the coming spring and autumn.
If it snows on Christmas night, there will be a good crop of hops next year.
If at Christmas, ice hangs on the willow, then clover may be cut at Easter.
Light Christmas, light wheatsheaf; Dark Christmas, heavy wheatsheaf.
A bright Christmas foretells that hens will lay well.
A dark Christmas foretells that cows will give much milk.
If St. Lucy's Day (December 13) be bright, Christmas day will be dark with snow; but if the snow falls on St. Lucy, Christmas will be clear and sunny.
If ice will bear a man at Christmas, it will not bear a mouse afterward.