What Are Frankincense And Myrrh?
You've probably heard that frankincense and myrrh were two of the gifts brought to the Baby Jesus by the Three Wise Men, along with gold. But what are they? Are they used today? We have the answers.
If you've ever heard of frankincense and myrrh, it's most likely because they are known historically as the precious gifts presented to the Baby Jesus by the Three Wise Men, along with gold. According to Matthew, 2:11:
And when they were come into the house, they saw the young child with Mary his mother, and fell down, and worshipped him: and when they had opened their treasures, they presented unto him gifts; gold, and frankincense, and myrrh.
But have you ever wondered why the Wise Men chose these items as gifts? What are they, and are they really that valuable?
What Are Frankincense and Myrrh?
Both frankincense and myrrh were valuable commodities that were exported by camel caravans throughout the known world. Only royalty or the wealthy could afford either, making them a fitting gift for the King of Kings. These costly commodities were used not only by the ancient Hebrews but by the Egyptians and Romans as well. Both were used in embalming and burned as incense for fragrance, purification, and in religious rites.
Frankincense was used as medicine—the resin was chewed for digestive issues. Ancient Egyptian queens and pharaohs used frankincense and myrrh topically for skincare and rejuvenation, in cosmetics and facial masks. The dark eyeliner that Egyptian royalty wore thickly around their eyes, referred to as kohl, was made from charred powder from burned frankincense resin.
Both are derived from the resin of trees. Myrrh comes from an Arabian tree known as Balsamodendron myrrh. And frankincense is derived from the Boswellia trees. It became known as frank + incense because of the prominent odor and steady, long-lasting flame it gives when burned. To extract frankincense and myrrh, incisions are made in the tree bark, and the sap that oozes from the cuts hardens into beads of resin. The resin is harvested and used in a variety of applications.
How Are Frankincense and Myrrh Used Today?

Fortunately, we don't need camel caravans to deliver these beneficial resins and oils. Frankincense and myrrh are typically sold by herbal companies as essential oils, resin, and powders. They can be burned and compounded and used to make incense, perfume, and medicinal tinctures.
Frankincense essential oil can be diffused to relieve respiratory issues such as colds and asthma, or for its relaxing, focus enhancing aroma. Added to salves or carrier oils, it is used to treat dry skin and enhance the healing of skin abrasions. A drop of frankincense essential oil can be taken daily in a spoon of honey, coconut oil or in a glass of water to boost the immune system. Current research on frankincense and other essential oils are revealing promising findings. Certain species of frankincense have been found to aid digestion, effectively treat asthma, arthritis, ulcerative colitis, kill cancer cells and prevent the growth of tumors. In clinical trials, it was reported to reduce cerebral swelling in brain cancer patients.
Myrrh essential oil can be diffused to relieve respiratory issues, soothe mucous membranes or to enhance focusing and centering. Myrrh is used in various cosmetic and skincare applications to promote healthy, youthful skin. Myrrh is valued for promoting oral health and is used in mouthwash, throat lozenges, and toothpaste. It is used to relieve sore throats, toothache, mouth ulcers, and is an effective breath freshener. A drop of myrrh essential oil can be taken orally in a spoon of honey, coconut oil, or in a glass of water to bolster the immune system and protect your body from infection. Myrrh has many beneficial properties: antioxidant, antiviral, anti-fungal, anti-inflammatory, and is an expectorant. In recent studies, myrrh was found to effectively kill breast and skin cancer cells.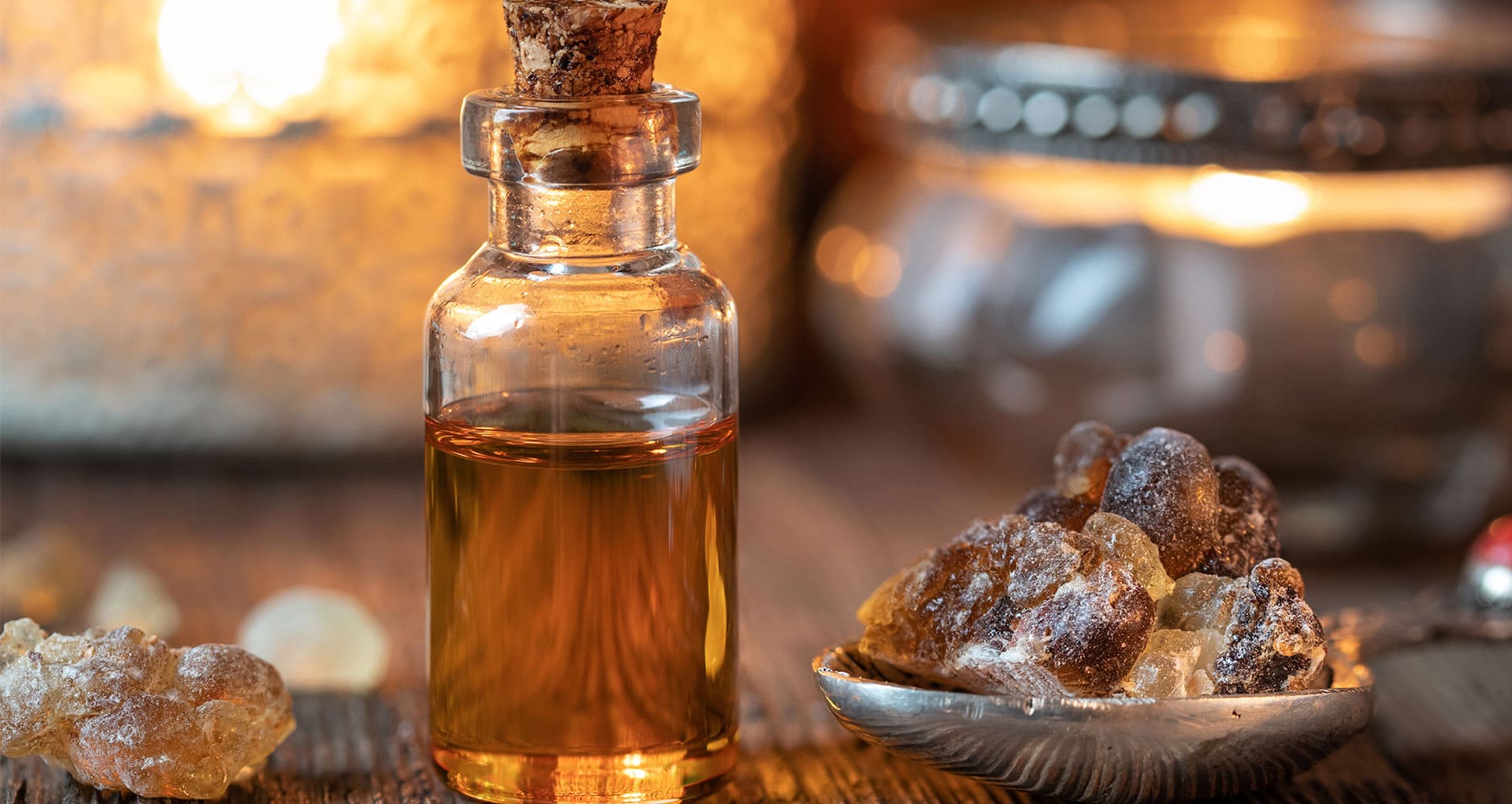 Use only 100% pure therapeutic grade essential oils that are derived from plant sources instead of fragrance oils that may contain synthetic chemicals.
NOTE: Use of frankincense or myrrh essential oil is not recommended when pregnant or nursing or by those six years of age or under. This article is not a complete report on frankincense or myrrh, nor is it a guide to usage, and is not intended as medical advice.

Deborah Tukua is a natural living, healthy lifestyle writer and author of 7 non-fiction books, including Pearls of Garden Wisdom: Time-Saving Tips and Techniques from a Country Home, Pearls of Country Wisdom: Hints from a Small Town on Keeping Garden and Home, and Naturally Sweet Blender Treats. Tukua has been a writer for the Farmers' Almanac since 2004.