What Are Mustache Clouds?
Learn about this rare and interesting cloud formation - Quick, before it's gone!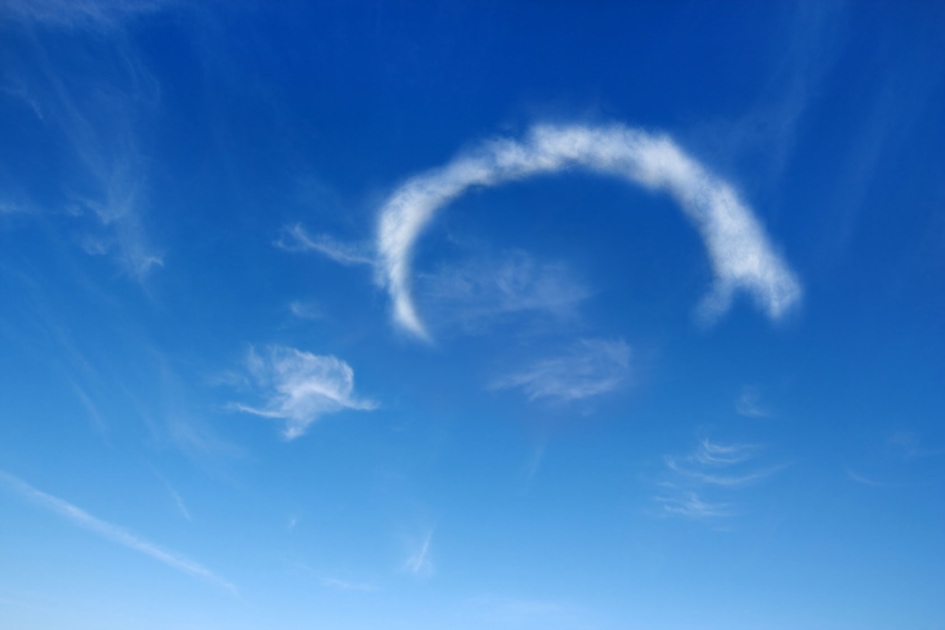 How long has it been since you've lain in the grass looking for shapes in the clouds?
It's natural to perceive recognizable forms—animals, faces, or other everyday items—in random patterns. Our brains are wired to seek out the familiar. There's even a word—pareidolia, from the Greek for "resembling an image"—to describe the phenomenon.
Some cloud shapes can give us insight into what kind of weather to expect, while others are just interesting to look at.
If you're out cloud watching and happen to see a horseshoe or a mustache shape, though, you might want to grab a camera. Chances are, you're looking at one of the rarest cloud formations around: a horseshoe vortex cloud.
But you'd better hurry! These elusive formations only hang around for a minute or so before dissipating.
Horseshoe vortex clouds, also known as mustache clouds, form at the edges of horizontal cylinders of rapidly rotating air – essentially tornadoes tipped onto their sides. The vortices form from updrafts created by powerful super cell storms.
The energy of the vortex shears away a small amount of water vapor from a nearby cloud formation, then bends the small cloud into a semicircle around itself as it rotates.
The effect is short-lived, though. The same force that creates the shape quickly causes it to dissipate, expelling the water vapor away from itself.
While it isn't clear in still photographs of mustache clouds, in videos of the formations, it's possible to see the outer edge of the arc rolling along like a wheel.
The process is similar to what happens when you take the lid off a running blender before its contents have completely integrated. If you've ever gotten a face full of powdered sugar from the blender, you've seen the principle that creates a vortex cloud.
Looking up at the sky is a habit many of us grow out of as we grow older, but if you're a cloud connoisseur, you may consider joining the Cloud Appreciation Society, a club dedicated to, well, appreciating interesting or unusual clouds. Their website features photos of horseshoe vortex clouds as well as hundreds of other interesting formations.
Watch this video of a mustache cloud forming:

Jaime McLeod is a longtime journalist who has written for a wide variety of newspapers, magazines, and websites, including MTV.com. She enjoys the outdoors, growing and eating organic food, and is interested in all aspects of natural wellness.