How To Make The Perfect Scotch Egg
Sausage and eggs come together to create this delicious gastropub staple. Learn a bit of history and try our easy, traditional recipe.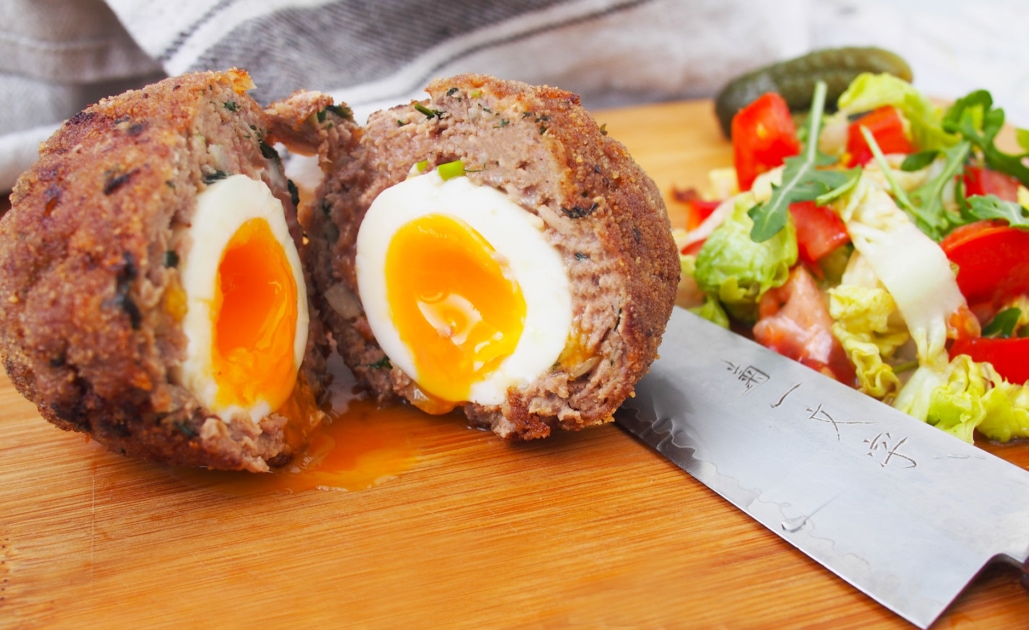 Walk into any gastropub on the British Isles, and you are likely to find some version of Scotch eggs on the menu. And gourmet versions are popping up at eateries across the U.S. Even though they're made from two of your favorite breakfast foods, they can be eaten any time. So how do you make them, and where do they come from?
Scotch Eggs: Are They Scottish?
The short answer is no. The renowned London department store Fortnum & Mason claims to have developed the recipe in their Picadilly store in 1738. It is also said their nickname was Scotties because they were made at William J Scott & Sons eatery. Hence, over a period of time, the term Scotch eggs was adopted. However, the Mughal Emperors of India enjoyed a similar dish with spiced ground meat surrounding hard-boiled eggs known as nargisi kofta perhaps as early as the 16th century. Considering the long trade involvement, and eventual colonization of India by the British, it makes sense to assume that this dish was born from the contact between Great Britain and the Indian subcontinent.
The recipe for Scotch eggs first appeared in an 1806 cookbook with the daunting title A New System of Domestic Cookery: Formed Upon Principles of Economy; and Adapted to the Use of Private Families, by one "Mrs. Rundell," who was the Martha Stewart of her day.
Making Perfect Scotch Eggs
When it comes to the yolk of a Scotch egg, it's a matter of preference as to its doneness. In Britain, the tendency is to leave the yolk a bit soft, though not runny. In the U.S., it's usually more of a fully hard-boiled egg, but care must be taken not to overcook the yolk to the point where its outer border develops an unsightly greenish tint.
For this Scotch eggs recipe, the eggs are cooked with the yolks a bit softer, more like the original old-country version, but you can adjust the cooking time (during the boiling stage) to your liking.
Why not whip up this sausage-and-egg snack for Burns Night celebrations or any night?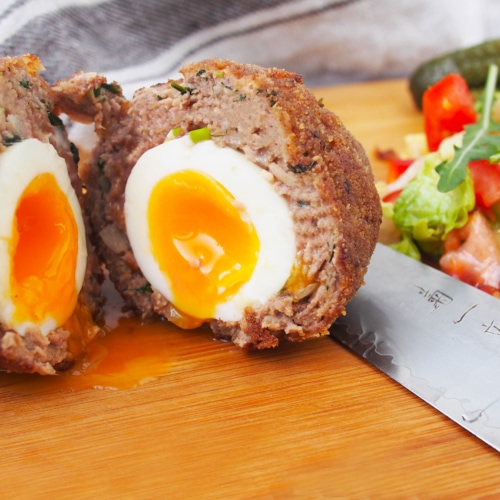 Scotch Eggs Recipe
Ingredients
1 

lb.

of your favorite bulk breakfast sausage

6

large 

eggs

1 

cup 

of all-purpose flour

1

cup 

plain breadcrumbs

an additional egg or two, beaten

oil for deep frying

salt and pepper
Instructions
Place eggs in a saucepan and add cold water to cover. Bring to a rolling boil, then shut off the heat and let stand for 3 minutes.

Drain and place eggs in an ice water bath. Gently crack and peel eggs, handling them carefully as the yolks will still be very soft. Place eggs in a bowl of cold water to stop the cooking process, and chill in the refrigerator up to a day ahead. When ready to use, dry the eggs with paper towels and set aside.

Next, create a breading station, with 3 shallow containers: one for the all-purpose flour, one for the beaten egg, and one for the bread crumbs.

Dredge the eggs in the flour and shake off any excess. Remove sausage meat from package and divide into six equal balls. With damp (not wet) hands, using your thumb, make an indent in one of the sausage balls, and form it into a bowl shape in the palm of your hand, large enough to cradle one of the cooked eggs.

Place one of the floured eggs into the sausage bowl, and then gather the meat evenly and carefully around the egg to totally encase it, pinching the open areas together with your fingers, ensuring there are no holes.

Roll the sausage-covered eggs in flour again, then in the beaten egg, and finally in the breadcrumbs.

Heat oil in a dutch oven or large, heavy-bottomed pan to 360° F (it is a good idea to use a thermometer when deep-frying). Working in two batches of 3, carefully fry the eggs until deep golden brown, about 5-6 minutes, adjusting the heat as necessary to keep the frying temperature even. While frying, keep the eggs moving so they brown evenly.

Using a spider utensil or slotted spoon, remove eggs from the oil and drain on paper towels. Season lightly with salt and pepper while still hot. Makes 6.

Serve Scotch eggs warm (but they're also good room temperature, even cold) with spicy brown mustard and your favorite small pickles, such as cornichons or sweet gherkins. Being a traditional pub food, they also go great with your favorite beer.

Note: Eating Paleo, Keto, or Whole30? Omit the flour and breadcrumbs and go with a sugar-free sausage, or make your own!
Baked Version
To bake rather than fry: Preheat oven to 400 F. Place eggs on an ungreased cookie sheet and bake for 35 minutes until sausage is no longer pink (you can cut one in half to test).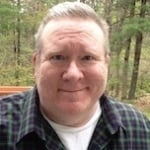 Edward Higgins is a freelance writer, artist, home chef, and avid fly fisherman who lives outside of Portland, Maine. He studied at Skidmore College and Harvard University. His article 10 Best Edible Insects appears in the 2020 Farmers' Almanac.