September Night Sky Guide (September 2023)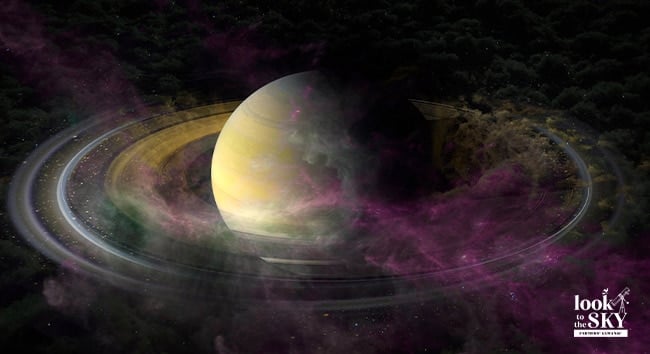 The September night sky (September 2023) will have many stargazing highlights including great opportunities to spot many bright stars, beautiful telescopic views of Saturn, and last but certainly not least: the famous Full Harvest Moon! This year's Harvest Moon will be the fourth and final supermoon of 2023. All the details you need are here in our monthly Night Sky Guide with our trusty calendar of night sky stars and events! Have any questions? Leave your thoughts and queries in the comments section below!
Note: All times and positions are listed in Eastern time, 40 degrees north of the equator—unless otherwise listed.
Look for the telescope emoji – 🔭 – as a quick reference for when recommend using telescopes and binoculars.
Bookmark this page now (Press command+D on your keyboard) so you can easily refer to it for stargazing over the next few weeks.
September Night Sky Guide
September 4 – Jupiter + The Moon
Beginning around 10:30 p.m. Eastern Time, look low toward the east-northeast and you will see the waning gibbous Moon. Now look just to the right … that bright shining "star" is actually a planet—Jupiter! The distance from the Moon to Jupiter is approximately six degrees. Learn how to measure degrees in space using the size of your hand.
According to astronomy, Jupiter is in Aries, just above the head of Cetus the Whale. It rises in the eastern sky a few minutes after 10 p.m. local time at the beginning of this month, but by the end of the month it will rise much sooner, at around twilight. During September, Jupiter brightens from magnitude -2.6 to -2.8, and its apparent diameter swells by eight percent.
September 6 – Last Quarter Moon
The last quarter Moon occurs at 6:21 p.m Easter Time. On this day, Mercury moves through inferior conjunction, then quickly enters the morning sky. By mid-September the planet is magnitude +1.0. Early risers may catch a glimpse of it by looking east approximately 45 minutes before sunrise. First spot Venus and then look to the lower left to find Mercury.
⭐ 🔭 September 11 – Venus + The Crescent Moon
A slender, eleven-percent illuminated waning crescent Moon hovers far to the upper left of brilliant Venus in this morning's predawn eastern sky. Venus climbs noticeably higher before dawn each week in September and burns brilliantly. Its altitude above the horizon 30 minutes before sunrise increases from 15 degrees to 34 degrees during September for those stargazing near latitude 40 degrees north.
Now in view over in the south-southeast at around 9:30 p.m. is the dim constellation of the Sea Goat. It should be emphasized to newcomers of astronomy that the currently accepted name of this constellation is Capricornus, and not Capricorn. Principally astrologers (and some older astronomy books) use the latter for labeling the zodiacal sign of that name. But quite frankly, if the Sea Goat were not in the zodiac most people probably would not even know its name. Its stars form a roughly triangular figure which somewhat suggests an inverted cocked hat.
The star Algiedi, is really a pair of stars so widely separated that they can be easily distinguished without any optical aid. Below Algiedi is the star Dabih, also a pair, though binoculars are needed to see the seventh-magnitude companion of the brighter star.
The lore behind Capricornus is rather amusing. Apparently, the god Pan was involved in a wild picnic-party with the other gods when a huge, ferocious monster called Typhon suddenly appeared. To escape him, each god changed himself into an animal and fled. However, in Pan's alarm (hence the word "panic") he jumped into a nearby river before completing his transformation into a goat. As a result, his lower extremities assumed the form of a fish!
Related: What Zodiac Sign Are You?
September 14 – New Moon – Ideal For Stargazing!
The New Moon occurs at 9:40 p.m. EDT. This New Moon will grow to become the Full Harvest Moon. (See below.)
New Moons are excellent times for stargazing. Learn why!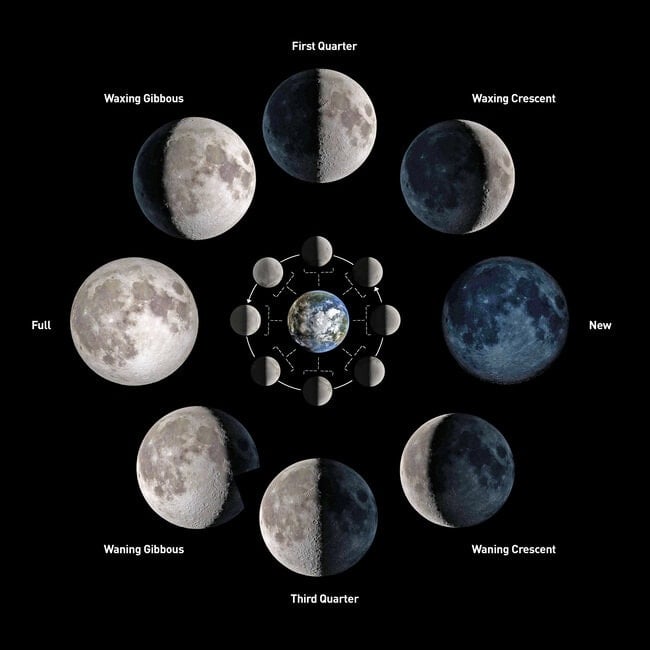 September 19 – Venus
Venus flames to its greatest brightness of this morning apparition, magnitude -4.8. Venus is now so bright that you may be able to follow it with your naked eyes surprisingly easily all the way into daytime, given a crisp, deep-blue sky. It helps to use a marker for it, such as a treetop or the corner of a building. In a telescope you can watch Venus begin September as a thin, tall crescent, then wax to just over one-third illuminated by month's end (while shrinking into the distance all the while).
September 22 – Mercury + The First Quarter Moon
In the morning on this day, reaches greatest elongation (18 degrees west of the Sun), offering early risers at mid-northern latitudes the best opportunity to gaze upon it (at magnitude -0.4). Over the previous few days, Mercury brightened from magnitude +2.1 to +0.2. (By September 30, Mercury will have nearly doubled in brightness to magnitude -1.0, but a few days later it becomes difficult to see in the morning twilight.)
The first quarter Moon occurs at at 3:32 p.m. EDT. Look for it hanging in the southern sky at twilight.
Related: Why Can You See The Moon During The Day?
September 23 – Fall Equinox – First Day Of Fall
The Sun crosses the equator on September 23 at 2:50 a.m. Eastern Time as it heads south. This equinox marks the beginning of fall in the Northern Hemisphere (and the first day of spring if you are in the Southern Hemisphere).
⭐ 🔭 September 26 – Saturn And The Moon In The September Night Sky
Look low toward the southeast during evening twilight to see the rising waxing gibbous Moon. Situated about four degrees to its upper left, you'll see a bright "star" (magnitude +0.5) shining with a yellowish glow—Saturn!
Saturn is one of the best planets to see through a telescope at a star party, and September finds it visible all night at its closest and biggest of the year. As night deepens, you'll see that this lovely world stands awesomely alone amidst the faint night sky stars of Aquarius the Water Carrier. It's fairly high in the south in the south by midnight and its famous ring system (visible only with a telescope) widens somewhat from 9.2 degrees to 10 degrees during this month.
The following image shows what Saturn looks like with the naked eye versus binoculars and, finally, through a telescope. Doesn't it make you want to get a telescope! By the way … did you know that many public libraries will let you borrow one for free? There are lots of fun things available through the Public Library System. Explore your interests and save money! Take a look at our list here.
The Harvest Moon reaches peak illumination at 5:57 a.m. EDT. "Harvest Moon" in September is the best-known proper name for a full Moon, or more properly for the full Moon occurring closest to the date of the autumnal equinox. This year, the Harvest Moon comes a bit late, nearly a week after the equinox.
Related: How To Celebrate The Harvest Moon
Looking Ahead …
We are just two months away from the "Ring Of Fire" Solar Eclipse. Book your travel to one of these locations and get your Farmers' Almanac Solar Eclipse Glasses now!
Join The Discussion
What stargazing event are you looking forward to in September's night sky?
Do you love stargazing? What are your favorite night sky stars?
Share your excitement with your community here in the comments below!
Related Articles