Summer 2023 Extreme Weather Review
A wide variety of extreme weather conditions made summer 2023 one of most unusual summers across the United States in years. In case you weren't keeping score, let's do a quick review.
Hurricanes
From mid-August through mid-September, we saw three remarkable and impactful hurricanes: Hilary, Idalia, and Lee.
Hurricane Hilary was a large, potent Category 4 Pacific hurricane which brought torrential rainfall and gusty winds to the Pacific Coast of Mexico, the Baja California Peninsula, and the Southwestern United States from August 16-22, resulting in widespread flooding and numerous mudslides. In anticipation of "catastrophic and life-threatening flooding," the National Hurricane Center (NHC) issued its first-ever tropical storm warning for Southern California, extending from the Mexico-United States border to just north of Los Angeles. Hilary broke records in four US states for wettest tropical cyclone or its remnants.
Hurricane Idalia, another Category 4 hurricane, left its mark across the southeastern United States, particularly for Northern Florida. After coming ashore on August 30, Idalia made landfall near Keaton Beach at 7:45 a.m. EDT as a high-end Category 3 hurricane with maximum sustained winds near 125 m.p.h. The system remained a hurricane as it crossed into southern Georgia with top winds of 90 m.p.h. It weakened to a tropical storm by later in the afternoon, and its winds had dropped to 60 m.p.h. by nightfall.
Hurricane Lee was a long-lived and very powerful hurricane that spawned near the Cape Verde Islands off of west Africa. In less than 24 hours, on September 7, Lee jumped from a category 2 to a category 5 storm. It later weakened to category 1 that between September 14th and 17th impacted Bermuda, the Northeastern United States, and Atlantic Canada. It was the third major hurricane of the 2023 hurricane season.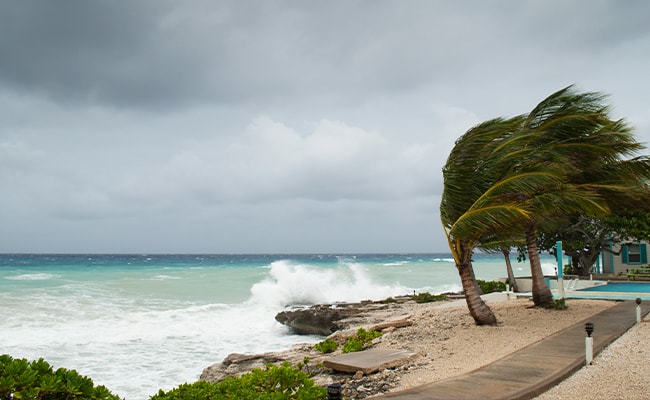 Tornadoes
With 92 confirmed tornadoes, July saw below average levels of tornadic activity. No major outbreaks occurred during the month, although widespread extreme weather with limited to scattered tornado activity occurred on most days.
In contrast, August saw above average tornado activity with 105 confirmed. More significant tornadoes were confirmed during that time than in July, especially in the Great Lakes and Northeast. Thankfully, however, no large outbreaks occurred. Tornadoes associated with tropical activity did not occur until the end of August, when Hurricane Idalia moved through the Southeastern United States.
By mid-September, tornado activity across the US for 2023 as a whole, was trending the most in 4 years, +24% above last year and +11% above average.
Extreme Heat In Summer 2023
"The global average temperature for July 2023 is confirmed to be the highest on record for any month," notes Samantha Burgess, Deputy Director at the European Commission's Copernicus Climate Change Service. "The month is estimated to have been around 2.7°F warmer than the average for 1815 to 1900; the average for pre-industrial times."
Briefing journalists in Geneva, Ms. Burgess noted that July had been marked by heatwaves "in multiple regions around the world."
Based on data analysis known as proxy records, which include cave deposits, calcifying organisms, coral and shells, the Copernicus scientist added that it "has not been this warm for the last 120,000 years."
Starting in May 2023, a heat wave began affecting Western North America. The heat wave ultimately led to wildfires in Alberta, record temperatures across Canada and the US, and over 100 deaths in Mexico.
The heat continued to build across the western and southwestern states through June and by July an unprecedented streak of extreme weather temperatures scorched the southwestern US Blistering temperatures lingered in the region for more than three weeks, contributing to delayed air travel and heat-related deaths. In Phoenix, Arizona, the high temperature in the desert climbed past 110° F for 30 straight days. The previous record stretch of 110° F or above was for 18 days in 1974. The extreme heat began to abate across the western US—albeit slowly—during August.
Wet Weather Super-soaker In The Northeast
While hot, dry extreme weather predominated the western US, the eastern US—particularly the Northeast and New England—endured unusually damp, humid weather conditions. July in particular was wetter than average; most places saw more than double what fell in May and June combined. In fact, for some localities, more rain fell in the first four days of July than what fell in all of June. Some areas (like New York City) recorded their wettest Independence Day in over 40 years!
Overall, July's greatest daily rainfall was July 16, which for many places saw more than what fell in all of April. Some locations saw rainfall totals in excess of half a foot and in Vermont (seemingly the epicenter of summer rains). The intense downpours led to the worst flooding since 1923. Compared to other regions of the US, the Northeast was blessed by relatively mild summertime temperatures.
August averaged 0.5 to 1.5 degrees cooler than average, and in New York City it was the first August since 1986 not to have any reading in the 90s. (By contrast, August 2022 was the third hottest on record at Central Park, with 11 days having highs in the 90s.) It was the coolest August in the Northeast in six years (and summer 2023 overall was the coolest in six years as well).
Smoky Skies
As previously noted, beginning in May the extremely hot temperatures over Western Canada helped to ignite numerous wildfires, which spread westward across British Columbia and as far east as Quebec and parts of Atlantic Canada. The result of these wildfires was to produce widespread plumes of thick smoke.
During the first week of June, New York City had some of the worst air quality in the world because of the wildfire smoke that has drifted south from Canada. The sky over the city had an orange glow on June 6 and the Sun was largely obscured by a smoky haze. Officials warned residents to limit time outdoors and emphasized people with respiratory illnesses or heart disease were especially vulnerable to the dangerous air quality conditions. Millions of people across the Midwest also experienced dangerous air quality conditions, with air quality advisories in effect in southeastern Minnesota, parts of the Upper Peninsula of Michigan and areas in Wisconsin. Air quality alerts were also posted across most of New England.
By mid-July there were more than 880 fires burning throughout Canada and the Canadian Interagency Forest Fire Centre said at least 580 of the wildfires were "out of control."
Related: Tips For Poor Air Pollution And Poor Air Quality
Wildfires release a significant number of pollutants into the atmosphere. The smoke generated from wildfires contains fine particulate matter, which enters the lungs and causes health issues such as asthma and bronchitis. Air pollution from wildfire smoke is also growing worse in the US Last year, Stanford researchers found millions of Americans are routinely exposed to pollution from wildfire smoke at levels rarely seen just a decade ago.
Disaster For Maui
Finally … August 8-11, a series of wildfires, referred to as the Hawaii Firestorm by the United States government, broke out on the Hawaiian island of Maui. The wind-driven fires prompted evacuations, caused widespread damage, killing at least 97 people and leaving at least 31 others missing in the town of Lahaina on Maui's northwest coast.
For the Lahaina fire alone, the Pacific Disaster Center (PDC) and the Federal Emergency Management Agency (FEMA) estimated that over 2,200 buildings had been destroyed, overwhelmingly residential and including many historic landmarks in Lahaina. The damage caused by the fire has been estimated at nearly $6 billion.
The proliferation of the wildfires was attributed to two significant weather factors: dry, gusty conditions created by a strong high-pressure system north of Hawaii and Hurricane Dora passing to the south.Dora, in fact, will go down in the history books as the longest-lasting Category 4 hurricane on record in the Pacific Ocean. It was about 490 miles south of Hawaii Island during its closest approach on August 8th, when the fires broke out on Maui. Unfortunately, Dora's winds helped fan fires with more than 60 m.p.h. gusts in Lahaina and up to 80 m.p.h. winds on Hawaii Island and even over the mountains on Oahu. So, while it did not hit Hawaii directly, it contributed to one of the worst natural disasters so far this year.
Related: 9 Tips To Reduce The Threat Of Wildfires
So, from a meteorological standpoint, summer 2023 will certainly go down in extreme weather history.
Join The Discussion
How was summer 2023 where you live?
Did you experience extreme weather?
Share your experience with your community here in the comments below!
Related
Extended Weather Forecasts – See yours!
Join The Farmhouse – Immediate access to 12 months of extended weather forecasts

Caleb Weatherbee is the official forecaster for the Farmers' Almanac. His name is actually a pseudonym that has been passed down through generations of Almanac prognosticators and has been used to conceal the true identity of the men and women behind our predictions.