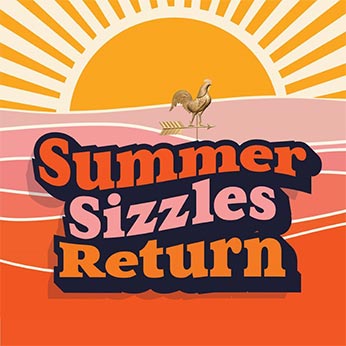 When Does Summer Start?
The official first day of summer in the Northern Hemisphere is June 21, 2023, summer solstice, though many in the United States kick-off celebrations on Memorial Day weekend (May 27-29 this year). According to meteorology, summer starts on June 1. (Why is that? Find out.)
Summer is a season that many look forward to – a season that offers endless opportunities to spend time in the great outdoors – swimming, gardening, fishing, boating, camping, stargazing, barbecuing, vacationing …
But Will The Weather Cooperate?
Remember last year's sweltering summer? According to the National Oceanic and Atmospheric Administration (NOAA), the summer of 2022 ranked as the third-hottest summer in 128 years.
The average temperature for the contiguous US for meteorological summer 2022 (June 1- August 31), was 73.9 degrees F, 2.5 degrees above average.
(The summers of 2021 and 1936 are the two other hottest summers on record, with the summer of 2021 beating the Dust Bowl summer by less than .01 degrees F, with the average temperature coming in at 74 degrees F.)
The summer of 2022 was also filled with many weather extremes including multiple historical flooding events and continued droughts in other areas.
Could we be on track to break a new record?
Summer Drought or Drench?
Rainfall will be above average over the Central US.
Across a swath covering parts of the Rockies, Plains, Midwest, and east to the Mid-Atlantic Coast, there will be occasional bouts of heavy precipitation, primarily from showery rains and big thunderstorms.
Elsewhere, over the Northeast and New England and the Far West, anticipate below-average precipitation. This, combined with the excessive heat, sadly also makes for a significant threat of wildfires and not much relief for the drought in the Southwest. Check out our tips on ways to stay safe during Fire Season
Canada's Summer Forecast
The official start of summer in Canada is on Wednesday, June 21, 2023, but who's to say that the warm weather will wait until then to spread summer-like weather conditions throughout the country? Read on to see what our official predictions are.
Will Sweltering Temperatures Return?
Last summer was officially the third warmest in Canada's history, with the summers of 2021 and 1998 coming in hotter. Temperatures across the country were 1.6 degrees C above normal. And the summer heat sizzled longer with many places feeling the heat from May to October and others from July to November!
Record droughts also made last summer a tough one especially in British Columbia. July brought super storms across the Prairies, and the summer warmth lasted longer than normal in Eastern Canada with a very warm temperatures in October and November.
Canadian Summer Weather Forecast 2023 – Sizzles Return
While we hate to be the bearer of bad news, we'd be amiss not to warn you of what our long-range weather outlook is pointing to –Sizzling Temperatures (again!). Our forecast, which is based on a proprietary formula that relies on many factors, including the Moon, is calling for a warmer than normal summer for most of the country!
Our official forecast calls for much warmer than normal conditions for most of the nation. For many regions, the heat will seem unrelenting, persisting from late June through early September. (See what's predicting in your area here.)
Temperatures at times will soar into past 32°C, in some cases even approaching 37°C. Factor in the oppressive humidity and heat indices ("feels like" temps) could approach 40°C in some areas.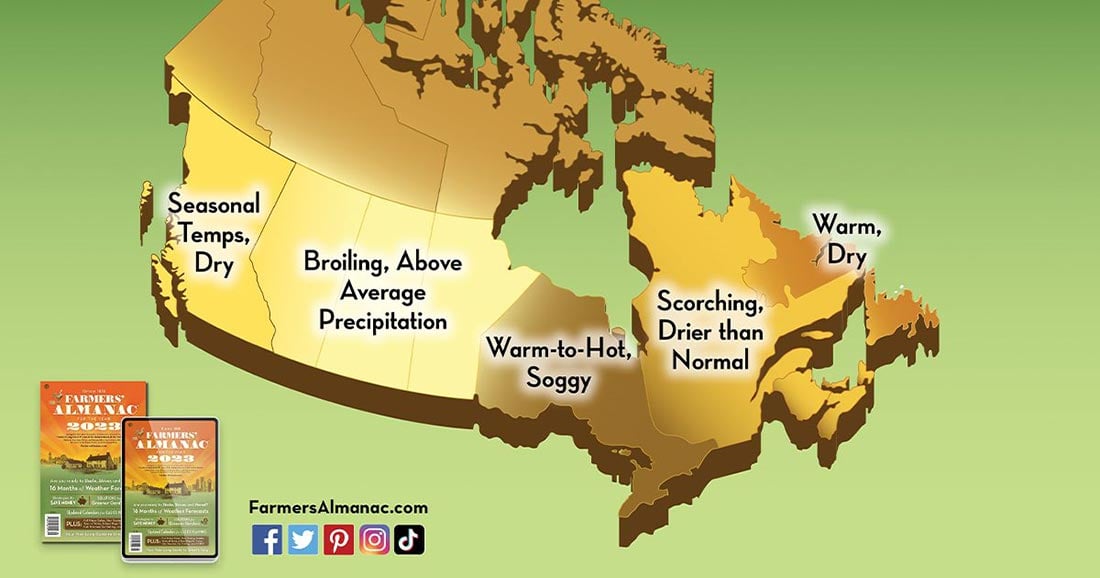 Here is an overview of what we are predicting for the summer of 2023 June – August.
To see a year of weather predictions instantly – Join the Farmhouse
Hurricane Outlook
Our outlook suggests a hurricane threat for the Maritimes, as well as Newfoundland during the third week of September. (Hopefully it won't be as devastating as last year's historic hurricane Fiona).
Traditionally, the peak of the hurricane season occurs on September 10th.
See what we're predicting for the entire year for all of Canada and the US.