3 Winning Summer Recipes You need To Try!
If you're looking for quick, easy, and tasty options to bring to your next summer potluck event, look no further! Whether you want a unique twist on classic chicken salad, a flavorful grape salad side dish, or a delicious chocolate dessert, these recipes are sure to delight your friends and family … and leave them asking for more!
These winning recipes were submitted by friends of Farmers' Almanac at Geiger, the oldest family-owned promotional product company in the United States. (If you or your company are looking for branded products, Geiger is the best in the business!)
We hope you try each of these and let us know which one is your favorite in the comments below …
Chicken Salad with Apples
Chicken salad with apples is a fantastic choice for a summer potluck because it offers a refreshing contrast of tastes and textures. The tartness of the apples complements the creaminess of the mayonnaise and the savory flavor of the chicken. Plus, it's a lighter option compared to traditional hamburgers and hot dogs.
Kelly Miller-Craft who submitted this recipe says, "Makes great, hearty sandwiches or a scoop on top of a fresh bed of greens is my favorite (no dressing needed). It's a play off of a Waldorf salad, but with my own twist using mustard and no grapes. And you get lots of protein to keep you full and just the right amount of that salty/sweet combination."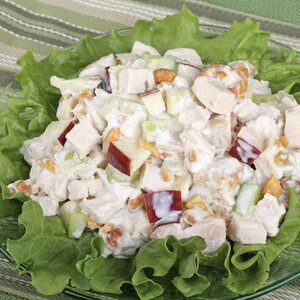 Chicken Salad with Apples Recipe
Ingredients
1

rotisserie chicken

(or grilled chicken breasts/thighs), chopped

1/2

red onion,

finely diced

1/2

celery,

diced

1

sm

apple,

diced

1/2

cup

mayonnaise

1

tsp

honey Dijion mustard

salt and pepper to taste

1/4

cup

dried cranberries, chopped (optional)
Instructions
Mix all together in a bowl and enjoy! 
Notes
If you are using a

rotisserie chicken or chicken with the bone in, be sure to remove the skin and bones before chopping into cubes.
Grape Salad
Grape salad is a unique and surprising addition to any potluck. Made with fresh grapes, cream cheese, and a few other simple ingredients, it's a crowd-pleaser that is easy to make. This sweet and tangy grape salad is perfect for hot weather, and it pairs well with a variety of other dishes. Impress your friends and family with this tasty summer treat at your next gathering!
Georgianna Smith who submitted this recipe says, "This is a recipe that I have to make every year for our family reunion. It is requested every year. Very easy to make and a great dish for summer."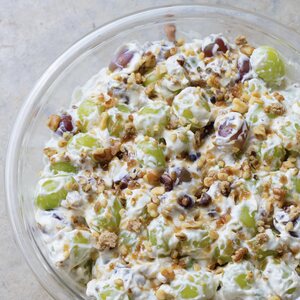 Grape Salad Recipe
Ingredients
2

lbs

seedless red grapes,

washed and drained

2

lbs

seedless green grapes,

washed and drained

8

oz

sour cream

8

oz

block of cream cheese,

softened

1

tsp

vanilla

1

cup

brown sugar

1

cup

pecan pieces
Instructions
In a large bowl, beat the sour cream, cream cheese, sugar, and vanilla until blended. Then pour the grapes into bowl and toss to coat all the grapes well with mixture. 

Next, toast your pecan pieces until hot. Then add your brown sugar to pecans and toss well. 

Now, sprinkle the brown sugar and pecans mixture on top of the grape mixture.

Cover and chill at least for 1 hour (or overnight). Serve cold.
Black Magic Cake
This chocolate cake recipe is the perfect addition to any summer party. Its rich, chocolatey flavor satisfies even the most intense chocolate cravings. Add some fresh, seasonal berries on top to add a pop of color that pairs perfectly with the decadent cake. (See below.) Make ahead of time and store it in the fridge so you won't have to spend hours in the kitchen while everyone else is enjoying the get-together!
Joanne Hadfield who submitted this recipe says, "This was one of my mom's recipes that has become one of my family's favorite desserts. She passed about 10 years ago! Whenever I make it, I think of her. I remember making this with her and thinking that it was strange to put sour milk or vinegar and coffee in the cake until you had a piece and tasted how moist it was. She used to make a coconut or coffee frosting to top the cake. The peanut butter frosting was my addition as we like chocolate and peanut butter together."
Black Magic Cake Recipe
Ingredients
1 3/4

cup

flour

1 1/2-2

cups

sugar

3/4

cup

cocoa

2

tsp

baking soda

1

cup

sour milk

(add 1 tbsp vinegar to milk)

1/2

cup

canola oil

1

tsp

baking powder

1

tsp

salt

2

eggs

1

cup

coffee

1

tsp

vanilla
Instructions
Preheat oven to 350°F

Mix together all liquid ingredients, then whisk in flour with remaining dry ingredients.

Pour into 2 greased 8" cake pans or a 13×9" cake pan.

Bake at 350°F for 35-40 minutes.
Notes
While you can add any glaze or frosting that works for you – may we suggest Joanne's Peanut Butter Frosting?
1 cup creamy peanut butter
2 cups confectionary sugar
1 tsp vanilla extract
1-2 tbsp milk
4 tbsp butter (optional)
Mix together and fill/top cake!
Want to add some 4th of July flair? Include fresh strawberries, blueberries, and whipped cream for red, white, and blue colors!
Thank you!
Thank you to everyone who submitted recipes. We love hearing your stories and your creativity is so inspiring!
Join The Discussion
What is your favorite recipe to bring to a potluck event?
Would you make the grape salad or which one of the recipes above will you try this year?
Share with your community here in the comments below!
Related Articles
Fourth Of July: History, Trivia, And Celebrations
2022 Honey Recipe Contest Winners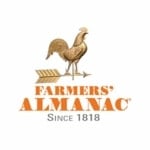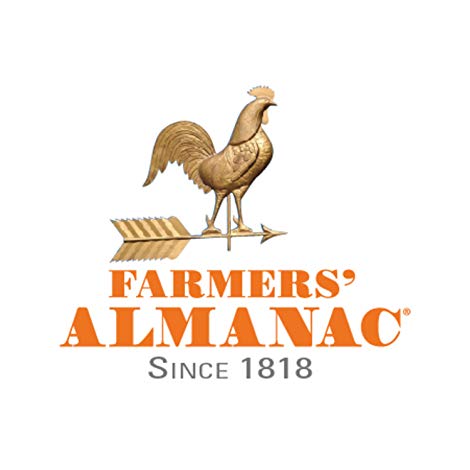 This article was published by the staff at Farmers' Almanac. Do you have a question or an idea for an article? Contact us!