Top 10 Cloudiest States
Which ten states are under the clouds most of the year? Are you living in one of them? We have the list!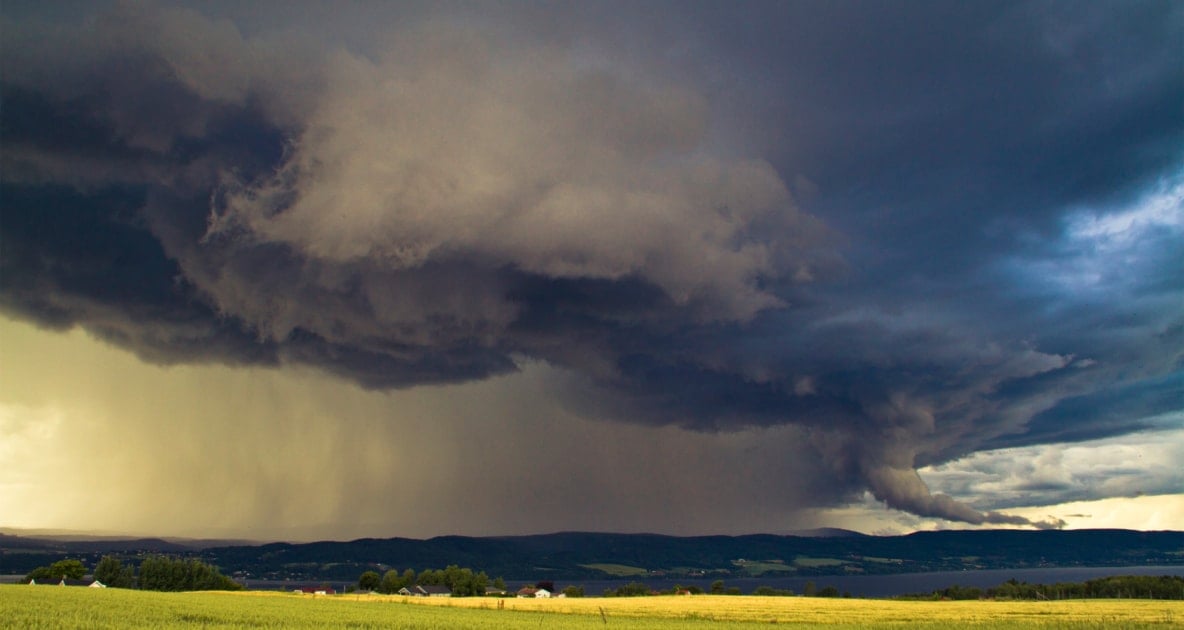 The cloudiest states in the US hold a special charm with their overcast skies and misty landscapes. These states, known for their abundance of cloudy days, offer a unique atmosphere that sets them apart from their sunnier counterparts.
Here at the Farmers' Almanac, we love weather topics of all kinds, and will often explore the many varied climates of cities and states around North America — foggiest, hottest, rainiest, worst weather, best gardening, to name a few. The following states, listed in order from the most to the fewest days of full sunshine, are the ten cloudiest states in the U.S. Are you living in one of them?
10. Connecticut. With climactic influences from the Great Lakes, Connecticut sees more than its fair share of cloud cover. In places like Hartford, you'll only get around 82 fully sunny days per year. Bridgeport fares a little better with 99 sunny days each year.
9. Montana. People call this state "Big Sky Country," not "Clear Sky Country." Because the Continental Divide runs through the western end of the state, Montana experiences diverse, unpredictable weather. In some spots, like Kalispell or Missoula, you can expect as little as 70 to 75 cloudless days a year.
8. Ohio. Because Ohio sees both arctic air masses out of Canada and tropical air masses from southern regions, this state's climate is extremely diverse. The northern half of the state also experiences frequent lake effect snow over the winter. Just south of Lake Erie, you'll see between 63 and 68 days of sunshine. Central and southern Ohio gets between 72 and 77 clear days per year.
7. Michigan. Many of the cloudiest states share a border with one of the Great Lakes, but Michigan is virtually surrounded by them. As cold winds rush over Lake Superior and Lake Huron during the winter, lots of condensation forms, bringing clouds and tons of lake effect snow. Because of this and other climate factors, no matter where you live in Michigan, you're only likely to see between 65 and 75 clear days each year.
6. West Virginia. The Allegheny Mountains that stretch along the border between West Virginia and Virginia are responsible for much of the overcast weather in this state. Because the Alleghenies trap moisture flowing into the state from the north and west, most of the state experiences only 60 to 65 clear days per year. One city – Elkins – only gets 48 clear days a year.
5. Oregon. Oregon's climate is a product of the Pacific Ocean and the state's many mountain ranges. As ocean air drifts inland, the mountainous terrain forces those moist air masses to rise higher and higher, forming clouds and dumping rain and snow as they go. Because of this, cities like Astoria, Eugene and Portland see between 50 and 75 sunny days each year. Once you get past those mountain ranges, however, the eastern side of Oregon is actually extremely sunny. Eastern cities like Medford and Burns reporting 120 clear days each year.
4. New York. New York has several climate factors that put it high on the list of cloudy states. The Great Lakes contribute, adding a few snow days each year. This state is also on a collision course with cold air masses coming out of the north and west. In addition, New York lies alongside the St. Lawrence Valley storm track. Cities like Binghamton and Buffalo, only see about 52 to 54 days of sunshine each year.
3. Alaska. Many consider Alaska to be the cloudiest state in the nation, but actually, the majority of Alaska gets just as much sun as the Great Plains. The shore along the Gulf of Alaska, however, is an entirely different story. Juneau, for instance, averages just 44 days of sun per year. Farther up the Gulf, cities like Anchorage and Fairbanks get between 60 and 70 clear days per year.
2. Vermont. Lake Champlain, the Atlantic Ocean, and the Green Mountains are just a few of the factors that account for Vermont's huge number of overcast days. Winds blow storms in from the northwest in the winter and the southwest in the summer. With a highly active climate, Vermont only sees 58 days of full sunshine each year.
1. Washington. Washington State features a climate that is similar to Oregon's, but even more extreme. Between the effects of the Pacific Ocean, the Cascades and more, cities like Olympia receive 52 days of full sun per year. Seattle fares slightly better with 71 days of full sunshine. Like Oregon, the eastern half of the state sees far more sunshine. Places like Yakima get as much as 109 days of full sun each year.
While these states may experience cloudier weather compared to others, it's essential to note that cloudiness can vary within each state and throughout different seasons. So, if you're someone who prefers overcast skies or enjoys the cozy ambiance created by cloud cover, you might want to consider visiting or even relocating to one of these cloudier states.
Remember, cloudy or not, every state in the US has its unique charm and beauty. So, whether you prefer sunny days or gloomy skies, there's always something to appreciate about the weather wherever you are. Enjoy the diverse climates and embrace the beauty in each state's weather patterns."

Amber Kanuckel is a freelance writer from rural Ohio who loves all things outdoors. She specializes in home, garden, environmental, and green living topics.