What the Heck Is a Satsuma?
When you hear "satsuma" is your automatic response to say "gesundheit"? Learn all about this strangely-named, but delicious, fruit!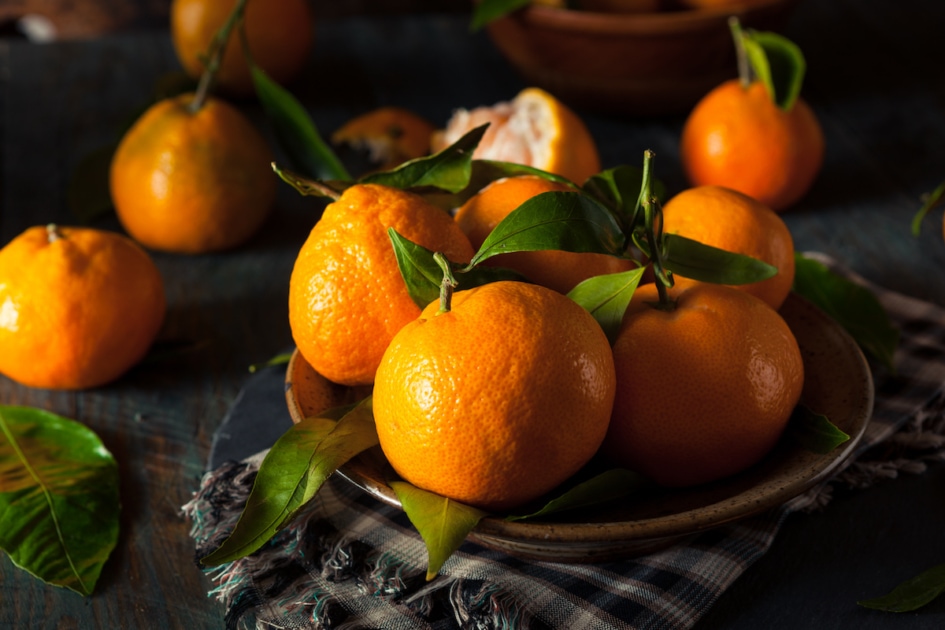 Ever try a satsuma? Chances are, you have, but you may not have realized it.
Satsumas, which take their name from the region in Japan where they were traditionally grown, are small, sweet, seedless citrus fruits. They are members of the mandarin orange family, along with clementines, tangerines, and other popular varieties. In fact, they can be hard to distinguish from the others, aside from the fact that, unlike tangerines, satsumas are always seedless.
The fruit features a thin, leathery skin that is relatively easy to peel, compared to other citrus fruits. This makes them a popular on-the-go snack, because they are portable and produce less mess than a traditional orange.
Satsumas are also the type of fruit most commonly used to make canned mandarin orange slices. They are also often found in salads, usually paired with blue cheese or other bold flavors.
Though small in size, satsumas are big in nutritional value. An average satsuma contains only 50 calories, but provides more than 100% of the daily-recommended amount of vitamin C. It is also high in calcium, fiber, thiamine, and folate.
Here are some recipes to help you enjoy these sweet, tangy fruits!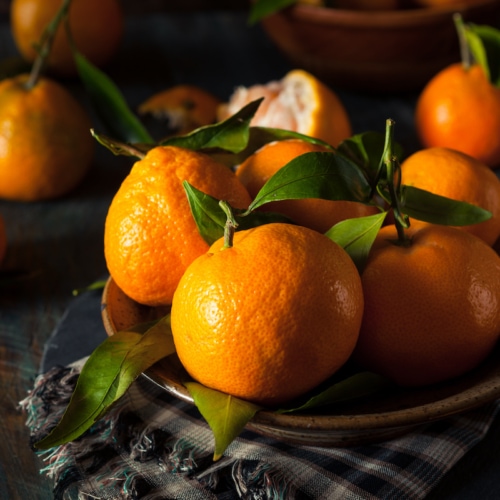 Grilled Shrimp & Satsuma Salad
Ingredients
2

15-ounce

cans black beans, rinsed and drained

3

fresh satsumas, peeled and separated into segments

3

fresh satsumas, peeled and separated into segments

1/2

sweet yellow bell pepper, seeded and sliced

1/2

small red onion, thinly sliced

4

cups

arugula or spring mix

1

pound medium

shrimp, peeled and grilled or broiled

fresh cilantro sprigs, for garnish

2

tablespoons

fresh satsuma juice

1

teaspoon

chili powder

1/2

teaspoon

ground cumin

1/2

teaspoon

sugar

1/2

teaspoon

salt

1/4

teaspoon

freshly ground black pepper

1/4

cup

olive oil

1/4

cup

chopped fresh cilantro
Instructions
In large bowl, whisk together satsuma juice, chili powder, cumin, sugar, salt, black pepper, olive oil, and cilantro.

Gently toss beans, satsumas, peppers, and onion into the dressing.

Place a cup of greens on each of four dinner plates and spoon bean mixture over top of the greens.

Top each plate with grilled shrimp, garnish with cilantro, and serve.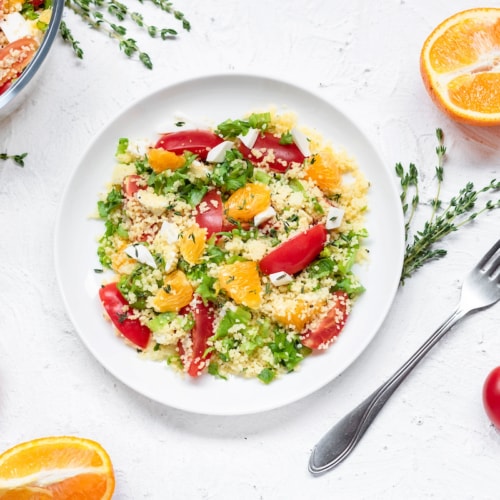 Middle Eastern Couscous with Satsumas
Ingredients
2

cups

chicken or vegetable broth

1/2

cup

couscous

1

tsp

salt

1/2

tbsp

olive oil

3

satsumas

15

oz can

chickpeas

12

large green olives pitted and quartered

6

dates, pitted and diced

1/4

cup

fresh mint leaves, chopped
Instructions
Bring broth to boil in small saucepan.

In a medium bowl, mix together couscous, salt, and olive oil.

Add boiling broth to couscous mixture.

Stir and let stand, covered, for 15 minutes.

Peel and section satsumas, and cut sections into quarters.

Pour chickpeas into a medium saucepan, liquid and all, and bring to a boil.

Reduce heat to medium and simmer about 3 minutes.

Add chickpeas, olives, dates, mint, and satsumas to couscous.

Stir gently, season with salt and pepper, and serve.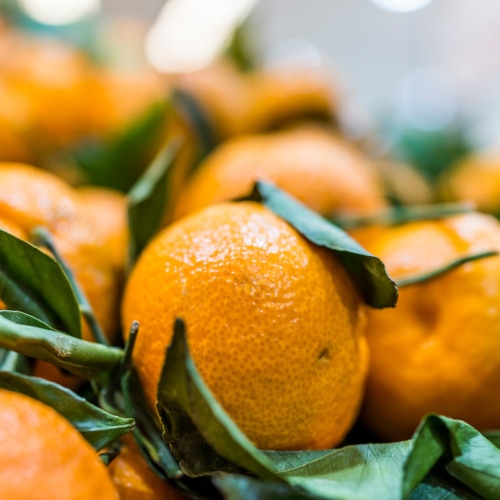 Satsuma Sticky Bread
Ingredients
Bread Ingredients:
1

stick

unsalted butter, room temperature

1/2

cup

sugar

2

large

eggs

1

tbsp

satsuma zest

1

cup

plus 2 tbsp self-rising flour

4

tbsp

milk

pinch of salt
Glaze Ingredients:
4

tbsp

satsuma juice

1/2

cup

confectioners sugar
Instructions
Preheat oven to 350°F and prepare a standard loaf pan with non-stick cooking spray.

Place all the bread ingredients in a food processor and blend about 2 minutes, until the ingredients are smooth.

Pour the batter into the prepared pan and bake about 15-20 minutes, until the top is golden and a toothpick inserted into the center comes out clean.

While the bread is baking, whisk together the satsuma juice and confectioner's sugar until smooth.

When the loaf is done, run a knife around the edges to loosen it from the pan.

Pierce the top of the loaf several times with a skewer and slowly drizzle the glaze over the loaf.

Once the glaze is absorbed, remove the loaf from the pan and place it on a cooling rack.

Jaime McLeod is a longtime journalist who has written for a wide variety of newspapers, magazines, and websites, including MTV.com. She enjoys the outdoors, growing and eating organic food, and is interested in all aspects of natural wellness.
Keep Exploring