8 Healthiest Veggies To Eat This Spring
Detox with mustard greens? Protect your heart with rhubarb? Try these yummy seasonal favorites that pack a nutritional punch!
The arrival of spring not only brings all the lovely shades of green and floral colors to our gardens and landscape, but to the fresh seasonal produce at our local markets. There's no better season than spring to appreciate and start cooking with more fresh vegetables!
Artichoke
Have you ever eaten a thistle? If you've had a globe artichoke, you've eaten a cultivated, edible thistle. This heart-healthy vegetable is rich in potassium, magnesium, dietary fiber, and vitamin C. Artichokes also provide iron, calcium, phosphorous, protein and vitamin B-6.
Once you've prepared the artichoke, it can be baked, steamed, boiled, grilled, or slow-cooked in a crockpot. To finish cooked artichokes on the grill, cut each artichoke in half. Brush with olive oil. Place cut side down directly on a hot grill for about 4 minutes. Turn the artichoke halves with tongs, and continue to grill until desired grill marks appear. Delicious and healthy!
Asparagus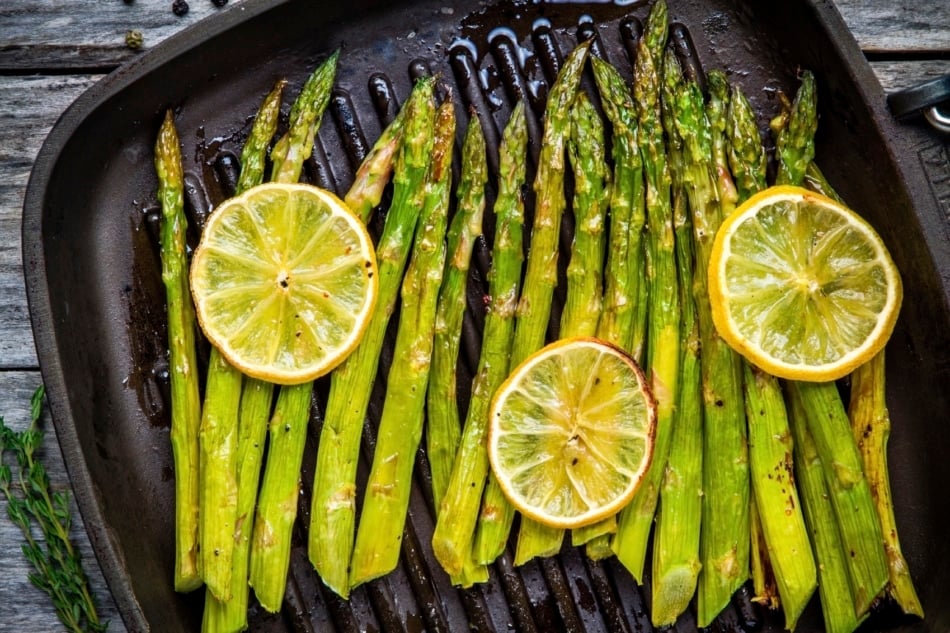 This spring vegetable is rich in folic acid, and is a good source of dietary fiber, potassium, vitamins A, B1, B3, B6, and C. It also contains protein, niacin, magnesium, copper, and calcium. This antioxidant rich food assists in fighting free radicals to prevent cell damage. Want to grow asparagus?
Grilled Asparagus – Fresh asparagus tastes great grilled, and is so easy to do. Coat fresh spears lightly with olive oil, and a splash of balsamic vinegar. Season with sea salt, and fresh cracked black pepper, to taste. Grill over a hot grill for about 3 minutes.
Why does asparagus make your pee smell funny?
Fennel
Like the flavor of licorice? If so, then give sweet fennel a try. This antioxidant-rich vegetable is high in vitamin C, and is a good source of dietary fiber, potassium, folate, and flavonoids. Its feathery fronds are similar to those on a dill plant. Its crunchy green root resembles celery stalks, and can be eaten raw with your favorite vegetable dip. The thick white bulb can be thinly sliced, and eaten fresh in fruit and green salads, or steamed, sautéed, or roasted. Try adding this health-enhancing vegetable to your favorite dishes, including roasts, casseroles, soups, and stews.
Mustard Greens
These spring greens are full of flavor and loaded with nutrients and health benefits. Mustard greens are an excellent source of vitamins K, A, and C. They are also a good source of folate, manganese, calcium, potassium, and vitamins E, and B6, phosphorus, copper, and dietary fiber. Not only do mustard greens have antioxidant and inflammation-fighting properties, but they also support healthy vision, neurological function, and cleanse and detoxify the blood and liver.
Do they taste like mustard? A little bit! Mustard greens have a peppery flavor and stronger scent when cooking than most other greens. In rural southern cooking, mustard greens were traditionally boiled with ham hocks. To retain the flavor and nutritional value, sauté mustard greens in olive oil with a little garlic, and sea salt, to taste. Juicing is another way to up your intake of this highly nutritious vegetable. Toss fresh, washed mustard greens in the juicer for a healthy tonic.
Sugar Snap Peas and Snow Peas
There are many reasons to love these peas in a pod—especially since the peas and pods are both edible, thus no shelling is required. Another reason to add these delicious peas to your menu this spring are their vast nutritional profile. Sugar snap peas and snow peas are high in Vitamins C, K, and A. They're also a good source of protein, iron, folate, manganese, magnesium, potassium and phosphorus. Snack on the crunchy green pods raw, toss them in your favorite green salads, or add them to your favorite stir-fry. For a satisfying side dish, sauté the pea pods in olive oil with cooked, diced potatoes.
Rhubarb
Yes, rhubarb is a vegetable, yet it is most often prepared as a fruit. Originating in Siberia, rhubarb prefers cooler climates, so you probably won't find it on the menu in Florida. Rhubarb resembles celery in appearance, but there's no mistaking the difference when it comes to color and flavor. The leaves of the rhubarb plant are poisonous, so discard them if you grow your own. With its high content of antioxidant vitamins C and A, rhubarb boosts immune function. Also rich in vitamin K, it supports healthy bones. It is also high in omega-3 fatty acids, which supports cardiovascular health.
Rhubarb is also a good source of calcium, dietary fiber, B-complex vitamins, potassium, manganese, and magnesium.
Rhubarb flavor pairs well with the sweetness of strawberries and is most famously served baked in a strawberry-rhubarb pie. For something different, yet delicious, try our rhubarb orange marmalade recipe.
Scallions (green onions)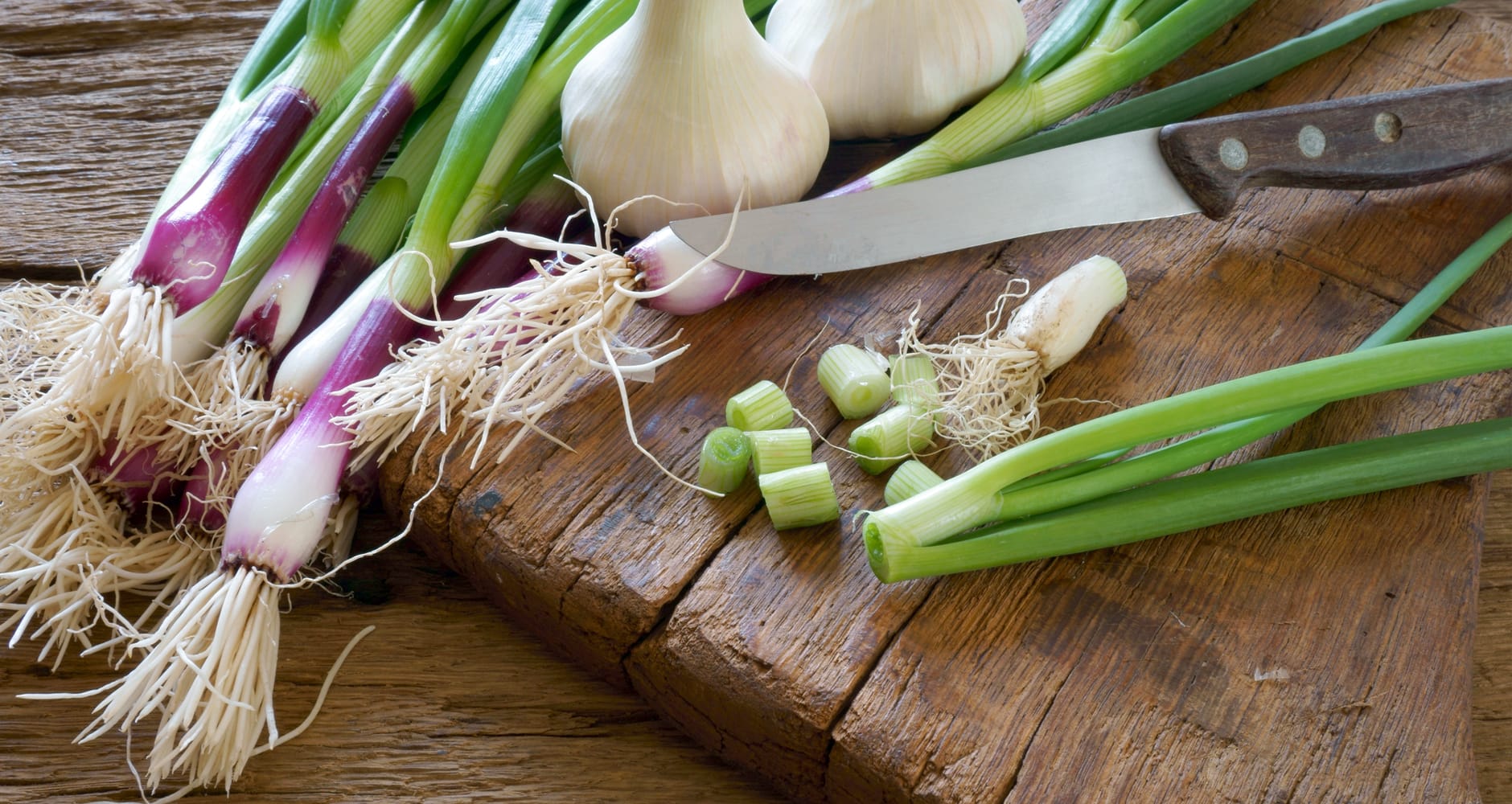 This early spring vegetable is a culinary staple that is enjoyed raw or cooked. The white bulb and its long green stems add flavor and nutritional value to most dishes. It is a rich source of vitamin K, which supports bone and heart health, and helps prevent cancer. Scallions are a natural source of healthy carbohydrates, dietary fiber, potassium, iron, and vitamins A, and C in smaller amounts. Try tossing chopped green onions in omelets, stir-fries, beans, pepper steak with rice, and sprinkled on tacos.

Deborah Tukua is a natural living, healthy lifestyle writer and author of 7 non-fiction books, including Pearls of Garden Wisdom: Time-Saving Tips and Techniques from a Country Home, Pearls of Country Wisdom: Hints from a Small Town on Keeping Garden and Home, and Naturally Sweet Blender Treats. Tukua has been a writer for the Farmers' Almanac since 2004.