All About Apples with Kaitlyn Jill Thornton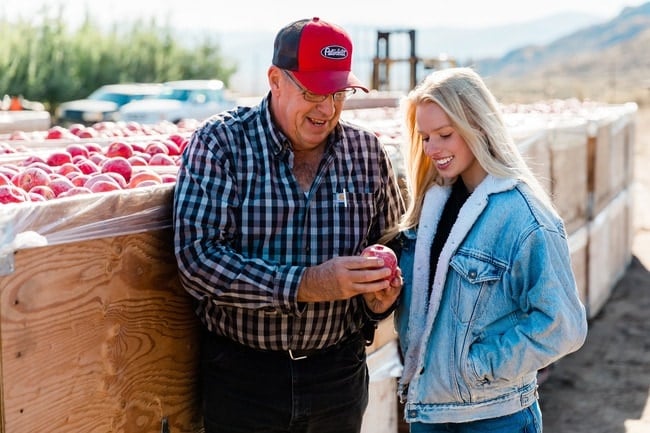 Hey FA readers! When we asked you which fall flavor you loved more: pumpkins or apples, we were pleasantly surprised to hear you say apples! To honor your interest, we contacted an expert to answer your frequently asked questions and to learn about newer varieties like Cosmic Crisp! Read on to learn more about apples from a young woman who mixes generations of family history with new technology to find success in agriculture!
Kaitlyn Jill Thornton is a fourth-generation apple farmer and a young entrepreneur who started her own fruit selling company, Kait's Crates, at 15 years old. She used Facebook Marketplace to orchestrate meet ups and sold crates of apples during her lunch breaks in high school. This allowed her to consolidate her time and efforts to stay in school and work toward her dream of earning a business degree.
Over the course of the last few years, this self-proclaimed "Apple Girl" has established a unique brand with a massive following on social media (nearly 350k followers on TikTok). At meet-ups, her crates of apples sellout in minutes. An award-winning innovator in business technology, she currently studies marketing at Washington State University, where the popular "Cosmic Crisp" apple originated.
Learn more about her inspiring story, some of her favorite apples, and the perfect combination for making pies below!
Finding Success & Making New Connections
One of our favorite things about Kait is that she is a young woman who intentionally carries decades of family wisdom into the next generation. She grew up in a little town called Tonasket, Washington, where they don't even have stop light! Yet her keen ability to use new techonology, Facebook, and other forms of social media has garnered her more visibility than many city-dwellers. As one of the next American greats, she shows us how to till the digital land while picking apples by hand.
The key to Kait's success is in her ability to make a heart-connection with customers. She uses social media as a strategy to give a face to her brand but—through the process—she also gets a chance to get to know more about her buyers.
She says, "Growing up, we would pick the fruit and send it off to the warehouse, but we never knew where it was actually going. But with social media, I can see where it ends up. I can see how happy it makes people. There is a lot of satisfaction there."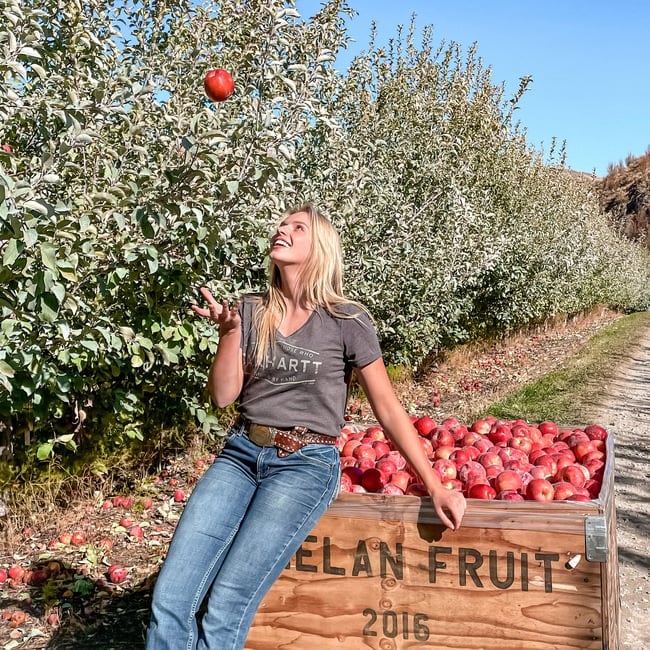 7 Questions For Kait:
1) We heard that you are very popular among hunters. How did this start?
Yes! It's always hunting season when I have fresh apples. I have customers traveling to other states that will grab a couple of boxes. This year I have an order of 8 boxes going to South Dakota!
Hunters love taking our apples because they are easy to pack, they're healthy, refreshing, and have no packaging they have to hold onto. AND if they don't eat all the fruit on their hunting trips they will still last for another month or so!
2) Is there a trick for making apples last longer?
Cold temperatures are best, but you don't want freezing temperatures. There are compartments in refrigerators that allow you to control humidity. Use a low humidity setting. Apples can be stored on the counter, but they won't last as long.
In the past, many Americans would store apples in root cellars as it served as the perfect condition for storing apples all winter long.
3) How does drought affect apple growing?
Well, we live in an arid, desert climate, which is actually ideal for the fruit. We are able to irrigate with mountain runoff and the river that runs through our valley.
It is super important that we are conscious of water usage though, as it is not as abundant for us compared to other areas in Washington. We are constantly looking at more efficient and sustainable irrigation systems because of this.
4) Besides the customer connection, why do you sell through Facebook Marketplace rather than farmer's markets?
I used to go to farmer's markets, but I found that they weren't worth my time. I prefer to do all my orders, pack them in the morning, deliver them during the day, and be done. Then I can focus on whatever I need to focus on. Facebook did a lot of that for me. My loyal customers could reshare a post. I would instantly be talking to my customers, so it wasn't like I just got an order in without a face attached to it.
In a rural location, Facebook groups are widely used. This business model was especially effective for me before I had my own fruit stand.
5) What's next for you and your business?
I just planted peaches and nectarines. So we're expanding!
My parents started out with 23 acres and built it into 440 acres, which is huge generational growth. We've had to build infrastructures: standing structures to work on all of our equipment, etc. We have semis and we do all of our own transportation.
As far as my own business, I used our shop to start out. It doesn't have any electricity. I would have to lift open the doors at night, let in the cold air, and close the doors so that the apples would stay good. Then, in the morning, I would come in and use my truck's headlights to pack all my fruit. I would get up before school, pack all my fruit, and then deliver during lunch at school.
This past year, we bought the warehouse that my great grandpa actually built. That has a cold room, so I can use that. And it's right off the highway, so I can have people come in and pick up any orders instead of having to meet me all of the time.
6) What are you plans for the rest of autumn and into winter in terms of what you are selling?
When we run out, we run out, but we typically will have Cosmic Crisp through February!
7) If people are interested in buying your product, what is the best way to contact you to arrange a sale?
As of right now, my brother and I are only offering local (within 150 miles) sales, but have plans to ship in the future when I can devote more time. People can absolutely follow along with the business and crop updates by following the page, "Kait's Crates," on Facebook!
Kait's Favorite Apples & Best Uses For Them
Here are 5 ways to eat apples along with Kait's apple suggestions for each!
Baking: Goldens are absolutely my base for baking/cooking. They have great texture and cook down well. I like to mix in another variety like Cosmic Crisp which has a more complex flavor as well.
Raw eating: My raw eating apple go-to is SugarBee®, a wonderfully sweet, juicy and crisp apple. Cosmic Crisp (again) when I want something with slightly more acidity.
Cheese: Apples and cheese are just a match made in heaven. For me, Pink Lady/Cripps Pink is just the perfect apple for any cheese. But ESPECIALLY sharp cheese. This is a tart apple and I know a lot of people like to pair it with wine and cheese.
Apple Chips: Honeycrisp! Due to their larger size and sweet/tart ratio, these are my go-to for dehydrating. I sometimes add cinnamon but they don't need anything else. Honeycrisp are of course an awesome all-around apple, it just really takes the cake when it comes to drying for me.
Applesauce: I love the Fuji for this. Fuji is just dynamite, and consistent variety, and it does well for me as well as my customers when it comes to sauce. Not only does it store well and give people flexibility as to making the sauce, you really don't need to add sugar to it!
Fujis also do not have as much water content as other varieties like Honeycrisp which can sometimes make the applesauce more difficult. I have a customer that gets copious amounts of Fujis from me every year to make sauce because she and her husband are diabetic, and they swear by it!
A Final Thought
The next time you're in the apple aisle, we hope you think of Kait's fascinating story and great advice! Be sure to pick up an apple that you've never tried before and make a note of what it tastes like, how you like it, and tell us here! If you have any further questions, let us know in the comments below!
If you happen to live near Washington state, reach out and grab one of Kait's crates while supplies last.
Share this article with a friend to help spread the word!
Cheers to a sweet and crisp fall!
View this post on Instagram
Join The Discussion!
What is your favorite kind of apple?
Do you have any questions about apples?
Have you ever purchased one of Kait's Crates?
Let us know in the comments below!
Related
When Is The First Day Of Fall?