Are You Bananas About Bananas?
If you are bananas about bananas, you're not alone! Check out these very a-peel-ing facts and trivia all about America's favorite fruit. Plus enjoy a Banana Bread recipe for Banana Bread Day!
If you're bananas about bananas, you're not alone. Americans consume an annual average of twenty-five pounds of bananas per person. In fact, bananas are the world's most popular fruit, more popular than even apples or oranges, and the fourth most consumed crop on the planet, after rice, maize, and wheat.
First cultivated in Malaysia and India, bananas are now grown in more than 130 tropical countries, and have grown to become one of the most exported products in Central and South America, alongside coffee.
Facts About Bananas
There are more than 400 varieties of banana in existence. The sweet yellow Cavendish is the favorite in America, Canada, and Europe. Baking bananas, also known as plantains, are another popular variety worldwide. They are large green or reddish bananas that can't be eaten raw, but are cooked into many dishes, replacing potatoes or rice as the major staple food in tropical countries.
In Eastern Africa, travelers and locals alike even enjoy any one of several varieties of sweet beer brewed from bananas, including a Kenyan variety called urwawa.
Here in the west, most of us enjoy our bananas raw, or as part of a rich dessert. Banana splits, bananas foster (recipe below) banana bread (recipe below), banana-topped pancakes, peanut butter & banana sandwiches, and fruit smoothies, which rely on bananas as a thickening agent, are just a few of this versatile fruit's many tempting incarnations.
With less water content than most other fruits, bananas are as filling as they are tasty, not to mention extremely rich in nutrients.
Bananas' Health Benefits
When most people think of bananas, potassium is usually the first nutrient that comes to mind, though what potassium is, or what it does, remains a mystery to many. Potassium is essential to the maintenance the body's balance of fluid and electrolyte levels. It's crucial for the operation of the muscular and nervous systems. Research has also shown that diets high in potassium can reduce the risk of high blood pressure.
Bananas have a lot more going for them than just potassium, though. A single medium banana can provide up to a third of the recommended daily intake of Vitamin C, a vitamin most closely associated with citrus fruits, like oranges. Vitamin C is an antioxidant that protects the body from some forms of heart disease and cancer. It is also responsible for producing collagen, a protein present in muscles and bones that works to bind cells together. Vitamin C boosts the immune system, helping the body to heal from scrapes and bruises. It also increases iron absorption, which is good news for people struggling to overcome a deficiency.
Bananas are also an excellent source of Vitamin B6, which is believed to improve brain function and help the body convert protein into energy, and manganese, an antioxidant mineral that is important for fighting fatigue, improving memory, aiding food digestion and developing strong bones.
In addition to their wealth of nutrients, bananas are very low in fat — especially dangerous saturated fat — cholesterol and sodium. They are also a great source of dietary fiber, which, in addition to being good for digestion, has been shown to lower blood cholesterol levels and slow the absorption of sugar.
So, pull back that peel, kick back and enjoy a tropical treat! Your body will thank you. Here are a few banana recipes to enjoy: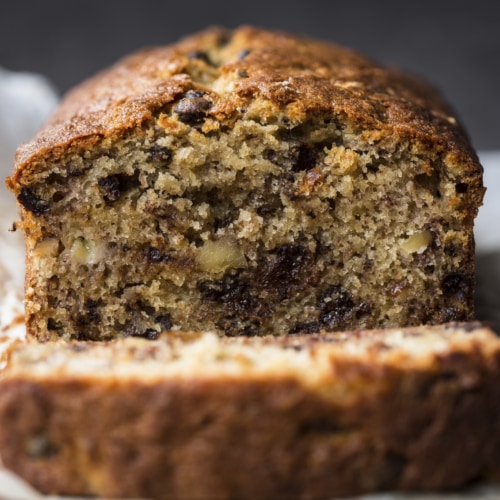 Walnut Chocolate Chip Banana Bread
Ingredients
1 1/2

cups

all purpose flour

1

teaspoon

baking soda

1

teaspoon

baking powder

1/4

teaspoon

salt

3/4

cup

semisweet chocolate chips

3/4

cup

walnuts, chopped

1

stick unsalted butter

1

cup

sugar

2

large eggs

1

cup

mashed ripe* bananas

1 1/2

teaspoons

vanilla extract
Instructions
Coat a 9″x5″ loaf pan with butter and flour.

In a medium bowl, whisk together flour, salt, baking soda, baking powder, chocolate chips, and walnuts.

Whip room temperature butter in a large bowl. Gradually add sugar, beating until well blended. Beat in eggs one at a time, followed by the mashed bananas and vanilla extract, and finally the flour mixture.

Pour the mixture into the loaf pan and bake until a toothpick inserted into center comes out clean, about 1 hour.

Turn out onto a rack to cool.
Need to ripen bananas fast for your banana bread? Check out this helpful hint!
Banana French Toast
Ingredients
3

eggs, slightly beaten

1

cup

milk

1 1/2

teaspoons

sugar

1/4

teaspoon

ground nutmeg

butter

8

slices banana bread
Instructions
In medium bowl, whisk eggs with milk, sugar, and nutmeg.

Melt butter in large skillet over medium heat.

Quickly dip bread slices, one at a time, into egg mixture to coat, then immediately place into hot skillet.

Fry until bread is browned on both sides, turning once.
Helpful Links
Want to know more about bananas? Here's some banana fun trivia!
Have trouble taking pills? Bananas to the rescue!
Did you know it's bad luck to bring bananas on a boat? Here's why!

Jaime McLeod is a longtime journalist who has written for a wide variety of newspapers, magazines, and websites, including MTV.com. She enjoys the outdoors, growing and eating organic food, and is interested in all aspects of natural wellness.
Keep Exploring