Bring Us Some Figgy Pudding … But What Is It?
What the heck is figgy pudding, anyway, and is it really worth getting all pushy about? We explain.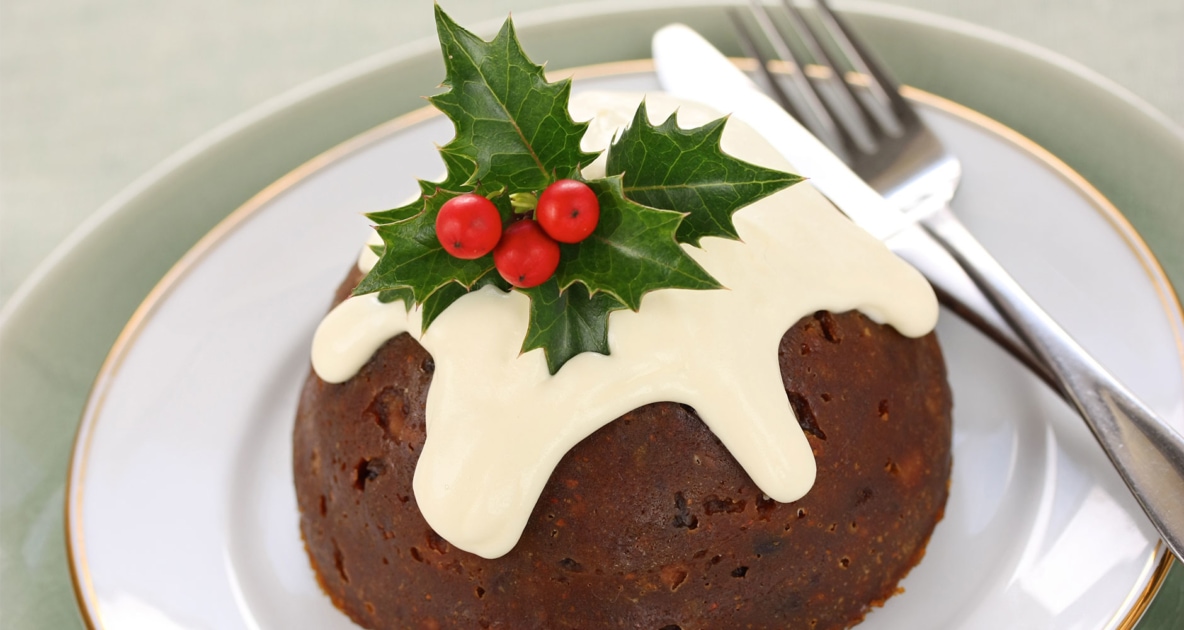 Oh, bring us some figgy pudding;
Oh, bring us some figgy pudding;
Oh, bring us some figgy pudding and a cup of good cheer!
We won't go until we get some;
We won't go until we get some;
We won't go until we get some, so bring some out here!
These strangely demanding lyrics make up the central verses of the popular Christmas carol, We Wish You a Merry Christmas. The song was written in England during the sixteenth-century, at a time when it was traditional for wealthy landowners to offer tasty treats to carolers on Christmas Eve. One treat that was popular at the time was clearly figgy pudding. But what the heck is figgy pudding, anyway, and is it really worth getting so pushy about?
The Proof is in the Pudding?
Here in North America, the word "pudding" generally conjures up an image of a creamy dessert that comes from a box from the grocery store. In England, though, pudding is a broader term that refers to any sweet or savory concoction made from a dairy or starch base. Many traditional puddings come closer to what most of us would call cake. The term is also used to describe any dessert, whether or not it could be officially considered a "pudding."
Following that logic, figgy pudding could be any type of dessert containing figs. Traditional figgy pudding, though, was a steamed soft bread containing figs, nuts and spices, and held together with suet, a type of fat taken from the area around an animal's kidneys. Sometimes rum or other liquors would be added. The mixture would then be hung in a porous bag, similar to cheesecloth, and steamed for several hours. After steaming, it might continue to hang for several days or weeks to intensify in flavor.
When served, a traditional holiday pudding would be garnished with holly or other festive greenery.
Today, few people cook with suet, and the figgy pudding has been out of favor for at least a century. The following recipe offers a modern twist on making this old fashioned treat:
Figgy Pudding
Ingredients
1

stick butter (room temperature)

2

eggs

1

cup

molasses

2

cups 

dried figs, finely chopped

1/2

teaspoon 

grated lemon peel

1

cup

buttermilk

1/2 

cup

walnuts, chopped

2 1/2

cups 

all-purpose flour

1/2

teaspoon 

baking soda

2

teaspoons

baking powder

1

teaspoon 

salt

1/2 

teaspoon 

ground cinnamon

1/4

teaspoon 

ground nutmeg
Instructions
Cream the room temperature butter in an electric mixer until fluffy.

Add in the eggs and molasses and beat again.

Add in the figs, lemon peel, buttermilk, and walnuts and blend for approximately one minute.

Add in the flour, baking soda, baking powder, salt, cinnamon, and nutmeg, and blend until everything is incorporated.

Grease and flour an 8″ x 4″ soufflé dish and pour in the batter.

Bake at 325° F for 1 hour, or until a toothpick inserted in the center comes out clean.

Serve with whipped cream or simple icing.

Jaime McLeod is a longtime journalist who has written for a wide variety of newspapers, magazines, and websites, including MTV.com. She enjoys the outdoors, growing and eating organic food, and is interested in all aspects of natural wellness.