Candy Canes: History, Lore, Recipes, and More!
What would Christmas be without candy canes? But how did these peppermint treats come to be associated with Christmas? We have the answer.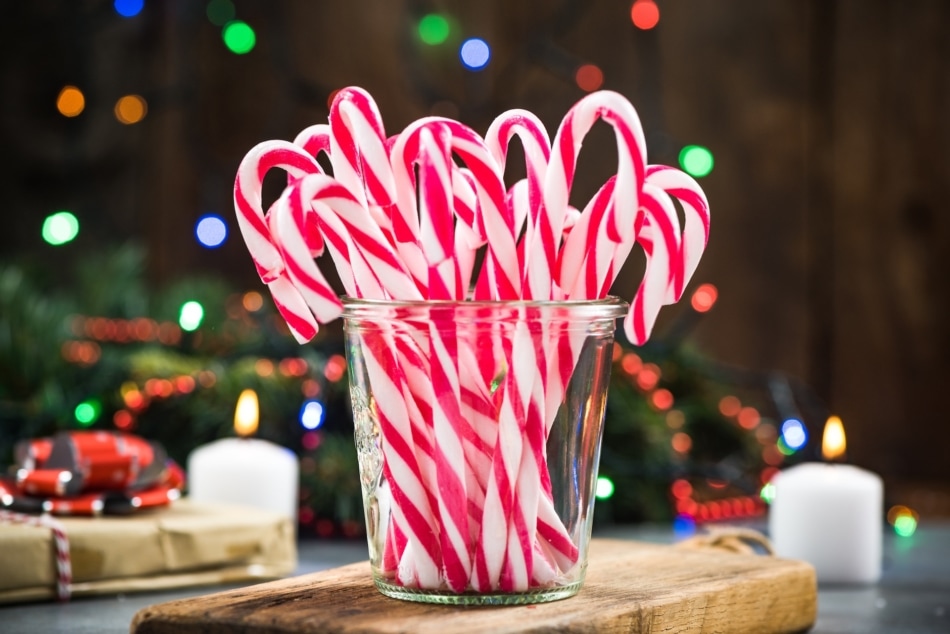 What would Christmas be without candy canes, those sweet, peppermint-flavored, sticks of red and white hard candy deliciousness? But what is their origin, and how did they come to be associated with Christmas?
Origins of the Candy Cane
There are many popular explanations for the origin of candy canes, and all of them sound plausible. Depending on who you ask, you may hear that the canes are meant to be a letter J, for "Jesus," that the white color stands for purity while the red stripes represent the stripes on Christ's back when he was beaten before the crucifixion, that the hardness represents the church's strong foundation, or that the peppermint flavor harkens back to hyssop, a sacred Old Testament herb. While any or all of these meanings can easily be applied to make the candy more meaningful, the truth is actually much simpler.
The Real Story of Candy Canes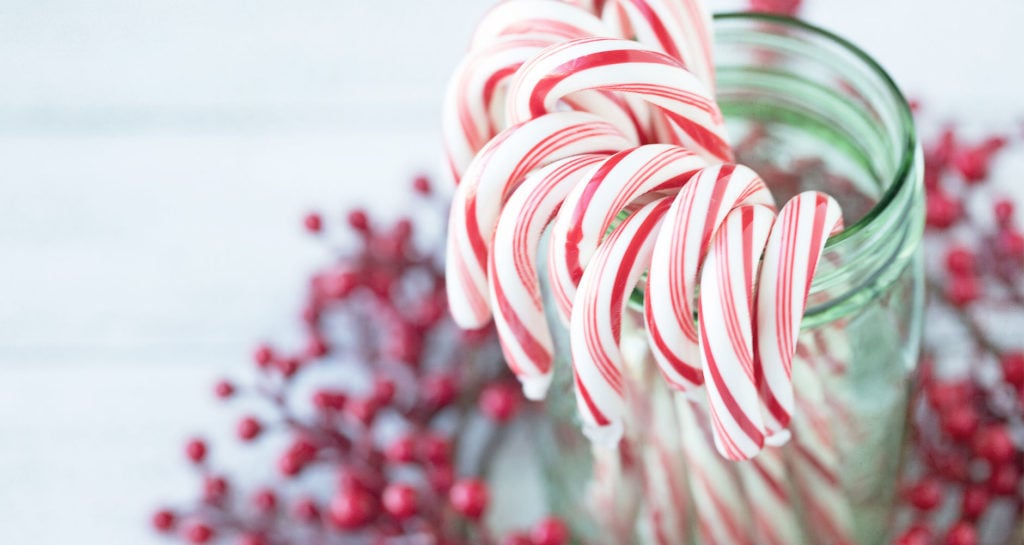 Starting in about the 17th Century, when sugar became more widespread thanks to trade with the "New World," European confectioners began producing hard candy sticks. At that time, anything made with sugar was still considered a treat and mostly reserved for special occasions (such as Christmas). Eventually, parishes began giving the hard candy sticks to children during advent to keep them quiet during service. These versions were bent on end to resemble a shepherd's crook and, by extension, a bishop's crosier.
These first "candy canes" were not flavored, but were made from plain sugar. Over time, in countries where Christmas trees were popular, people found that the candy canes made the perfect edible decoration. The crook at the top of them held them in place on the tree's limbs. Candy canes remained this way — plain white and unflavored — until the first half of the 20th Century when stripes and peppermint flavoring were added.
Today, candy canes can come in many colors and flavors, from traditional peppermint to fruit-flavored, chocolate, and more. The following is a recipe to make your own candy canes at home, plus a few recipes using candy canes: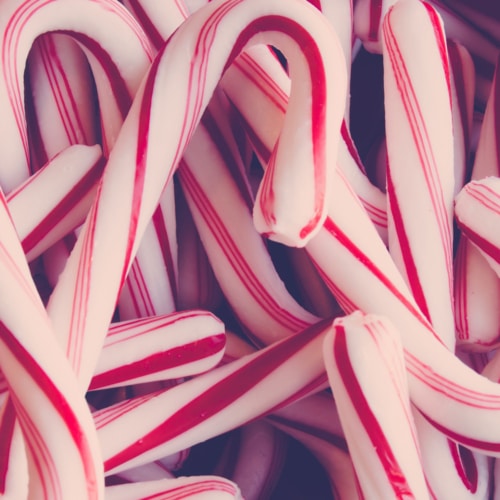 Make Your Own Candy Canes
Equipment
Candy thermometer

Bench scraper or metal spatula

heat resistant gloves
Ingredients
3

cups

white sugar

1/4

cup

water

1

cup

light corn syrup

1

teaspoon

of peppermint extract

A few drops red food coloring

A few drops of white food coloring

cooking spray
Instructions
Preheat oven to 200 degrees F.

Place sugar, water, and corn syrup into a saucepan and bring to a boil. This is when to add the candy thermometer. Without stirring allow it to reach the "soft crack stage" (285°F). Remove from heat. When the bubbles subside, stir in the peppermint extract.

Divide the candy into two parts, pouring out half of the candy onto a baking sheet that's been sprayed with non-stick cooking spray. To the remaining part left in the saucepan, add a few drops red food coloring. Mix and pour onto another baking sheet sprayed with non-stick cooking spray. Place it in a 200 degree F oven to keep it warm.

When a skin forms on the red candy, use a metal spatula to knead and fold the candy over itself. Do this for 2-3 minutes until the mixture is cool enough to handle.

Using heat-resistant gloves, pull the red candy into a long rope, fold it in half, doing this a few times until it starts becoming difficult to work with. Finally, twist it together until it's about a 2-inch-wide rope. Place it back on the baking sheet and into the warm oven while you work on the other half of the candy (which you'll add white food coloring to) and repeat the process, creating a white rope.

Cut a 3" section of each rope and press them together. Then pull and twist together, and bend a shepherd's crook—these are your candy canes! Let them fully harden. Store in an airtight container.
Candy Cane Fudge
Ingredients
2 10-oz

 packages vanilla baking chips

1 14-oz.

can sweetened condensed milk

1/2

teaspoon

peppermint extract

1 1/2

cups

crushed candy canes
Instructions
Line a square, 8" baking pan with greased aluminum foil.

In a saucepan over medium heat, combine the vanilla chips and sweetened condensed milk, stirring frequently.

When almost melted, remove from heat and continue to stir until smooth.

Stir in the peppermint extract and candy canes.

Spread evenly in the bottom of the prepared pan and chill for at least two hours.

Cut into squares and serve.
Candy Cane Whoopie Pies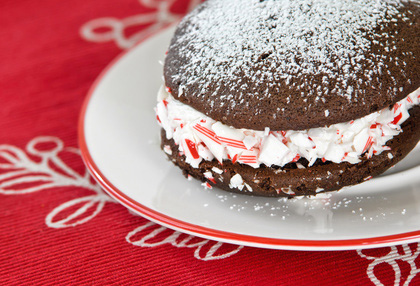 Candy Cane Whoopie Pies
Ingredients
1

cup

all-purpose flour

1/4

cup

cocoa

1

teaspoon 

baking soda

1/2

teaspoon

salt

3/4

cup+ 2 tablespoons

milk

1

teaspoon

vanilla extract

3/4

cup

unsalted butter

1/2 

cup

brown sugar

1

egg

1/4

teaspoon

peppermint extract

2

cups

powdered sugar

12

large candy canes, crushed
Instructions
Preheat the oven to 350° F.

In a bowl, sift together flour, cocoa, baking soda, and salt. Set aside.

In a measuring cup, stir together 3/4 cup milk, and the vanilla. Set aside.

Using an electric mixer, cream together the brown sugar and 1/4 cup of the butter. Add the egg and reduce speed to low. Add about a quarter of the combined dry ingredients and a third of milk mixture and beat together. Repeat until all ingredients have been thoroughly and a smooth batter forms.

Using a tablespoon, portion out mounds of batter, spaced about 2" apart, on parchment-lined cookie sheets.

Bake for 11 min. Transfer the baked shells to a wire rack to cool.

Using a mixer, whip together 1/2 cup of butter, until fluffy. Add mint extract and 2 tablespoons milk. With the mixer on low, gradually add powdered sugar. Beat until fluffy. Fold 1/4 cup crushed candy canes into the filling.

Using level tablespoons, top half of the shells with icing, then add a second shell to create a sandwich. Be sure to spread the filling to the edges of each.

Roll the edges of each whoopie pie in the remaining crushed candy canes, and serve.

Jaime McLeod is a longtime journalist who has written for a wide variety of newspapers, magazines, and websites, including MTV.com. She enjoys the outdoors, growing and eating organic food, and is interested in all aspects of natural wellness.