Make Your Own Healthy Ice Pops!
Cool off this summer with delicious, healthy, homemade ice pops that are easy to make and budget-friendly. Recipes included!
Ice pops are the quintessential summer treat, but they're not always the healthiest option, being made of just sugar, water, and artificial flavorings and colorings. Why not keep your cool and make them with healthy, nutritious ingredients?
How Was The Popsicle® Invented?
The Popsicle® was invented purely by happy accident in 1905 by 11-year-old Frank Epperson. After stirring powdered soda flavoring into water, young Epperson left the mixture on the porch overnight with the stirring stick in it. Temperatures in San Francisco dropped to a record low that night, freezing the drink to the stick. And thus, the frozen treat was created. Years later in 1922, Epperson served his unique frozen pop at a fireman's ball. Its success inspired him to sell the iced pop on a wooden stick to the public at Neptune Beach, an amusement park on the shore of San Francisco Bay. In 1924, he applied for a patent on his "Epsicle ice pop." Epperson's children encouraged him to change the name to Popsicle®, and the rest is history.
Ice Pops: Cool, But Not So Healthy
While they're delicious and basically childhood nostalgia on a stick, most ice pops on the market are simply frozen sugar water with artificial flavorings and colorings. And the healthier versions can be costly. But you can make your own icy treats easily, and you'll know you and your family are cooling off the healthy way for a fraction of the cost.
Make Your Own Healthy Ice Pops
Making ice pops can be as simple as freezing fruit juice in disposable paper cups with craft sticks inserted in the center, or in reusable molds. Three-ounce Dixie® cups are ideal to use when making lots of ice pops for a party or summer holiday. The waxed paper cup easily peels off of the frozen treat.
Reusable molds are made of plastic, silicone, or stainless steel and come in a variety of shapes. Plastic molds must be held briefly under running water or set at room temperature for a few minutes to release the ice from its mold. Click here for a review of the best ice pop molds.
Do you like fruit chunks in your ice pops? Fill the mold cavity with berries or slices of kiwi, mango, pineapple or peaches. Then pour your favorite fruit juice into the mold and freeze. Grape juice or pineapple juice works well. If you prefer to have the flavors combined, use a blender to create delicious specialty ice pops. Most fruit or dairy-based smoothie and shake recipes freeze well in molds. The flavor possibilities are endless!
3 Refreshing and healthy ice pop recipes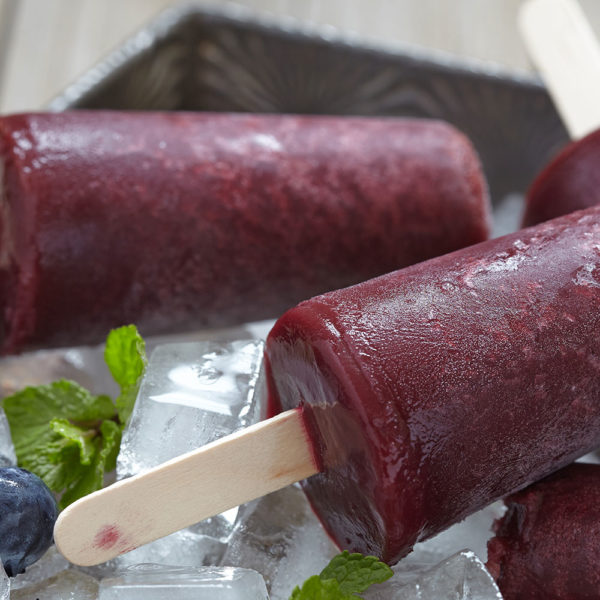 Blueberry Watermelon Limeade Ice Pops
Ingredients
3

cups

watermelon

½

cup

blueberries, fresh or frozen

1/8

cup

lime juice

¼

teaspoon

stevia powder or 1 tablespoon raw honey
Instructions
Directions:

Add ingredients to a blender. Cover and mix until watermelon is smooth and the berries are reduced to tiny flecks. Pour mixture into molds and place in the freezer until frozen solid.
Vegan Fudge Pops
Ingredients
1

can (13.5 ounces)

full fat coconut milk

¼

cup

organic cocoa or cacao powder

3

tablespoons

date syrup or other sweetener of your choice

¼

teaspoon

stevia powder

2

tablespoons

brewed coffee, room temperature or chilled

1

teaspoon

pure vanilla extract

1/8

teaspoon

sea salt
Instructions
Directions:

Add all ingredients to a blender and mix until smooth and creamy. Pour mixture into popsicle molds and place in the freezer until frozen solid.
Strawberry Kiwi Ice Pops
Ingredients
16

ounces (1 lb.)

strawberries, fresh or frozen

2

kiwi

2

tablespoons

extra virgin coconut oil

¼

teaspoon

stevia powder and 1 tablespoon raw honey or desired sweetener, to taste
Instructions
Directions:

Cut off the strawberry caps and halve. Peel and halve the kiwi fruit. Add the prepared fruit and remaining ingredients to a blender and mix until smooth. Pour mixture into molds and place in the freezer until frozen solid.
Cook's Tip: Half the kiwi fruit, then use a spoon to scoop out the flesh.
Want to mix it up? Feel free to layer! Pour some of one flavor into the molds and freeze. When frozen solid, add another flavor and freeze again. Layer as many flavors as you like!
Make Mocktail Pops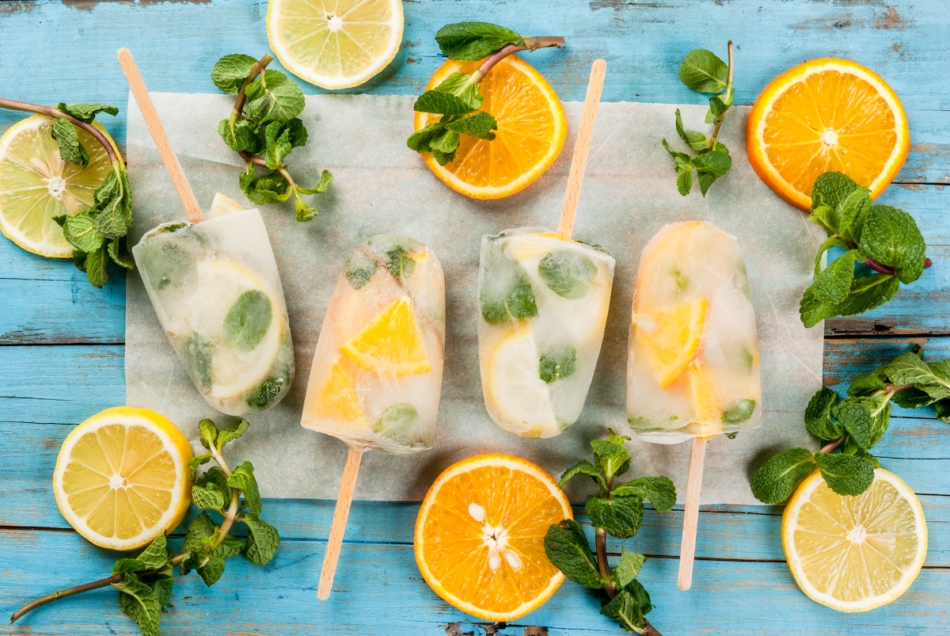 Freeze any one of our mocktail recipes and turn them into ice pops for the perfect summer treat!
Do you have a favorite frozen treat recipe you'd like to share? Tell us in the comments below!

Deborah Tukua is a natural living, healthy lifestyle writer and author of 7 non-fiction books, including Pearls of Garden Wisdom: Time-Saving Tips and Techniques from a Country Home, Pearls of Country Wisdom: Hints from a Small Town on Keeping Garden and Home, and Naturally Sweet Blender Treats. Tukua has been a writer for the Farmers' Almanac since 2004.