Celebrate National Champagne Day on December 31!
National Champagne Day is December 31st! Before you pop the cork and toast to the new year, brush up on some of the terms, history, and fizzy facts of this popular bubbly beverage!
Designated as National Champagne Day, New Year's Eve, December 31, is the obvious choice on which to pay homage to the drink Dom Perignon said is "like tasting the stars." In addition to toasting and ringing in the New Year, creative cooks know that champagne is a surprise ingredient that makes everyday foods festive.
True Champagne Comes From France
True champagne (versus "sparkling wine") is named for the region in France where it is grown, fermented, and bottled: Champagne, France, located in the country's northeastern corner, near Paris. According to European Law, only labels that can legally bear the "Champagne" name must be bottled within 100 miles of this region. Outside the Champagne region, French sparkling wine is known as Crémant.
Types of Champagne
From the Latin campus, or Campania, meaning field, champagne tempts us with its palatable range from doux (very sweet) to brut (very dry). Imbibed with a sugar cube and dash of Angostura bitters, used to incite orange juice, as a wedding day staple, and as the quintessential centuries-old ship christener, it's hard to imagine a world without this tingly, pale gold gem. So why limit it to just your glass?!
With worldwide sales of 200 million bottles a year, the French Benedictine monks (yes, Dom "Pierre" Perignon was really a monk), who first bottled their sparkling form of wine, likely had no idea champagne consumption would become the bubbly behemoth industry it currently is.
Read: Why Do We Say Cheers and Clink Glasses?
Champagne Terms You Need to Know
If the terms elude you, when choosing the right champagne for your special occasion, the following can help:
Brut: extremely dry (less than 1.5 percent sugar)
Extra sec or extra dry: dry (1.2-2.0 percent sugar)
Sec: slightly sweet (1.7-3.5 percent sugar)
Demi-sec: sweet (3.3-5.0 percent sugar); dessert wine
Doux: very sweet (over 5.0 percent sugar); dessert wine
Champagne Trivia
Did you know: Due to juice extraction restrictions, it takes over 2 and a half pounds of grapes to produce one 750ml (25.36 ounces) bottle of champagne? And the finest champagnes use only the first four-fifths of the extracted juice, while the remaining juice, called taille, is given away for distillation.
What About That Champagne Tip?
And never fear! If your celebration goes on and on and your champagne loses its sparkle, some say dropping a raisin into the bottle will help revive it. Unfortunately, this doesn't fully revive the drink's carbonation. You'll see bubbles on the raisin because the remaining C02 molecules in the beverage are sticking to the raisin's wrinkly surface. But it's a neat party trick!
Chefs recommend the best use for flat champagne is to cook with it!
The following recipes can help you channel champagne into the rest of your holiday fare, and well beyond!
Scallops in Champagne Sauce
Ingredients:
1 1/2 tablespoons olive oil
1 1/2 pounds sea scallops
1 cup sliced shiitake mushroom caps (about 4 ounces)
1 1/2 tablespoons chopped shallots
1/2 cup champagne or sparkling wine
1 tablespoon Dijon mustard
1/4 teaspoon salt
1/4 teaspoon dried tarragon
1/4 cup sour cream
Directions:
Heat oil in a large nonstick skillet over medium-high heat. Pat scallops dry with a paper towel. Add scallops to pan; cook 3 minutes on each side or until done. Remove from pan; keep warm.
Add mushrooms and shallots to pan; sauté 3 minutes or until liquid evaporates and mushrooms darken. Stir in champagne, mustard, salt, and tarragon, scraping pan to loosen browned bits. Remove from heat; stir in sour cream. Serve with scallops.
Champagne-Basted Ham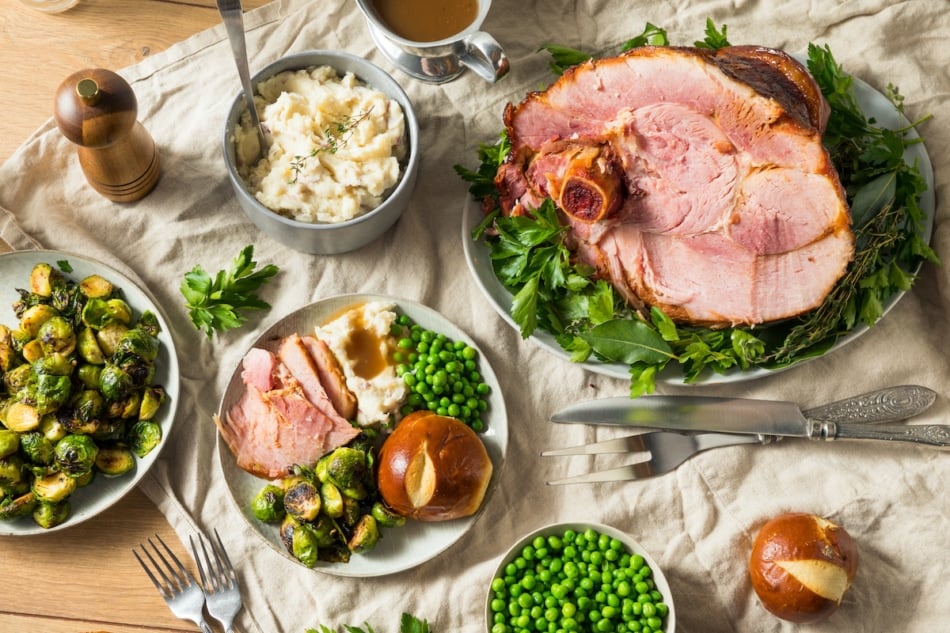 Ingredients:
1 (9-lb.) boneless ham
1 (1-lb.) box light brown sugar
2 (4/5 quart) bottles extra-dry champagne
3 tablespoons honey
1 ½ teaspoons ground ginger
1 ½ teaspoons dry mustard
Directions:
Preheat oven to 325 degrees F.
Score ham and place on rack in baking pan. Cover top with 1 cup brown sugar and pour 1 bottle of champagne over ham. Bake for 2 hours.
Combine remaining bottle champagne, remaining brown sugar, honey, ginger, and mustard, and bring to a rolling boil in a saucepan. Lower heat and simmer while basting ham every 15 minutes until done.
Champagne Dill Carrots
Ingredients:
2 tablespoons butter
1 pound carrots, peeled and thinly sliced into coin shapes
1/4 cup chicken stock
1/2 cup champagne
1 teaspoon honey
1/4 teaspoon salt (optional)
1 tablespoon fresh lemon juice
2 teaspoons fresh dill weed, chopped, or 1 teaspoon dried
Directions:
In a heavy saucepan, sauté carrots in butter over medium heat until they begin to brown. Add chicken stock, champagne, honey, and salt. Stir to combine. Bring to a simmer, cover, and cook over low heat until al dente – about 5 minutes.
Beth Herman is a freelance writer with interests in healthy living and food, family, animal welfare, architecture and design, religion, and yoga. She writes for a variety of national and regional publications, institutions, and websites.
Keep Exploring