Why Do We Clink Glasses And Say "Cheers"?
It's customary to raise a glass and say "cheers" before we drink with friends, but have you ever wondered why we do it? And how do you say "cheers" in other languages? We have the answers.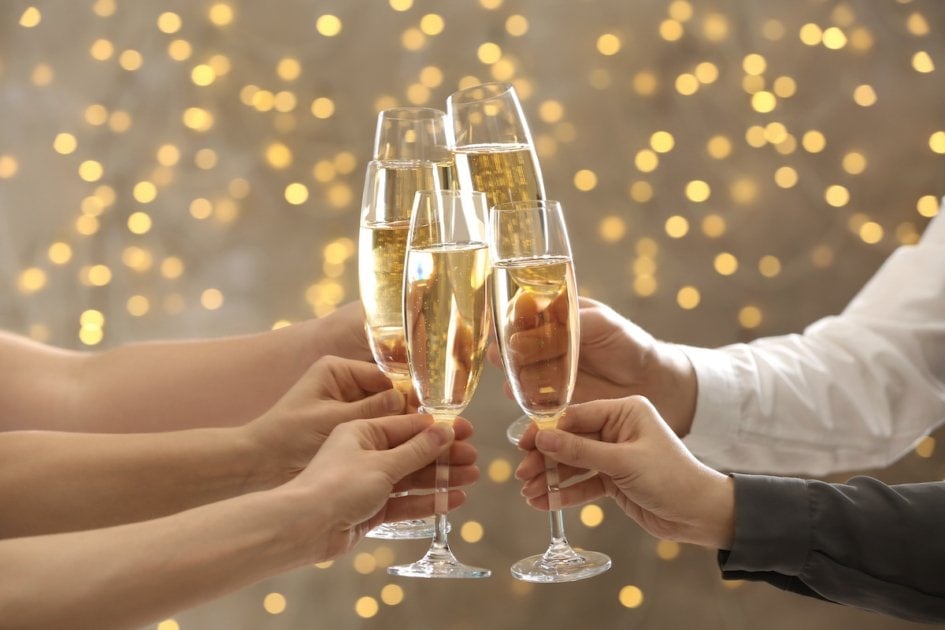 Get ready to ring in 2023! At the stroke of midnight, many will most likely raise their glasses and say "cheers" and "toast" to the New Year. But why do we say it? And what is a toast? Where did these traditions come from? How do they say cheers in other languages?
Say "Cheers!"
"Cheers" originated from the old French word chiere which meant "face" or "head." By the 18th century, it meant "gladness," and was used as a way of expressing encouragement. Today, "cheers," is simply a symbolic and succinct way of toasting with the wish of good cheer and good health to those around us – an exercise of camaraderie.
Why Do We Clink Glasses?
For some, it's almost second nature to clink glasses with others before a drink. It's a custom that has been practiced for centuries. Here's a look at some of the reasons we engage in this practice:
Enhance the Senses: When drinking with friends, many senses are involved: You can see it, feel it, taste it and smell it. It is believed that clinking glasses was done during toasts, because sound helped to please all five senses, completing the drinking experience. Drinking is also a coming together of friends, so by physically touching glasses, drinkers become part of a communal celebration.
Warding Off Evil: In Medieval times, glasses were clinked and people cheered loudly to ward off any demons or evil spirits. It was also thought that you would clink glasses to spill some on the floor, leaving some for the bad spirits in hopes that they would leave you alone. A German tradition is to bang mugs of alcohol on the table and yell loudly to scare away ghosts or evil spirits.
Avoid Poisoning: There are some theories circulating that toasting was a way to avoid being poisoned. Back in the days when poisoning a foe's drink was a convenient way to murder him, it was believed that if glasses were filled to the brim and then clinked hard, a bit of alcohol from each glass would pour into the other. Mixing drinks and then taking a sip was a gesture that the drinks were unharmed.
For the Gods: While the term "cheers" may not have been used per se, many ancient civilizations had their own way of honoring their gods during drinking ceremonies or feasts. Toasting is thought to come from sacrificial libations in which a sacred liquid (blood or wine) was offered to the gods in exchange for a wish, or a prayer for health. It was Greek and Roman tradition to leave an offering to the gods, including alcoholic beverages, during celebrations and commonly after a death. In Greek mythology, the god of wine, Bacchus, was often toasted. Today, we still raise our glasses upwards to the heavens as if offering to the gods a toast to the health of the living.
Where Does Toast Come From?
The term toast, as in drinking to one's health, comes from the literal practice of dropping a piece of toast in your drink. In the 16th century, it was common practice to add a piece of scorched or spiced toast to wine. The bread would help to soak up some of the acidity and improve flavor in poor wine. As a bonus, it would also help to soften up stale bread. Shakespeare mentions the term toast in Merry Wives of Windsor, when Falstaff calls for a quart of wine and says "put a toast in it."
By the 18th century, the term toast had meant a person honored by the toast, rather than an actual floating piece of bread. Hence the particularly popular is referred to as "the toast of the town."
Humans have been cheers-ing, clinking glasses and toasting throughout history. So, gather round, raise a toast (non-alcoholic works fine too) and cheers to happiness, good health, and a long life ahead.
How Do They Say Cheers In Other Languages?
Here's what they say to "toast" to good health in other countries:
Afrikaans – Gesondheid
Scottish, Irish Gaelic – Sláinte (pronounced slawn-cha)
Spanish – Salud
German – Prost
Danish – Skal –(pronounced Skoal)
Dutch – Proost (pronounced prohst)
French – Sante
Japanese – Kanpai
Portuguese – Saude
Do you know ways to say cheers in other languages? Tell us in the comments below!

Natalie LaVolpe is a freelance writer and former special education teacher. She is dedicated to healthy living through body and mind. She currently resides on Long Island, New York, with her husband, children, and dog.