Brussels Sprouts: Small In Size, Big On Flavor and Nutrition
It might be time to give Brussels sprouts a second chance. Try this easy recipe with these delicious topping ideas and you're sure to be a convert!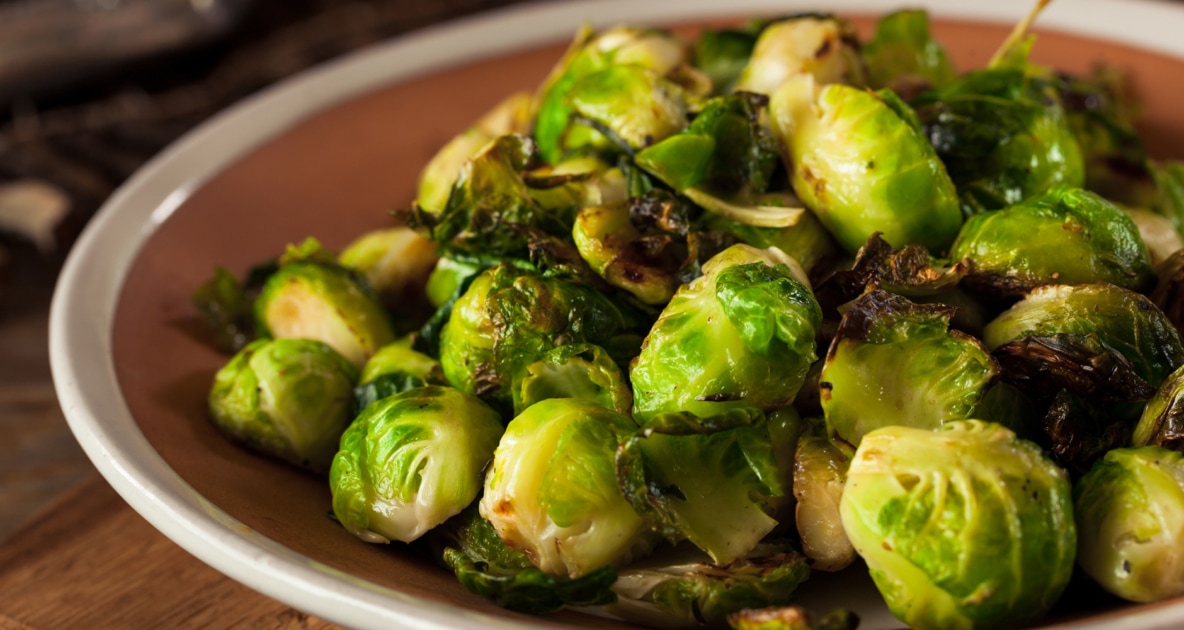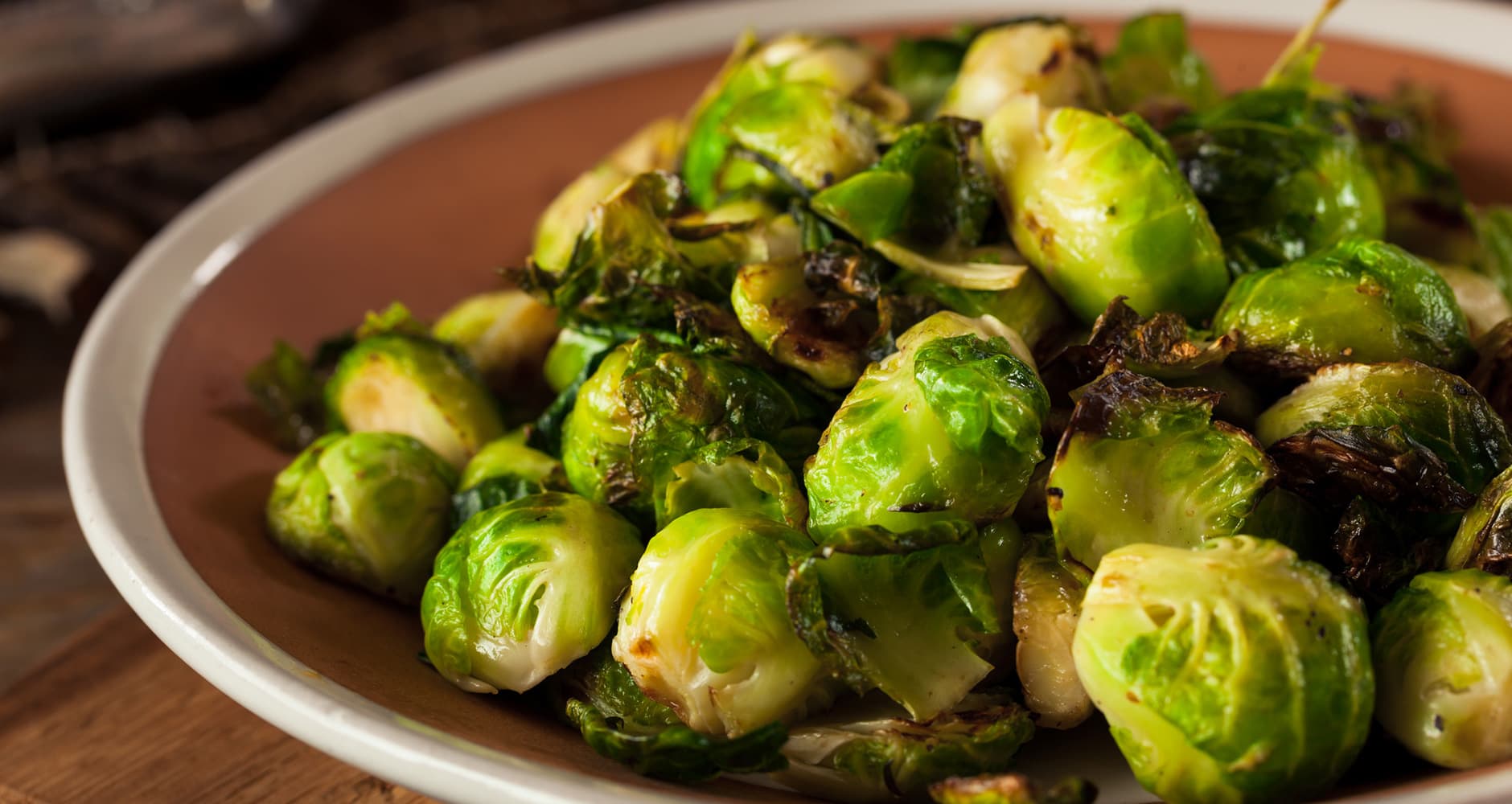 If your only memories of Brussels sprouts are that of overcooked, flavorless little heads of smelly cabbage that even the dog wouldn't eat, you owe it to yourself to give them another try. Not only are they a great source of vitamins A and C, high in protein, and loaded with fiber, but when prepared properly, these little gems are sure to be your new favorite vegetable, guaranteed.
Brussels sprouts (yes, they have an "s" at the end of their name for the capital city in Belgium where they originated) are one of seven cultivar groups of Brassica oleracea or wild cabbage. Cultivars—short for "cultivated varieties"— are plants that have been produced by selective breeding. Other popular cultivars of Brassica oleracea are kale and collard greens, cabbage, broccoli, and cauliflower.
Fun Fact: Brussels sprouts contain the gene, TAS2R38, which causes them to taste bitter to certain people.
Cooking Brussels Sprouts
Like other cruciferous vegetables, Brussels sprouts release a smelly sulfur scent when they are overcooked. It's important to cook them just until tender. They can be steamed, boiled, oven-roasted, grilled, or sautéed; the flavor often benefitting from a bit of caramelization, i.e., browning, by roasting or pan-frying. Try to choose sprouts of a similar size so they will cook evenly. Splitting the sprouts in half reduces cooking time, which is important when trying to avoid overcooking.
Selecting The Best Brussels Sprouts
When choosing them in the grocery store or farmers market, find tight, hard, compact heads, that seem heavy for their size. Avoid leaves with brown or yellow patches or any leaves that are starting to get slimy. If some outer leaves are loose, or have become darker green and coming away from the head, trim them when cleaning, along with any brown coloring at the cut end.
This simple recipe is sure to make you a convert:
Oven Roasted Brussels Sprouts
Oven Roasted Brussels Sprouts
Ingredients
1 1/2

pounds

fresh Brussels sprouts

3

tablespoons

olive oil

1

teaspoon

kosher salt

pepper to taste
Instructions
Trim the brown ends of the Brussels sprouts and pull off any yellow outer leaves.

Cut each sprout in half. You're looking to make all the vegetables the same size.

Toss veggies in a large bowl with the olive oil, salt, and pepper.

Pour them out on a sheet pan in a single layer and roast for 35 to 40 minutes until browned and crisp on the outside and tender on the inside.

Halfway through the cooking time, use a spatula to turn them so they cook evenly. Serve immediately.
Brussels Sprouts Topping/Dipping Ideas
Roasted Brussels sprouts are delicious by themselves, but they're even more delicious with any one of these toppers/dippers! Ideas include:
A drizzle of honey and balsamic vinegar
A simple squeeze of lemon and salt and pepper
Crumble 1/2 cup goat cheese on the top of the roasted vegetables right when they come out of the oven.
Creamy Sriracha Dipping Sauce (recipe below)
Garlic aioli (recipe below) and a sprinkling of parmesan cheese
Lemon aioli (recipe below) and crispy pancetta
Creamy Sriracha Dipping Sauce
Creamy Sriracha Dipping Sauce
Ingredients
1/4

cup

sour cream

1/4

cup

mayonnaise

1/2

teaspoon

horseradish

1/2

teaspoon

sriracha

1

clove fresh garlic, pressed through a garlic press
Combine all ingredients in a small bowl and let flavors meld for an hour in the refrigerator. Serve on the side with your roasted Brussels sprouts as a dipping sauce.
Basic Garlic Aioli
3/4

cup

mayonnaise

1

cloves garlic

2

tablespoons

lemon juice

2

teaspoons

olive oil

1/2

teaspoon

kosher salt

1/4

teaspoon

pepper
Whisk together all ingredients in a small bowl and refrigerate for 30 minutes to let flavors meld. To serve, drizzle over the top of your roasted Brussels sprouts, or serve it on the side for dipping.
Mustard Aioli
To the garlic aioli recipe, above add:
3 tablespoons prepared mustard – you can use Dijon or honey mustard

Lemon Aioli
Using the basic garlic aioli recipe, above, reduce mayonnaise by 1/4 cup and add
1/4 cup sour cream (do not use low fat)
and the zest of 1 lemon
How do you serve up your Brussels sprouts?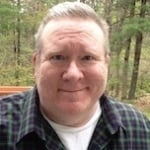 Edward Higgins is a freelance writer, artist, home chef, and avid fly fisherman who lives outside of Portland, Maine. He studied at Skidmore College and Harvard University. His article 10 Best Edible Insects appears in the 2020 Farmers' Almanac.