10 Easiest Fruits, Vegetables, and Herbs to Grow in Pots
Container gardening makes weeding, watering, and harvesting easy. These picks are the easiest to grow if you're limited on space.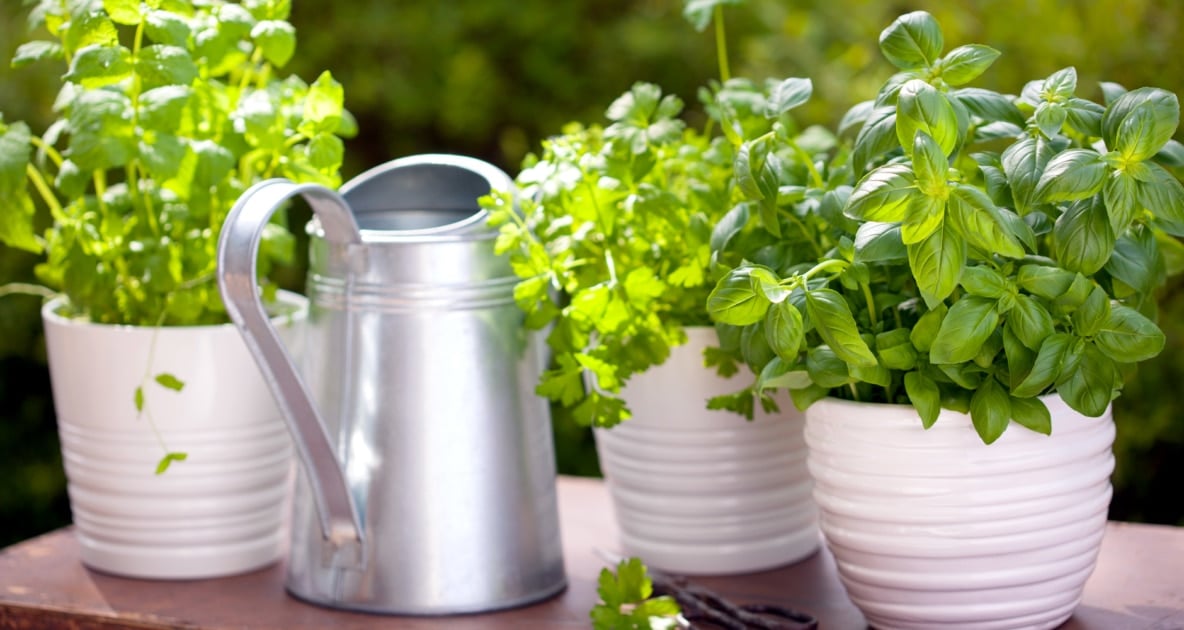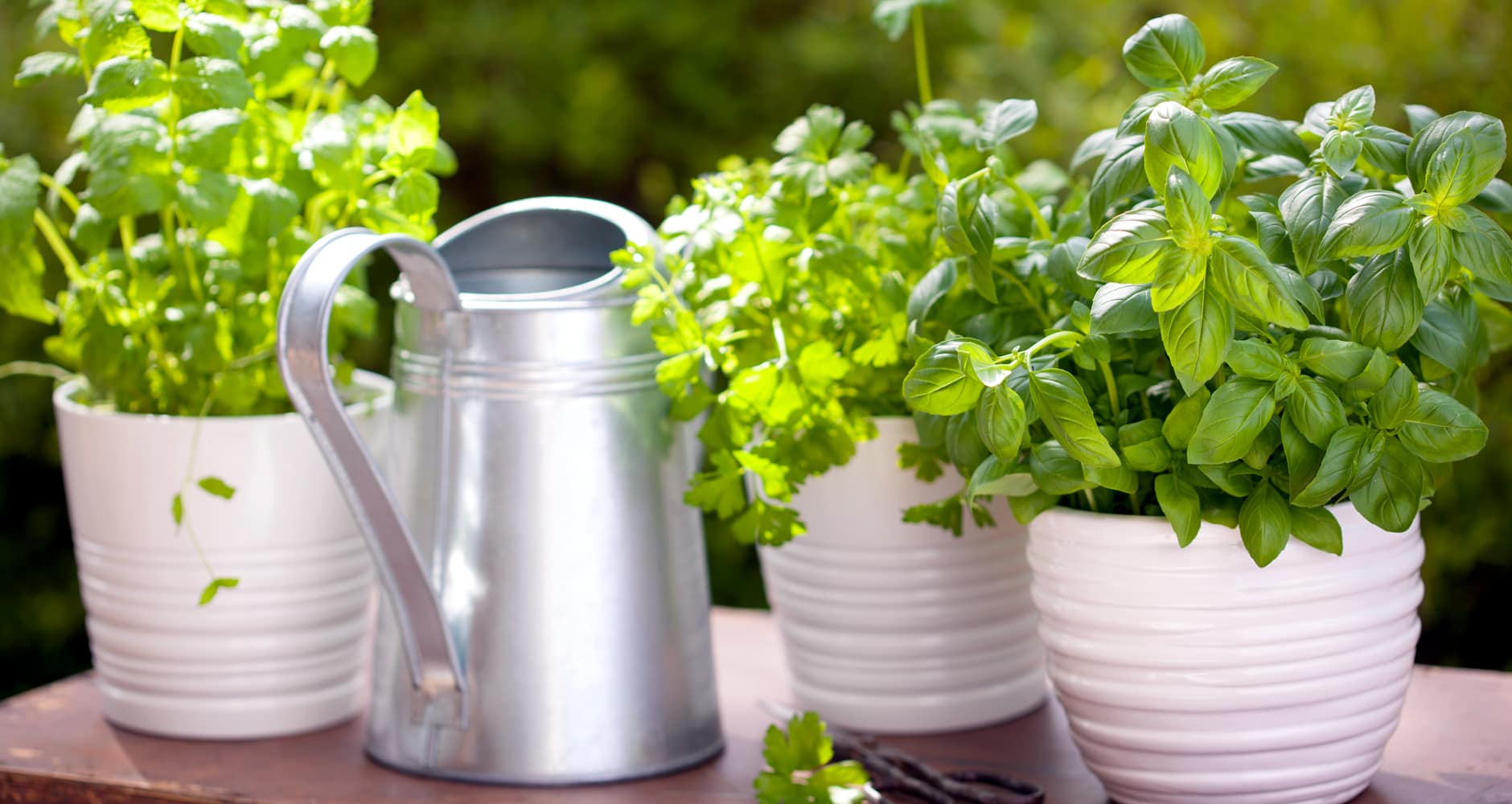 More and more people turned to gardening during the pandemic. Most of us wanted to not only stay busy, but with supermarket shortages, growing our own food is becoming a necessity. However, not all of us have workable plots of land, or any land for that matter. Now is the time to be thinking about what you want to grow. And good news: you can grow your own food even if you only have a balcony in Brooklyn, or a rooftop in Raleigh, thanks to container gardening. Container gardening means you'll be growing your food in pots rather than in a yard or lawn!
10 Veggies You Can Grow In Pots
Here are the easiest things to grow in pots:
1. Lettuce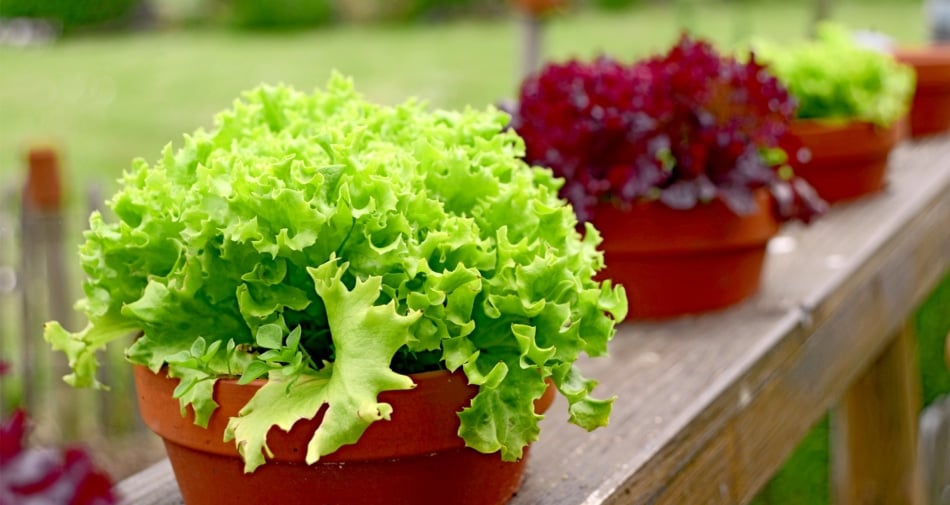 Looseleaf and romaine are the best lettuce varieties to plant in containers since they need less growing space than head or stalk lettuces. The ideal soil mix to use when growing lettuce in pots contains peat or compost, soil, and perlite to keep it from drying out. Sow seeds shallow, no more than one-half inch deep. Keep the soil moist, but not wet.
2. Basil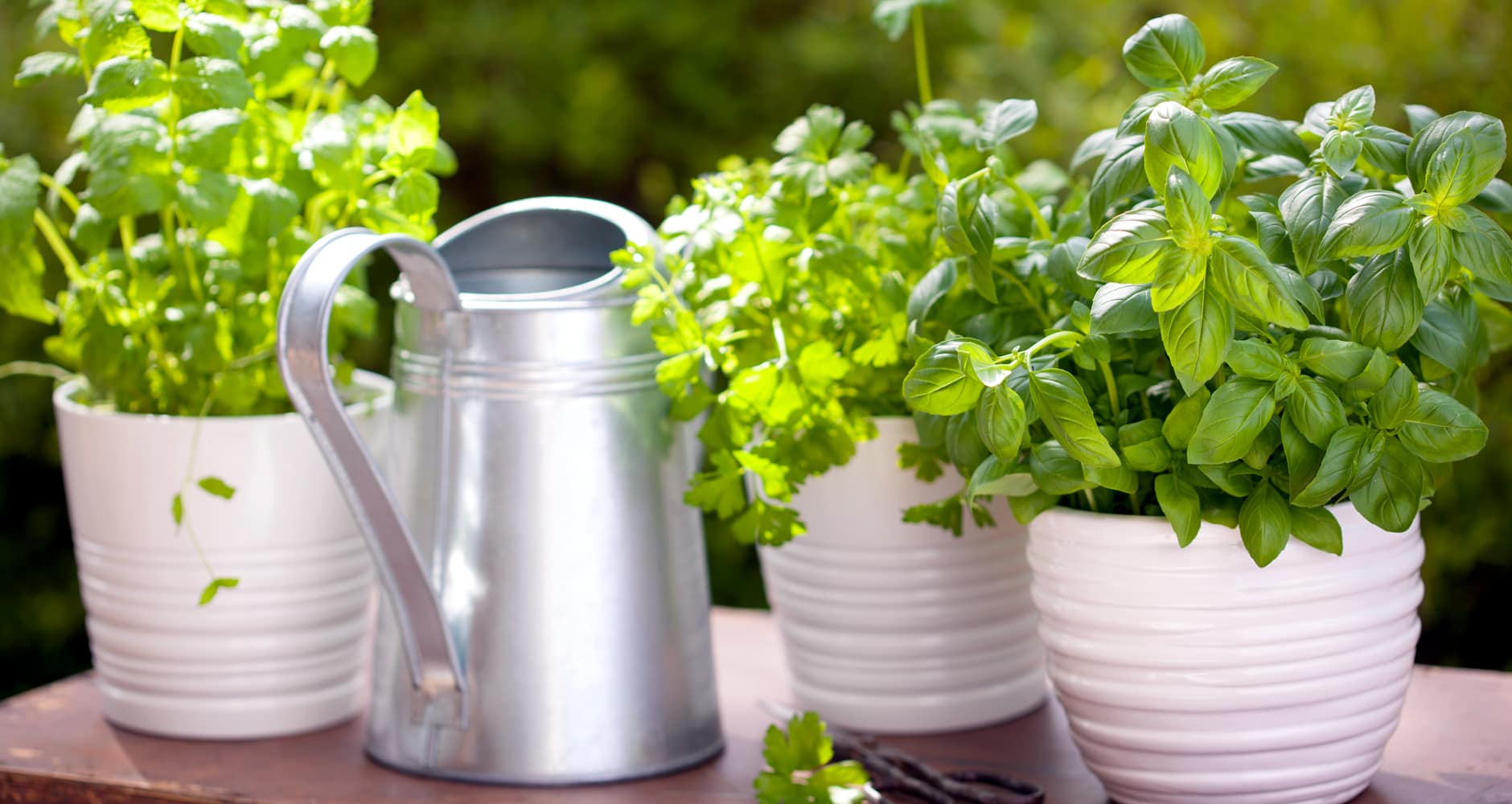 Good news pesto lovers! This culinary herb is easy to grow in a pot. Basil can be grown from seed or young seedlings outdoors once all chance of frost has passed. Add extra compost to your pot, as basil thrives in rich organic matter. Place your potted basil plant in full sun and water weekly in dry weather. Pinch off the blooms or tips of each stem before it flowers, to extend the length of harvest.
3. Chives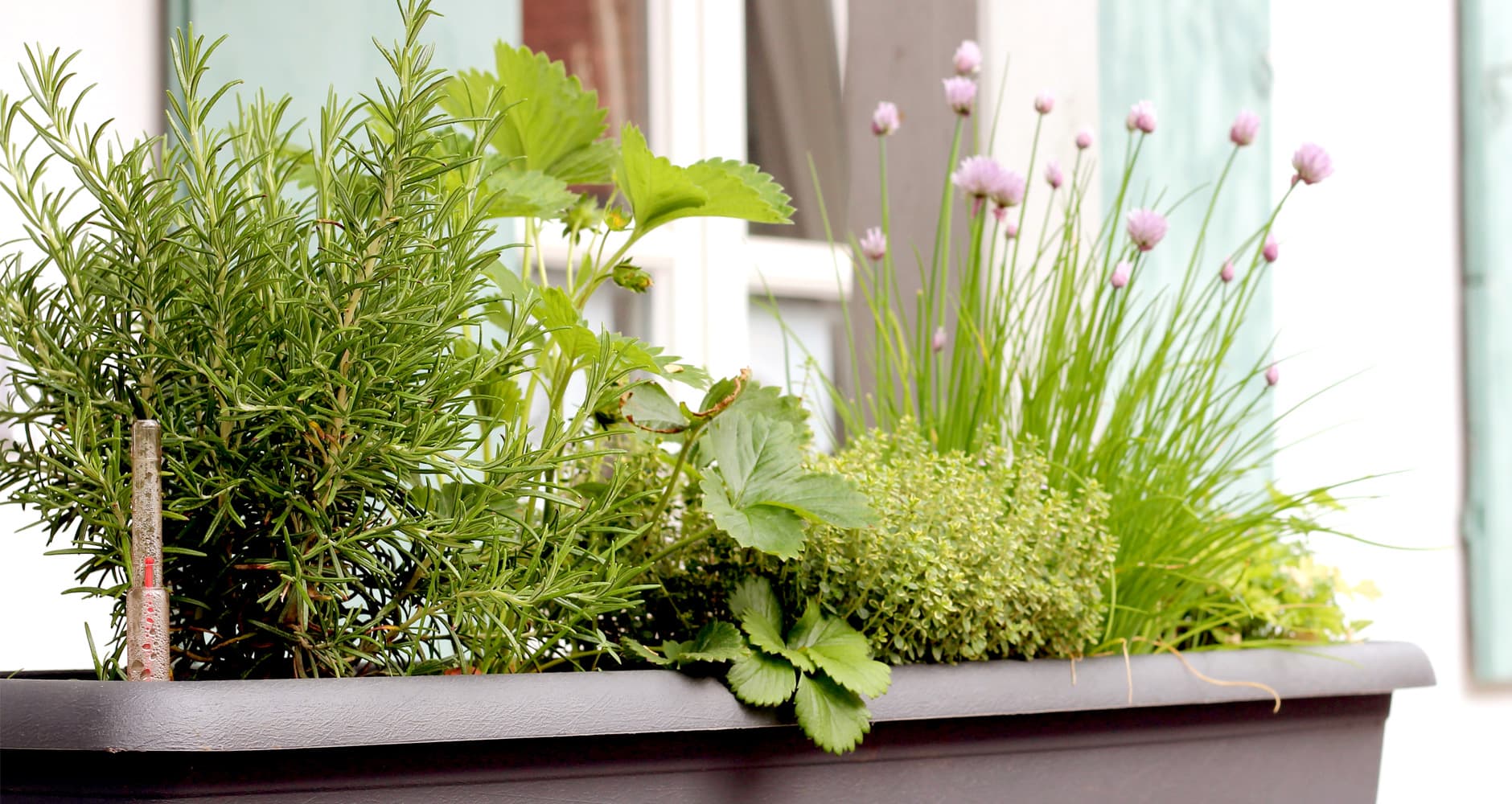 This mini onion-flavored plant is ideal to start by seed in a pot. Chive seeds should be planted at a depth of ¼ inch. Space the seeds 4 to 5 inches apart. The seeds will take about 10 to 15 days to germinate. Chives can grow 10 to 12 inches long if not clipped. When fresh chives are needed, using kitchen scissors, snip an inch or two from the tips. During winter or any time there is a chance of frost, bring the pot indoors. Chives grow nicely inside on a sunny windowsill.
4. Tomatoes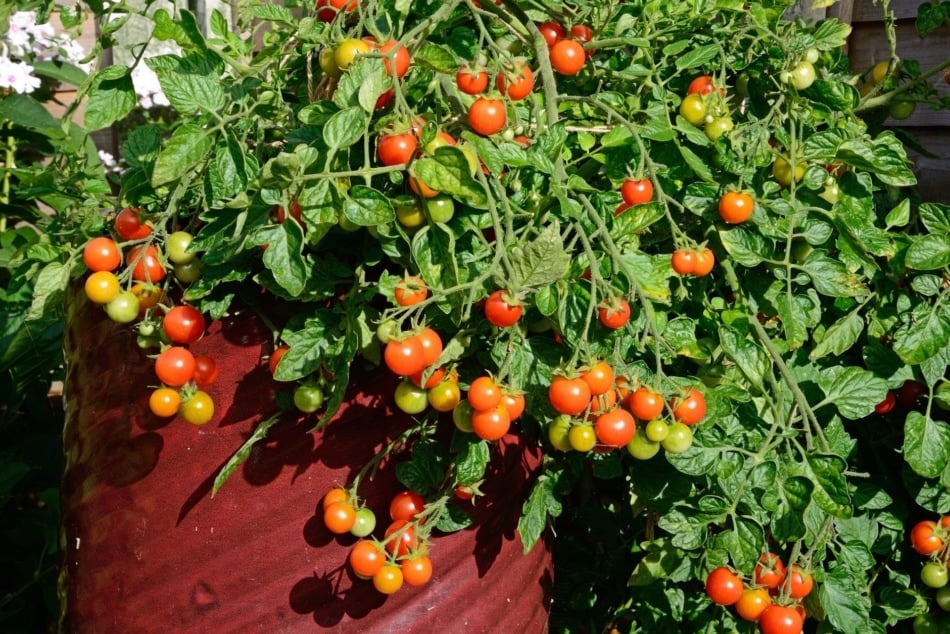 Whether you're planting seeds or young seedlings, tomatoes can be grown in pots outdoors once nighttime temperatures reach the mid 50s. Cherry and grape tomatoes and smaller varieties, like patio hybrid, Small fry, and Tiny Tim are well suited for container growing. One small variety plant can be grown in a 5-gallon container. When growing larger tomato varieties be sure to use either stakes or tomato cages. Plant full-size varieties in a 25-gallon container such as a half-barrel. Add fertilizer to the soil when planting and water the plant right away. Afterward, only water the plants that show wilt. Tomatoes love the heat. After planting in a large half-barrel container, mulch after four to six weeks. Delayed mulching gives the soil time to warm up. See the different tomato varieties you can grow!
5. Snow Peas/Sugar Snap Peas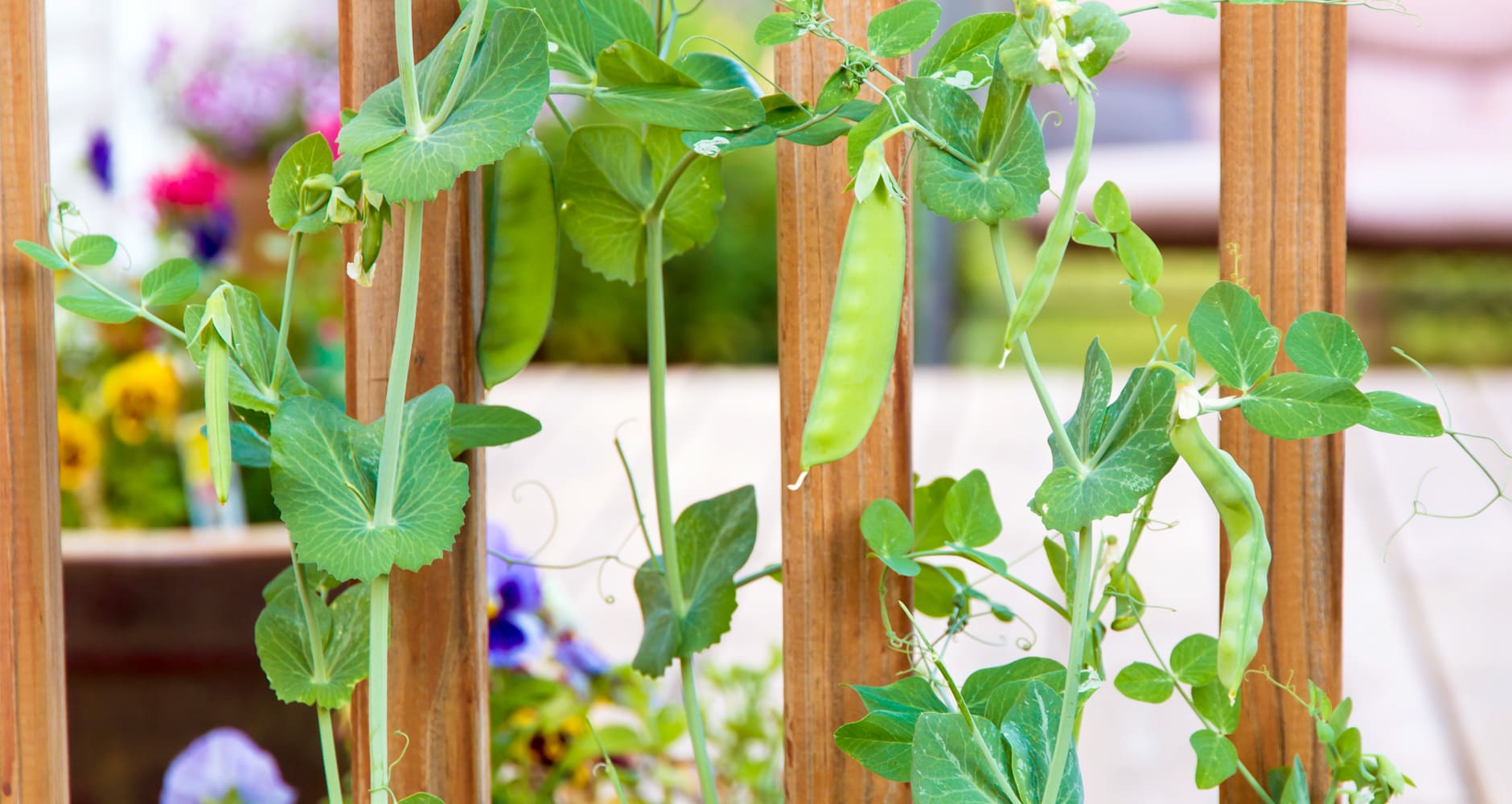 A big plus to growing these peas is that the pod of both plants are edible, which means more yield, and no shelling. Select a sunny location for your window box, half barrel, or other container. Plant seeds at a depth of about 1-inch, 3 to 4 inches apart in well-drained soil. These vining plants will need support throughout the growing process. You can use a trellis in a container, a tomato cage, or a bamboo teepee anchored in the soil for the vines to grow up on, keeping them off the ground, and at eye level. In spring, check often for caterpillars. The vines may reach a height of 5-feet.
6. Peppers – Bell or Chili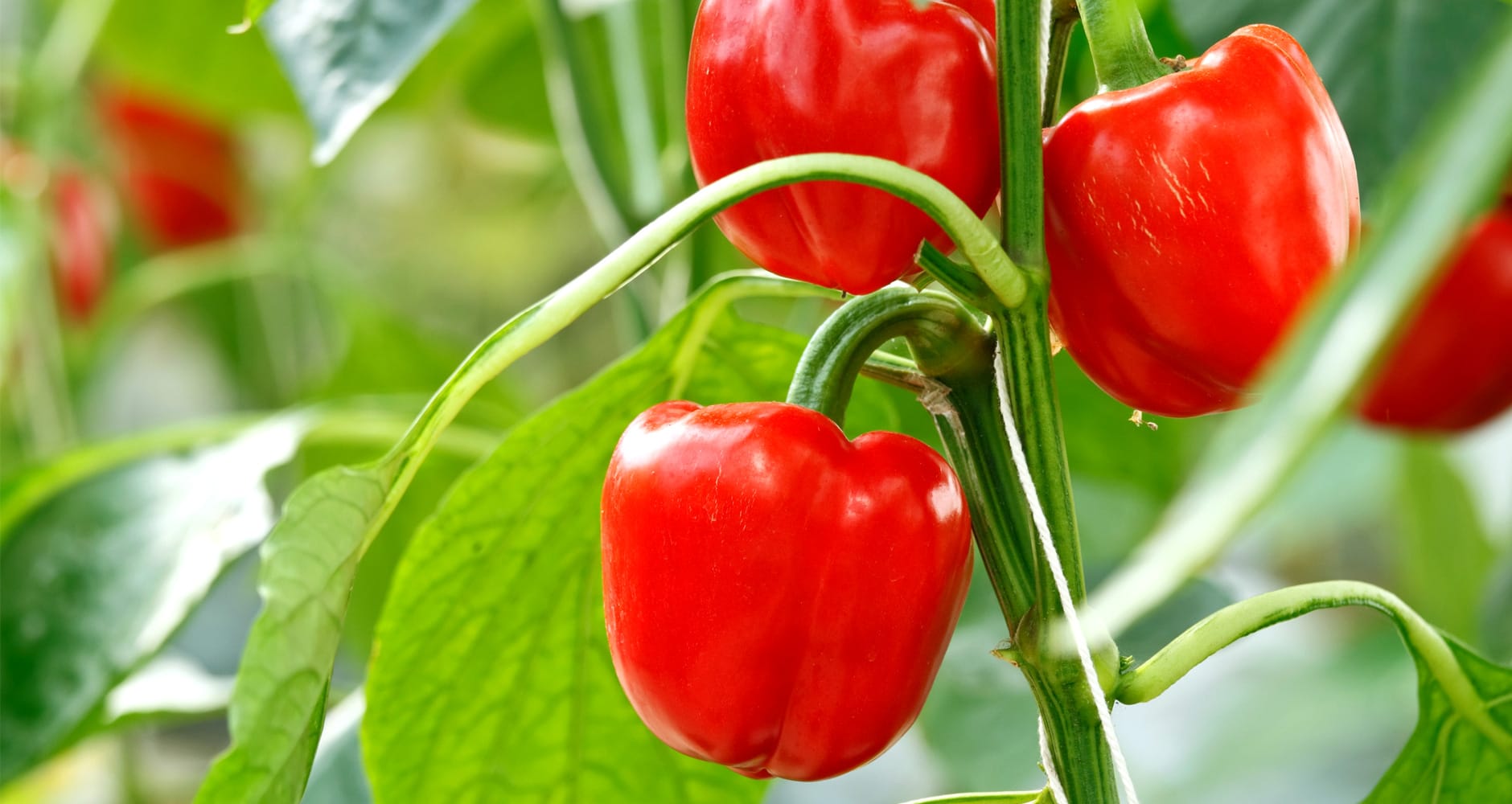 Sweet bell peppers and hot chili peppers not only add visual appeal to culinary dishes, but they add vibrant color to your patio garden. Peppers are easy to grow in pots — they grow upright and produce good yields while taking up minimal space on your balcony. Select compact varieties of bell peppers for container growing or incorporate tomato cages into a deep 14-inch pot to support taller plant varieties. Hot peppers typically grow more compact in size and are highly suitable for container gardening.
7. Zucchini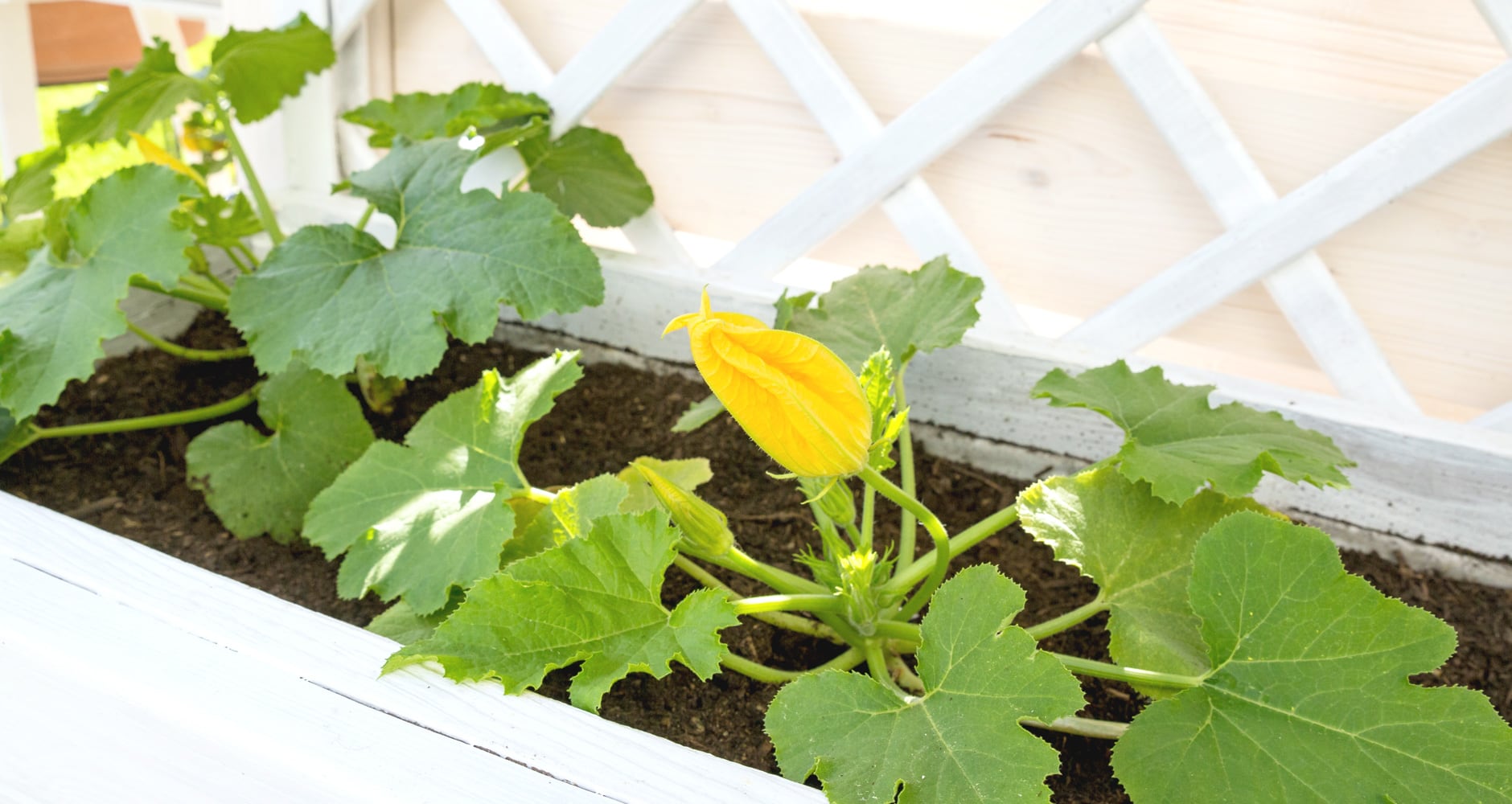 This one's a surprise, isn't it? You might think you need a lot of room to grow zucchini but planting them in pots is a great solution if you're short on space — dwarf varieties work especially well for this purpose. Use a lightweight potting soil and avoid regular garden soil, which can smother the roots. Plant 2 to 3 seeds directly into the center of the pot, about an inch deep and 3 inches apart. Water the soil and keep it moist (but not soggy) until the seeds sprout (about 1-2 weeks). If all of your seeds sprout, thin them and leave the strongest seedlings. Make sure the plants have a lot of sun—10 hours per day is ideal—and support the vines with stakes or tomato cages. Feed plants every 4 weeks.

8. Strawberries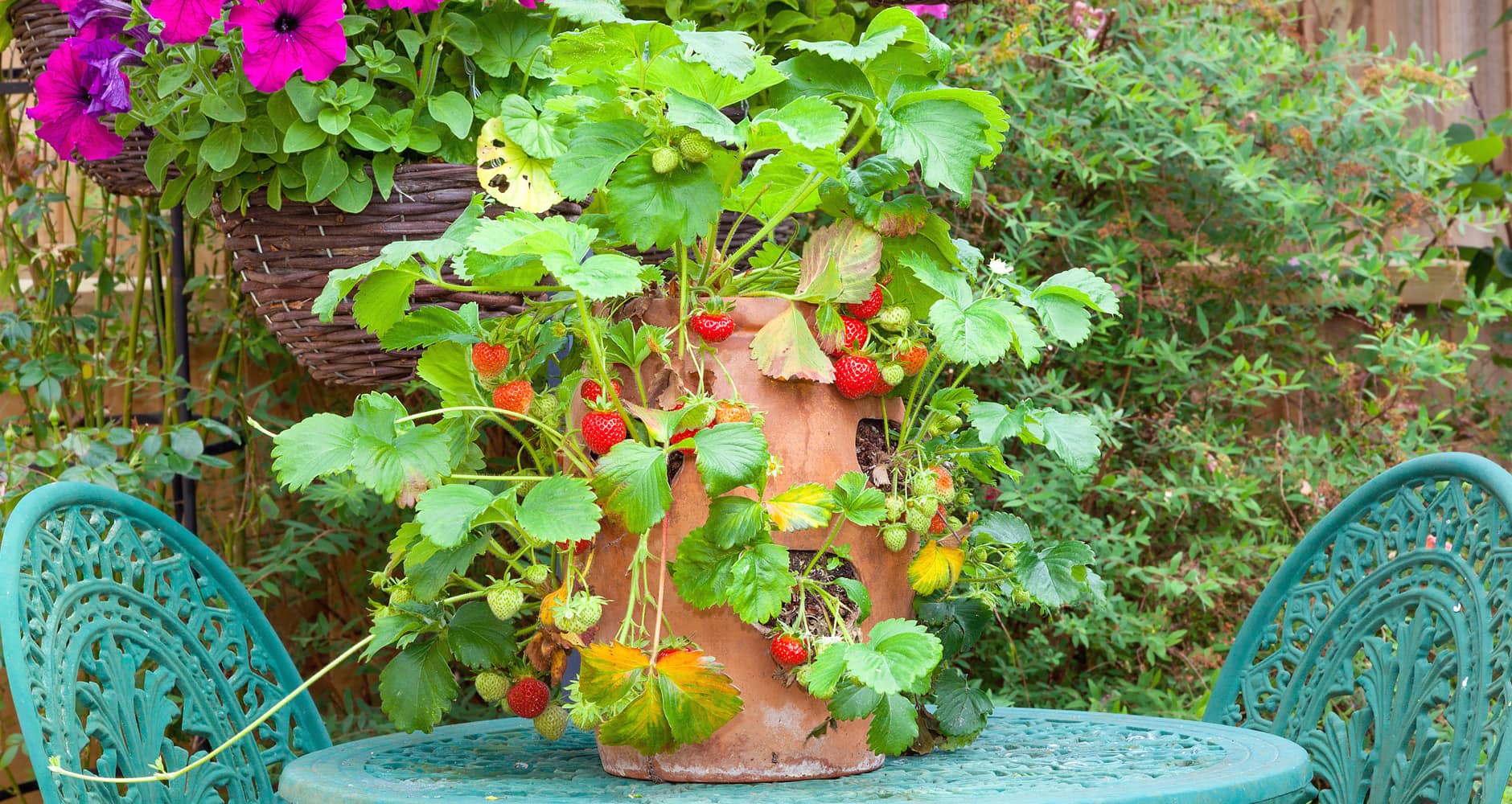 This beautifully delicious berry can be successfully grown in attractive terra cotta pots, barrels, tiered planters, and hanging baskets on your deck or patio. A 3- to 4-inch pot will hold one strawberry plant. A hanging basket can hold three to five plants. Two ways to avoid heat damage to roots: add a layer of mulch on top of the soil, and avoid planting strawberries in dark containers. Strawberries have small root balls that extend in every direction, so be sure to completely bury the roots. Adequate drainage is important, too, as strawberries do not thrive in soggy soil. Learn more about growing strawberries in containers here.
9. Radish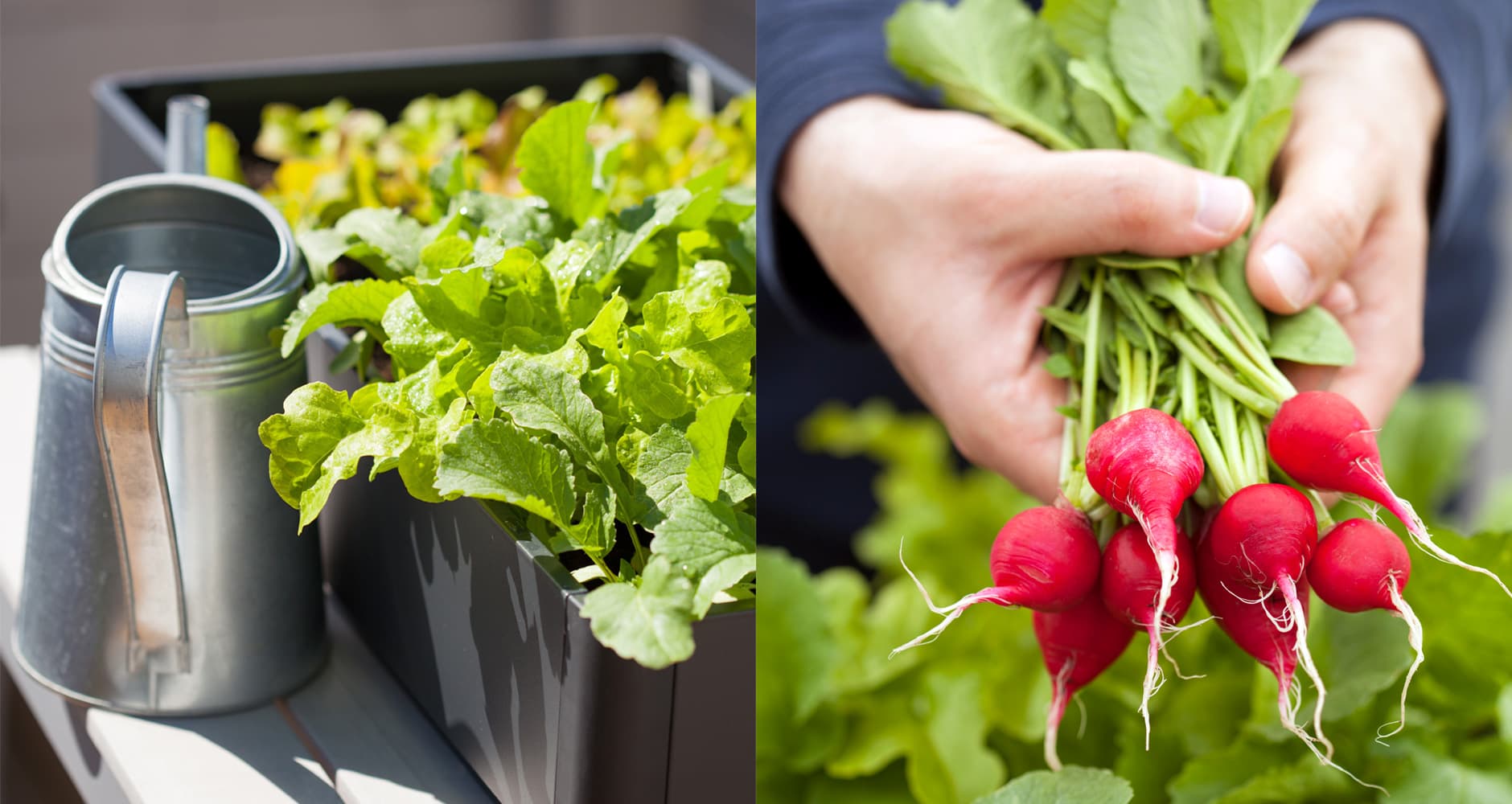 New to container gardening? This quick-growing vegetable is so easy to grow from seed and grows well in full sun in most any size pot. To avoid bolting, never let the soil dry out — keep it moist. Radishes generally do not require fertilizing. Select deep pots to allow roots to freely grow beneath the soil. Sow seeds at a depth of one-half to one-inch deep.
10. Microgreens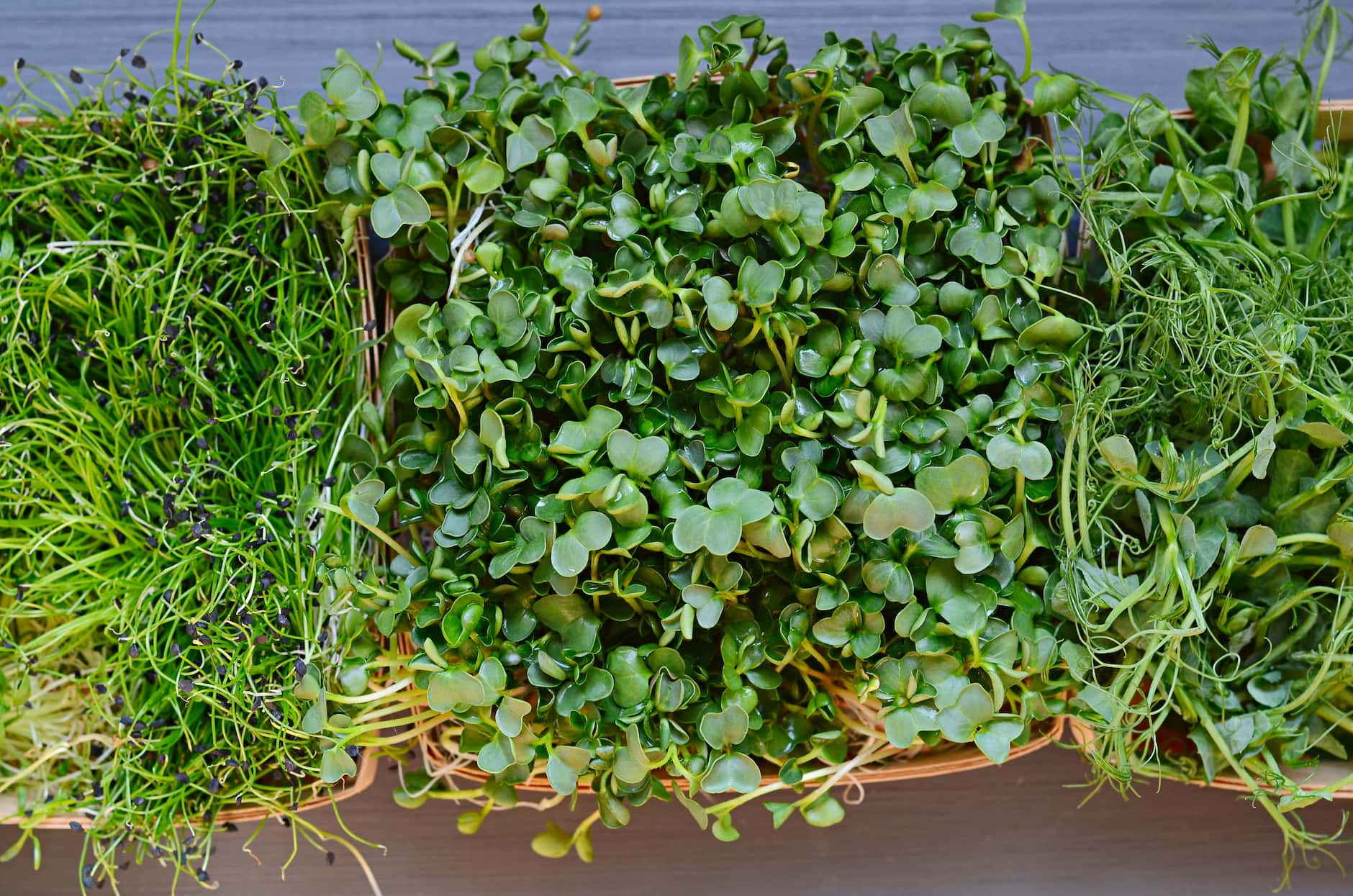 Your collection of edible container plants must include this fast-growing combination of highly nutritious and intensely flavorful greens. Microgreen seeds should be broadcast on the surface of a soil mix containing vermiculite in growing trays with domed lids. Cover seeds lightly with a soil mix and keep on a covered porch or patio that offers protection from direct wind and extreme weather. Microgreens are ready to harvest in 2-4 weeks after germination depending on the seed variety and growing conditions. Harvest at first or during the early leafing stage using scissors when the young tender plants reach a height of 1-3 inches. Add them to salads and sandwiches!
Check out these expert tips for growing tomatoes in containers:

Deborah Tukua is a natural living, healthy lifestyle writer and author of 7 non-fiction books, including Pearls of Garden Wisdom: Time-Saving Tips and Techniques from a Country Home, Pearls of Country Wisdom: Hints from a Small Town on Keeping Garden and Home, and Naturally Sweet Blender Treats. Tukua has been a writer for the Farmers' Almanac since 2004.