Coyotes: Pests Against Cattle and Livestock
Keep coyotes at bay with these practical suggestions!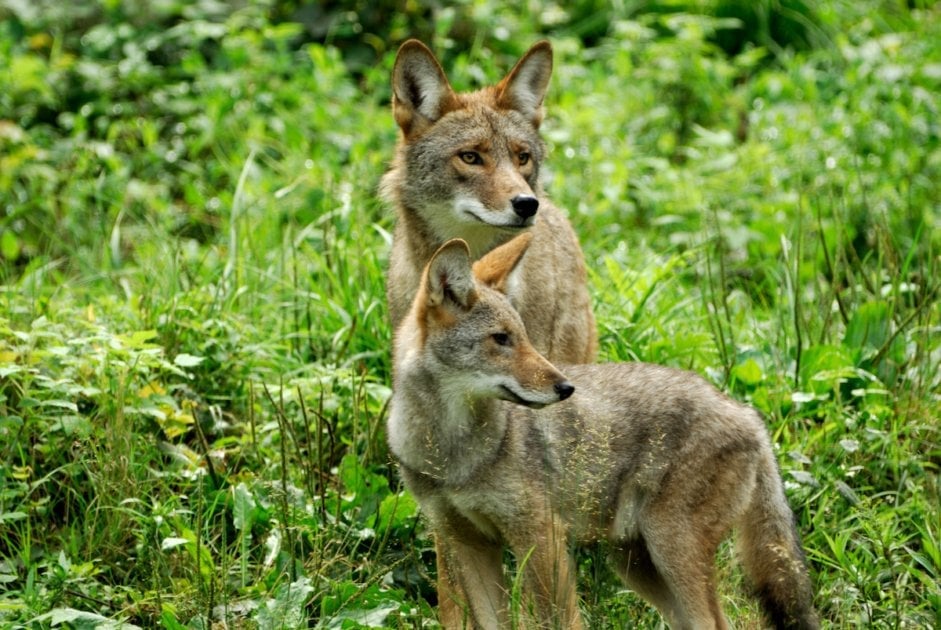 Wild animals are part of what makes nature so magical, and watching them can be highly enjoyable. While it's important to coexist with animals in relative peace, they can cause countless problems when they take up residence in our homes or gardens. In this series, our Wildlife Management Specialist, Shawn Weeks, will educate us about some common household pests, and share some strategies for keeping them under control without dangerous chemicals or poisons.
Today we take a look at Canis latrans, the coyote.
Habitat and History
Originally, the coyote inhabited the western plains of the United States. The coyote now occurs throughout all of North America, one of only a few species of wildlife to do so. They are a member of the dog family of mammals, along with the fox and the wolf. The coyote is very adaptable, thriving in most habitats including grasslands and fields, forests, wetlands and suburbia.
Coyotes resemble German Shepherds, although, they have bushy tails, smaller feet, a long, tapered muzzle, and yellow eyes. They also appear to be more slender than a German Shepherd and they have large, pointed ears. Most coyotes weigh from 25 to 40 pounds, with adults male being generally larger than adult females.
Their fur is usually grayish in color with some variations of red, black, or blonde, depending on each individual animal. They all have a white or cream-colored underside. Most coyotes also have dark hairs on their back a black tipped tail.
Coyotes use a variety of vocalizations to communicate. They howl, yelp, growl, bark, wail, and squeal. They are probably best known for their high-pitched cry. Coyotes are most commonly heard at dusk and dawn. They have also been heard responding to sirens. Coyotes do not form packs, with the exception of mated pairs and their young. Mated pairs maintain their territories by scent marking and will defend that territory from other coyotes, as well as from fox.
Coyotes can run anywhere from twenty five to forty miles an hour. They are also excellent swimmers. Their sight, hearing, and sense of smell are very well developed.
Diet
Coyotes are opportunistic feeders that can survive on a variety of foods. They feed on rabbits, mice, voles, woodchucks, and on young livestock. They will also eat carrion, berries, fruits, vegetables, birds and insects.
Reproduction
Coyotes do not normally mate for life. Some pairs may however, stay together for a few years. Coyotes breed from January to March, and they give birth in approximately 63 days, anywhere from April to mid-May. The size of their litter depends on the age of the female and their environmental conditions. Generally speaking, they will give birth to between two and twelve pups. Both adults will care for the young and will relocate them if disturbed. The pups are weaned anywhere from six to eight weeks of age, and begin foraging and hunting with the adults between eight and thirteen weeks old.
The young generally disperse in the fall to mid-winter. Young coyotes can and will travel far distances to find their own territories. Most eastern coyotes will not breed until their second year, while western coyotes will breed in their first year.
Adults can dig their own den, or they will enlarge the den of another animal such as a woodchuck or a fox. The female prepares and maintains the den.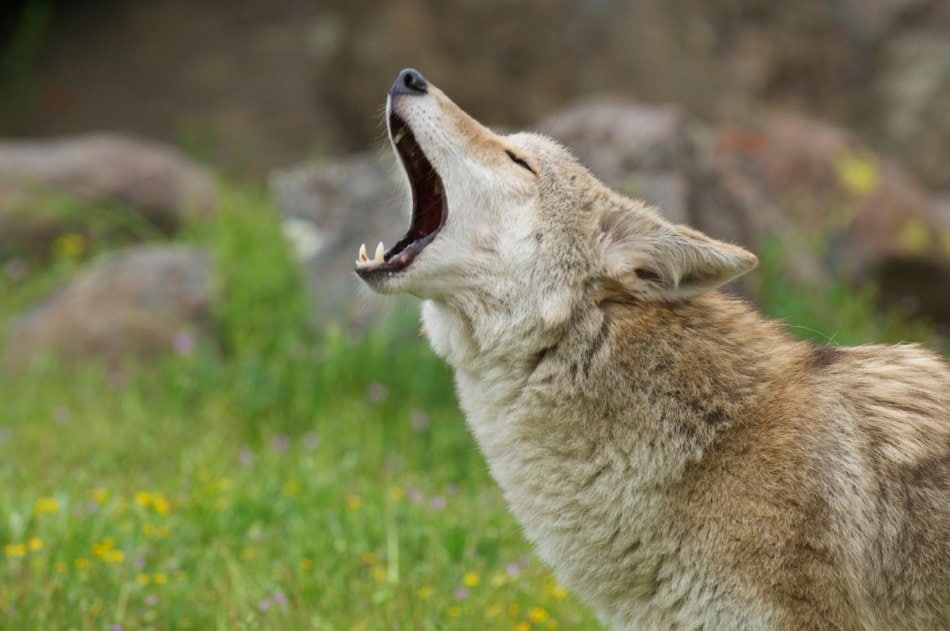 Problems, Solutions and Health Concerns
Being that coyotes are members of the dog family, they are susceptible to rabies, mange, distemper, and parasitic diseases in heavily populated areas.
The biggest problem with coyotes for humans is predation of livestock. Coyotes will attack a variety of livestock, with sheep and fowl being at the greatest risk. The other two problems of most concern are the predation of pets and the concerns for human safety.
Coyotes pose little threat to horses and cattle. It's a good idea to install fencing and maintain it to keep coyotes at bay. Also keeping susceptible livestock and poultry penned and secured at night is your best defense. Guard dogs can also be used to keep coyotes at bay.
You should always remove and dispose of dead livestock and poultry promptly and properly. Leaving it out will attract coyotes. Remember, coyotes eat carrion, the dead carcass of an animal.
Some parts of the country allow the trapping and/or shooting of coyotes if they are killing your livestock. Be sure to always seek proper permits and follow state and local regulations in regards to this method of defense.
Coyotes often attack and kill pets, such as cats and small dogs. The best policy to prevent this is to always keep your pets in a fenced in area or under your direct supervision at all times. Homeowners should also always keep pet food and food scraps eliminated from their property, or at least properly disposed of.
Coyotes are abundant across North America and, in a lot of places, have become accustomed to humans. People with small children should never leave them unattended in the yard or on the property where coyotes are common. Teach your children how to identify coyotes and to walk away (never run) into the house, or climb up a swing or deck if a coyote is approaching them. With that being said, it is rare for coyotes to attack humans.
As with many other wild animals, coyotes are opportunistic. We should always be on the offensive, and use common sense when managing our properties. Preventive measures are always our best solution for dealing with our wild neighbors.
For further information, or advice in dealing with coyotes on your property, leave a comment below, e-mail me at [email protected].

Shawn is a lifelong New Englander. He lives in Canton, Conn., with his wife Tami, mother, sister, and her three children. He and his wife have two grown children and two grandchildren. Shawn is an avid hunter, fisherman, and gardener. He is also a writer, a nuisance wildlife professional, small scale farmer, and scout leader. You can email him at [email protected].