Surefire Ways To Keep Deer Out of Your Garden
White-tailed deer are beautiful, but destructive. Keep them from turning your garden into a salad bar!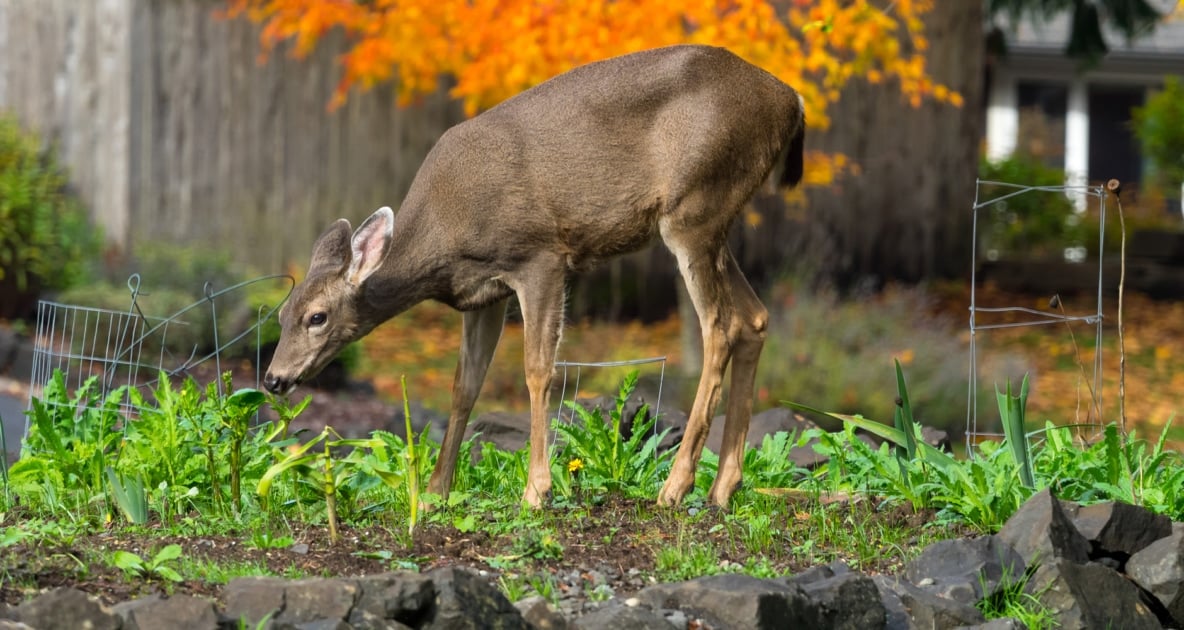 Wild animals are part of what makes nature so magical, and watching them can be highly enjoyable. While it's important to coexist with animals in relative peace, they can cause countless problems when they take up residence in our homes or gardens. In this series, our Wildlife Management Specialist, Shawn Weeks, will educate us about some common household pests, and share some strategies for keeping them under control without dangerous chemicals or poisons.
We'll look at Odocoileus virginianus, better known as the white-tailed deer.
Habitat and History
White-tailed deer are found throughout North America. The only US states where they are not widespread are Alaska, Utah, Nevada, and California. Adult males weigh around of 150 pounds, with females averaging 110 pounds. They are graceful animals with conspicuous ears, narrow, pointed hooves, and long legs. Adult males have seasonal antlers, which begin to grow in spring with a "velvet" cover. The velvet is actually a soft and sensitive tissue. During the fall, the deer antlers begin to get hard and the deer scrape the velvet off on trees and saplings. They then use their antlers to spar with other males during the rut, or mating season. The antlers are then shed in early to mid-winter. Antler size is determined by their genetics, age, and diet.
White-tailed deer have a coat of hair that is reddish-brown to tan in summer with short, thin hairs. In winter, it turns grayish-brown to gray and fills out with thick, long hairs. As the name implies, white-tailed deer have a bright white patch of fur on the underside of their tails. If they are scared, they raise their tails high, like a white flag, as they run away.
These deer do well in woodland forests with a vegetative understory, as well as in fields and meadows that are left to grow tall. Their favorite habitat however, is edge. Edge is the area between forests and fields. This is a major reason deer thrive in suburban areas where large yards border small woodlots.
Diet
The diet of white-tailed deer varies depending on the seasons. During the spring and summer, deer eat grasses and forbs, which contain protein. During the fall, deer focus their attention on acorns and other mast items. This mast diet is full of fat and carbs that the deer need to fatten up for the colder months, and the rut. During the winter, deer eat twigs and buds from different hardwood trees and leaves from conifers such as white pine and hemlock.
Reproduction
The mating season, also known as the rut, starts at different times, depending on where the deer live. In the northern part of the United States, rut begins around late October and extends through early January. Fawns are usually born in late June. In other areas, the rut may occur earlier or later, depending on the climate. Newborn fawns generally weigh between four and eight pounds. They are dependent on their mothers until, and sometimes through, September when they are weaned. The doe, or female, usually has one to four fawns, depending on her age and general health. Twins are not an uncommon occurrence.
Problems, Solutions and Health Concerns
One method for managing white-tailed deer on your property is hunting if it is safe and legally acceptable to do so where you live. If hunting is not an option for you, whether because it goes against your principles or because you live in an area where it is prohibited, you can use other methods to protect your crops and vegetation.
Keeping Deer Away From Your Garden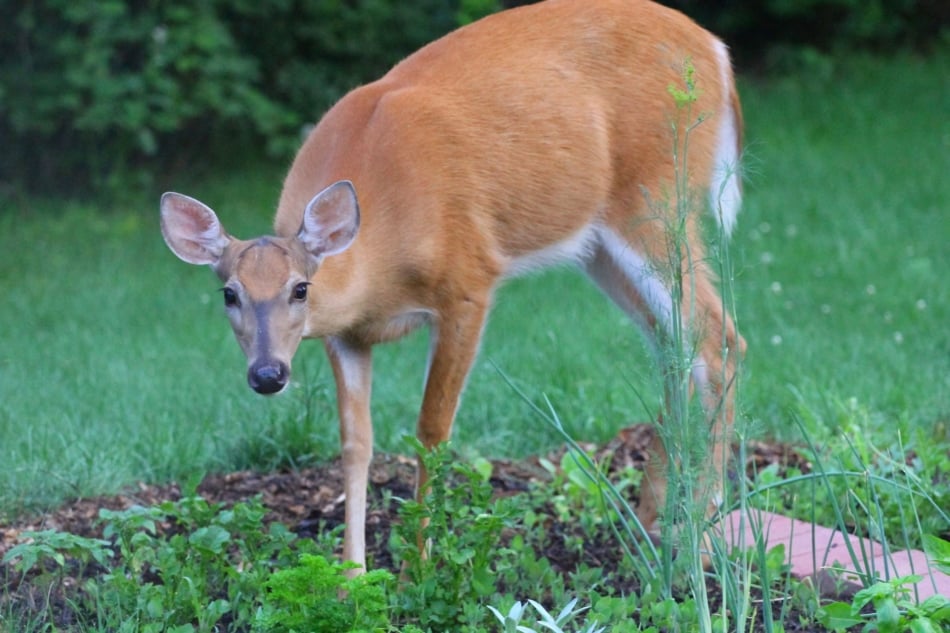 Perhaps the most effective way of keeping deer off your property is with a deer fence. Deer fences are easy to install, although they can be rather costly, especially if you own a lot of land. In my wildlife management practice, I have installed literally miles of deer fencing with great success for my clients. Generally, it is installed around the perimeter of a property. Gates can be installed in specific locations where the customer wants access to certain areas of the property. Deer fencing should be at least eight feet high to be effective. White-tailed deer have been known to jump as high as six to seven feet on a full run. Most deer fencing is black polypropylene mesh, which blends in well with forested landscapes. It should be inspected regularly for damage.
One could also install electric, high tensile wire fencing. This type of fencing can work well for protecting one's crops from deer browse. Another solution for property owners would be to fence around individual bushes, islands, and vegetation that you want to be protected. With this method, it's not necessary to use such a tall fence. Shorter chicken wire fencing is sufficient for this application.
There are also numerous commercial repellents on the market today. Some of these repellents work very well. However, they should be thought of as a maintenance application. They will all need to be reapplied after every rain shower or heavy dew. You can also use homemade repellents. Some effective homemade repellents to try to include human hair tied in mesh sacks around the plants you want to protect, bone meal, soap shavings, and liquid hot pepper spray. Try this deer repellent.
A number of other preventive measures can also be effective. Planting away from hedgerows or tree lines could help. Planting ornamentals that deer do not like can also have a positive effect. These include columbine, coneflower, goatsbeard, St. John's Wort, meadowsweet, sea holly, marjoram, peonies, trillium, foxglove, lavender, verbena, and many others. However, many plants that were once unpalatable to deer, such as boxwood, holly, and rhododendron, are sometimes eaten in places where there is a large population of deer. In the state of Connecticut, for instance, an exceptionally large deer herd creates a huge amount of pressure for food. Some parts of the state have been estimated to have as many as 35 deer per square mile. However, this is not the "norm".
Due to the fact that deer are wild animals and can be unpredictable, the most beneficial strategy is to employ a combination of methods to keep deer from harming your crops, ornamentals, and understory. Applying repellent to shrubs could be effective along your front porch, while a mesh fence around the corn behind your barn would be a necessity. Just remember that, while deer are a beautiful, stately animal, they can be extremely persistent and can cause a lot of property damage if not managed diligently.