It's pumpkin season! But why limit the celebration to just pies and muffins? Whip up a batch of this colorful, hearty chili and serve with cornbread and a big green salad and you've got the perfect meal for a crowd!
Pumpkin Tex-Mex Chili
Ingredients:
1 tablespoon olive oil
1 large onion, thinly sliced, about 2 cups
3 cloves garlic, minced
2 pounds ground beef
2 teaspoons salt
3 bell peppers (a mix of colors), seeded and cut into 1/2-inch chunks
2 jalapeño chiles, seeded and minced
1 pound white mushrooms, stemmed and quartered
2 pounds fresh pumpkin, seeds and fibers removed, peeled, cut into 1/2-inch chunks (about 4 cups)
2 cans (15 ounces each) black beans or red kidney beans, rinsed and drained
1 can (28 ounces) plum tomatoes with juice
1 can (8 ounces) tomato sauce
3–4 tablespoons chili powder 3 teaspoons ground cumin
Chopped onions, for topping
Grated cheddar, for topping
Directions:
Heat the oil in a large Dutch oven over medium heat. Add the onion and cook over medium-high heat for 5 minutes, or until the onion wilts, stirring occasionally. Add the garlic and cook for 1 minute longer.
Add the ground beef and cook and stir until it loses its red color, about 7 minutes. Sprinkle 1 teaspoon of the salt over the meat while stirring.
Add the peppers, chiles, mushrooms, and pumpkin. Reduce the heat to medium and continue cooking, stirring occasionally, for 15 to 20 minutes, until the pumpkin is easily pierced with a fork.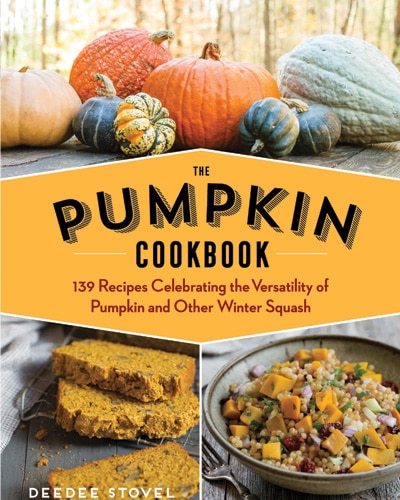 Add the kidney beans, tomatoes, tomato sauce, chili powder, cumin, and the remaining 1 teaspoon salt. Cook for 15 minutes longer. Taste and adjust the seasonings, if desired. Serve with bowls of chopped onions and grated cheddar for topping. Serves 12.
Excerpted from The Pumpkin Cookbook, © by Edith Stovel, photography © by Clare Barboza, used with permission from Storey Publishing.